Happy Monday! Hope you have a week full of crazy teenagers saying crazy things. If you're not that lucky, here's a taste of the conversations that have gone on in my classroom lately 🙂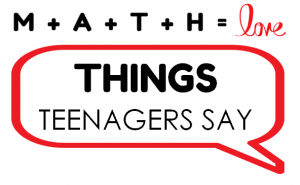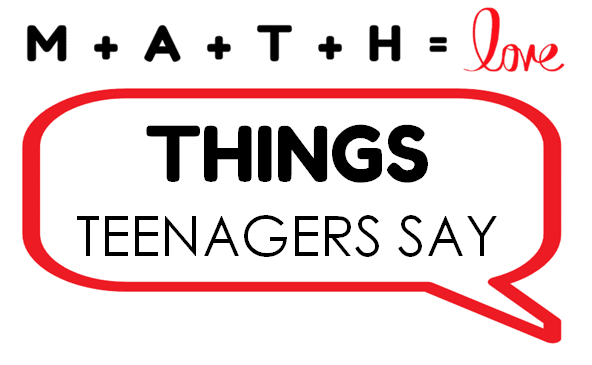 —
Ms. Hagan, if you die, I want your pi necklace.
—
I had a party with my fridge this weekend. My fridge is my boyfriend. He feeds me all the time.
—
Me: I'm not sure if sitting on this wobbly desk was the best decision.
Student: Don't worry. Vegetarians can't break wood.
—
Student: Ms. Hagan, what would you do if you woke up tomorrow with no eyebrows?
Me: I'd cry.
—
Isn't Oprah like an opera singer?
—
What do Americans eat when they're hungry? A hamburger. Except Ms. Hagan. She eats a carrot.
—
Are you sure you are really a human? You like math too much.
—
Ms. Hagan, would you like to buy some ribs? Oh wait. You're a vegetarian. Oh wait. You could feed them to your cats.
—
Me: Keep your phone away unless you want me to keep it for the rest of the day. Hey, that rhymes!
—
Can I ask a question? I'm curious about something. I know curiosity killed the cat. But, I'm not a cat. And, I'm not ready to die. If I was going to die, I want it to be in a cool way so I can be remembered.
—
If somebody punched Betty White, she'd probably turn to dust.
—
Penelope is a princess name.
—
I bet your boyfriend would give us the answers to our test if he were here…
—
Me: Please take off the welding mask during class.
—
You are like my grandma. You have to make yourself laugh to smile in a picture.
—
I bet you met your boyfriend on catladiesonly.com
—
Ms. Hagan, your eyebrow game is weak.
—
Student: Is your sweater soft?
Me: Yeah.
Student: It reminds me of a washcloth.
—
I'm like a fish who fell out of the water 10 days ago.
—
They let angels teach Algebra 2?
—
Can we watch exorcism videos on youtube if we get done with our assignment early?
—
My hair isn't nappy. It's hot.
—
Ms. Hagan, I had to get up at 10:30 to help catch some cats. It made me think of you.
—
Australia has a queen?!?
—
Student 1: You don't look like the person who would own a duck.
Student 2: Yeah, you look like a rabbit person.
—
Me: Put away all your phones and ouija boards.
—
You have cat earrings on. I'm silently judging you, cat lady.
—
Student 1: Your hair looks great.
Student 2: I feel like I got tasered, so I don't really care.
—
[Student] is a bad word.
—
Can I give up? Never mind. I'll use some of the strategies I've learned.
—
I'm keeping my notebook forever. I'm going to put it in my hope chest.
—
Student: You should download the aa app. It's so addictive.
Me: I don't need any more addictions in my life.
Student: What else are you addicted to?
Another Student: Cats.
—
Student 1: You need to have a baby. It will help mellow you out.
Student 2: I feel like if Ms. Hagan was pregnant, she would be super crazy and kill us all.
—
I worked really hard to get these wrong answers, okay?
—
I don't know where to buy one. I've looked at Vera Bradley. I've looked at all the rich people stores.
—
What if someone got married on Pi Day and their cake had 3.14 tiers. Wouldn't that be cool?