Join me today for Volume 3 of Things Teenagers Say. This is my regular round-up of the crazy and memorable things I hear my students say in class. It's been over a month since my last edition. Enjoy!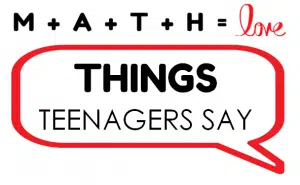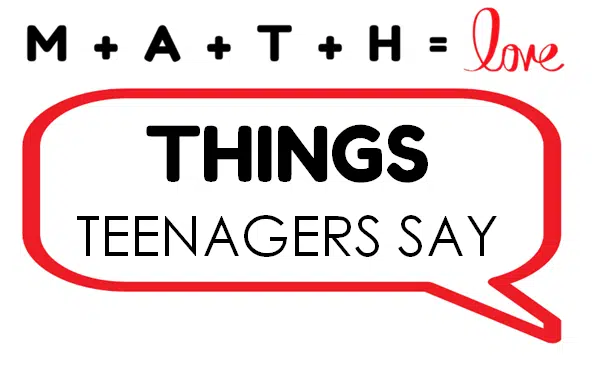 Things Teenagers Say
Me: Today we are going to be learning about polynomials! Aren't you guys excited?
Student: Why would we be learning about party animals? I'm confused…
—
Student: Doesn't the US cover all seven continents?
Me: No. Let's take a look at this globe.
Student: This globe must be wrong. My seventh grade geography teacher told us that the US was on all seven continents.
—
Student: The worksheet I just turned in has Icy Hot on it. Sorry!
(Later the Same Day)
Another Student: I apologize that my homework I just put in the tray has tabouli on it.
(This is only something that would happen in Drumright. Tabouli is like a way of life here. It is served every single day in the cafeteria. I'd never even heard of it before moving here. I wasn't impressed the first time I tried it at, but it definitely grows on you!)
—
(During a Celebrity Age Guessing Game to Motivate Linear Regression in my Stats Class)
There is a photo of Clint Eastwood on the Smart Board. Students have to guess the name of the celebrity and their age.
Student 1: Isn't that the guy from all those westerns?
Student 2: Yeah – that's John Wayne, right?
—
Student discussing me with another student: "Of course she doesn't wear makeup. She's a vegetarian. They're against stuff like that."
—
Student: I don't understand why my teachers always count my answers wrong when I put a line through my Ts.
Me: Do you know how to write an F in cursive?
Student: No. Why?
Me: Well an F in cursive is a T with a line through it. So, when you write a T with a line through it, your teachers think you are writing an F.
Student: That makes so much sense now.
—
Student: What are you eating?
Me: An enchilada.
Student: Why are you eating an enchilada?
Me: Because I brought leftovers for lunch. My mom made enchiladas when I went to visit my parents this weekend, and she sent me back some leftovers.
Student: Are your parents Hispanic?
Me: No. Why do you ask that?
Student: Well, only Hispanic people eat enchiladas.
Me: Yeah, that's not quite a true statement. Do I look like my parents are Hispanic?
Student: Yes. You look like you are part Hispanic and part Jewish.
Me: (Awkward Silence. Yeah, I didn't have any words to respond to that.)
—
Student: Can we listen to some music today?
Me: Sure, who do you want to listen to?
Student: How about some Michelangelo?
—
(Upon entering my classroom on the first day that the desks went from groups of four to rows)
Student: Why is this set up like an actual classroom? I'm confused.
—
Want to read more things teenagers say? Check out previous volumes here.
Recent Volumes of Things Teenagers Say