This blog post contains Amazon affiliate links. As an Amazon Associate, I earn a small commission from qualifying purchases.
Want to check out my favorite Amazon items for the classroom? Check out my Amazon favorites page!
It's a new school year which means new things teenagers say! Welcome to Volume 34! You can check out previous volumes below.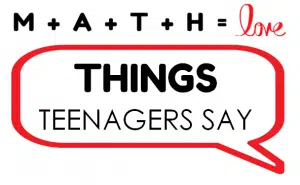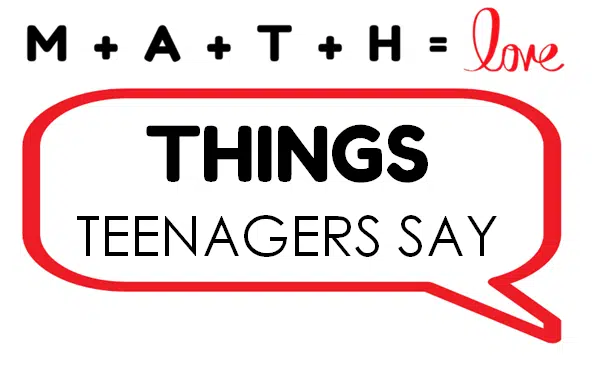 —
If I'm warmed up appropriately, I sound like Whitney Houston.
—
Me: It's kind of a catch up day since so many people are gone.
Student: What about mustard day?
—
One student to another: Don't take the taboo game. I'll kill you.
—
Ms. Hagan's got this. She's the origami master.
—
Student: Did you and your fiance meet because of math?
Me: I guess you could say that.
Student: That's cute.
Me: We think so.
—
If my brain had a facial expression right now, it would be that.
Said while pointing to my Einstein poster.
—
I don't even understand what you are saying. Are you speaking cursive?
—
A clue given during taboo for the word "pillow": It's what you suffocate dying people in the hospital with.
There are no words for this…
—
Ms. Hagan! You're engaged! That means I can't marry you. I can't even date you…
#awkward
—
I wouldn't think Ms. Hagan would be the type to want to get married since she has all her cats and stuff.
—
Ahhh! Where are your What Would Satan Do Seriously posters? Did you take them down?
For the record, WWSDS stands for What Would Slope Dude Say?
—
Student: Can I just write IDK?
Me: NO!!!
Student: Oh, can I write IDC, then?
—
Student while licking paper: It doesn't taste like tree, you know.
—
Student: Can you please just tell us the secret of Petals Around the Rose?
Me: I took a pledge that I would never share the secret.
Student: You don't have to tell us the secret. But, you could pretend like you're talking on the phone and just slip the secret in there. Then, we'd overhear the secret, and you wouldn't get in trouble for telling us.
—
Me: Coffee. This isn't cool. [No food or drinks allowed in my room except bottled water.]
Student: No, it's not. It's very warm.
—
After learning about my research project for grad school:
Student: Since we're your guinea pigs, do we get celery?
—
I'm going to tell people in Wal-Mart, "I like your breathing pattern. Here's my number."
—
Can you hide me so I don't have to go to the dentist?
—
Flirting is bad for your health.
Recent Volumes of Things Teenagers Say