It's been quite a while since the last Things Teenagers Say. My students have been getting antsy for me to post a new one, so here it is!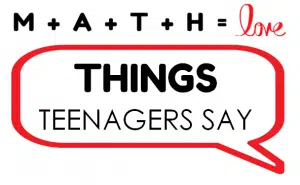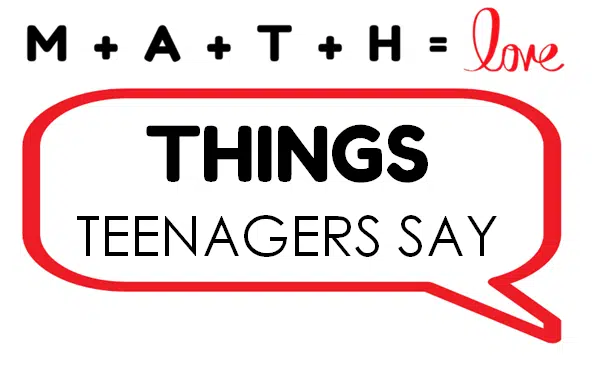 —
Why does my infinity symbol look like a pizza?
—
Me: Sorry, I'm a germophobe.
Student: Hey! Germs have feelings, too!
—
Student: Are you a germophobe? You're always using hand sanitizer.
Me: I don't know who has touched that before, and I don't want to get sick. Just think, the person sitting in your desk last hour could have had a cold.
Student: I think you just turned me into a germophobe!
—
Starting over in relationships is awkward.
—
Student 1: I didn't know you worked at [a steakhouse]. Does that mean you could cook me a mean sirloin?
Student 2: Uh…
Student 1: That was a test. I like my sirloin nice.
—
Student 1: I really want to know if I'm still going to be listening to Drake when I'm 80.
Student 2: You won't be able to hear when you're 80.
—
Is -1 times -1 kind of an awkward positive?
—
Student 1: We need to have a jam session.
Student 2: [Explaining] It's where you make jelly in groups.
—
I don't have tighty whities. I have Fruit of the Loom Boxer Briefs!
—
The woman takes the man's name. It's in the Geneva Convention.
—
It's satisfying how thick our notebooks are!
—
You can love someone and cheat on them. A lot of people think you can't, but you can.
—
Student 1: For a rich guy, he sure had a bad haircut! [Pointing to a poster of Einstein]
Me: Was he rich?
Student 1: He did invent the light. He had to be rich.
Me: Einstein didn't invent the light bulb. Class, who invented the light bulb?
Student 2: Benjamin Franklin?
Me: No.
Student 3: Thomas Jefferson?
Me: No.
Student 4: President Eisenhower?
Me: Definitely not.
Student 5: I think his name was Thomas.
Me: Yes…
Student 5: Thomas Edison!
Me: Yes! Thomas Edison invented the light bulb.
—
I'd eat my baby if I was starving.
Recent Volumes of Things Teenagers Say