Join me today for Volume 50 of Things Teenagers Say. This is my regular round-up of the crazy and memorable things I hear my students say in class.
My students are complaining that I haven't posted a Things Teenagers Say post in a while. So, I guess I'll oblige them.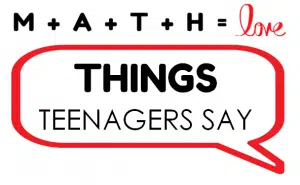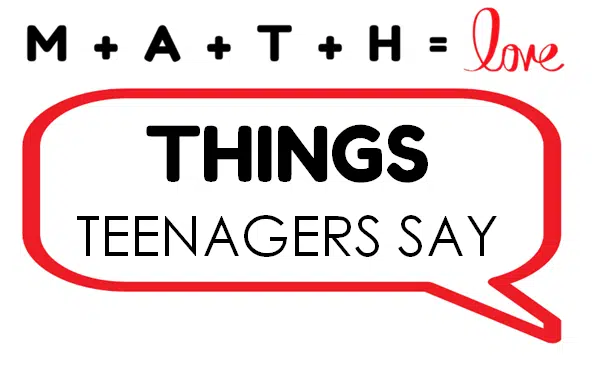 Things Teenagers Say
[Student Name] has an ugly personality. I have a beautiful personality. I have a rose gold personality.
—
Every time you walk in class, it looks like you just walked out of a 90s music video.
—
Every time Mr. Carter talks, I giggle.
—
Student 1: Do you have a game on your phone?
Student 2: Nope. All I have is social media.
—
I wonder if twins still have a doppelganger.
—
My dad is my doppelganger.
—
I don't think I'd be good in prison. I'm too pretty.
—
Did you know that butterflies are an endangered species? There are only five of them left in the world.
—
Squiggly brackets look like angel fish trying to kiss.
—
Did you know that someone made a meme about Mrs. Carter's projector?
—
Mr. Carter should grow a beard He would look like a mean teacher then.
—
I couldn't quit doodling the symbol for all real numbers last hour.
—
You mean-mugged me. Now I have a head ache.
—
You're going to miss Mrs. Carter, so soak it up.
—
Student 1: Is this really where you want to be when Jesus comes back?
Student 2: No. I want to be at home.
—
Tell me the inside joke. We are INSIDE right now, so you can tell me the joke.
—
Me: It's called the caret button.
Student: Is it good for your eyes?
—
I'm going to get pulled over and look like an alcoholic that loves pistachios.
—
Why does glue look so satisfying?
—
Want to read more things teenagers say? Check out previous volumes here.
Recent Volumes of Things Teenagers Say