Join me today for Volume 54 of Things Teenagers Say. This is my regular round-up of the crazy and memorable things I hear my students say in class. It's a much-needed Spring Break here, so I thought I would celebrate this week off from school by posting a new volume of Things Teenagers Say.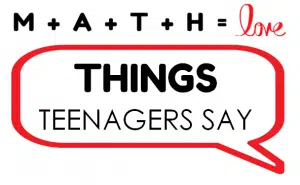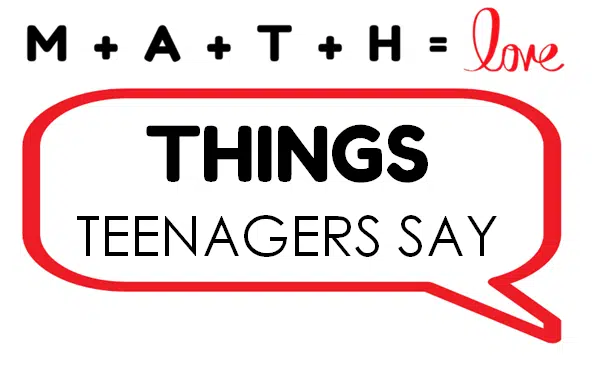 Things Teenagers Say
Student 1: What's a mapping diagram?
Student 2: It's one of Mrs. Carter's favorite things.
—
Student 1: I know how to say 500 in roman numerals.
Student 2: How?
Student 1: D.
Me: How would you write 600?
Student 1: DC.
Student 2: Shouldn't it just be E?
—
Student 1: Did you hear that Toys R Us is closing?
Student 2: That's better news than Stephen Hawking dying.
—
Student 1: Wasn't Stephen Hawking like 30?
Student 2: He was 76.
Student 1: No way. He didn't look that old dat all.
—
You don't know what middle age is until you die.
—
Student 1: What's that disease where you throw up whatever you eat?
Student 2: Bulimic.
Student 1: Yeah. Bulimic. What if you had a vampire who had bulimic? Then, if it threw up blood, it wouldn't know if that was just what it ate or if it had cancer or something.
—
I don't like you Mrs. Carter. You're always making us do things we don't want to do!
—
Do you know what's not a real place? Wyoming.
—
Student: You should supply hairbrushes in your classroom.
Me: Uh no. That's the way to spread lice around the school.
Student: Just don't let the buggy people use them.
—
I think it should be the disturbing property instead of the distributive property.
—
It's actually easy when you try.
—
Too bad John Wayne didn't live long enough to be president. He had such good morals.
—
Are you ever too old to play hide and go seek?
—
Me: I'm sorry. I failed mind reading class in teacher college.
Class: They really have that class?!?
Me: *speechless*
—
My brain can't function. I'm not sure I should be doing this [a quiz] right now.
—
If you went to a crying olympics, you would lose!
—
Student 1: That's a girl.
Student 2: It has a Nicolas Cage face.
—
Keith Urban is Australian, so I really hoping Mr. Carter was going to sound like Keith Urban when he sang in the talent show.
—
For being lazy, mathematicians sure do a lot of work!
—
Student 1: Wait! Don't Australians speak their own language?
Student 2: They speak English.
Student 1: Oh, they have accents!
—
Your notebook ain't nothing compared to mine!
—
Mrs. Carter, you haven't tweeted about me in a few days, and it's making me sad.
—
Did you know that you don't have to know how to tie a shoe in order to untie a shoe?
—
Don't you hate when you stick your pencil in an M&M's wrapper?
—
Can your grade get so low that it's a negative number?
—
I think 40 is the perfect age because you're not TOO old, but you're old enough to make wise sayings all the time.
—
Mrs. Carter, did you know you're crazy sometimes?
—
Student 1: What are you going to college for?
Student 2: To be a veterinariast.
—
Want to read more things teenagers say? Check out previous volumes here.
Recent Volumes of Things Teenagers Say