As student council sponsor, I get to play a large part in organizing our Veterans Day Assembly. My student council students are responsible for hanging up decorations and cleaning up the gym after the assembly.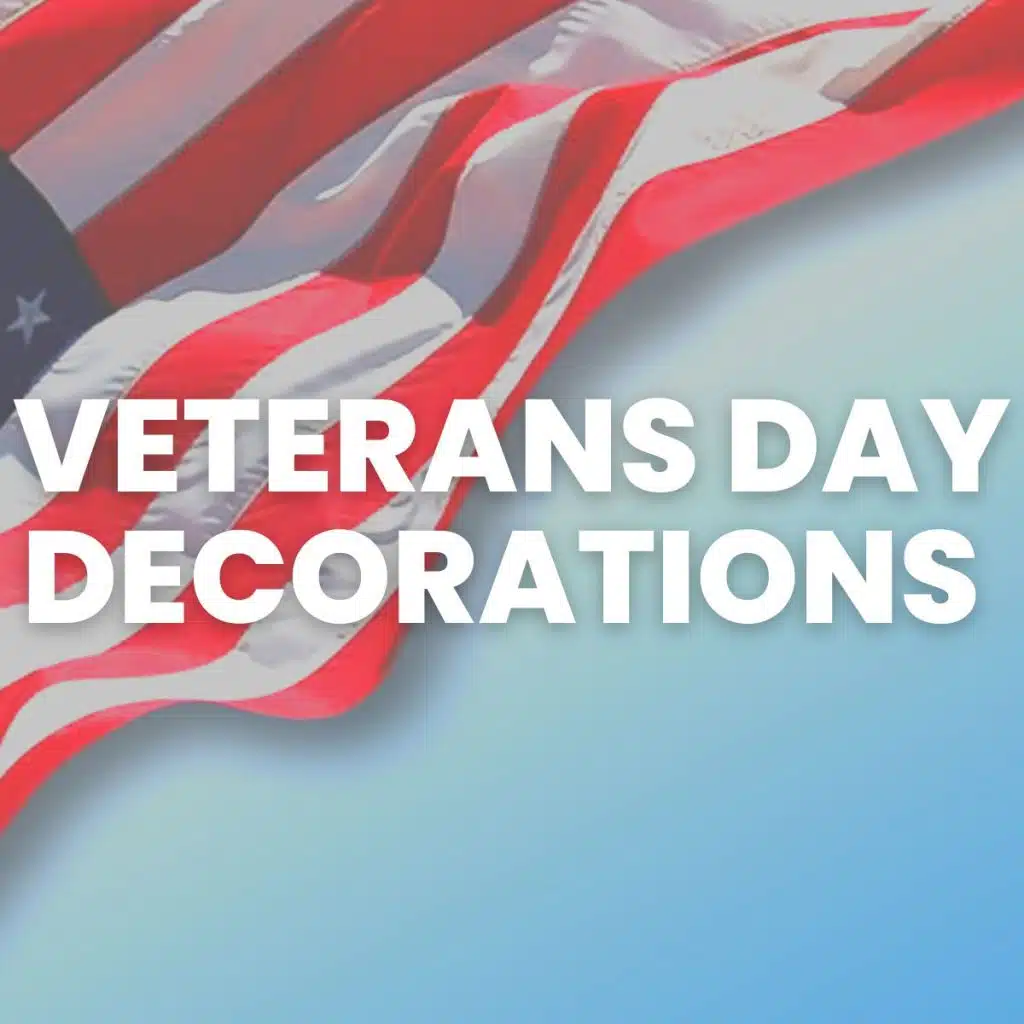 Here are some pictures I took over the years of how my school decorated for Veterans Day. It is my hope that these Veterans Day Decorations will give you some ideas for your own celebration.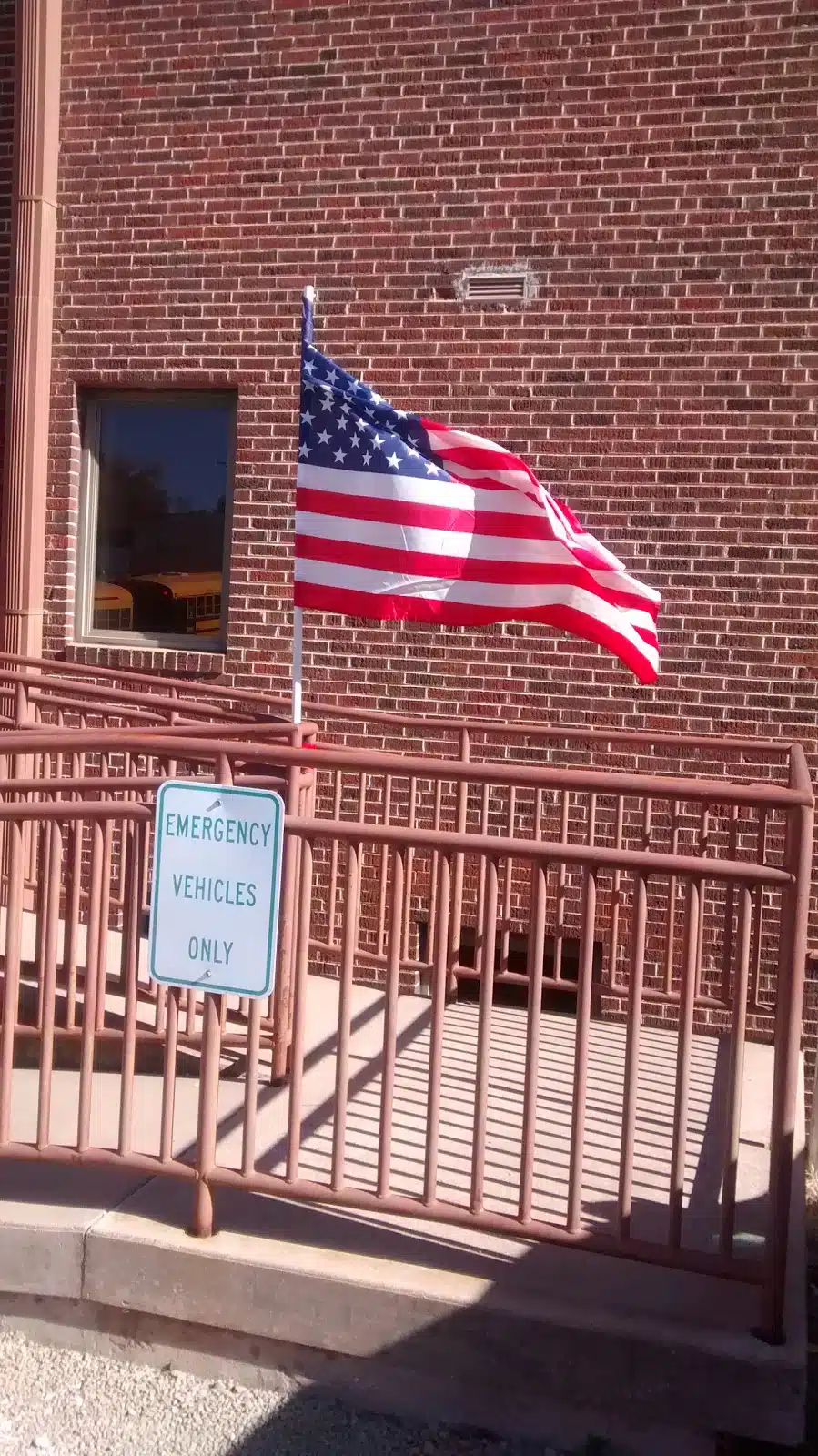 One of my super artsy students painted this beautiful banner to hang on the wall for our assembly.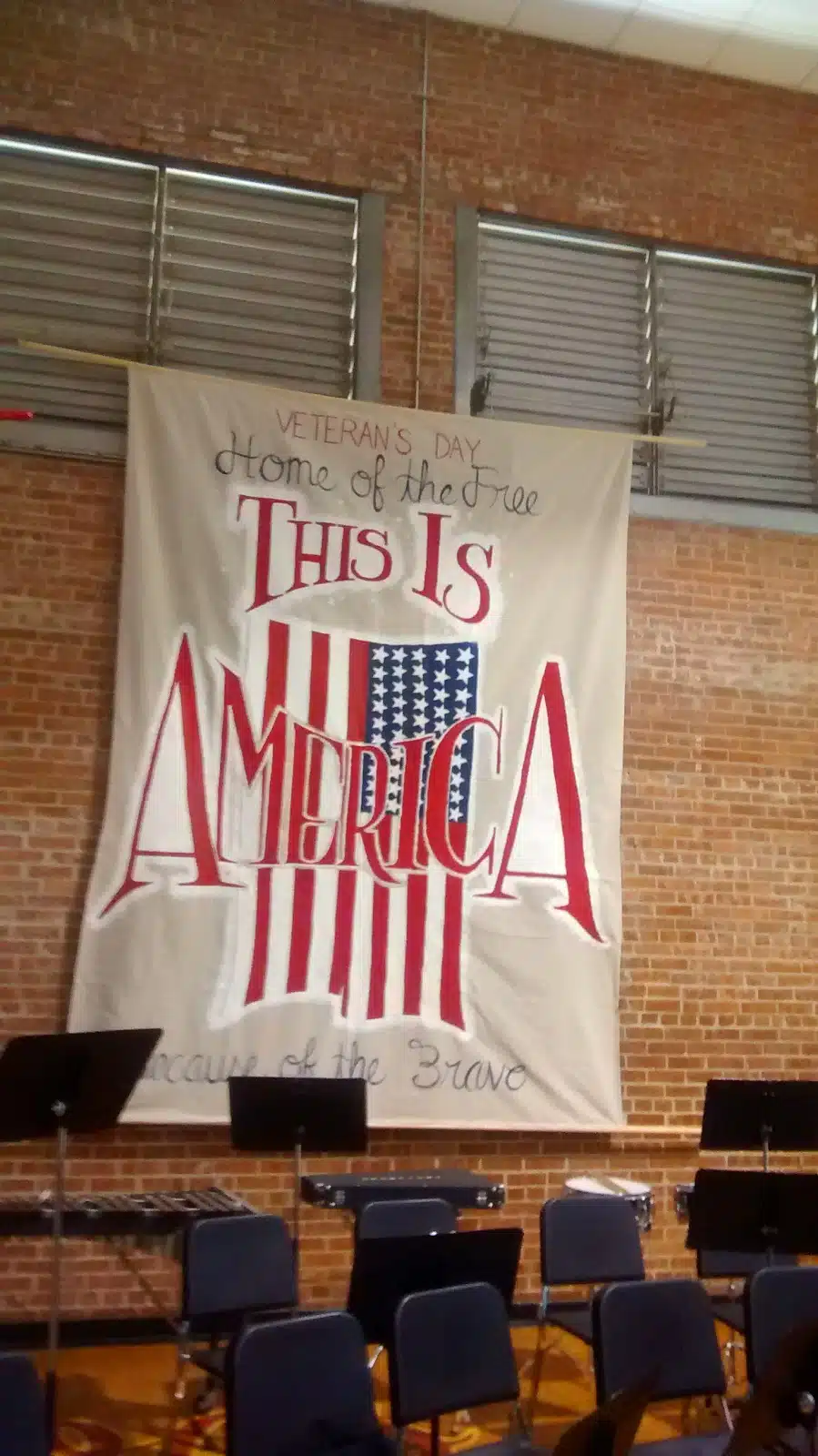 Columns that we normally use for prom decorations were wrapped in red, white, and blue table cloths.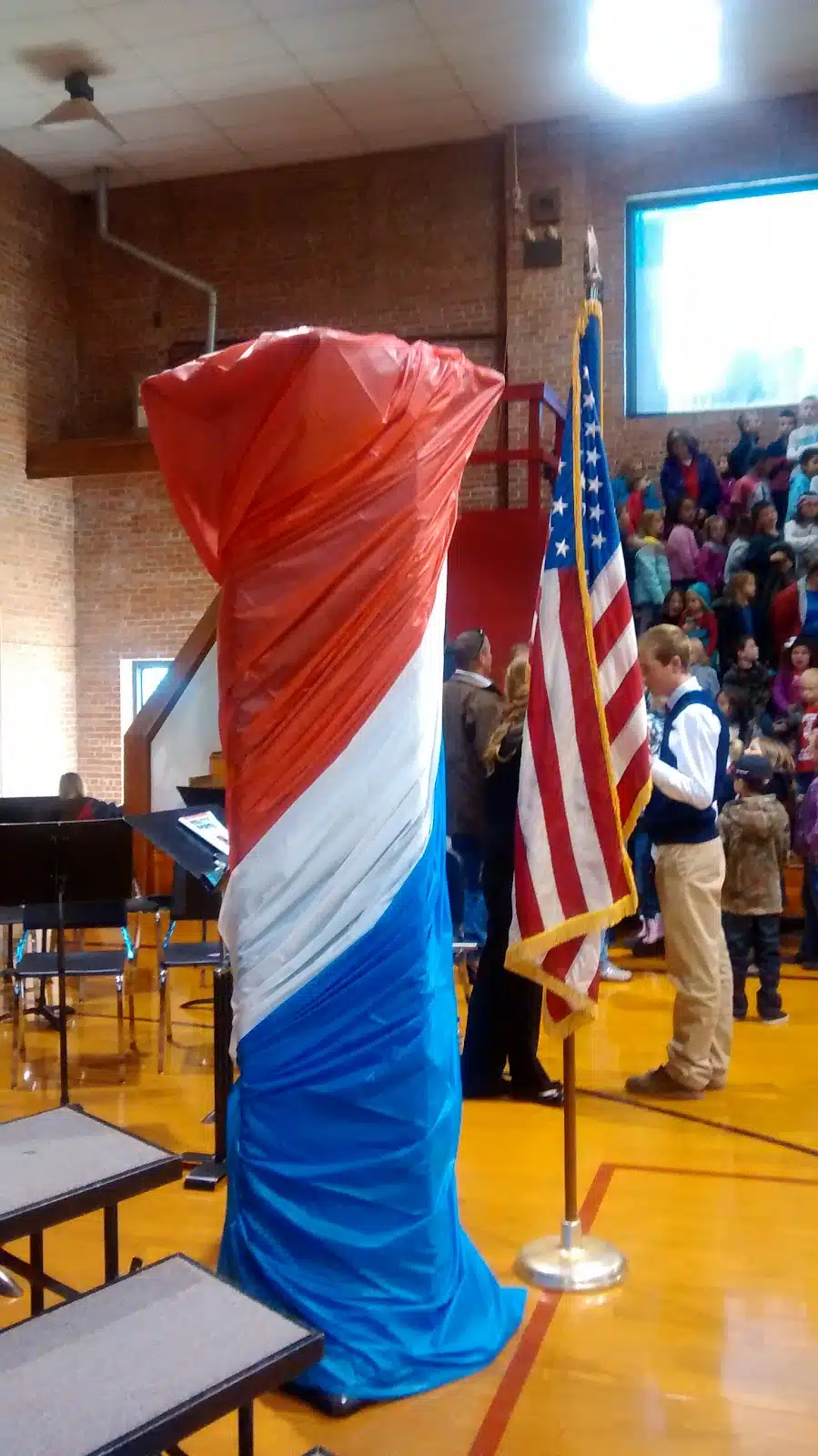 I had nothing to do with this paper link flag, but I thought it was a really cute idea!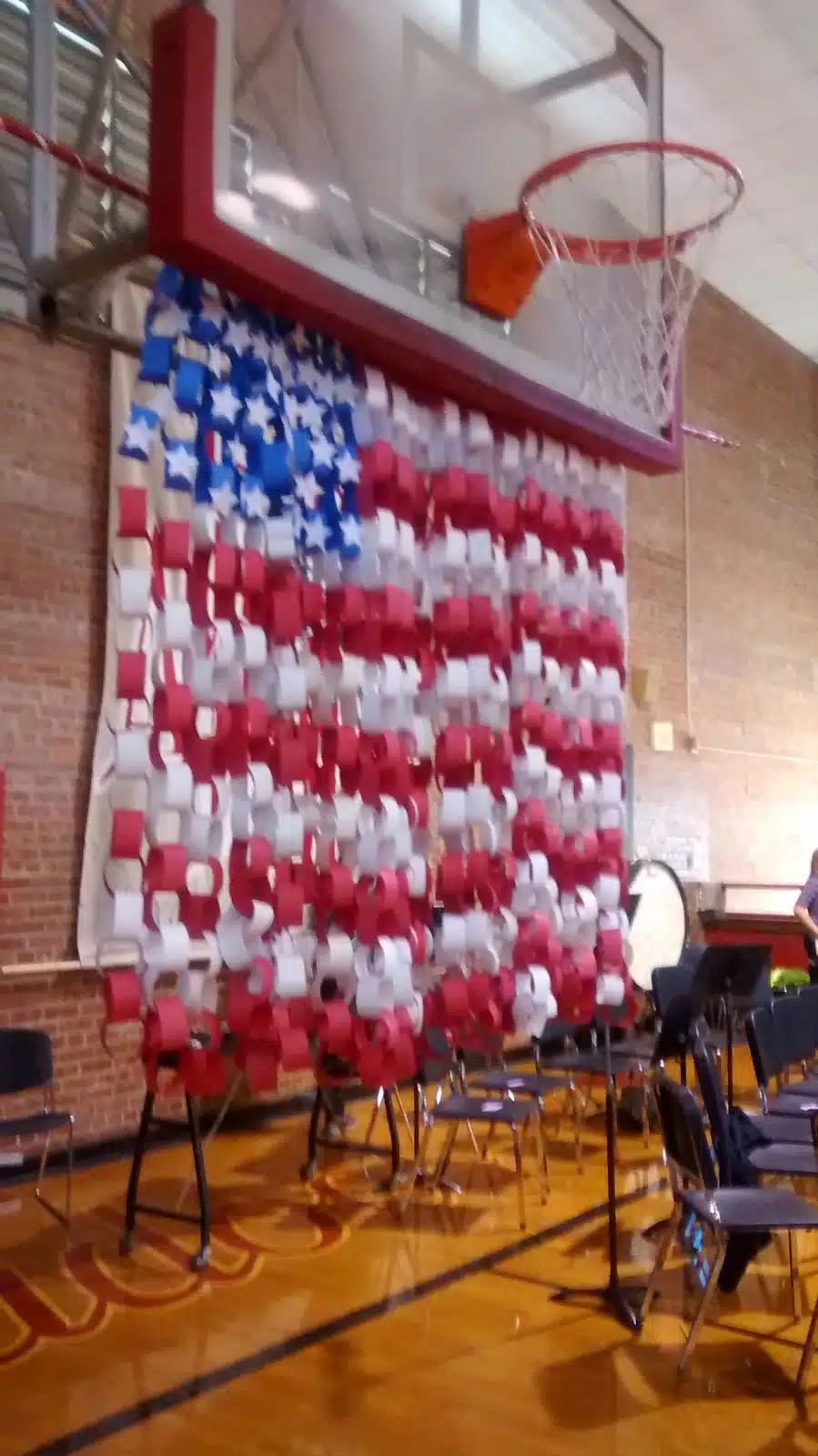 My main job was overseeing the creation of a balloon flag. One of my coworkers had her son construct a pvc frame to build the flag on.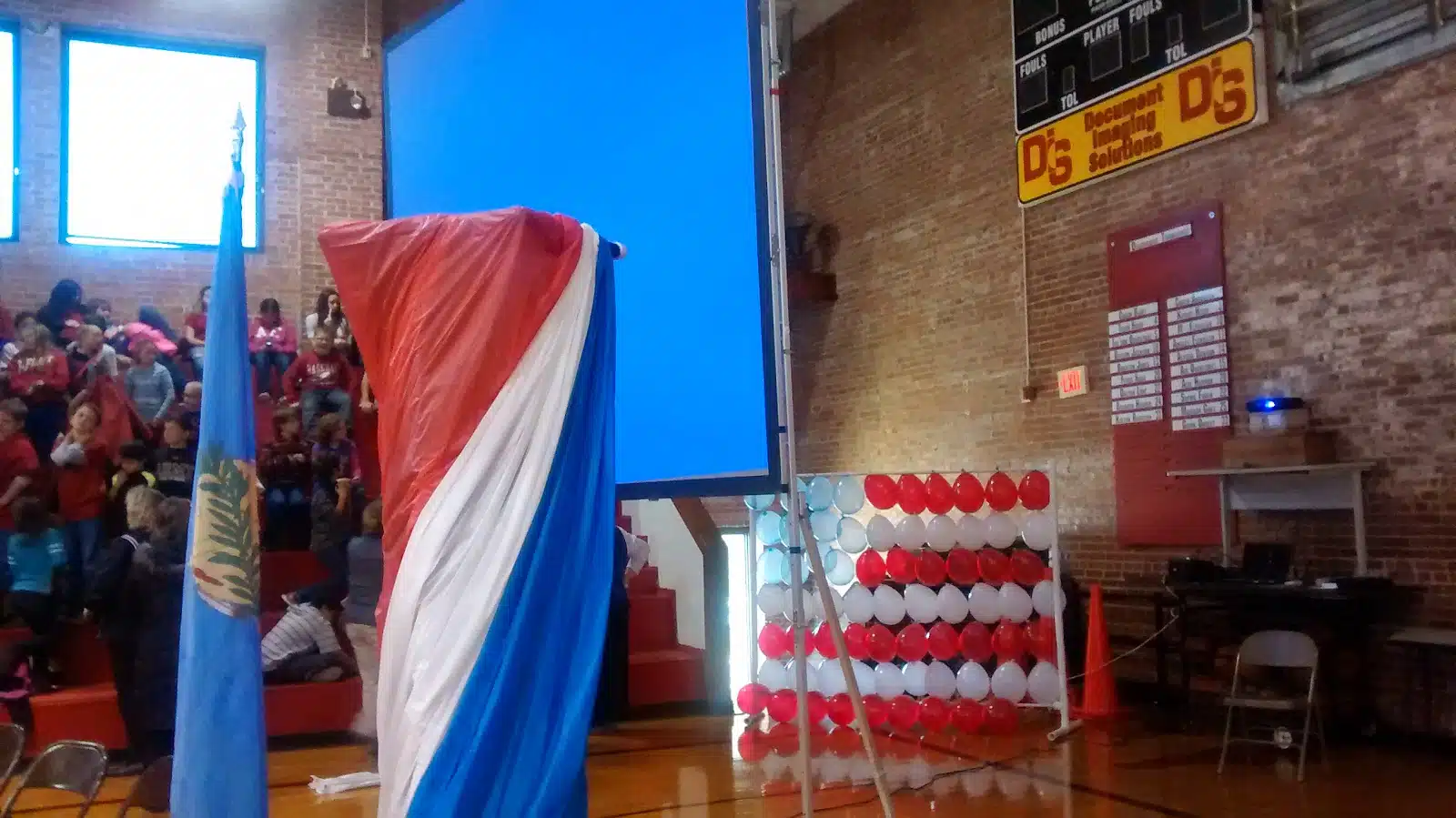 I recruited my first hour freshmen Algebra 1 class to help me blow up the balloons. To say this was chaotic would be a huge understatement. I certainly didn't have the time, motivation, or lung power to blow up all of the balloons by myself though. That would be CRAZY.
I'm pretty sure the kids helping me might have popped just as many balloons as made it on the final display.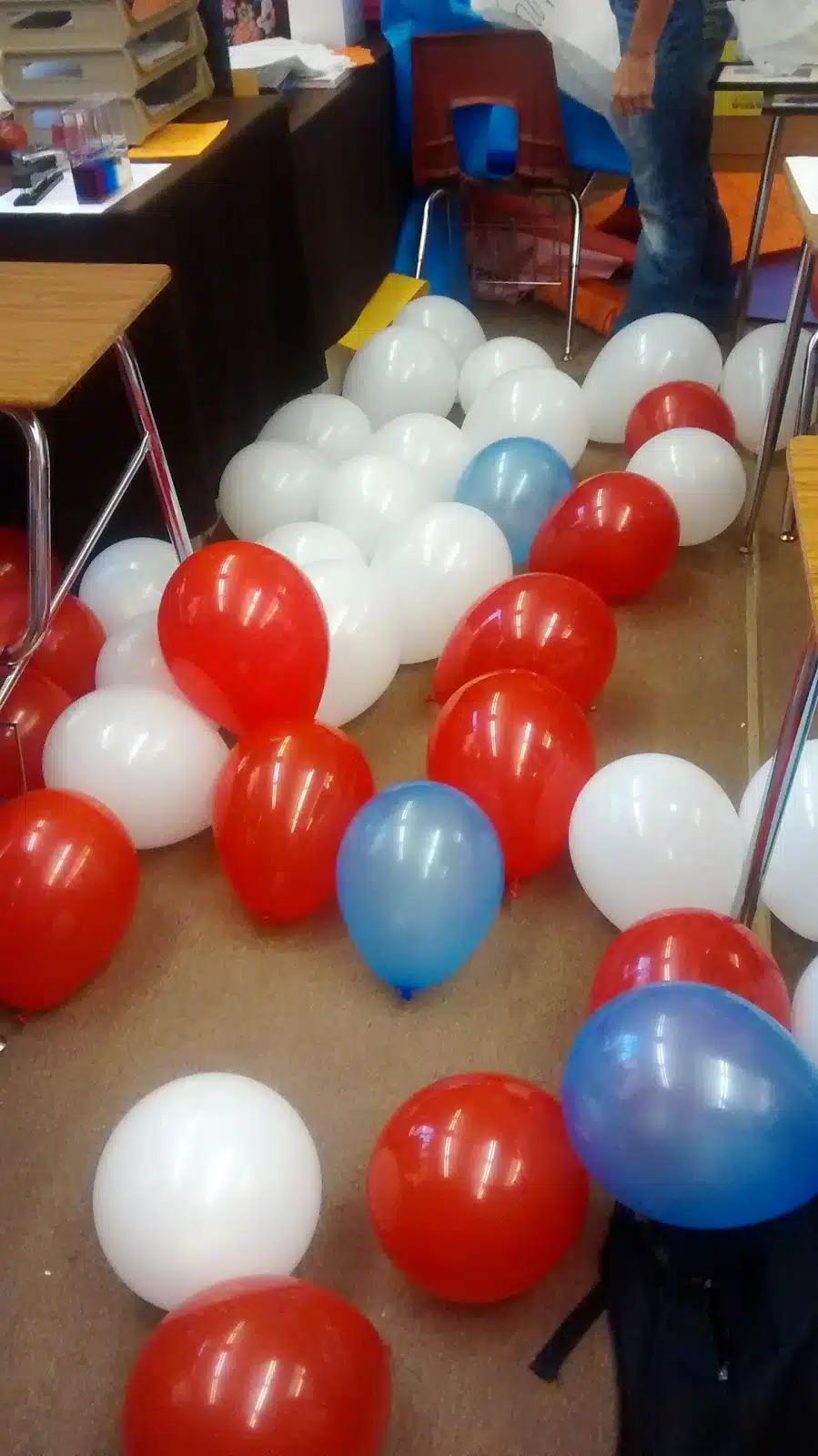 If you look closely at the bottom row, you can see that we actually ended up being short one red balloon. Oops…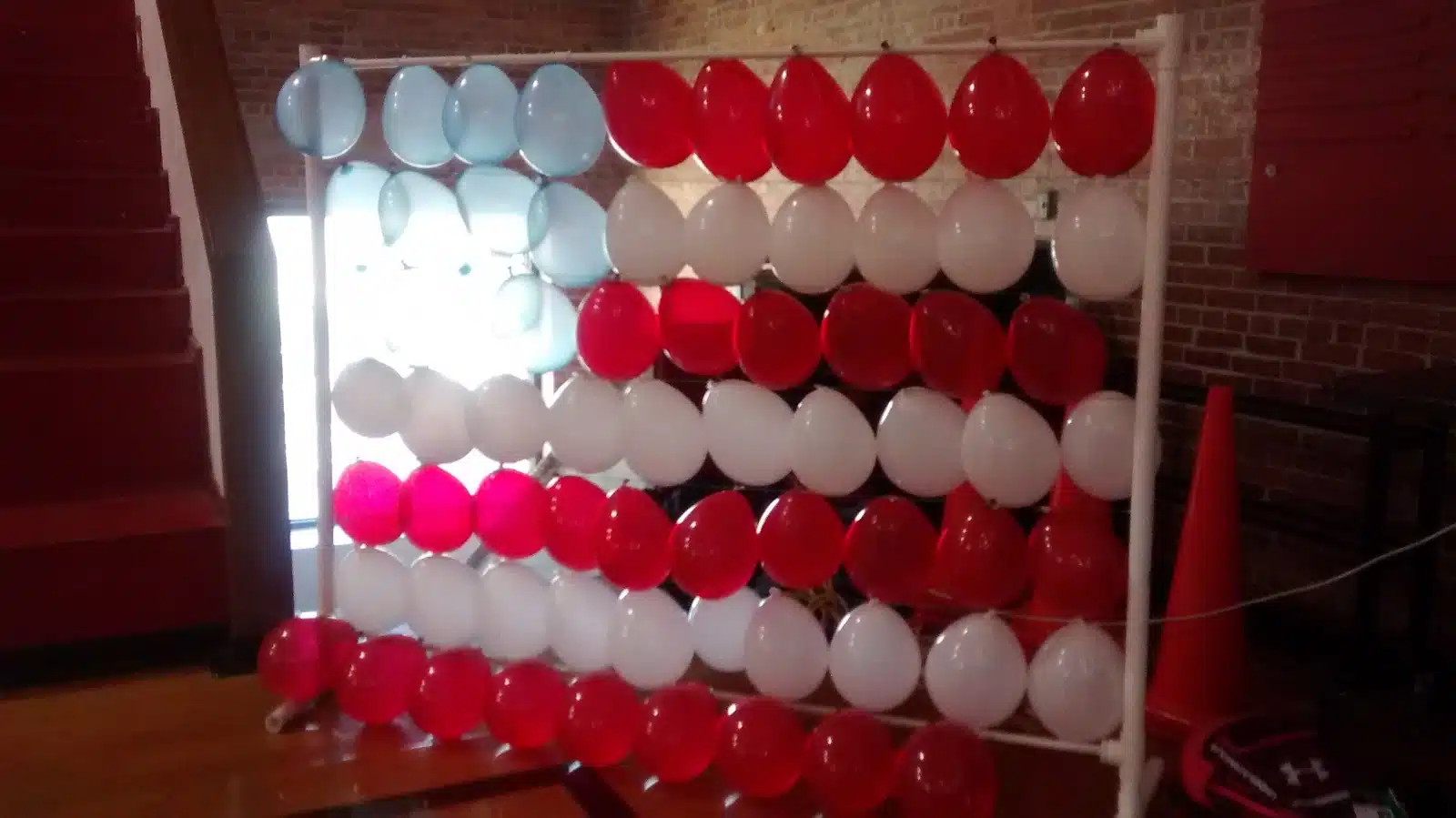 The elementary school made a hand print flag poster.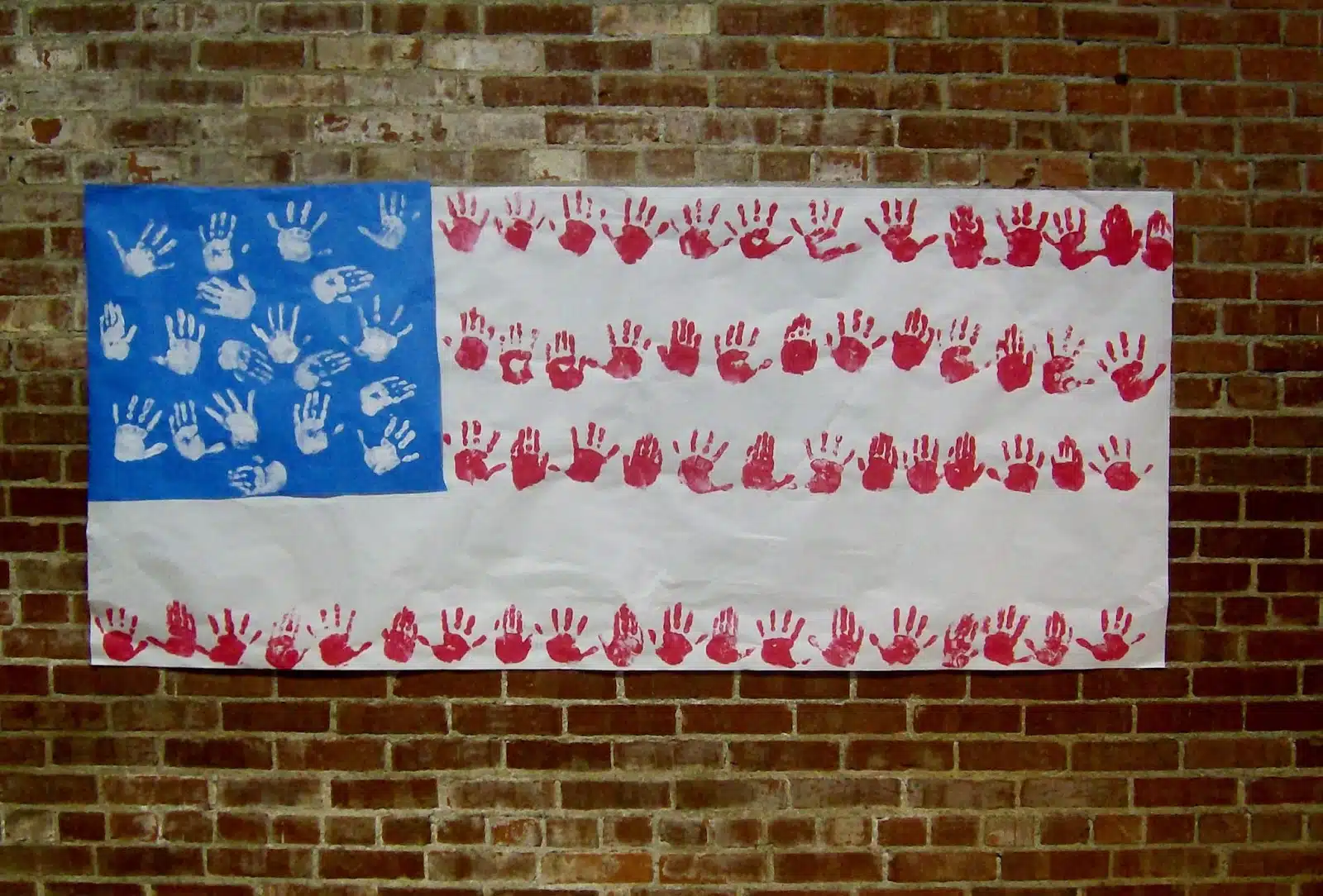 We had flowers around the podium where our speaker spoke from. Each year we invite a different veteran from the community to speak to our entire K-12 student body.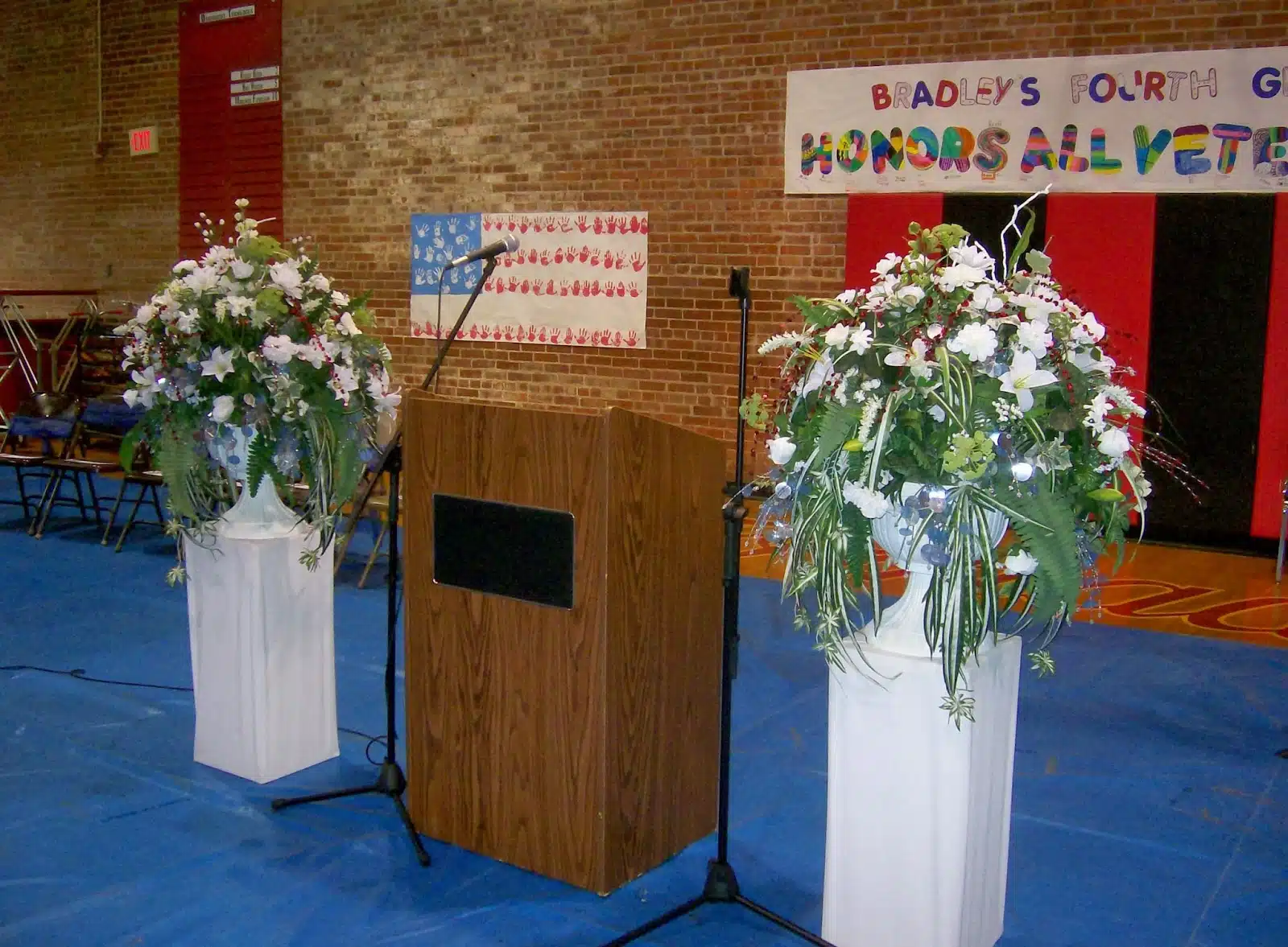 We added blue ribbons to the folding chairs.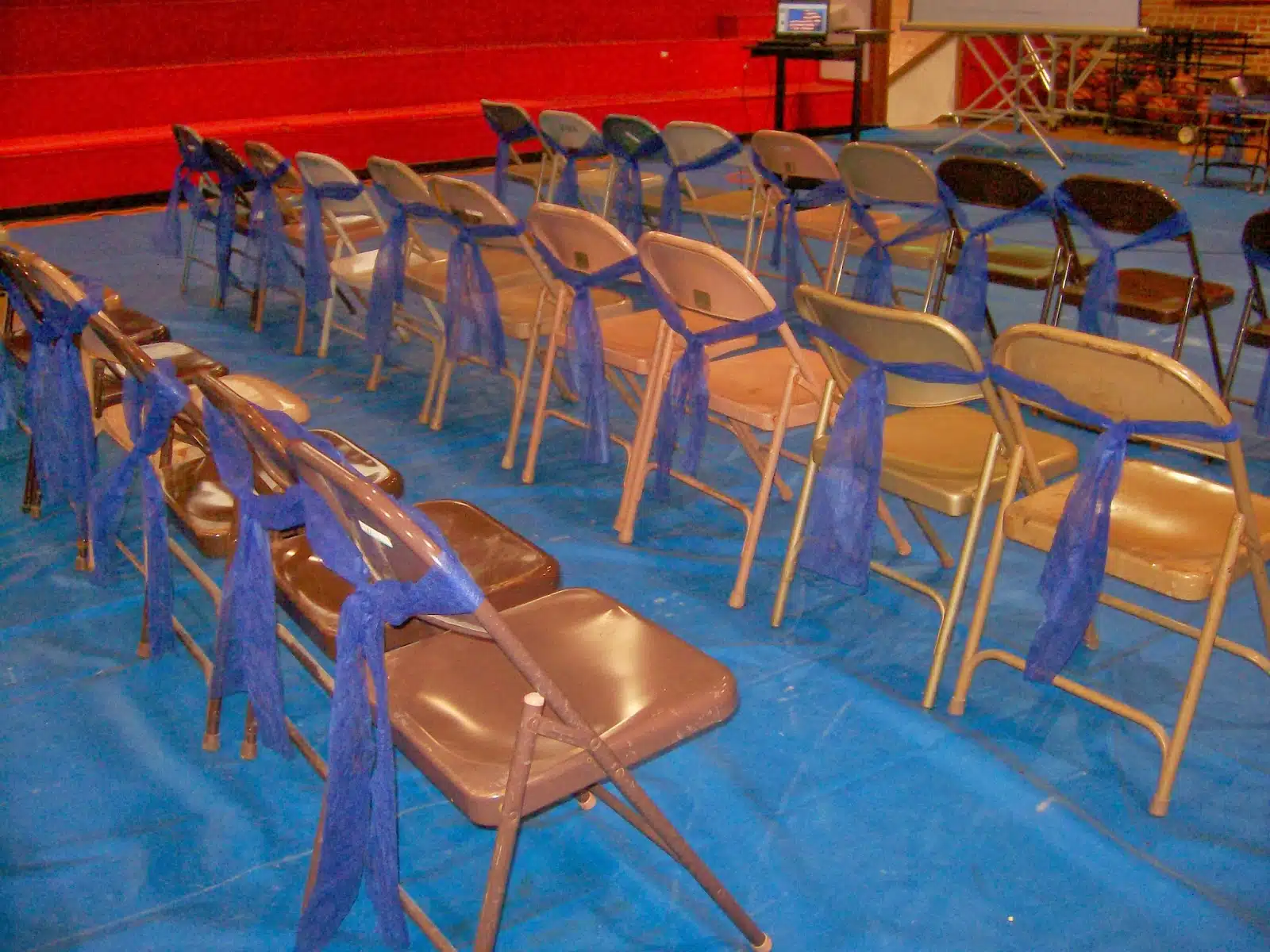 Patriotic Dividers
Here are some more displays from our various elementary classes.
America is in our hearts…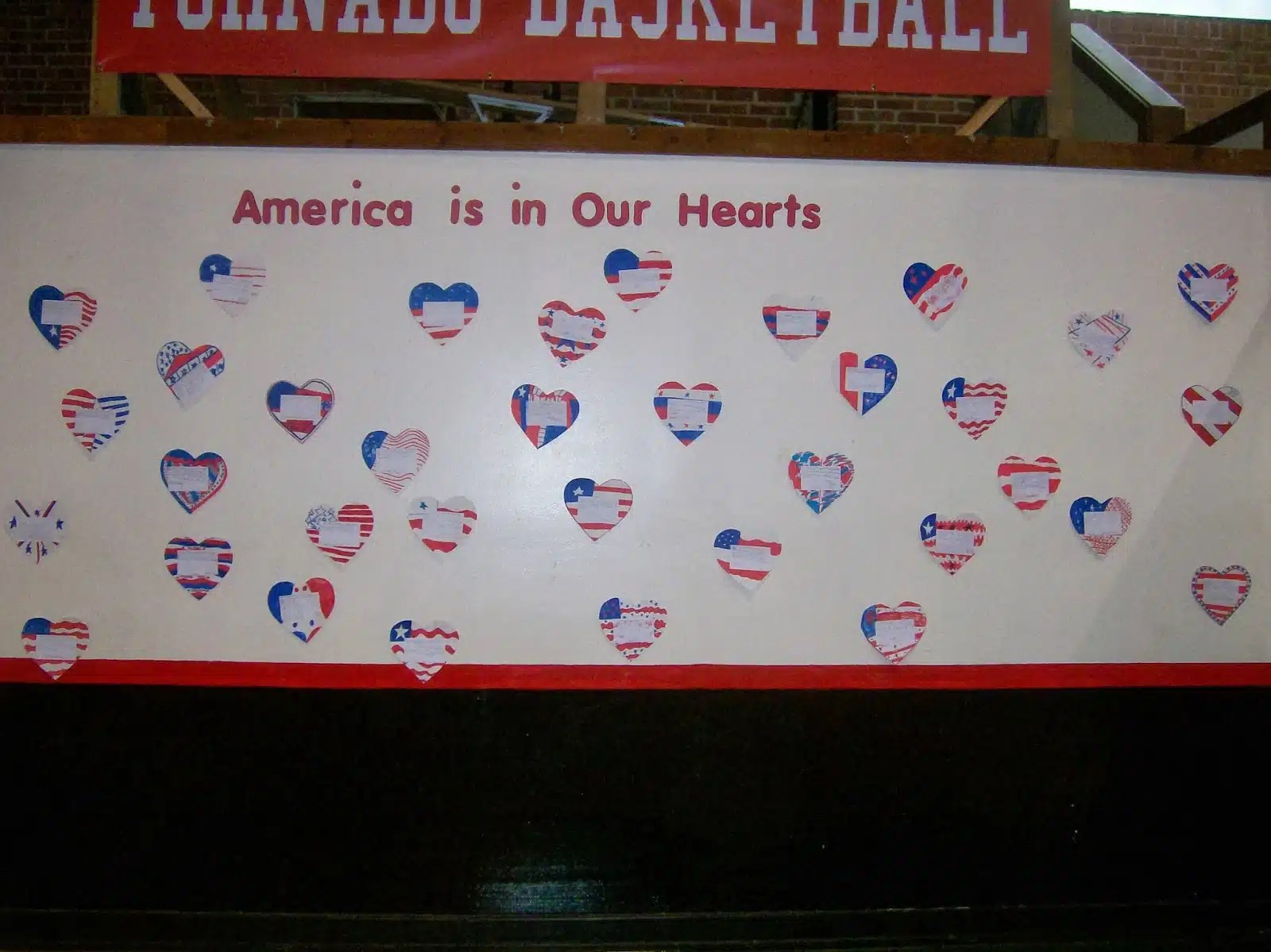 Honoring our Vets Coloring pages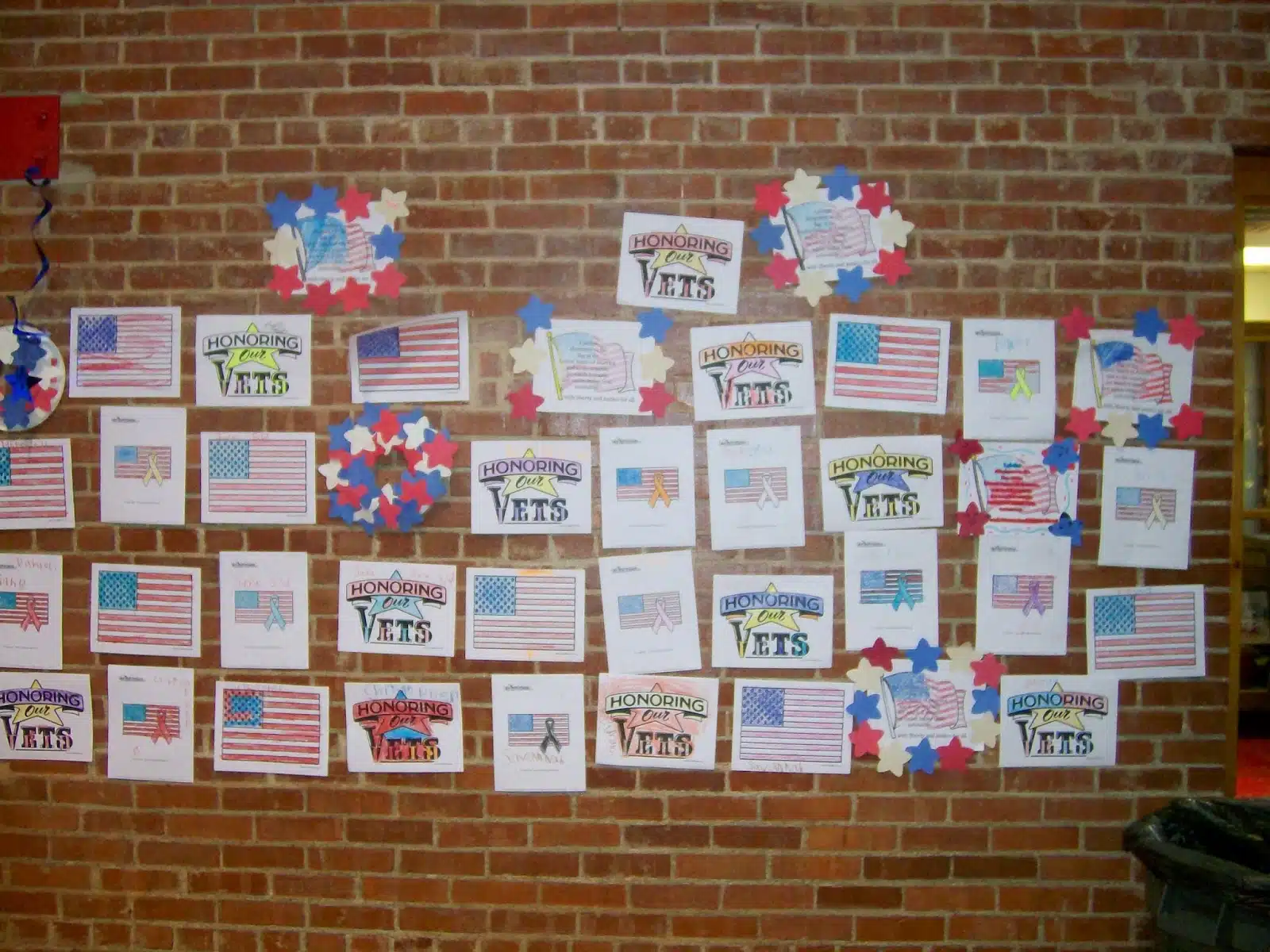 We Love our Veterans Poster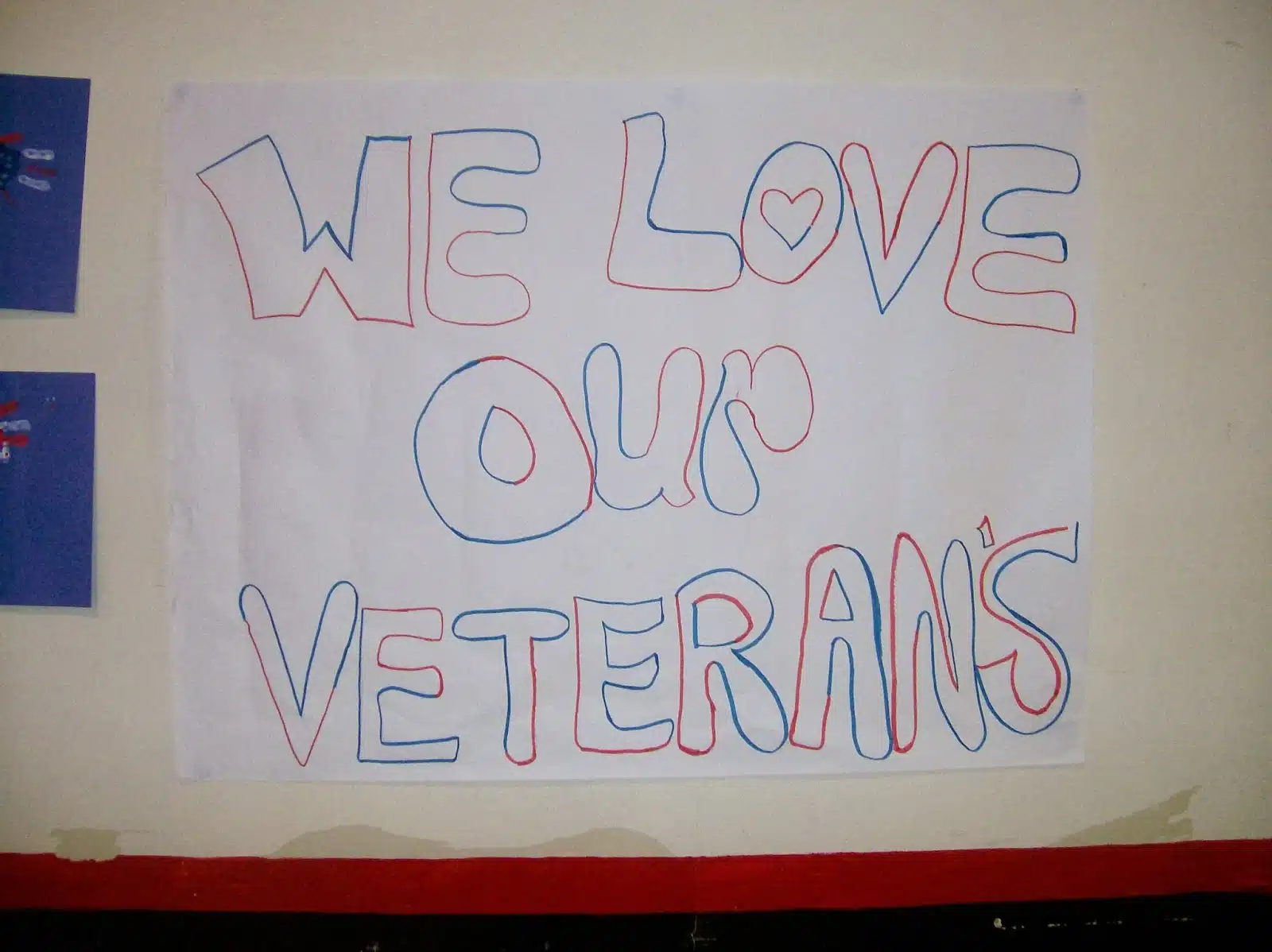 Hand Print Flags
I think these are so creative!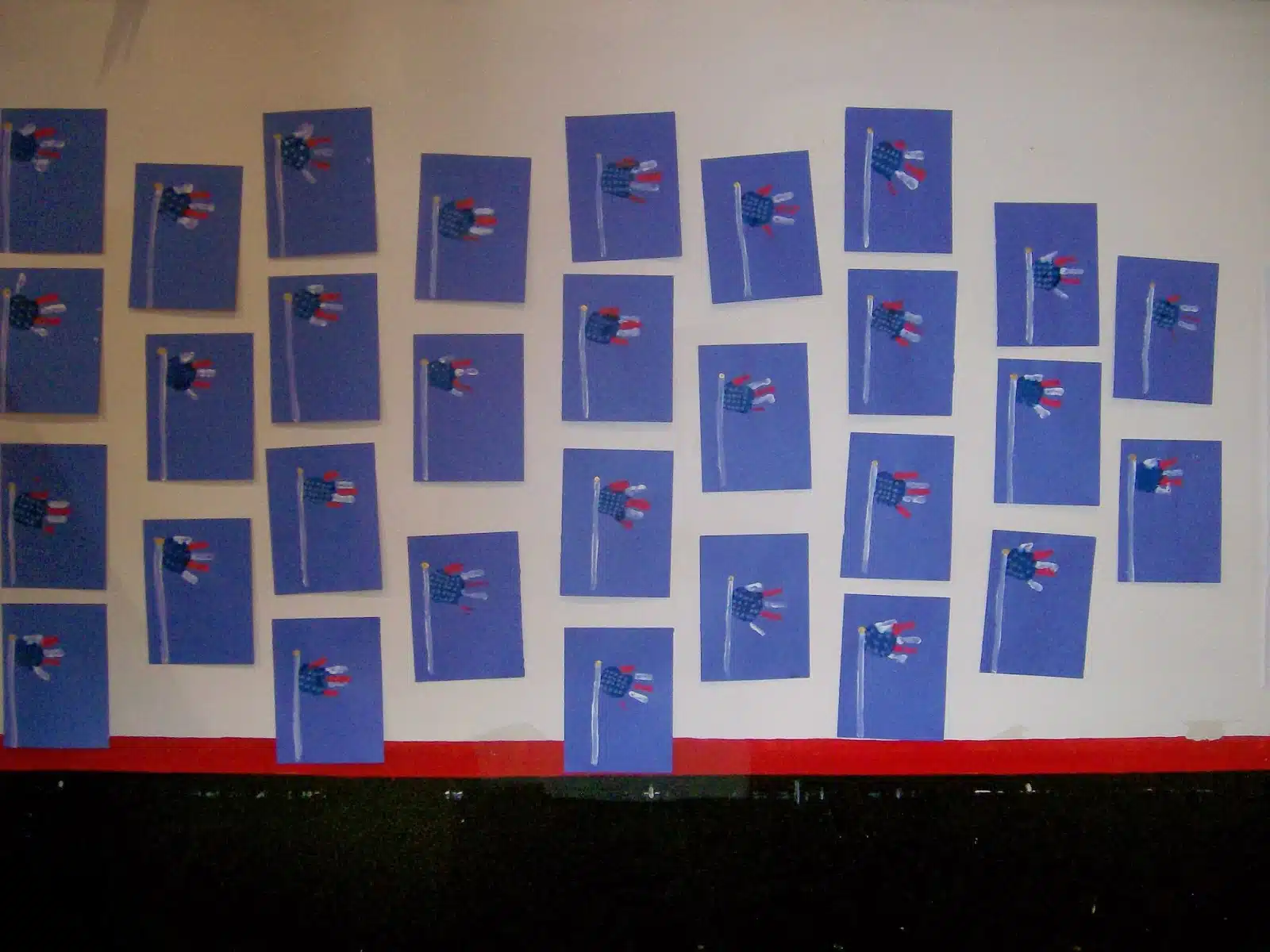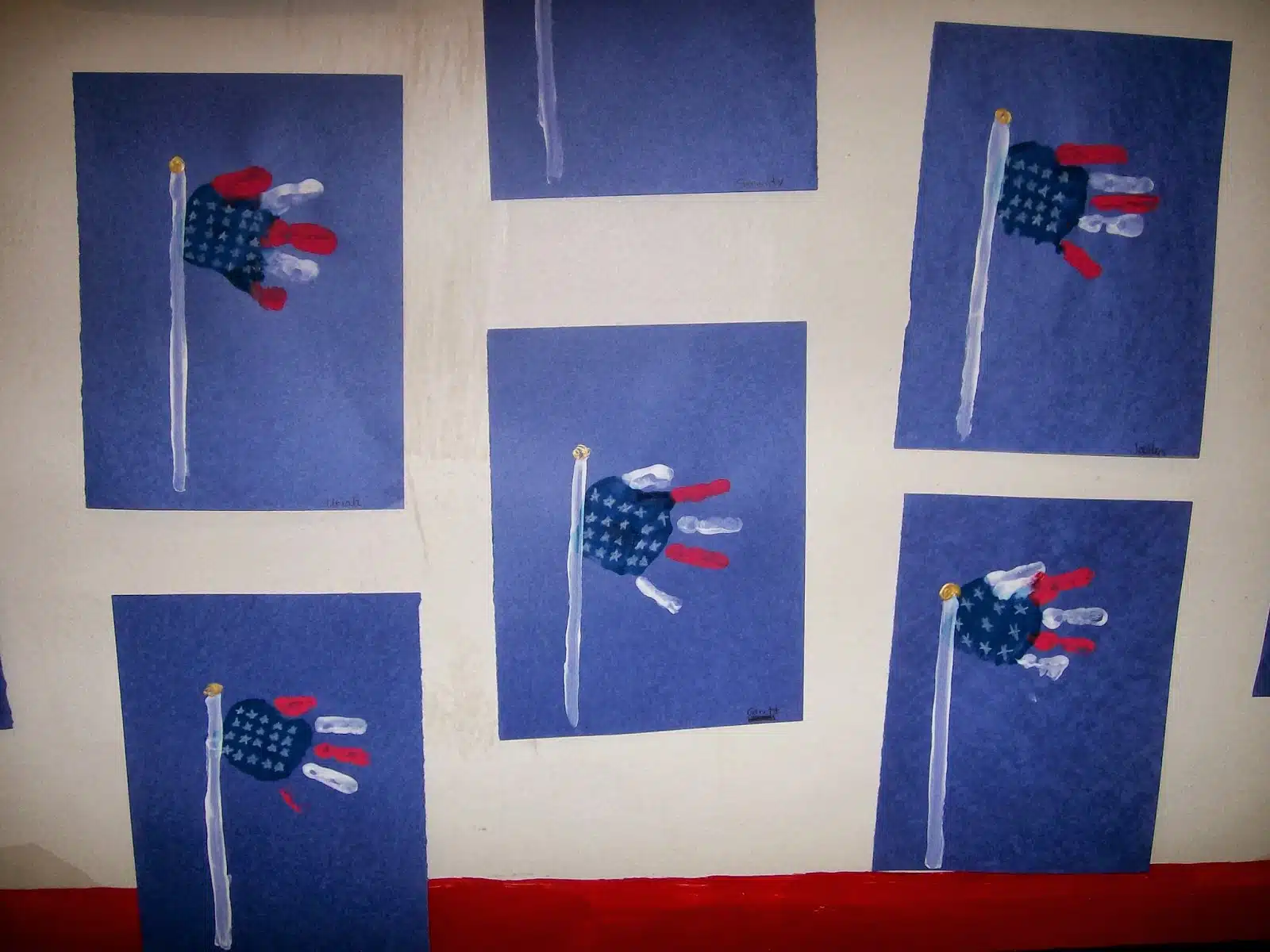 Flags Flying. I love this picture because you can see our town's giant flag mural in the background. It's painted on the side of our fire station.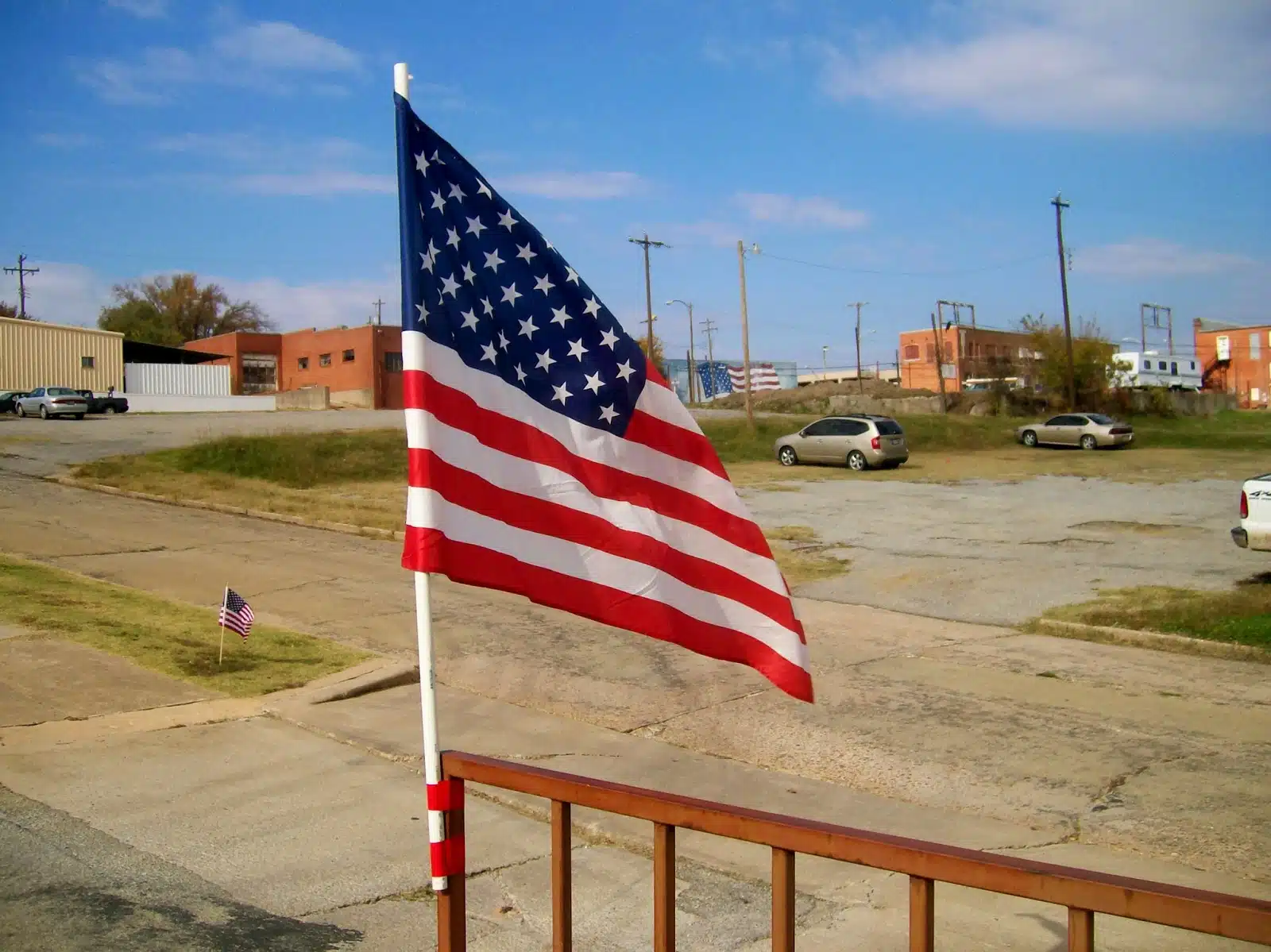 Flags and Pinwheels at the Entrance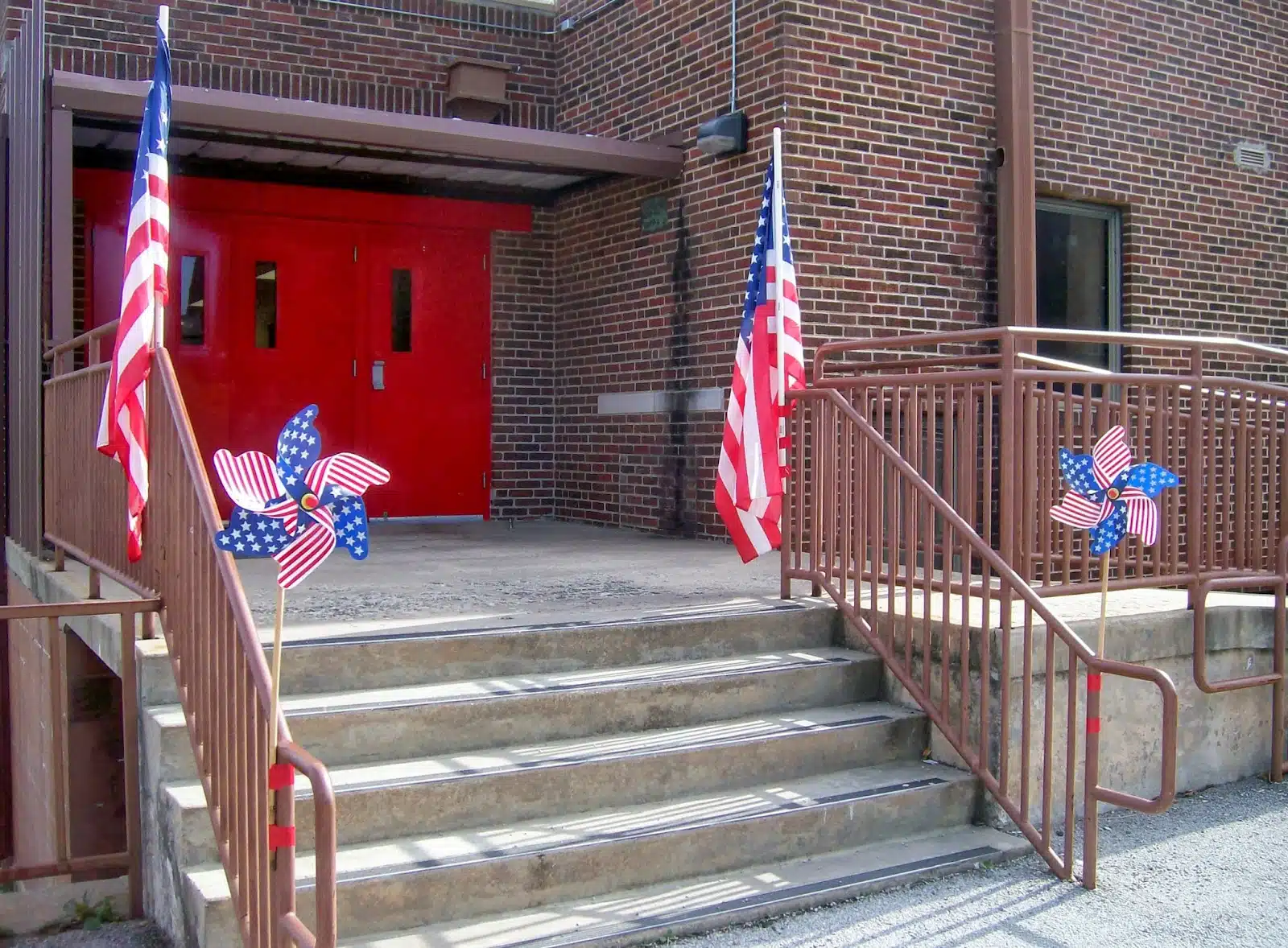 Tiny Flags Along the Sidewalk… I love how these small flags line up with the giant flag that was constructed by the town on the second-highest place in town.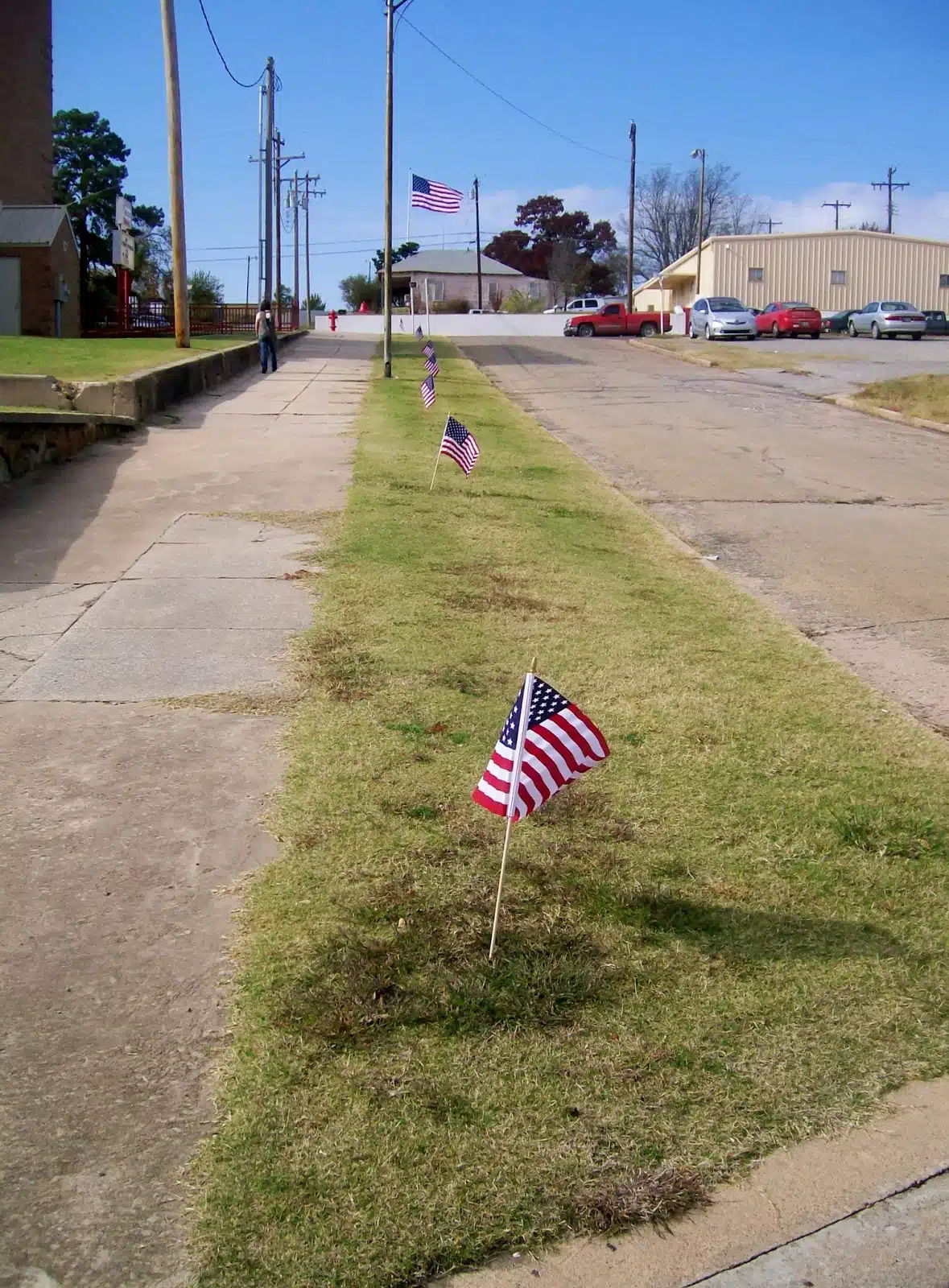 Goody Bags for the Veterans. These were filled with soft and hard peppermints as a small token of our thankfulness for their service to this country and to each and everyone of us.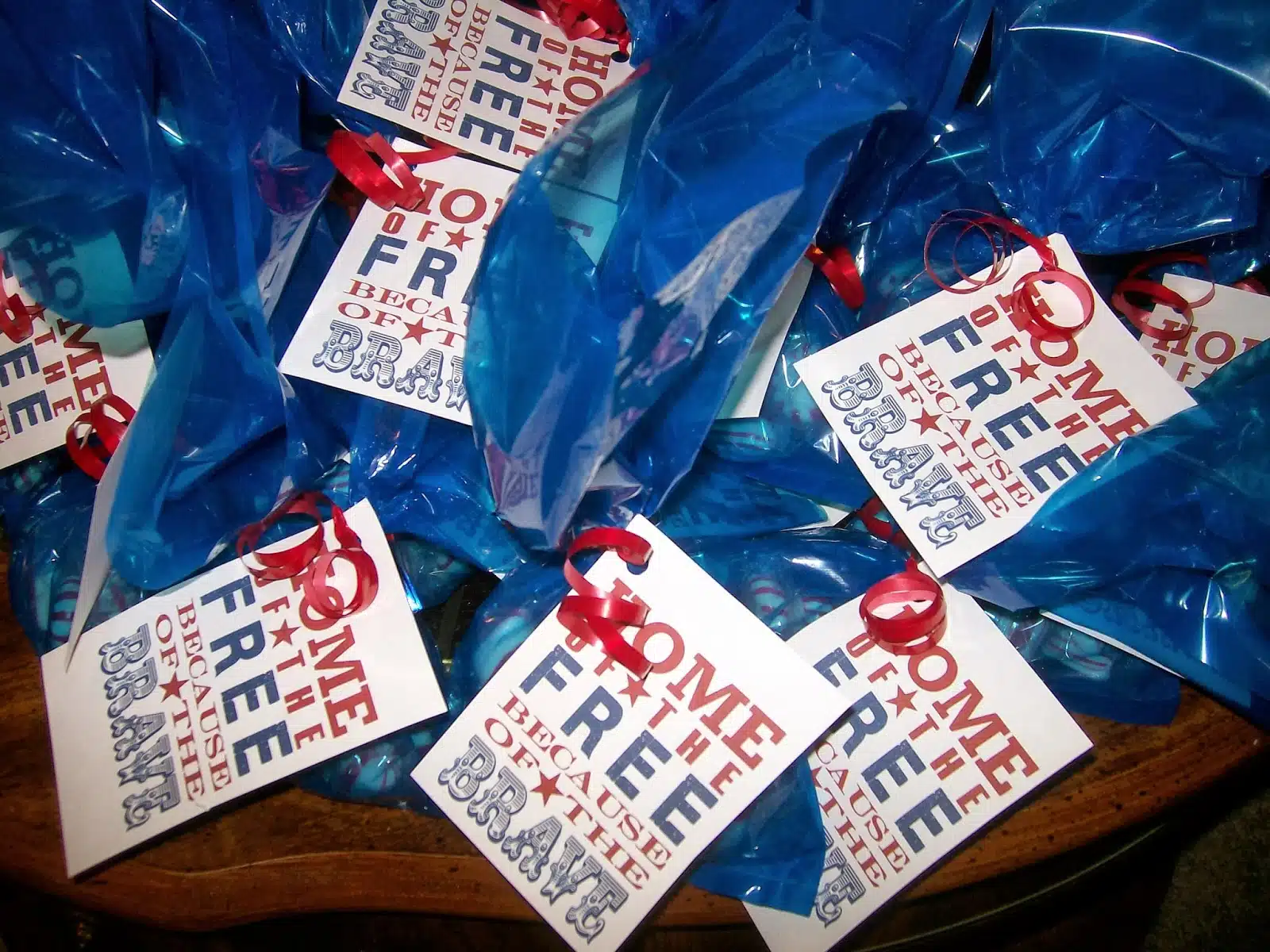 Each bag was adorned with a tag that read, "Home of the Free Because of the Brave." The tag was downloaded from here.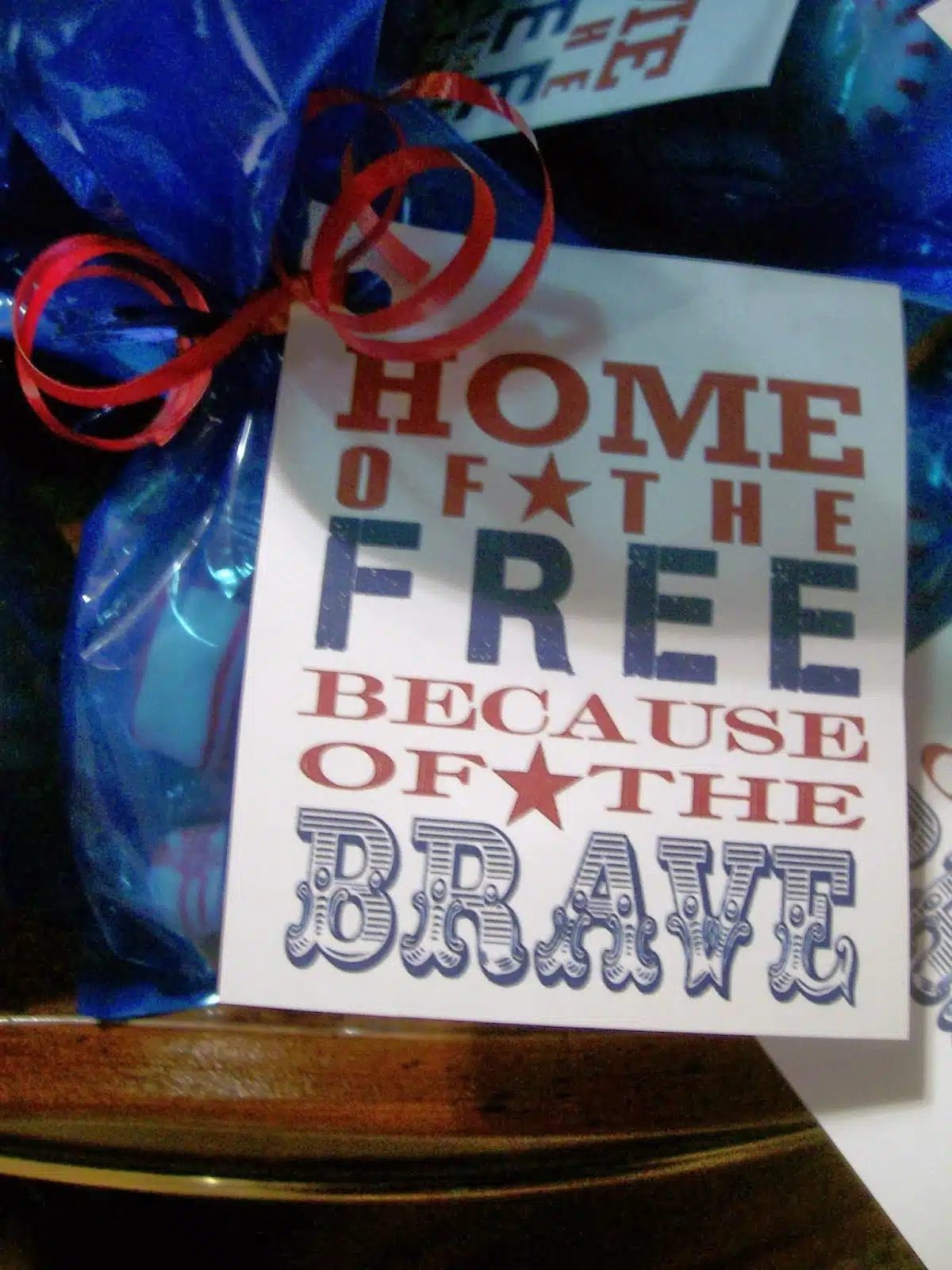 And, I guess this post isn't complete without a picture of me in my Veteran's Day outfit. It's not everyday you can pull off looking like the American flag…