ENGAGING AND FUN MATH ACTIVITIES
I'm Sarah Carter, a high school math teacher who passionately believes math equals love. Through this blog, I'm on a mission to equip other teachers to create inviting and engaging classrooms where learning mathematics is fun.
I currently teach AP Calculus AB, Pre-Calculus, and Statistics at Coweta High School in Coweta, OK. Over my eleven-year teaching career, I have taught both math and science at the secondary level. If you want to know more about my career in education, check out my About Me page.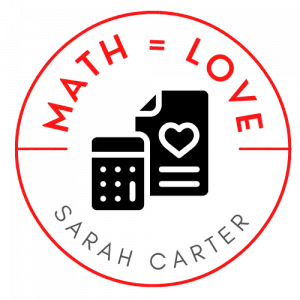 CHRISTMAS MATH ACTIVITIES
MATH TEACHING RESOURCE INDEX
To help make it easier for math teachers to find resources for teaching various mathematical concepts, I have started to compile a math teaching resource index.
For each topic below, I have put together an index of all the resources I have created for the topic as well as links to resources from other teachers. These additional resources are currently a work in progress.
MOST POPULAR ACTIVITIES
MOST RECENT BLOG POSTS
If you're looking for a traditional blog reading experience, I recommend checking out my BLOG page. You can find it by following the previous link or by clicking on the Blog Tab at the top of the page. This page will list all of my blog posts (over 1300 of them!) in chronological order with the most recent blog post first.
This blog started as a way for me to make sense of my student teaching experiences in the middle school and high school math classroom. It's evolved over the past decade to become a way to share free resources for engaging and fun math activities with teachers around the world.
Looking for resources for a specific math teaching topic? I recommend navigating the blog using the tabs at the top of the page or by using the search box. You can easily find and read all of my posts about polynomials, puzzles, or posters this way.
FREE PRINTABLE MATH RESOURCES
PRINTABLE MATH PUZZLES
I am a passionate proponent of incorporating puzzles into the mathematics classroom. Over the past five years, I have compiled a collection of hundreds of free printable puzzles that have been used in math classrooms around the world with students ranging from elementary school to high school as well as adults! You can find out more about how to access these free puzzles on my puzzles page!
FREE PRINTABLE MATH POSTERS AND CLASSROOM DECORATIONS
My high school math classroom is my happy place, and I love decorating it to display my love of math to my students. I have created many math posters over the years that I am sharing here on my blog. I recommend checking out my entire math poster collection – ten years' worth of math posters!
FUN AND CREATIVE MATH PRACTICE ACTIVITIES
I love creating fun, interactive, and hands-on activities. Be sure to check out some of these activities while you are here!
GAMES
Looking to infuse some fun into your math classroom? Check out these free printable games! You and your students are sure to have a ton of fun!