This blog post contains Amazon affiliate links. As an Amazon Associate, I earn a small commission from qualifying purchases.
Want to check out my favorite Amazon items for the classroom? Check out my Amazon favorites page!
For over a month now, I've been meaning to set down and create a set of integer operations posters. Today, I finally did it.
At one point in the semester, I had these written out on my dry erase board. I never saw anyone use them, so I decided to erase them when I cleaned my board.
The next day, I had several students questioning me about where the rules had gone. So, I rewrote them on the board.
A week or two later, my computer and Smart Board decided to stop working. No Smart Board means I have to use the dry erase board. So, I ended up erasing the rules again.
And, again, I heard from several students who wanted to know where the rules had gone.
They've been erased for a while now with no more complaints, but we're getting ready to start graphing using a t-chart. So, I wanted to create a permanent place in my classroom to post a short reminder of the rules.
It is my goal that by the end of the year all of my students will know these by heart. But, until then, I want them to have a place to look when they can't remember instead of just guessing.
Here are the integer operations posters I created.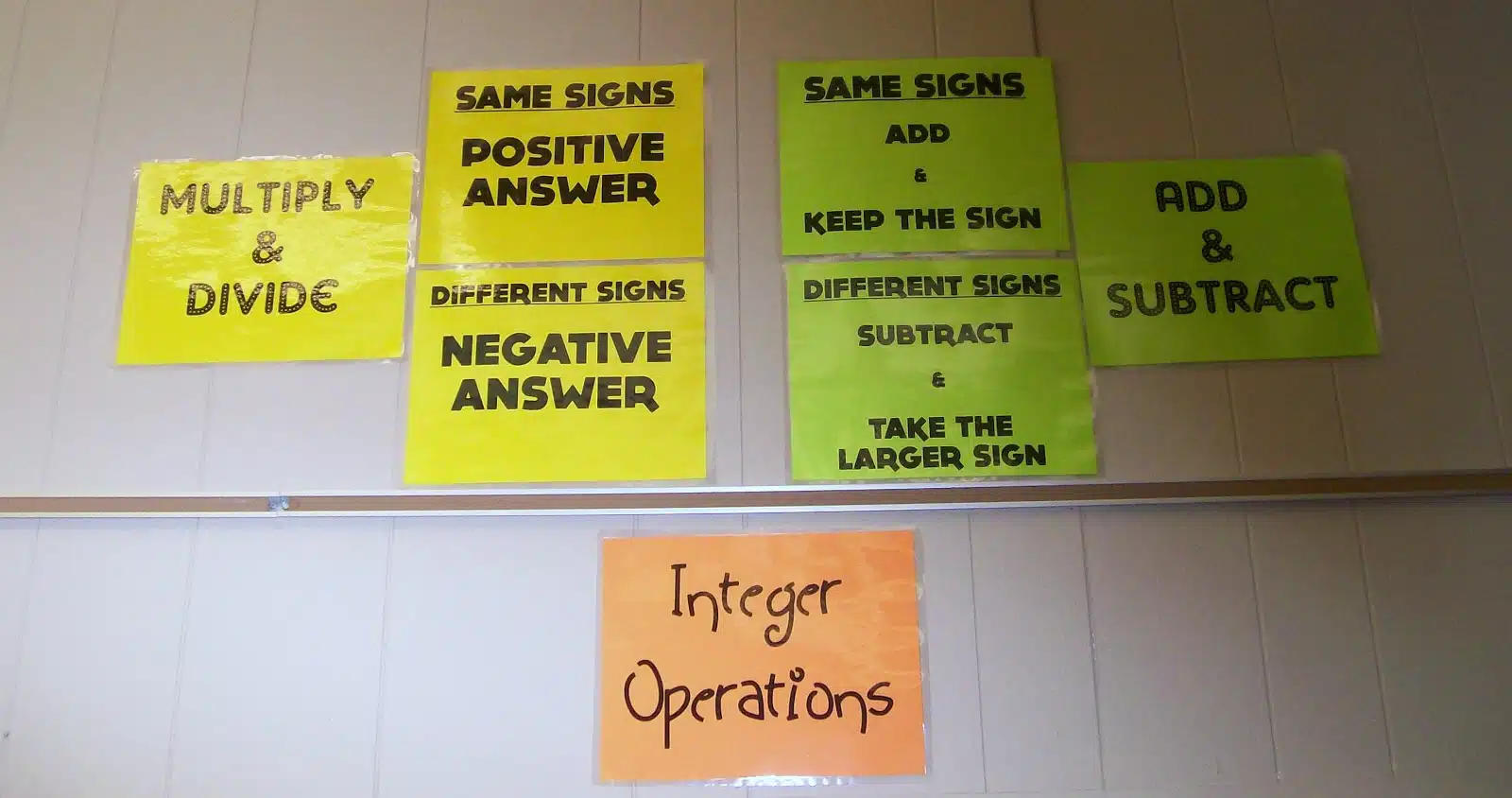 These integer operations posters aren't arranged exactly as I want them, but I'm going to live with it. I'd planned to hang the title poster on top. But, that's not going to happen.
You see, I have two options. I can either live with this arrangement or I can carry a ladder up the stairs to the second floor. And, I just can't justify toting a very heavy ladder up a flight of stairs to arrange a few posters.
Now, when I finally get all of my large posters laminated, I may bring up the ladder and hang everything exactly where I want it. But, until then, this will do.
More Activities for Teaching Integer Operations