Well, after attending the Global Math Department's meeting over favorite review games, I knew I had to try out Alisan Royster's Review Auction idea. I created a Solving Equations Auction Review Game.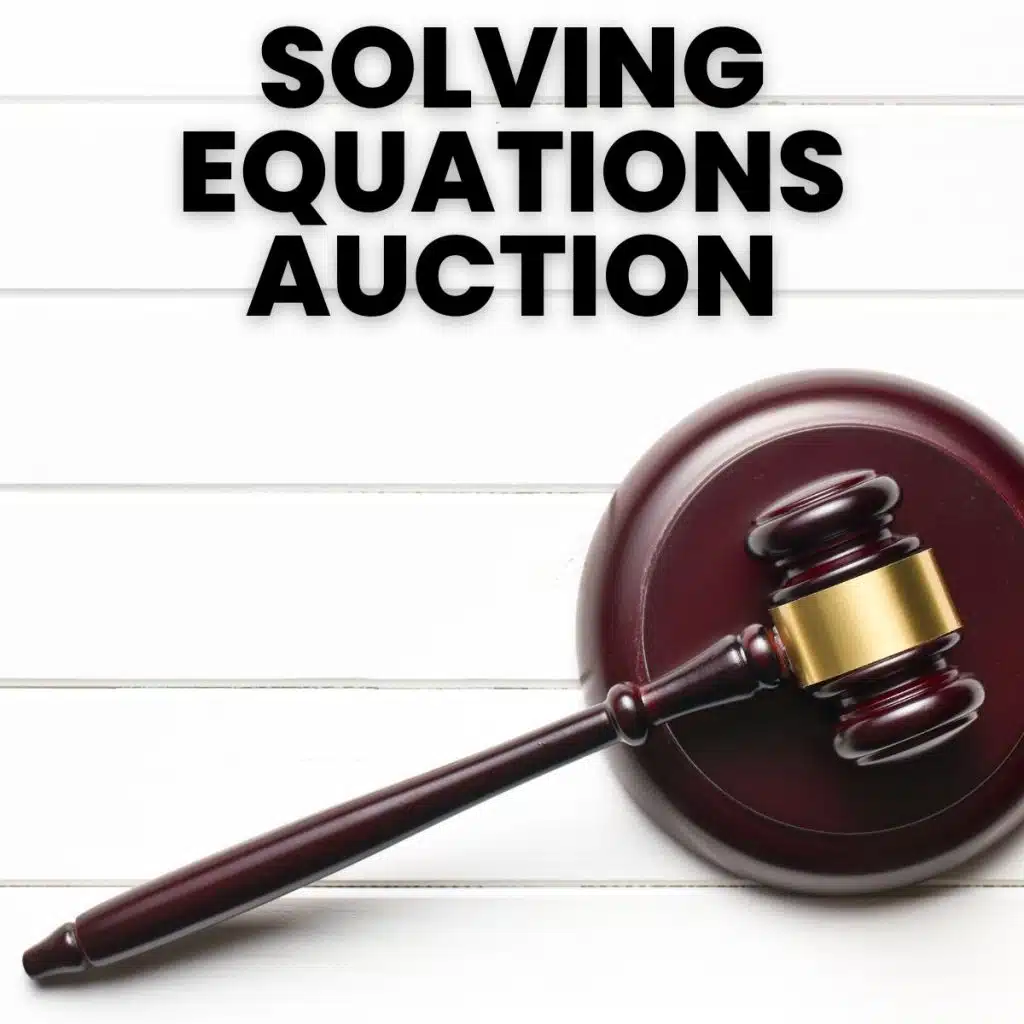 I made up an auction sheet with 3 columns. The first column is pretty boring and just featured the lot number of each auction. The middle column had 10 equations to solve. The right-most column had 10 answers. Some of the answers were correct. Others weren't. I gave the students time to solve each equation and decide whether my answers were correct or incorrect. This was much harder for them than expected. When I gave them the answer, they didn't know what to do. They felt like they had to use that piece of information somehow to solve the problem. After a few reminders that we were still just trying to get the variable by itself, the students caught on.
Depending on the class size, I broke the class into groups of 3 or 4. I announced that we were going to have a solving equations auction.
Present each group with their own paddle to bid with.
Yes, every one will want to be the one to hold the paddle.
Each group gets $1,000.
In their group, the students need to compare their answers. Which equations have the correct answers given? Which answers were incorrect?
The goal of the review game is to be the team that purchases the most correct questions. Purchasing an incorrect question will cause you to lose an additional $500.
If there is a tie, the team with the most money left over wins.
The auction starts. Each group decides how much they want question one. Debates ensue over whether the answer I gave was correct or not. Students disagree. Decisions must be made. This is a fast-paced auction, after all.
After all the questions have been auctioned off, we worked out each problem on the Smart Board. We counted up how many correct questions were purchased by each team. Yes, there will be the teams that spend almost all of their money on one question. Then, there will be the teams that are too frugal with their money and end up with lots of money and only a single question in their possession.
Winners were crowned. Tootsie Rolls were distributed. Fun was had by all.
One student claimed that she helped her team win because she used to work at an auction house. Another student came up to me after class and told me that he learned his team's winning strategy by watching Auction Hunters.
One of my wrong answers actually fooled some students. It highlighted a very common mistake. My other wrong answers, however, didn't fool a single student all day long. But, I guess that's okay because it means my students knew how to solve equations.