This blog post contains Amazon affiliate links. As an Amazon Associate, I earn a small commission from qualifying purchases. This comes at no cost to you. Thanks for your support of Math = Love!
Looking for a challenging and fun puzzle? The 3 Hares Puzzle is a classic brain teaser that will put your visual problem-solving skills to the test. Can you arrange the six pieces so that every hare has exactly two ears?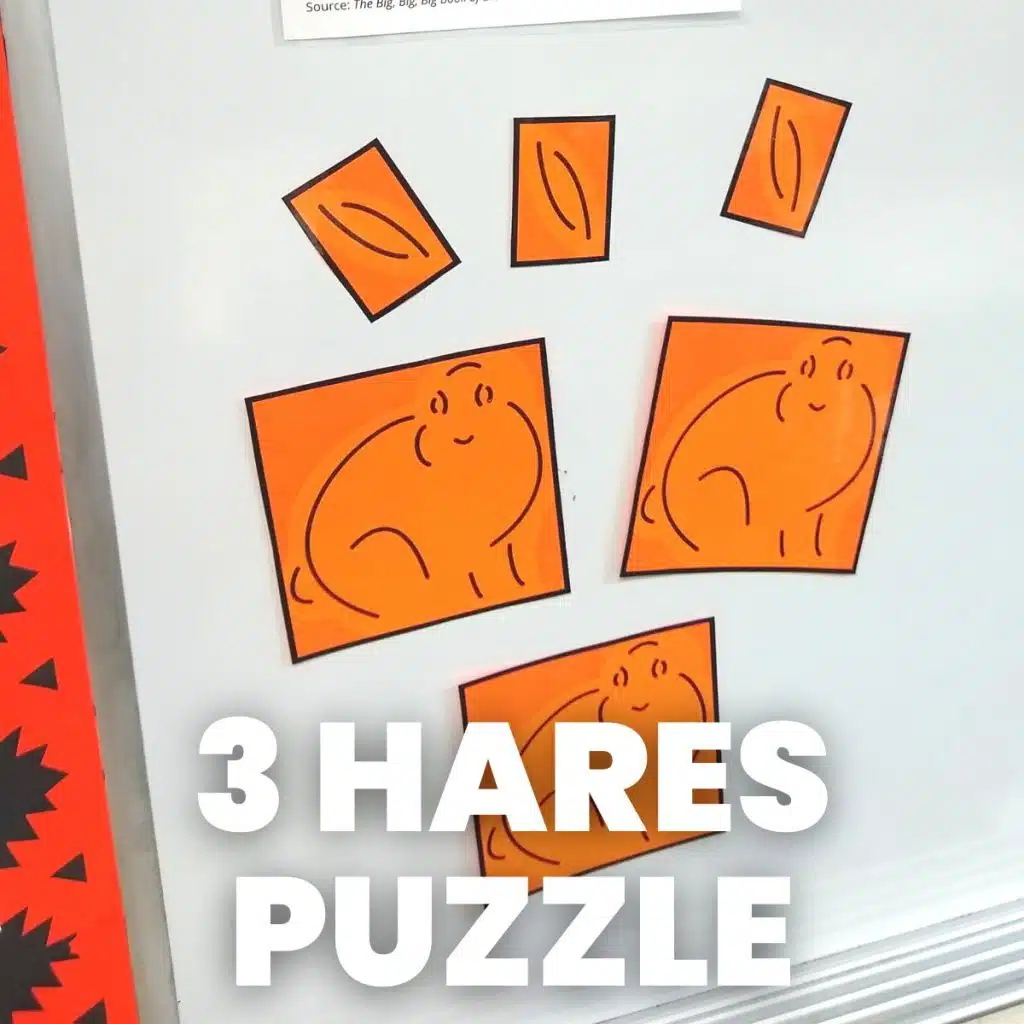 Source of Puzzle
The book is currently out of print which sometimes makes the used copies on Amazon a bit pricier sometimes than I would prefer. If you can pick up a used copy for a good price, DO IT!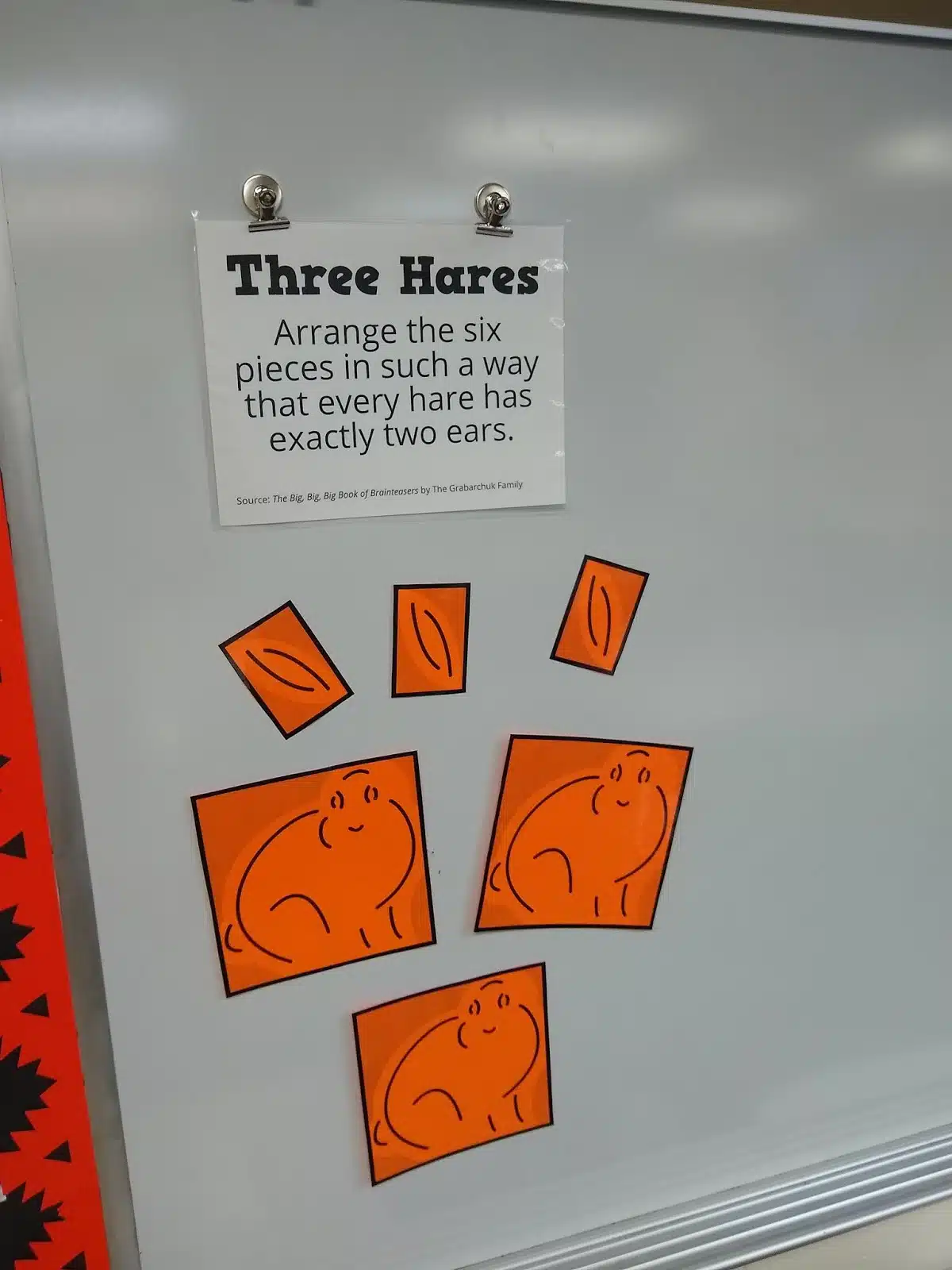 This is one of my favorite puzzle books. It has such a variety of different puzzles and SO many of them!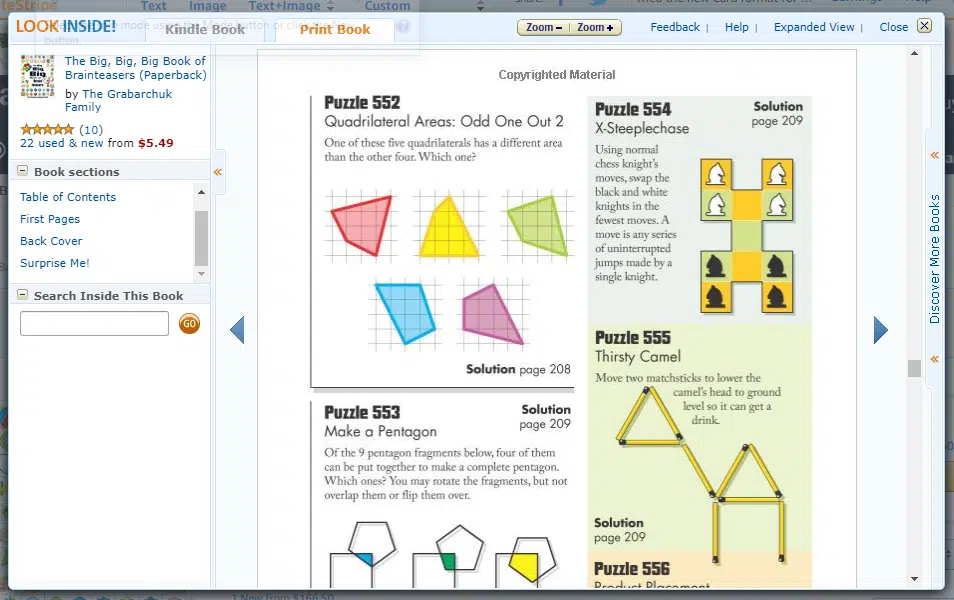 You can still access quite a few of the puzzles for free, though. Amazon's Look Inside Feature lets you look at quite a few of the puzzles in The Big, Big, Big Book of Brainteasers for free. Just keep clicking "Surprise Me!" on the left pane to see a different page of puzzles.
We're a few weeks into school now, and SO much puzzling has been going on in my classroom. It makes my teacher heart so happy to watch students delving into these different puzzles and coming back day after day with persistence and joy in problem-solving.
I've made it my goal this year to put up one puzzle each week on the dry erase board using magnets. Last year, I discovered that presenting puzzles vertically (on the board) drew in different students than those puzzles presented horizontally (on the puzzle table).
So, this year, I made space in my classroom for both.
Back to the 3 hares puzzle!
The goal of the 3 hares puzzle is to arrange the six pieces in such a way that every hare has exactly two ears.
Here's a student attempt at the puzzle that ended up not working out.
Since my pieces have disc magnets on them, it's super easy for students to try out different arrangements.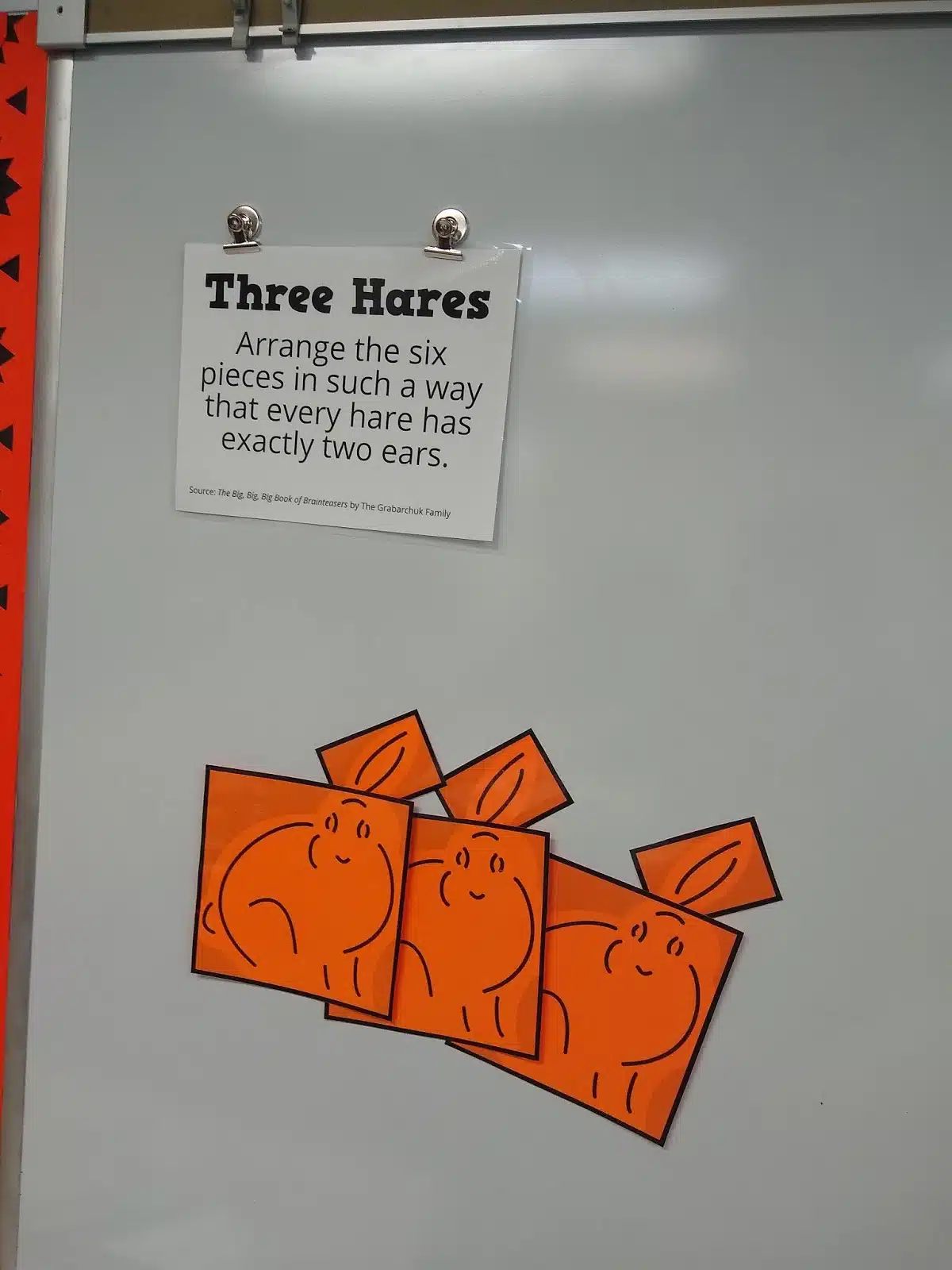 The art teacher who teaches right next door to me has been so captivated by this puzzle. Almost every time she walked through my room during our PD days, it would her eye.
She intentionally had to make herself not stay and solve it so she could get back to her room and get her classroom set up!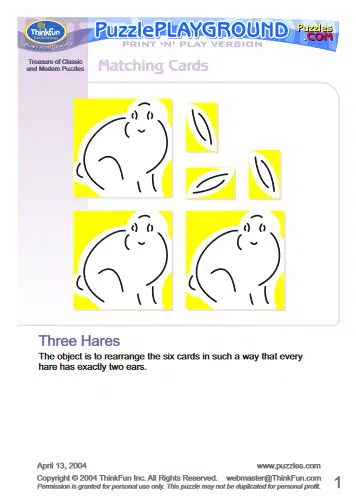 Puzzle Solutions
I intentionally do not make answers to the printable math puzzles I share on my blog available online because I strive to provide learning experiences for my students that are non-google-able. I would like other teachers to be able to use these puzzles in their classrooms as well without the solutions being easily found on the Internet.

However, I do recognize that us teachers are busy people and sometimes need to quickly reference an answer key to see if a student has solved a puzzle correctly or to see if they have interpreted the instructions properly.

If you are a teacher who is using these puzzles in your classroom, please send me an email at sarah@mathequalslove.net with information about what you teach and where you teach. I will be happy to forward an answer key to you.
Other Puzzles of Late
Now, let's talk about some of the other puzzles we've tackled recently.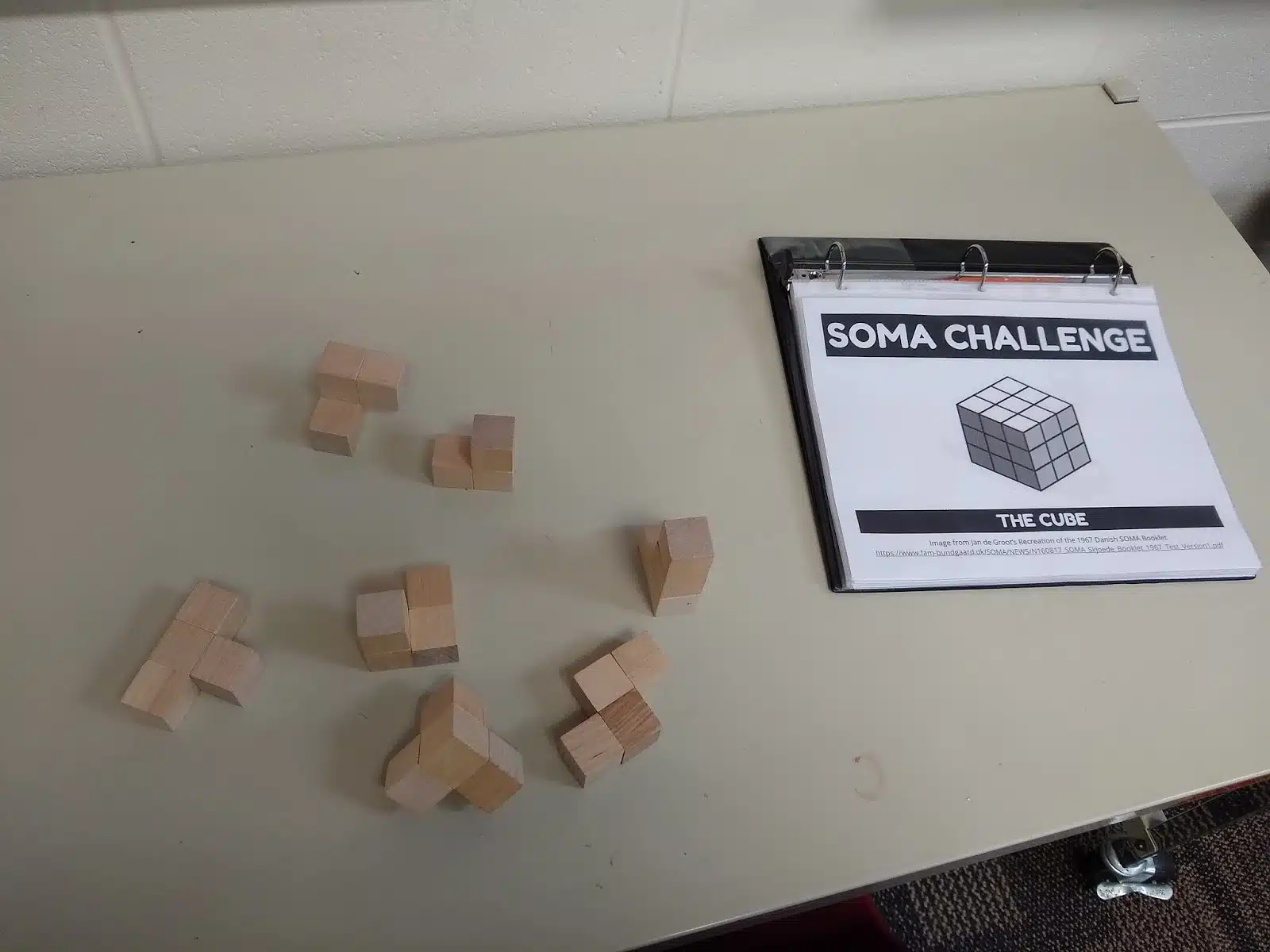 On the puzzle table this month, I've had my SOMA Cube Challenges. Students have LOVED playing with these cubes SO much! I made my pieces by gluing one inch wooden cubes together, but several people on twitter have pointed out that you can buy already created SOMA sets on Amazon.
Once you have your blocks, all you need to do is print the set of SOMA challenges. I put each challenge in a sheet protector and placed them in a binder that lives on the puzzle table. Students just flip to a new challenge each time they complete a challenge or get too frustrated by one of the puzzles.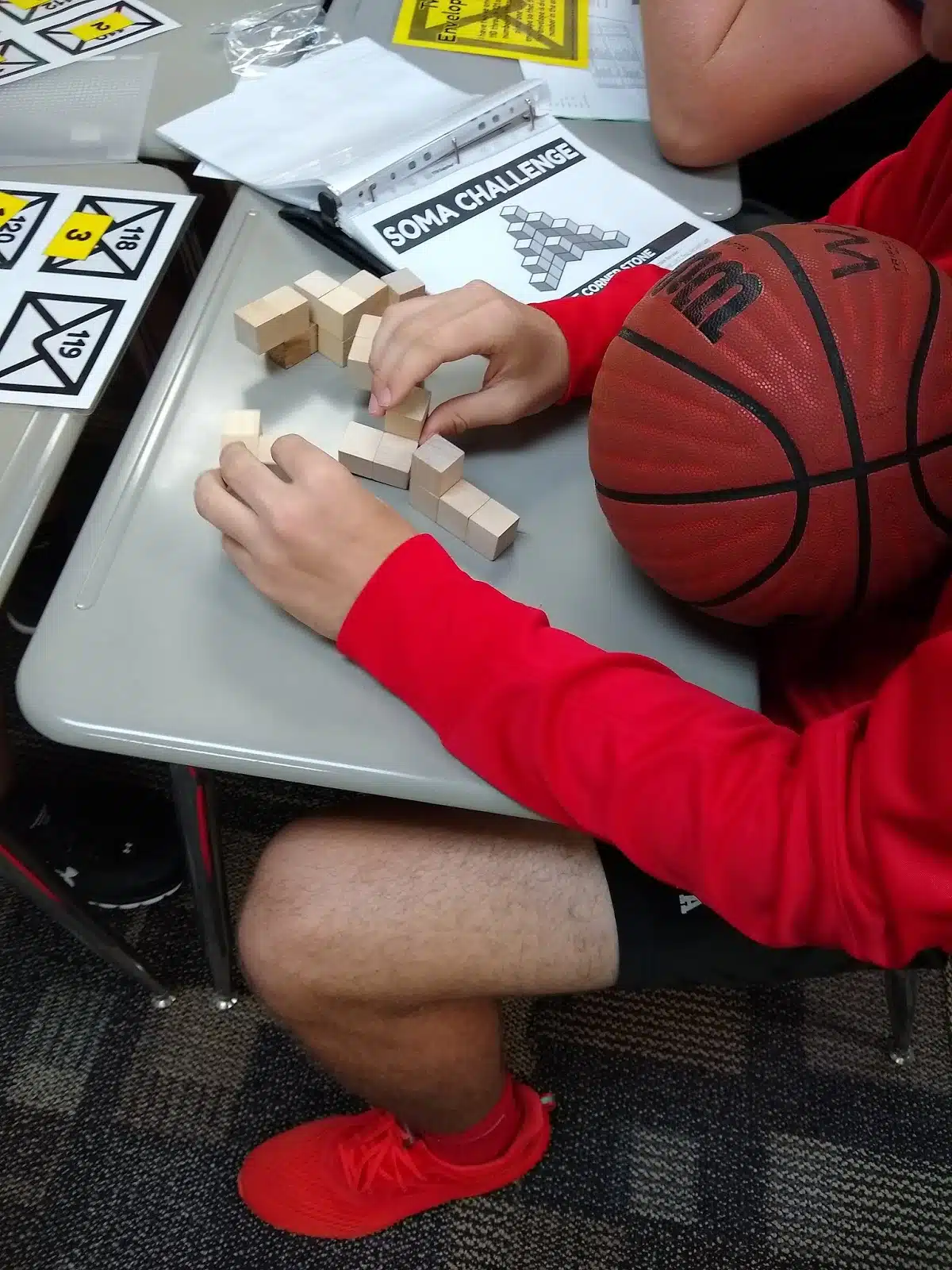 Sometimes they even take the blocks off the puzzle table and take them to their desk to play with.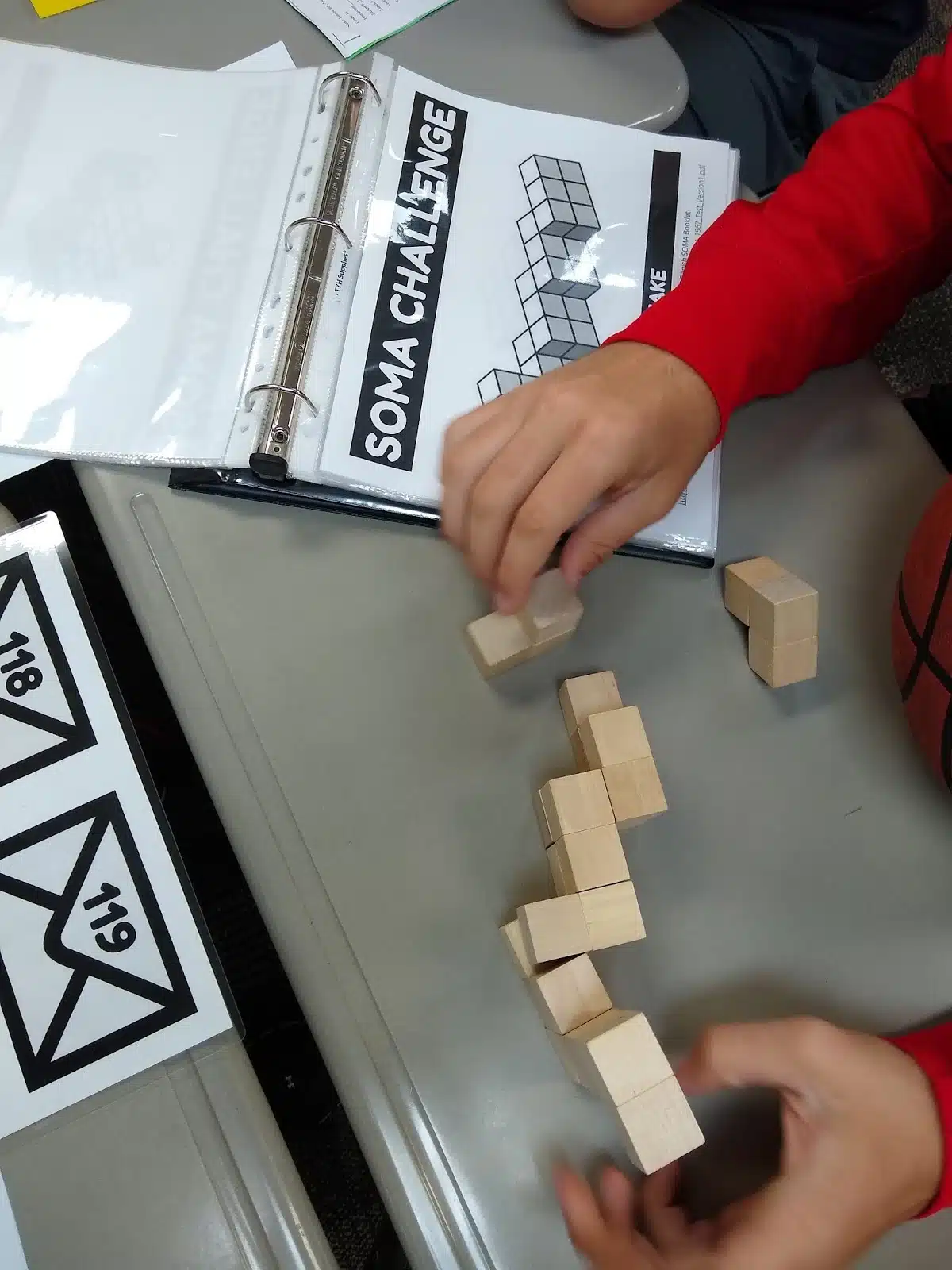 These continue to get more and more play even though I've never actually mentioned them in class. All I did was set them out on a table and watch to see what students did.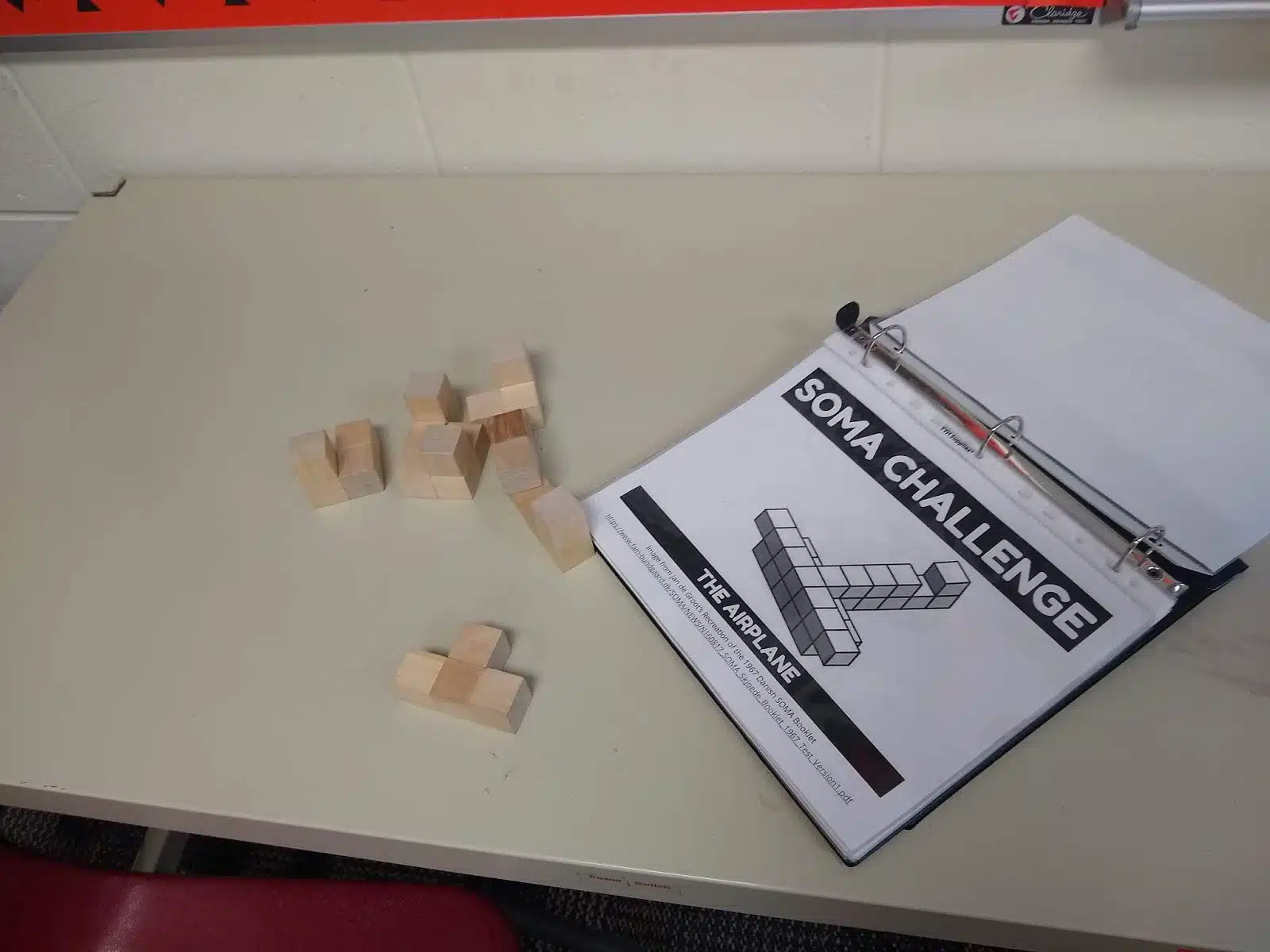 For the first few days, it was only really students that I taught last year that paid any attention to the puzzle table. But lately, I see students from all of my classes making a beeline to the puzzle table as soon as they walk in the door or finish their assignment for the day.
For the second week of school, I switched out the 3 Hares Puzzle with the Equilateral Triangle Puzzle. This was a favorite magnetic puzzle from last year. The goal of the puzzle is to arrange the six pieces so that they form an equilateral triangle.
This part is pretty simple. The hard part is making sure that no pieces of the same color touch – not even at a corner!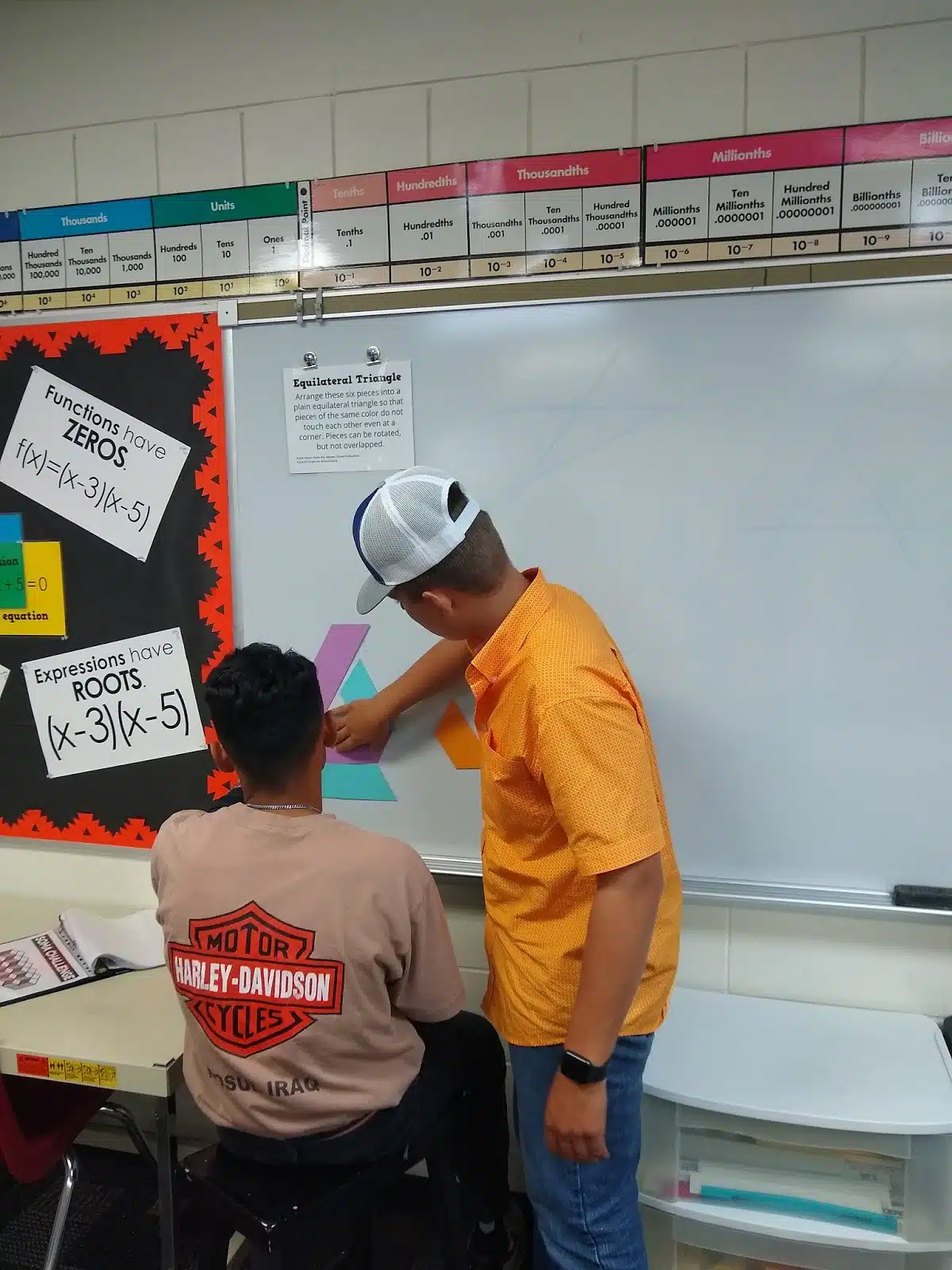 Students that I had last year have still been enjoying this puzzle even though they have seen it previously. Apparently a full year is plenty of time to forget the solution!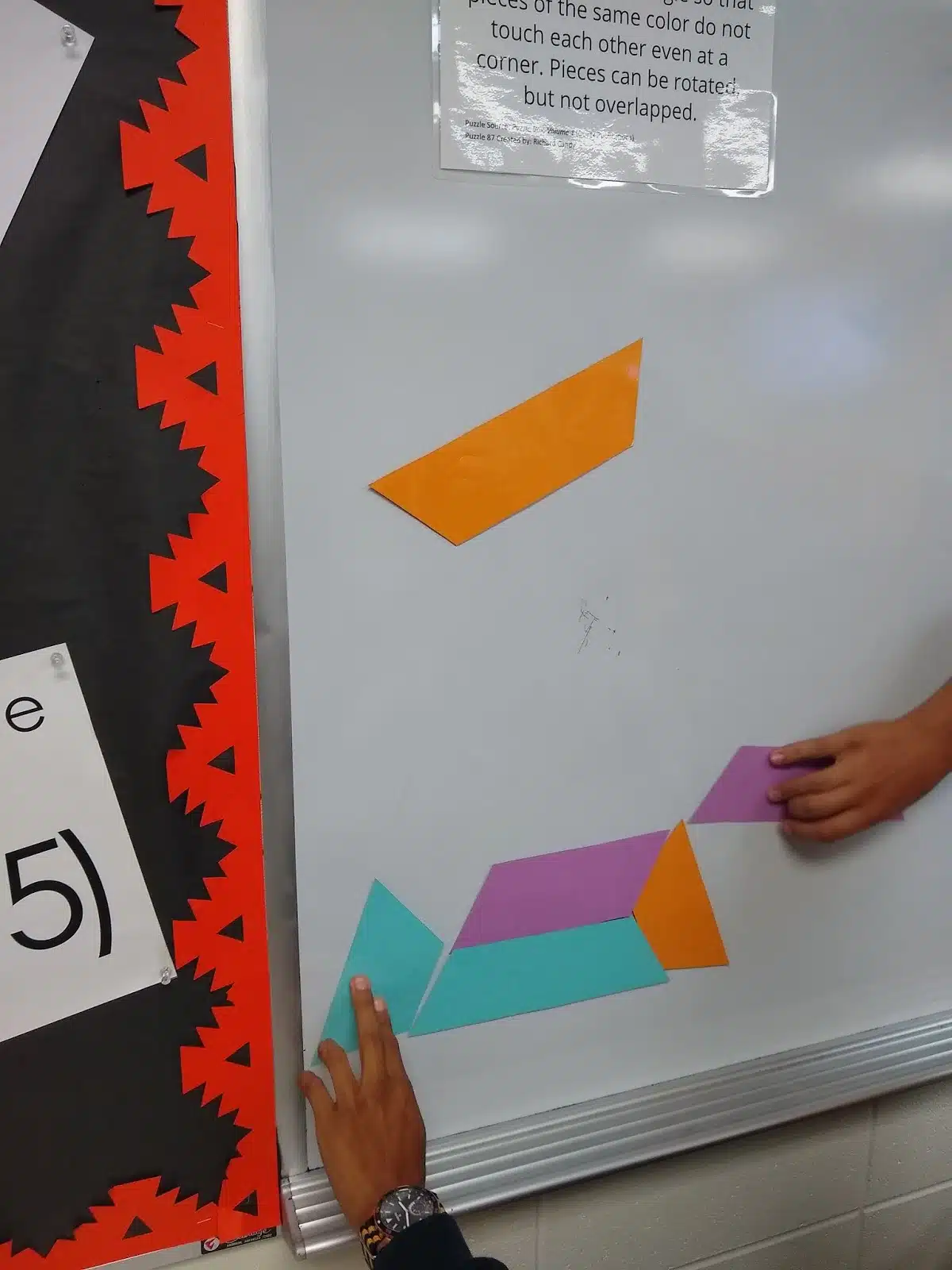 Looking for more puzzles for your classroom? Be sure to check out my puzzle page!