So, a crazy thing happened back in May. A really crazy thing. Something so crazy I didn't actually realize it was something that happened to people in real life.
The City of Drumright declared May 6, 2015 to be "Sarah Hagan Day." There was an assembly, and the mayor presented me with a key to the city.
Yes. A key to the city.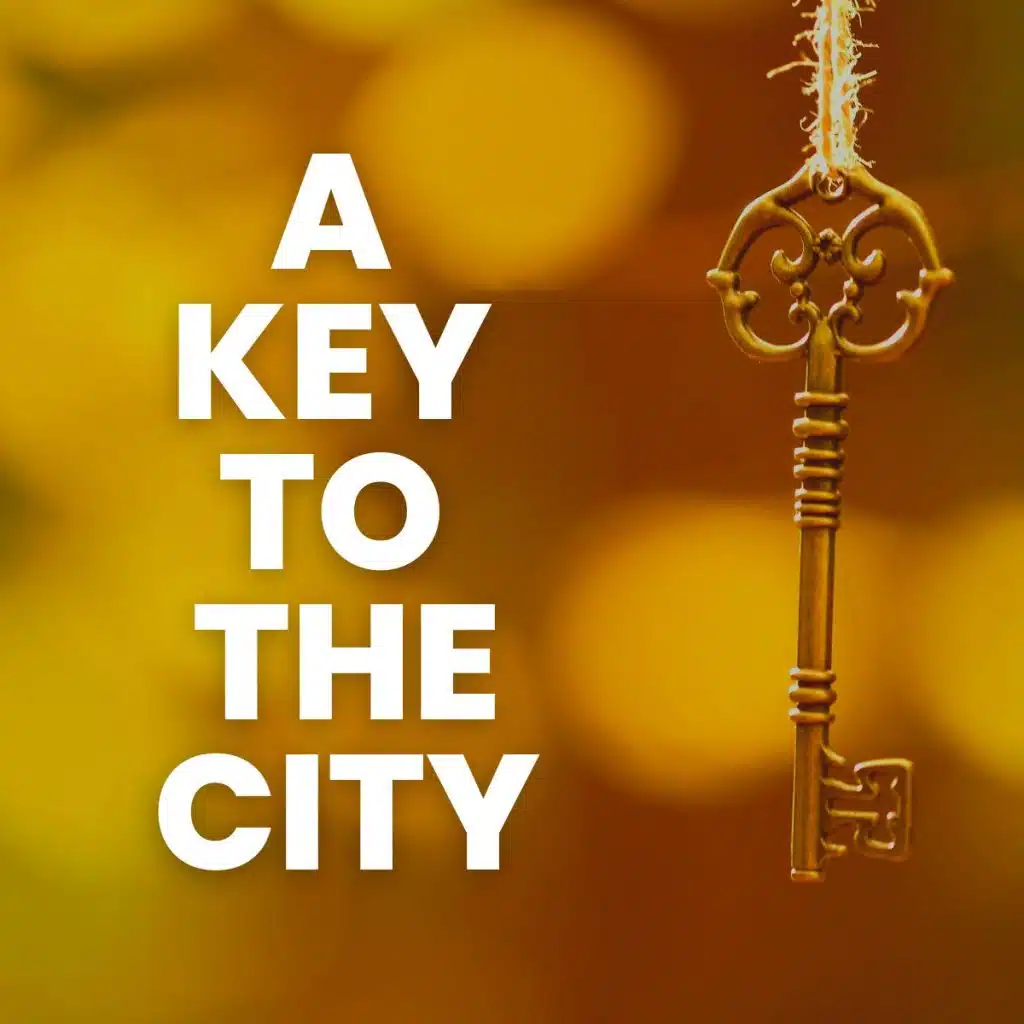 Those things actually exist.
Except you don't actually get to keep the key to the city. They just loan it to you for a few photo ops. At least, that's the way it works in my tiny town.
Cory Turner had warned me before the NPR story aired that crazy things could happen as a result. He. Was. Right.
My students and coworkers had been working for weeks behind the scenes to pull all of this off. Originally, it was supposed to be a complete surprise. But, there was kind of a story in the newspaper about my being given a key to the city. And, I had to provide someone with information about myself so said newspaper story could be written.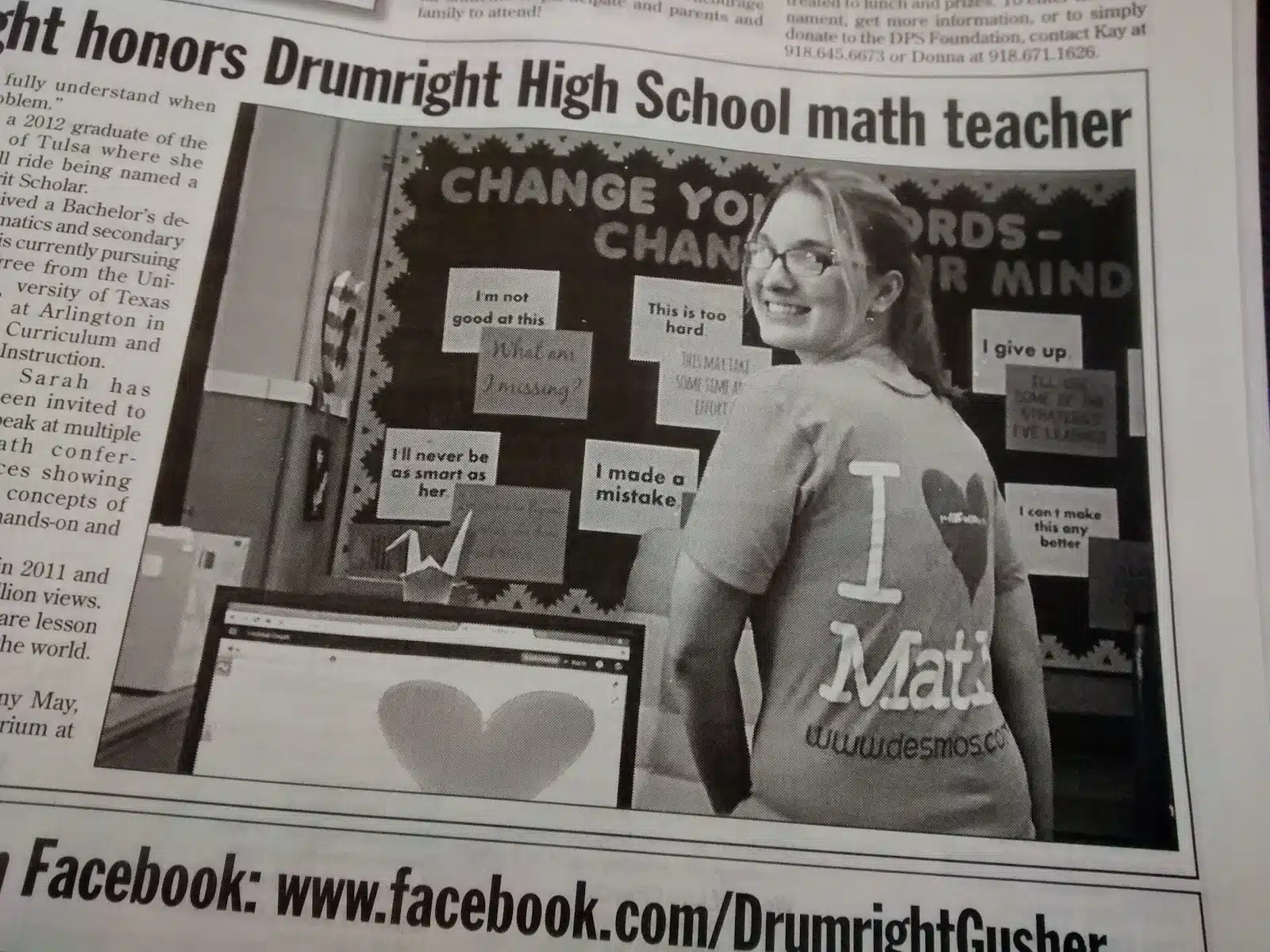 Let me tell you this. It is a weird feeling to get ready to go to work, knowing that you're going to be the center of attention. If you've ever met me in real life, you would know that I do not like people making a fuss over me. I'm the type of person that tries to blend into the background. Except in my classroom, of course. I tell my students that I get paid to be the center of their attention for 50 minutes a day.
I walked in the auditorium to find decorations and my family sitting in the front row.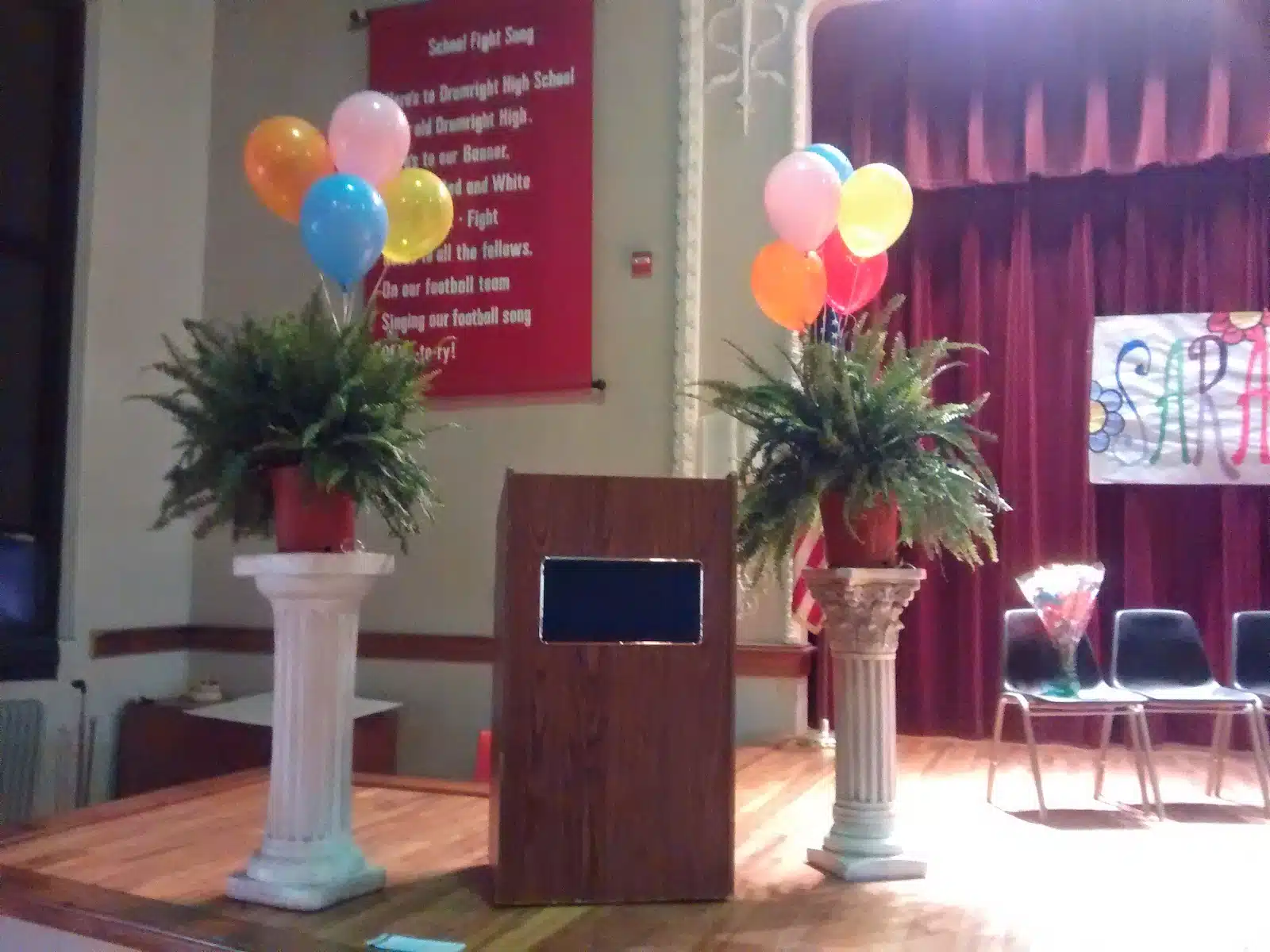 A beautiful banner was hanging up.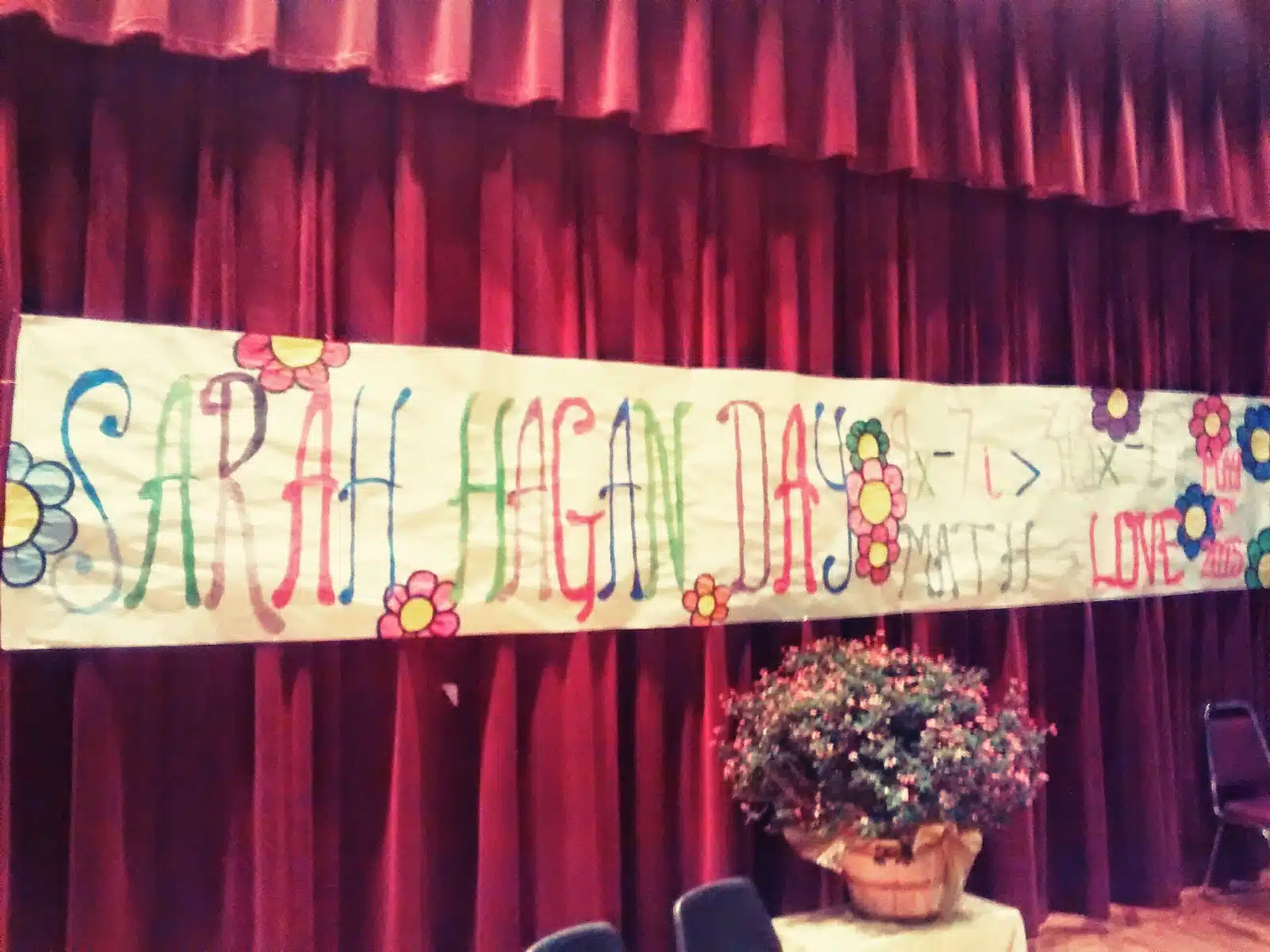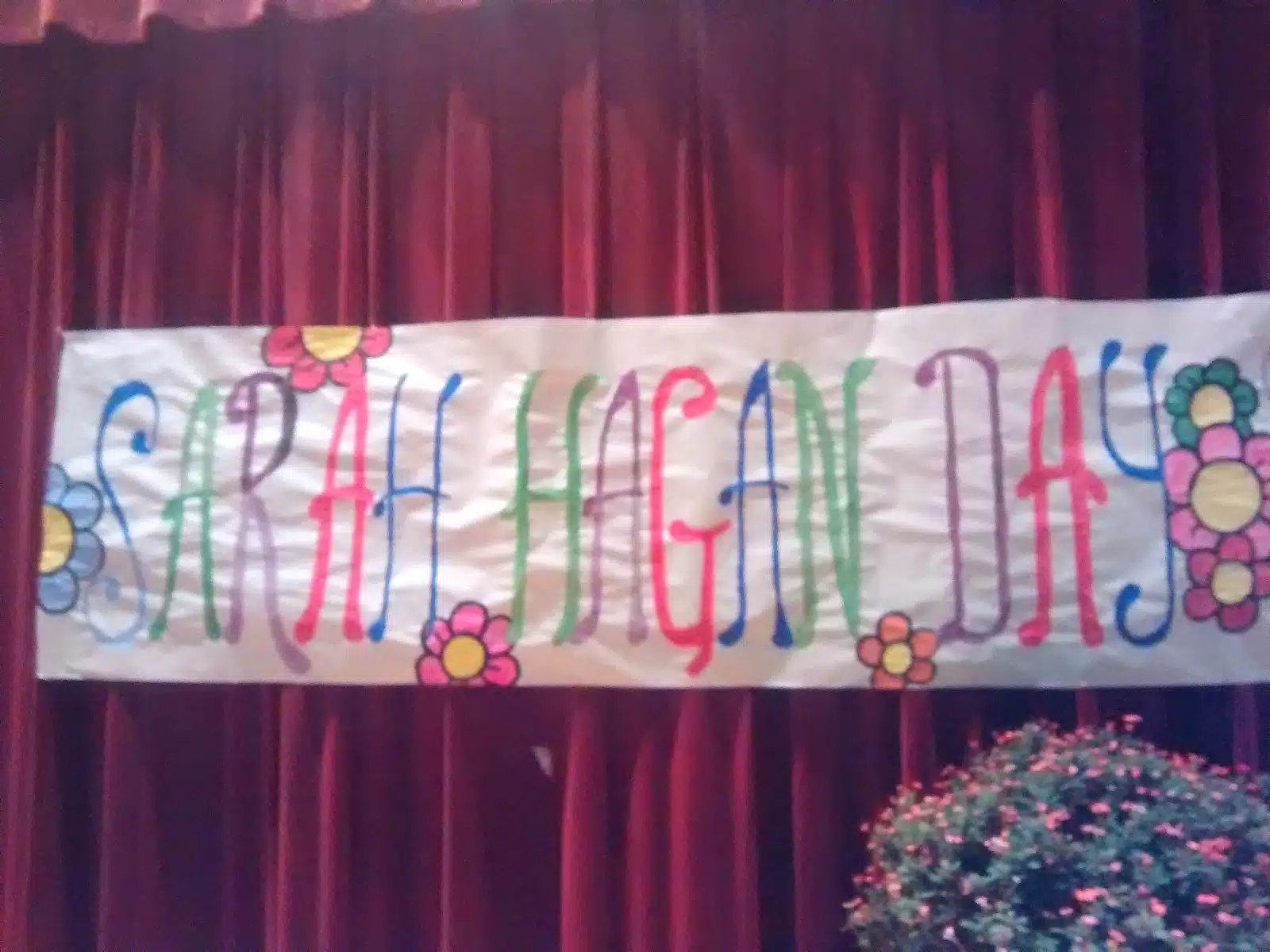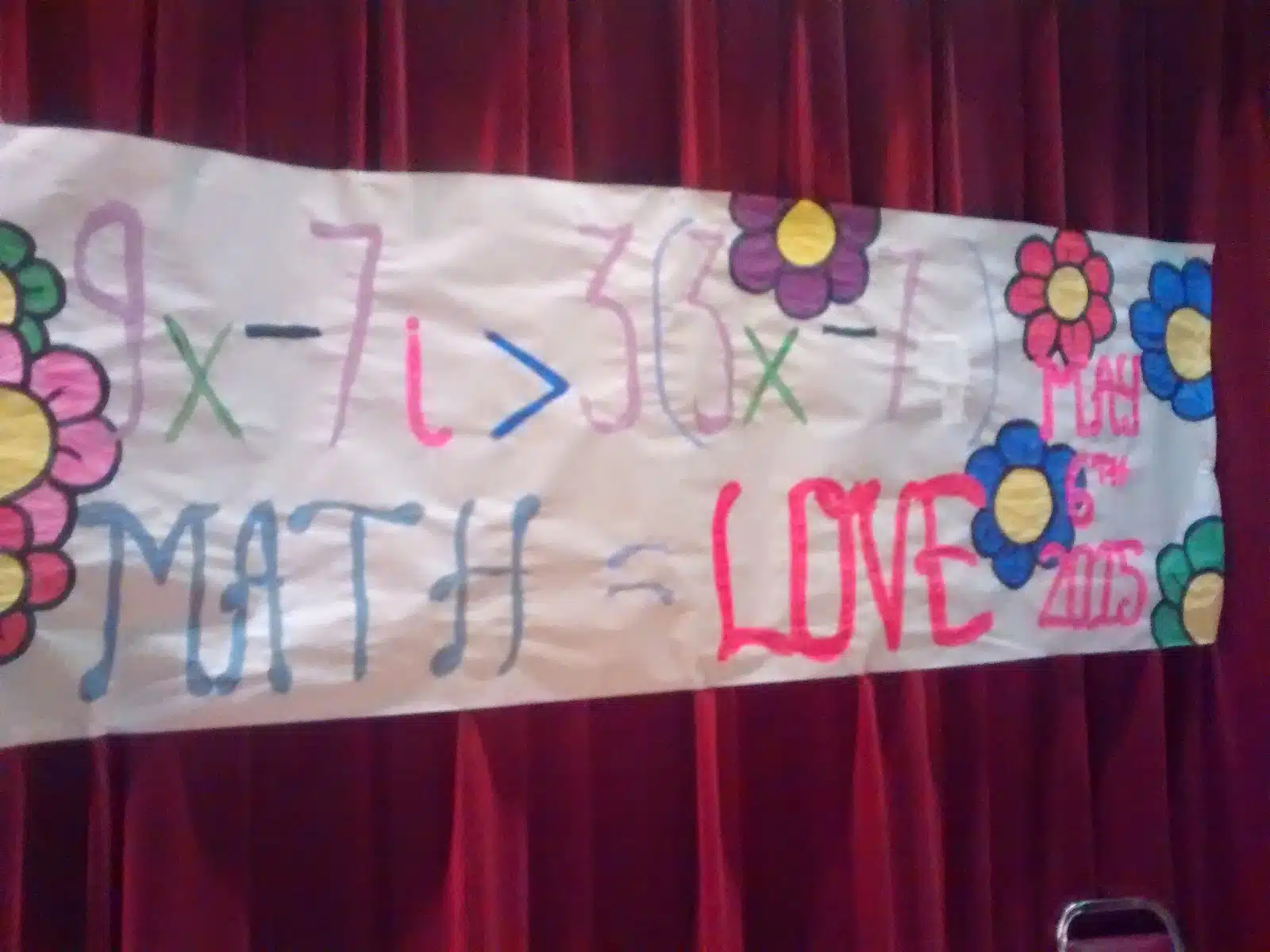 There was another sign hanging up in the trophy case, but it sadly didn't photograph well because of the glass.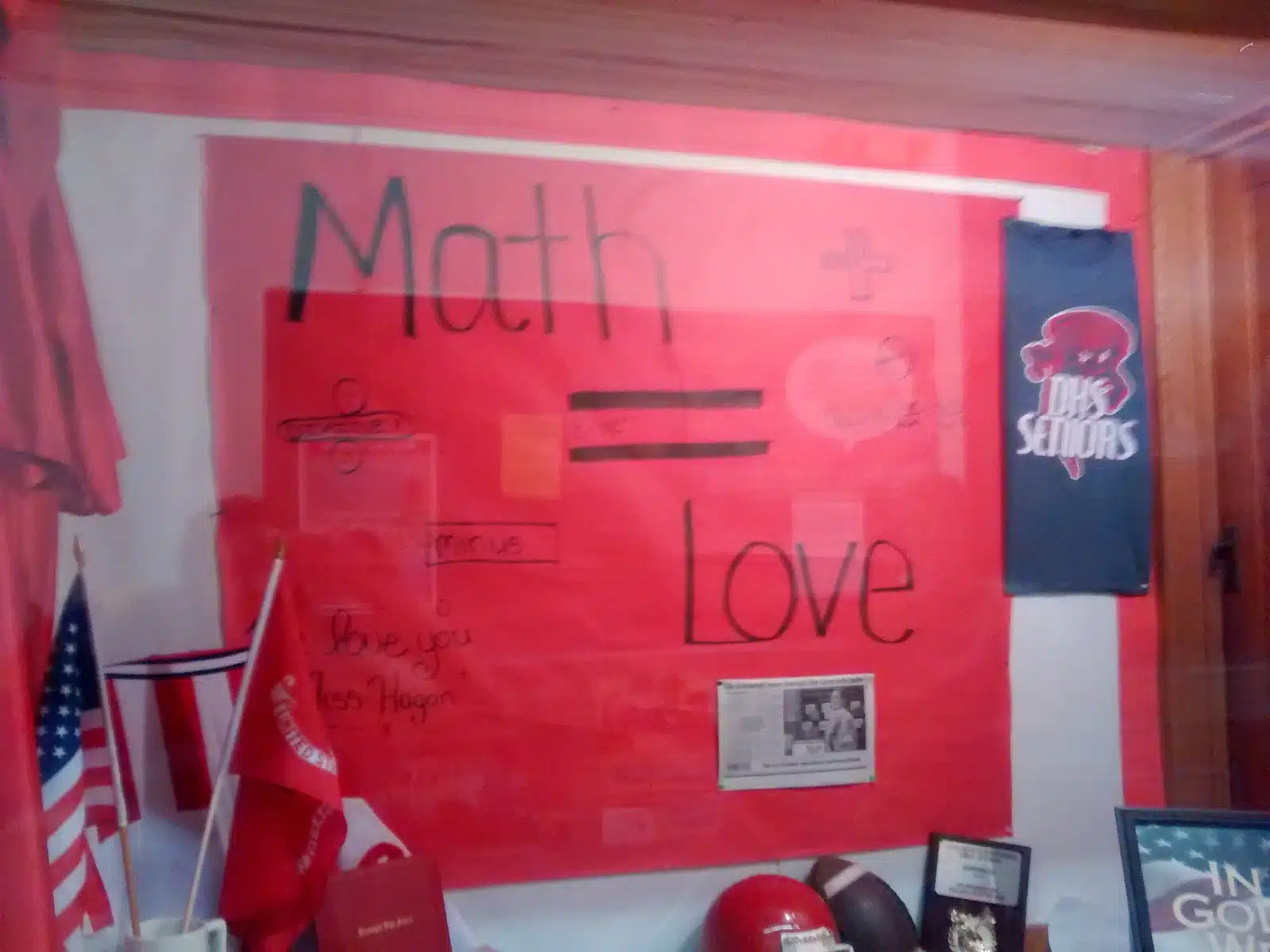 Oh, and here's me in front of my banner. 😀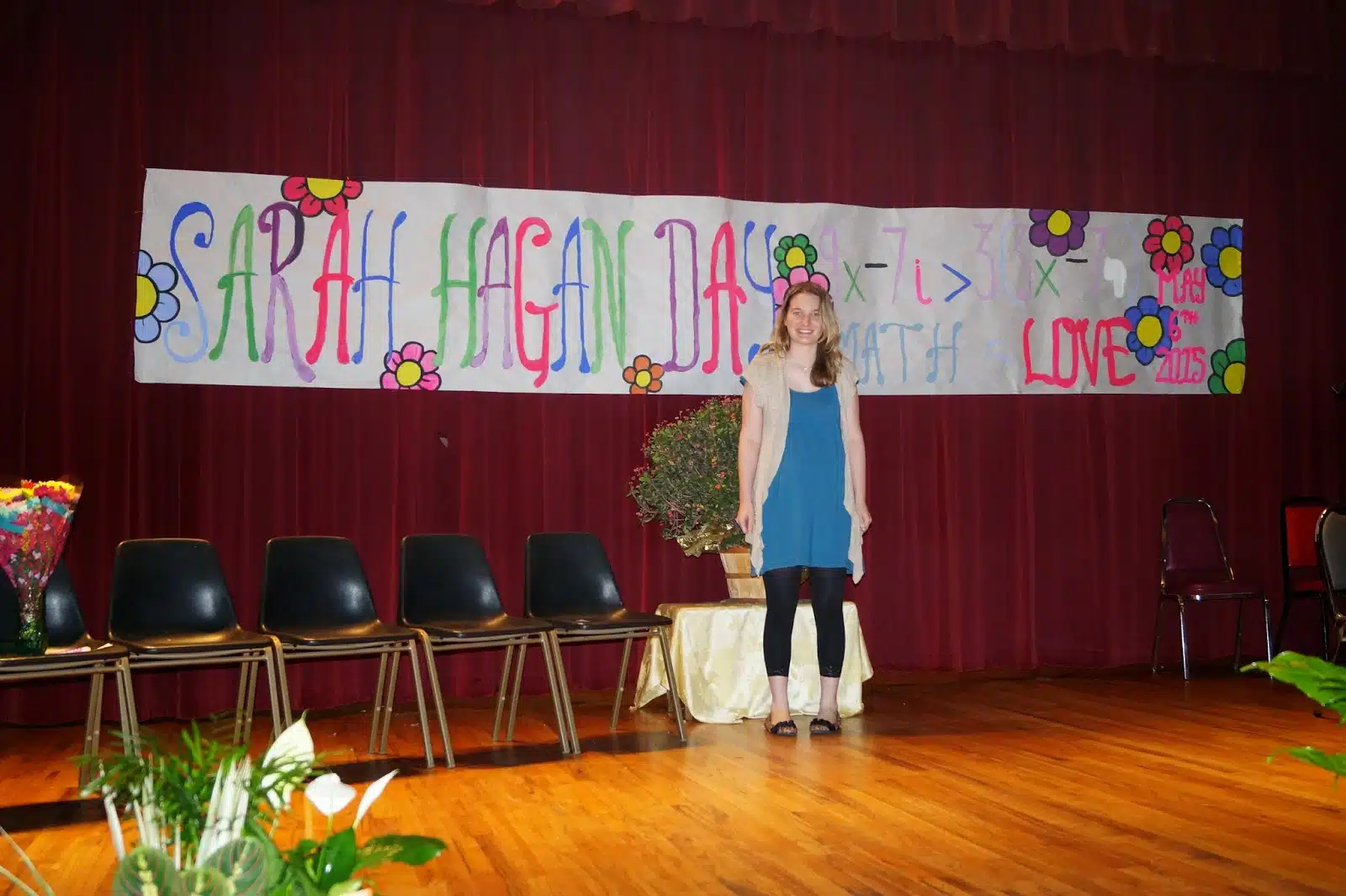 My superintendent started off the assembly with a little speech about me. He's the one who hired me three years ago, and I'm so thankful he took a chance on a fresh out of college math teacher who didn't really now what she was doing but had a ton of ideas thanks to the #MTBoS.
Then, the City Manager read my biography.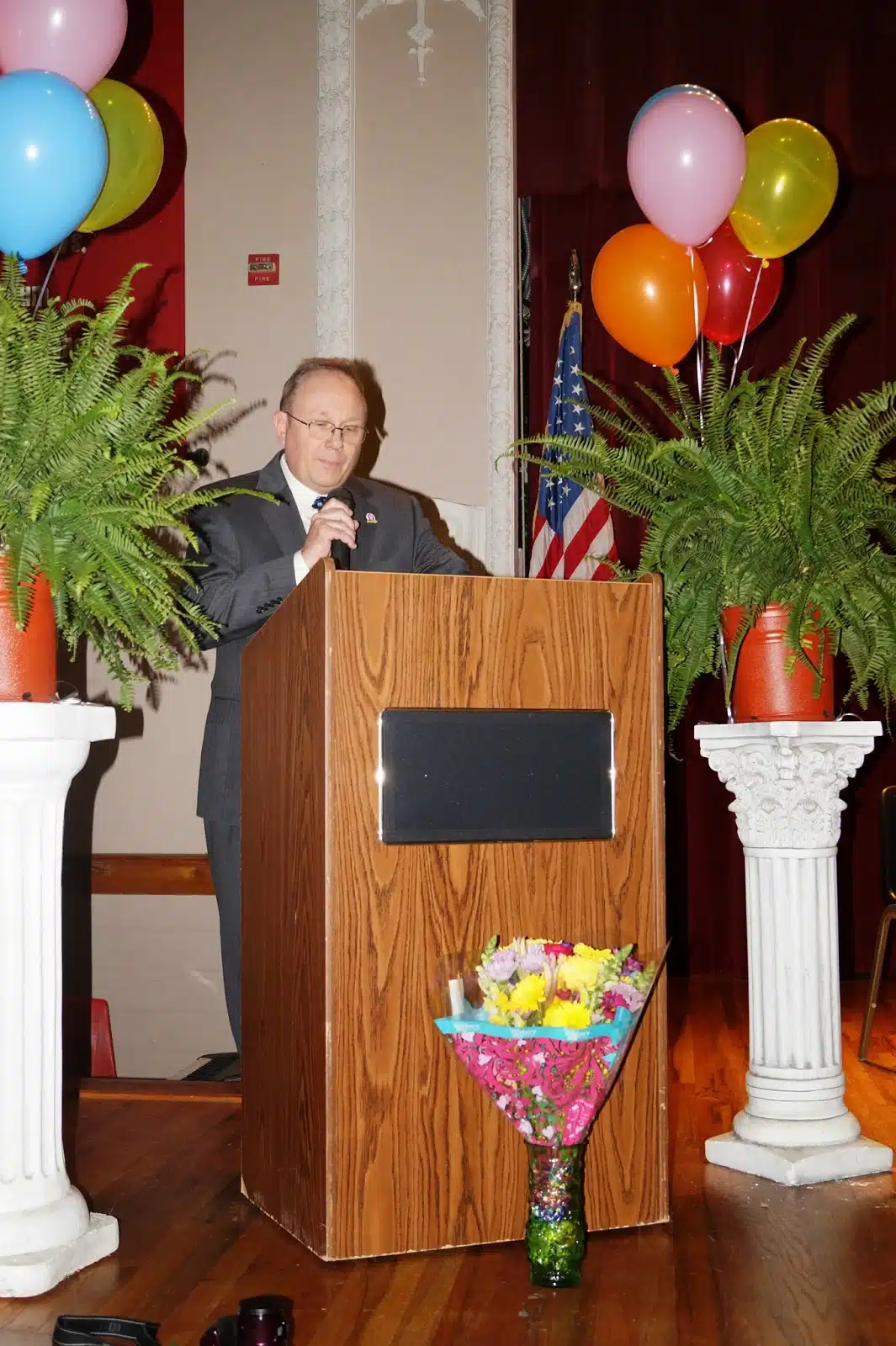 One of my trig students read a letter of thanks to me. Best sentence: "At the first of the year when I saw trigonometry on my schedule, I cringed! Now, as I am ending high school, trigonometry is the only math subject I fully understand when given a problem." #happyteachermoment Then, one of my student council members read a poem. The band played two songs.
Two of my coworkers had their students write me letters of thanks. One student read excerpts from these letters. And, another student whom I've had the pleasure of teaching for the past 3 years gave a speech thanking me and all of the teachers for the differences we make in the lives of our students. The Student Council President spoke next, and she expressed thanks on behalf of the council for being their adviser for the past three years.
Later, they presented me a binder full of their notes. So sweet and thoughtful.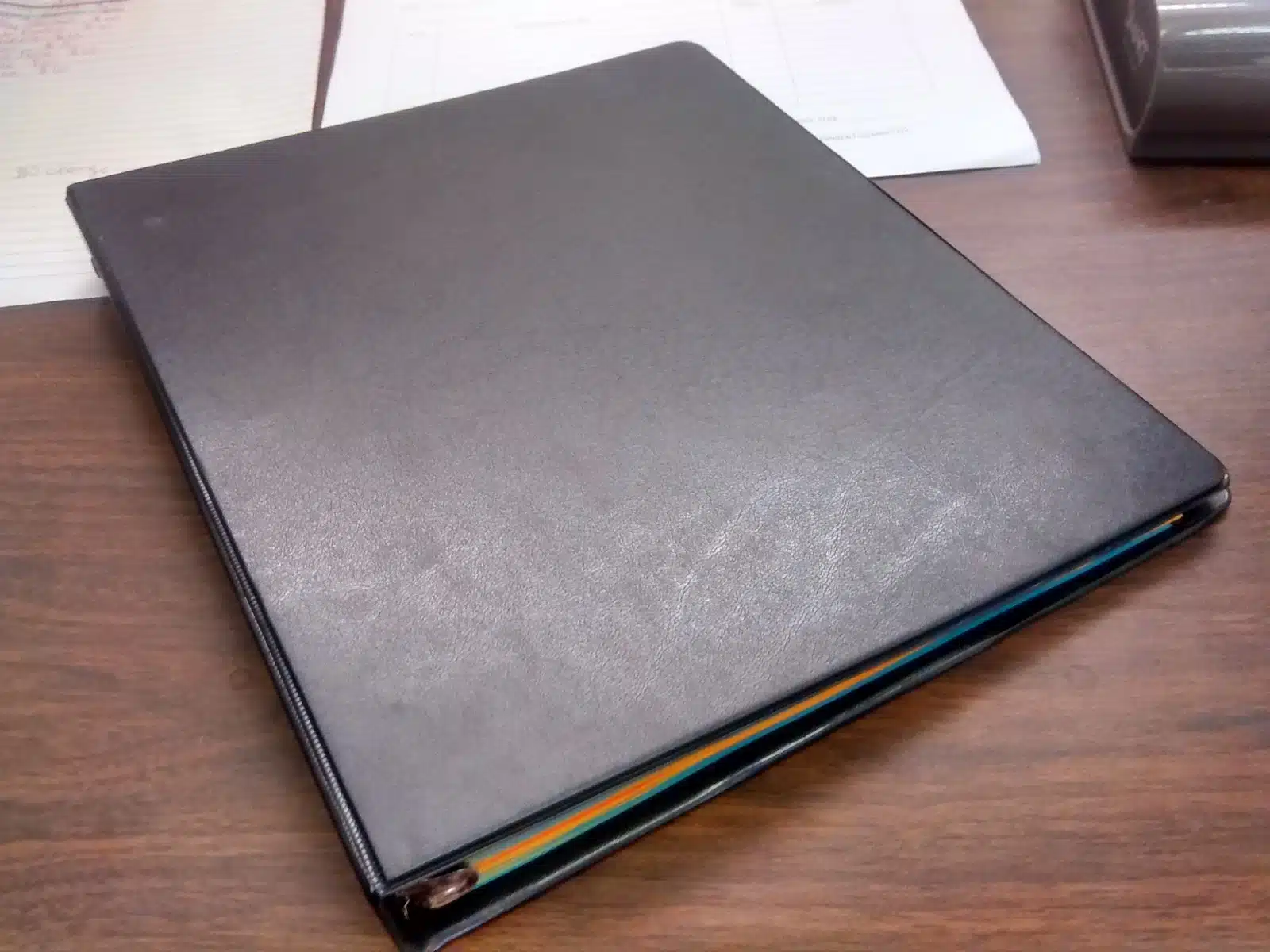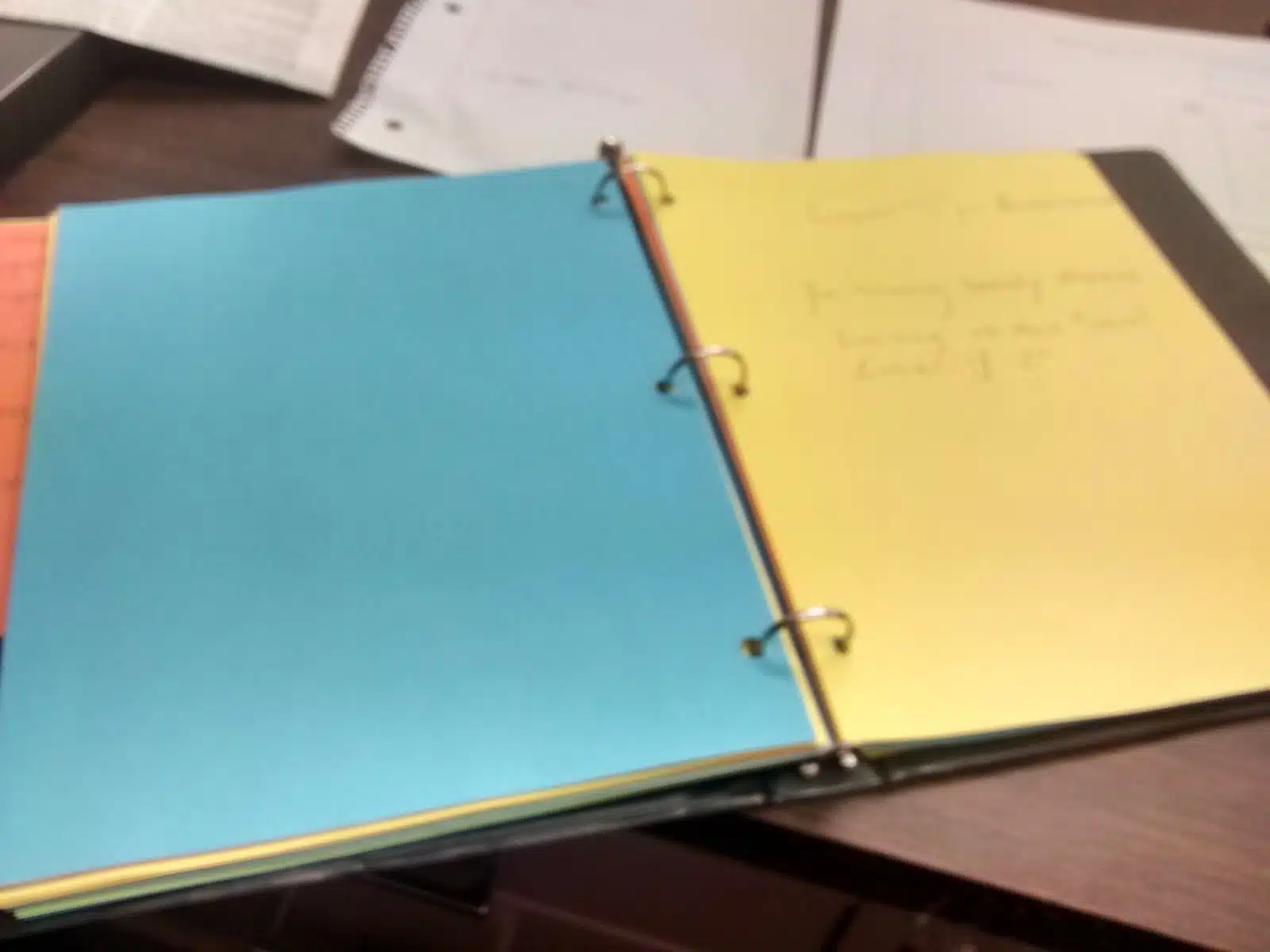 Next, the mayor got up to speak. She is a lifelong NPR listener and supporter, and she wanted to thank me for bringing positive attention to the town and proving myself to be a dedicated educator.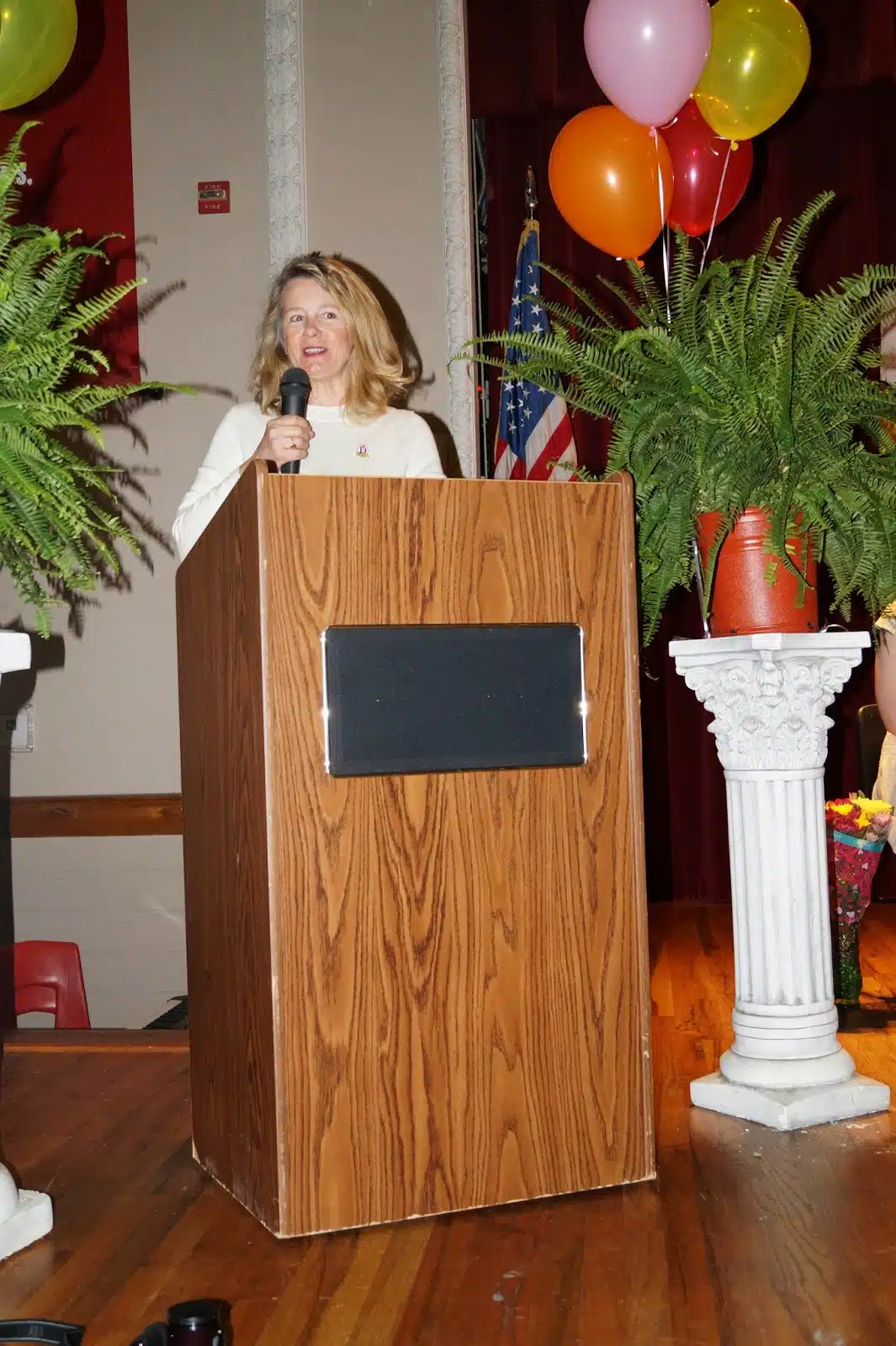 The mayor read a proclamation declaring it to be "Sarah Hagan Day" and presented me with the key to the city.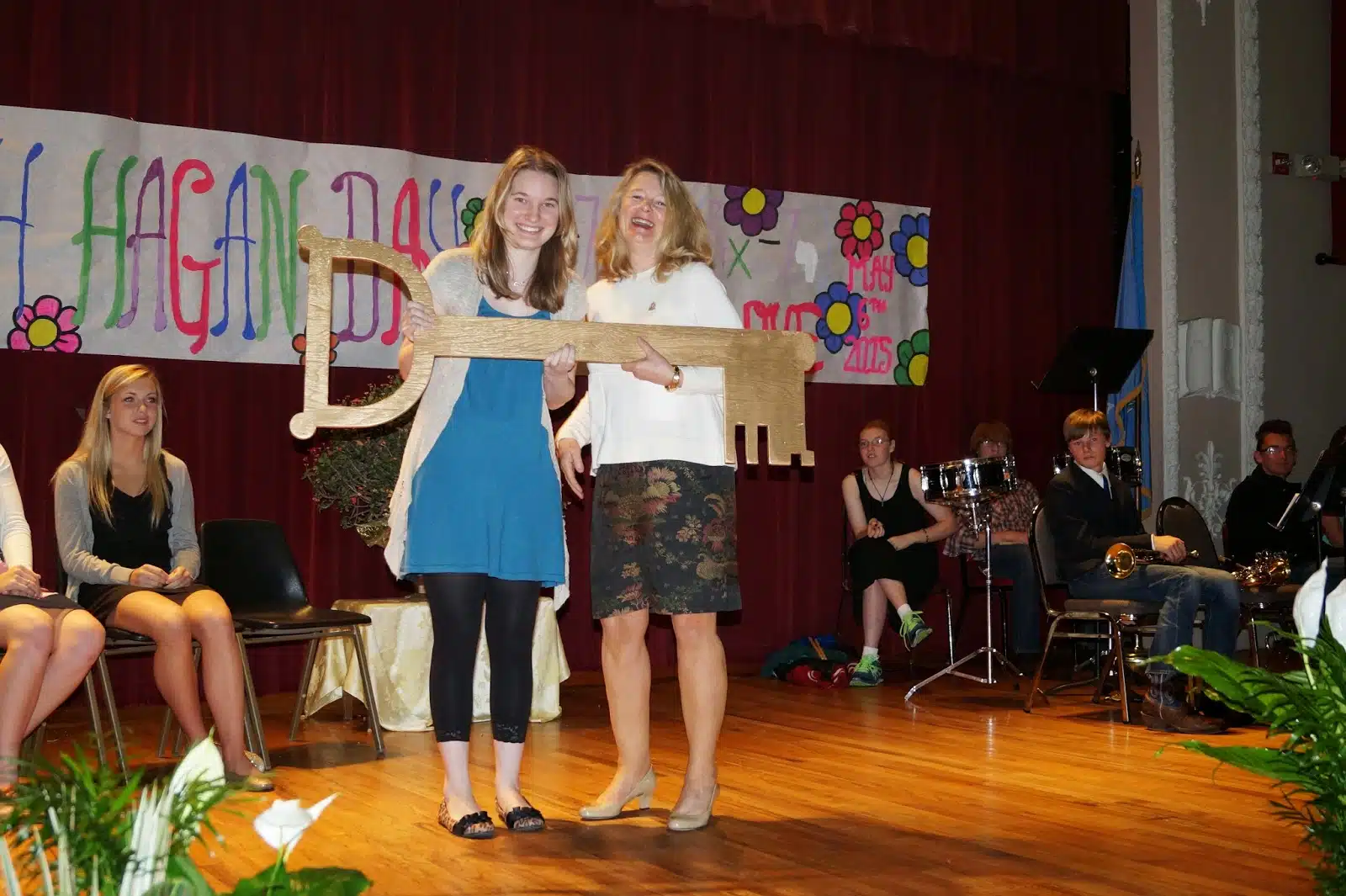 Here is me with the city manager and mayor: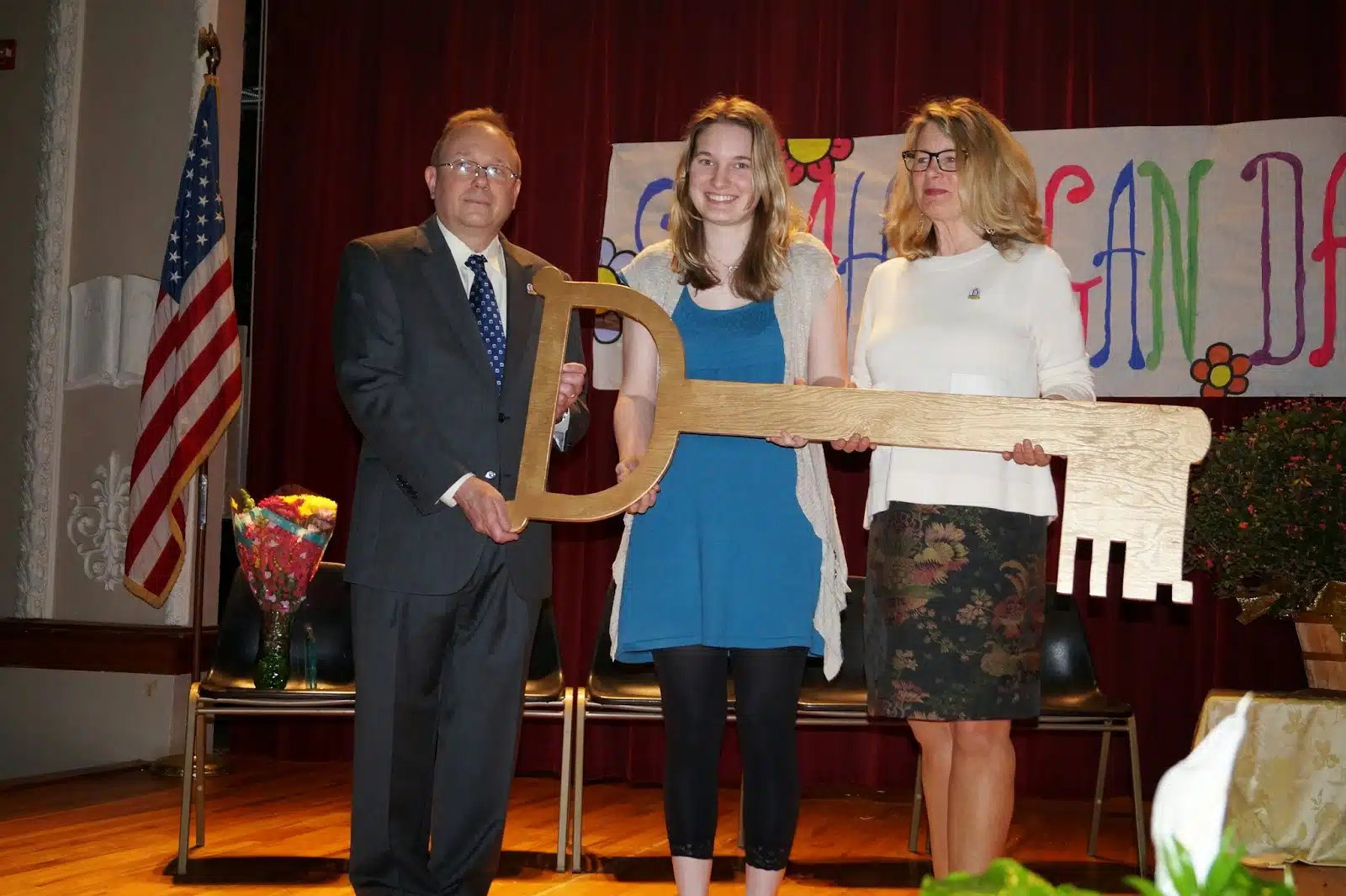 I was also presented with two bouquets of flowers and a lovely plaque to commemorate the day.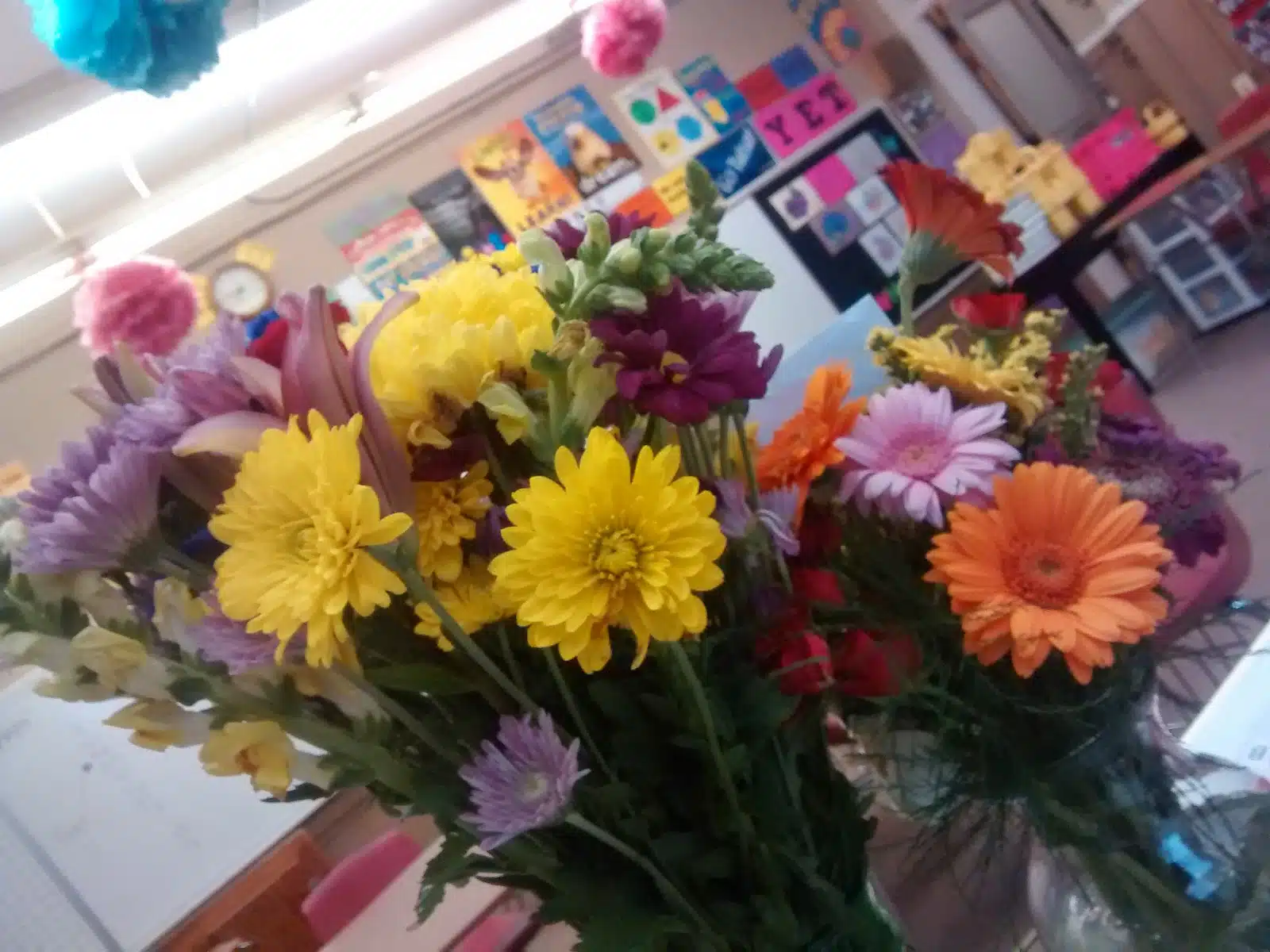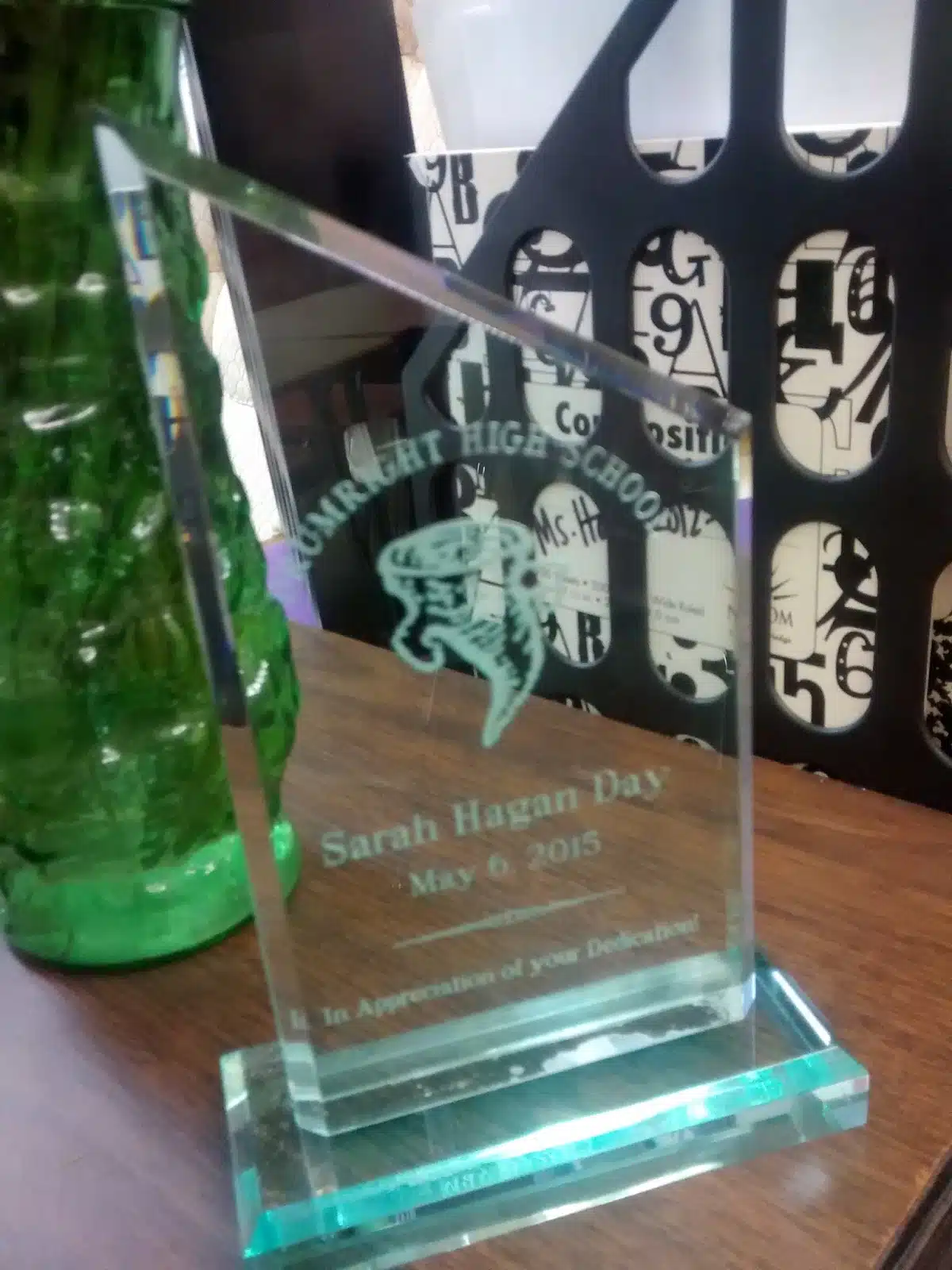 Here's me and my amazing coworker, Kelli, who worked so hard behind the scenes to put this all together.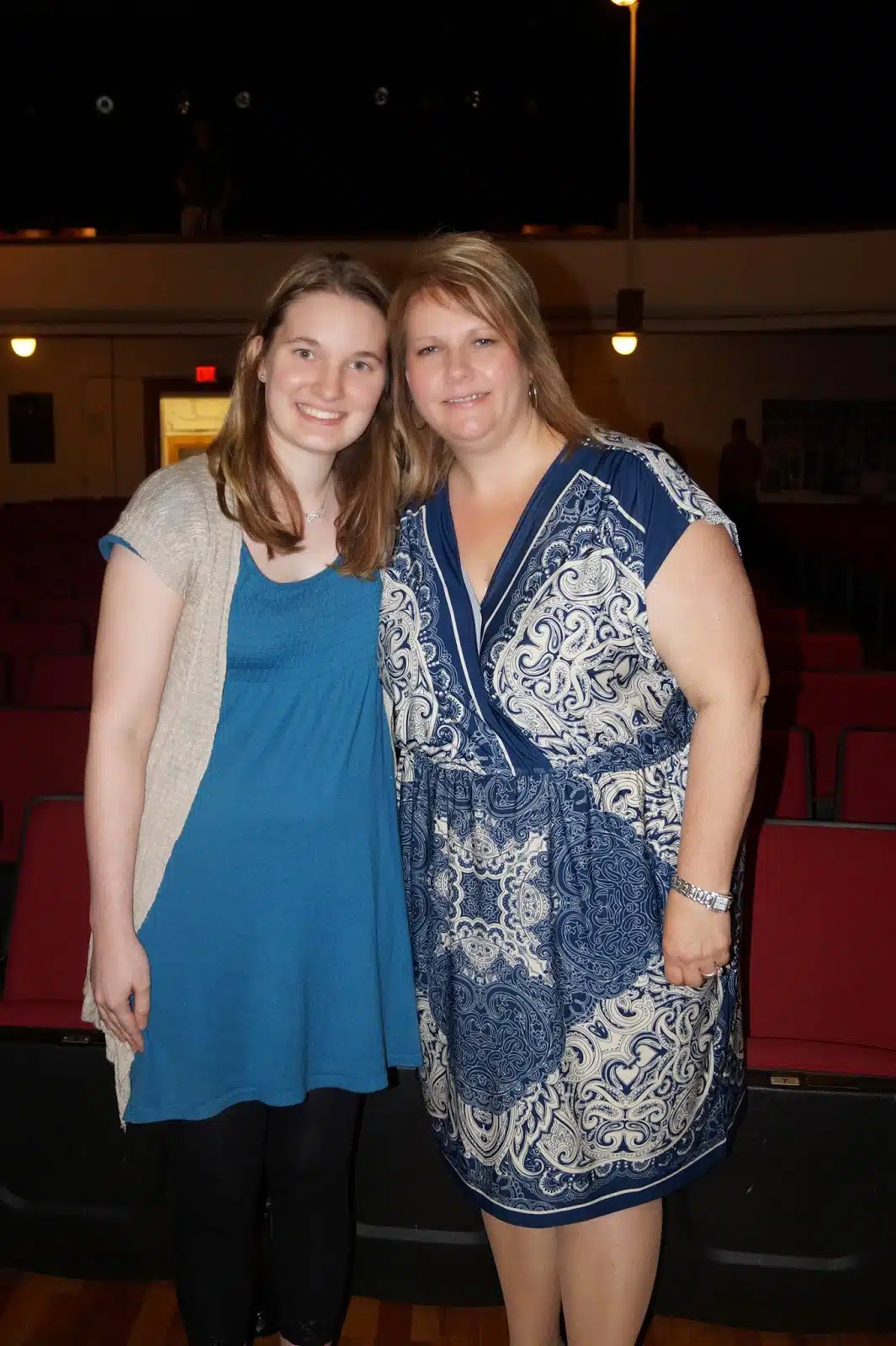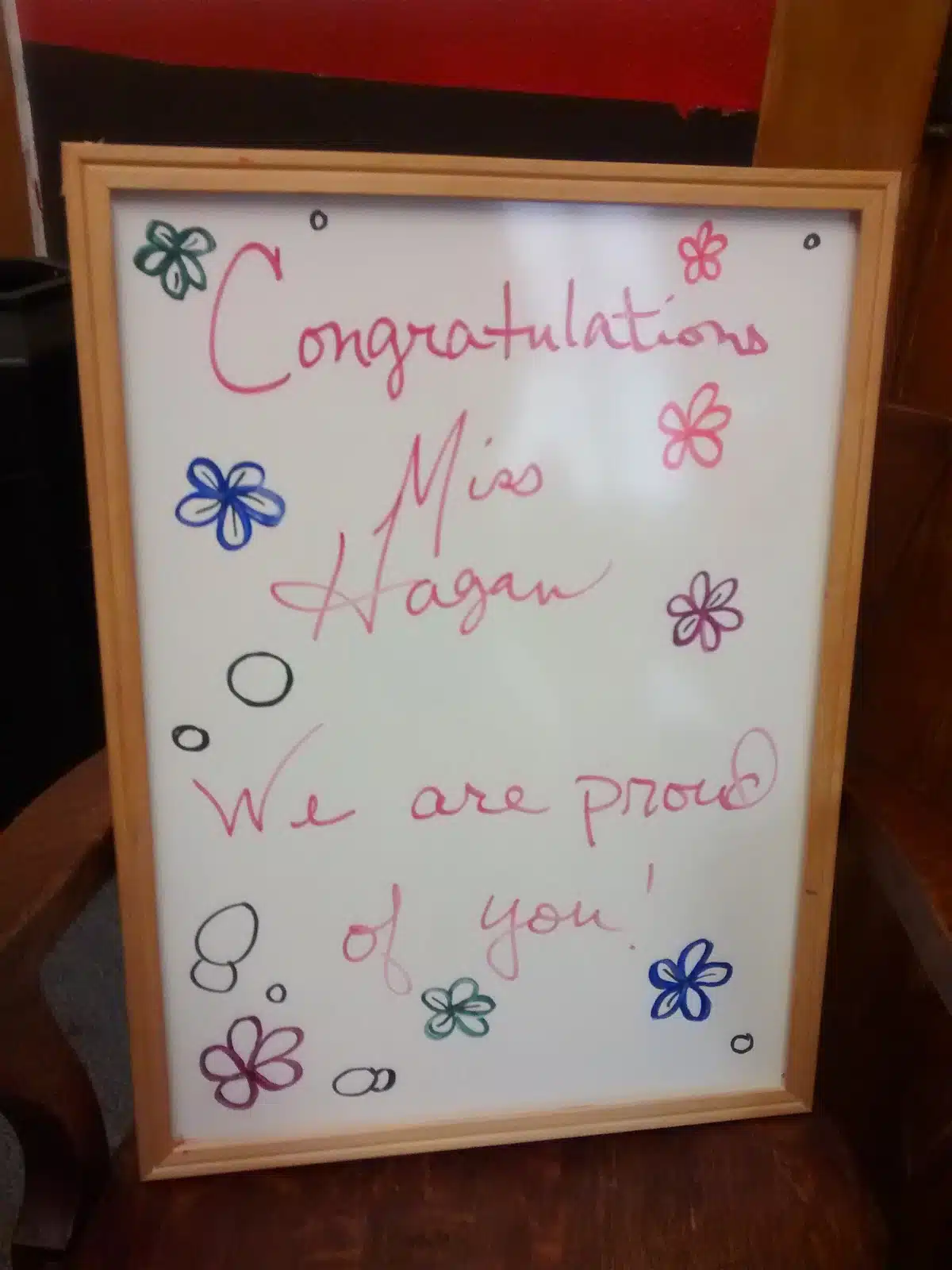 After the assembly and a zillion photos, we went to the FACS classroom for a lovely reception that was prepared by the FACS students. SO many yummy cookies and desserts. Sadly, I neglected to take a photo of the food because I was too distracted by the table decorations my students had made for me.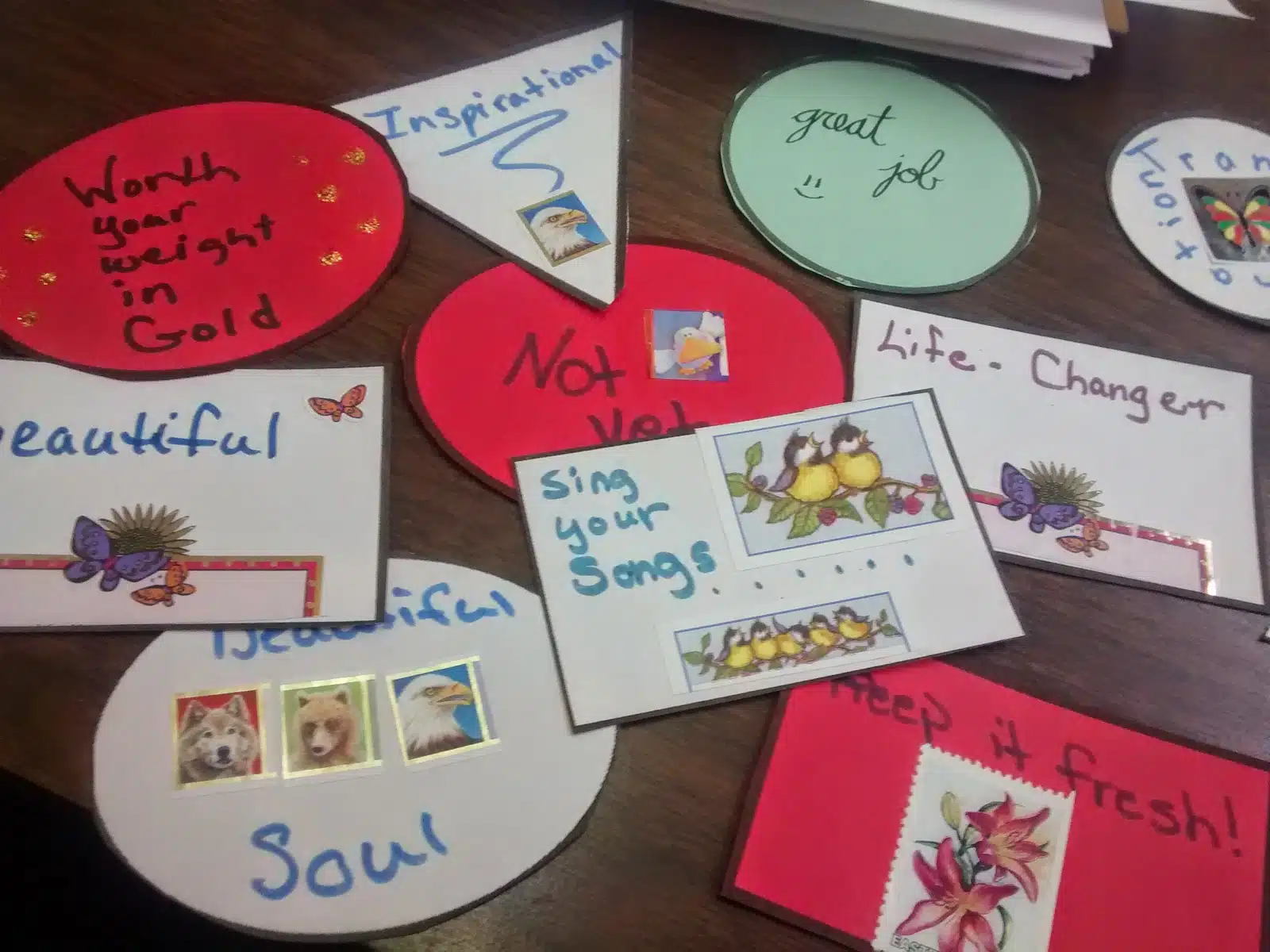 I took them and taped them around my computer monitor, so they would make me smile every single time I set down at my desk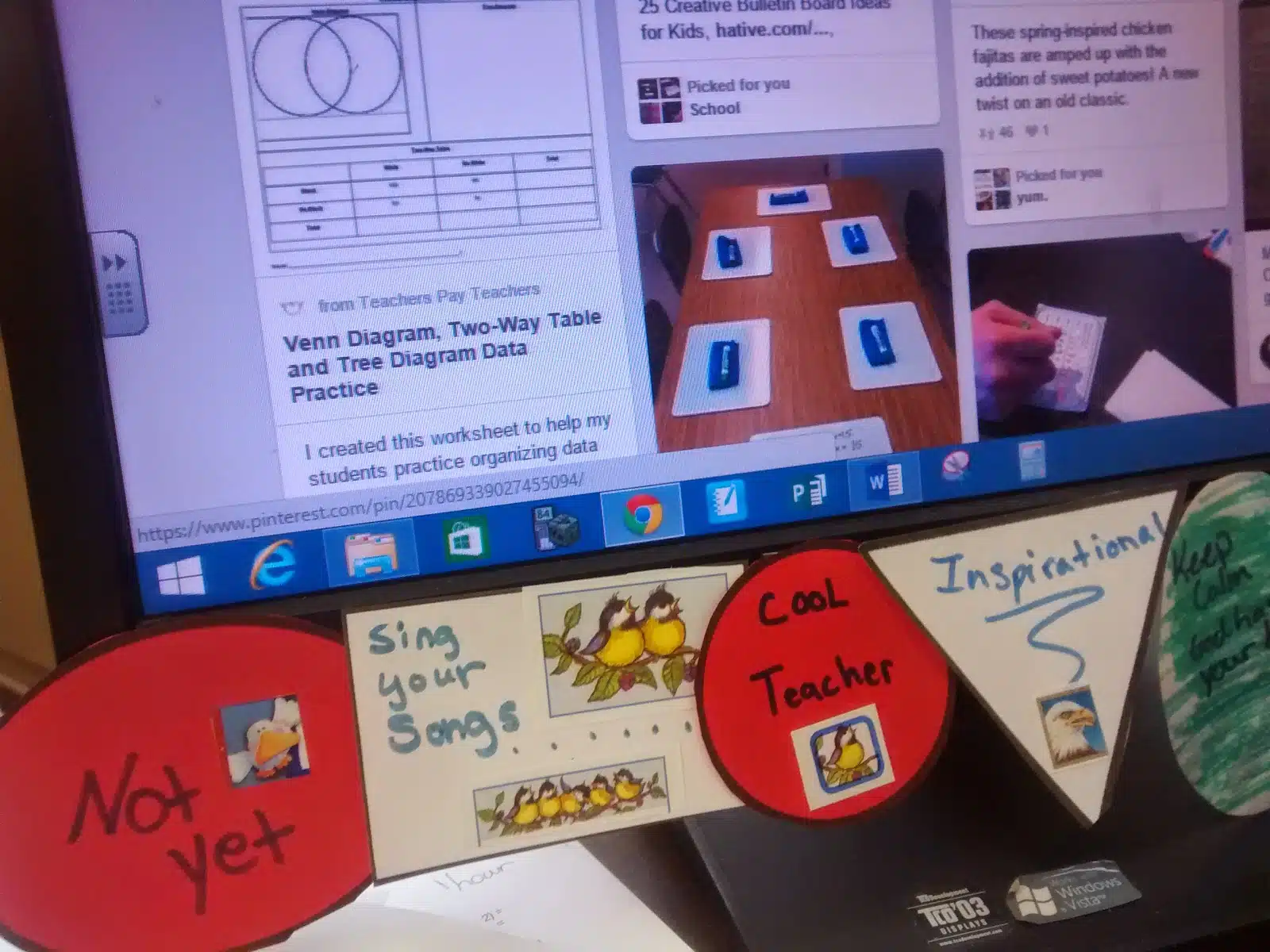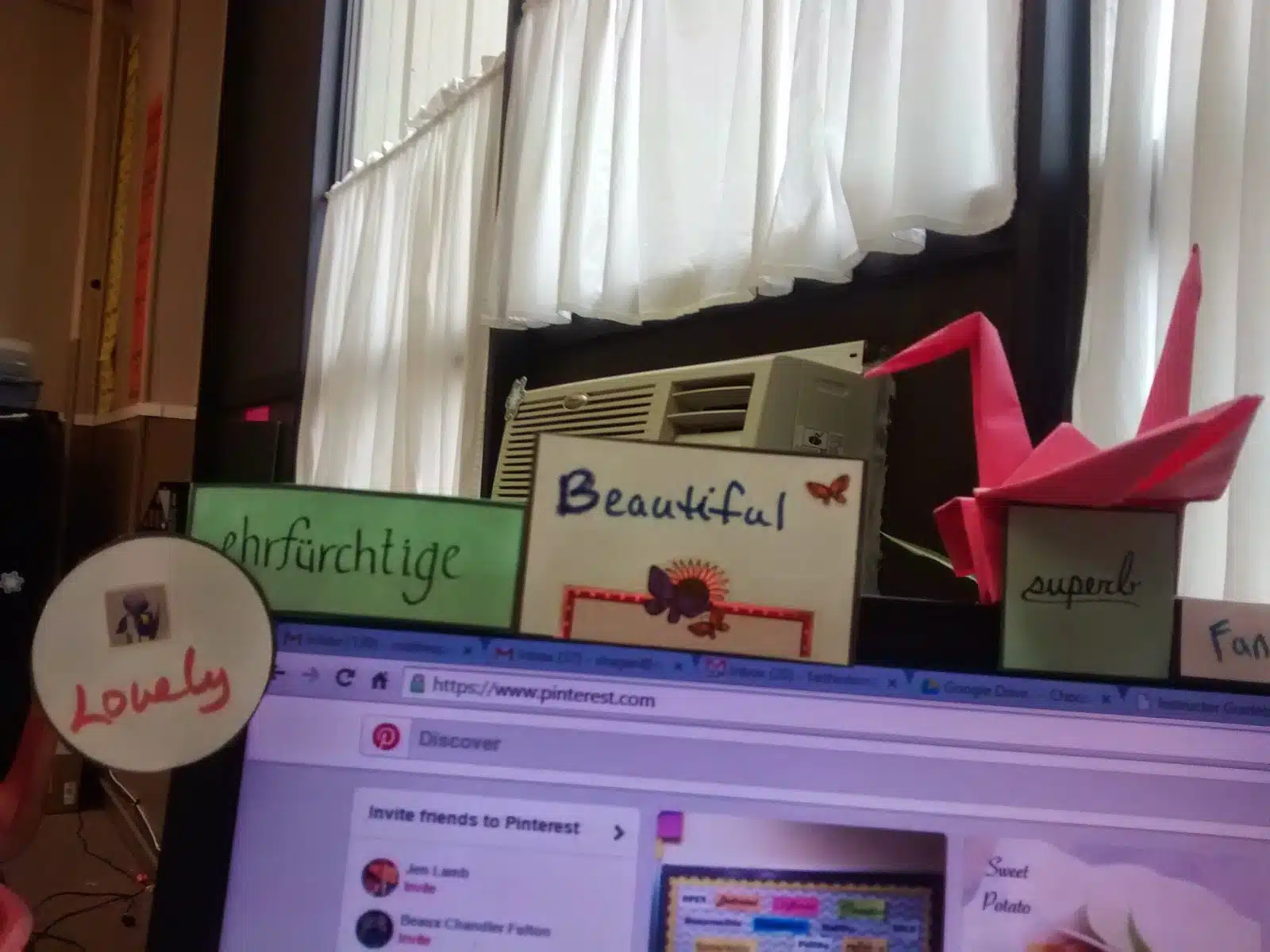 I think the MATH Queen one is probably my favorite. 🙂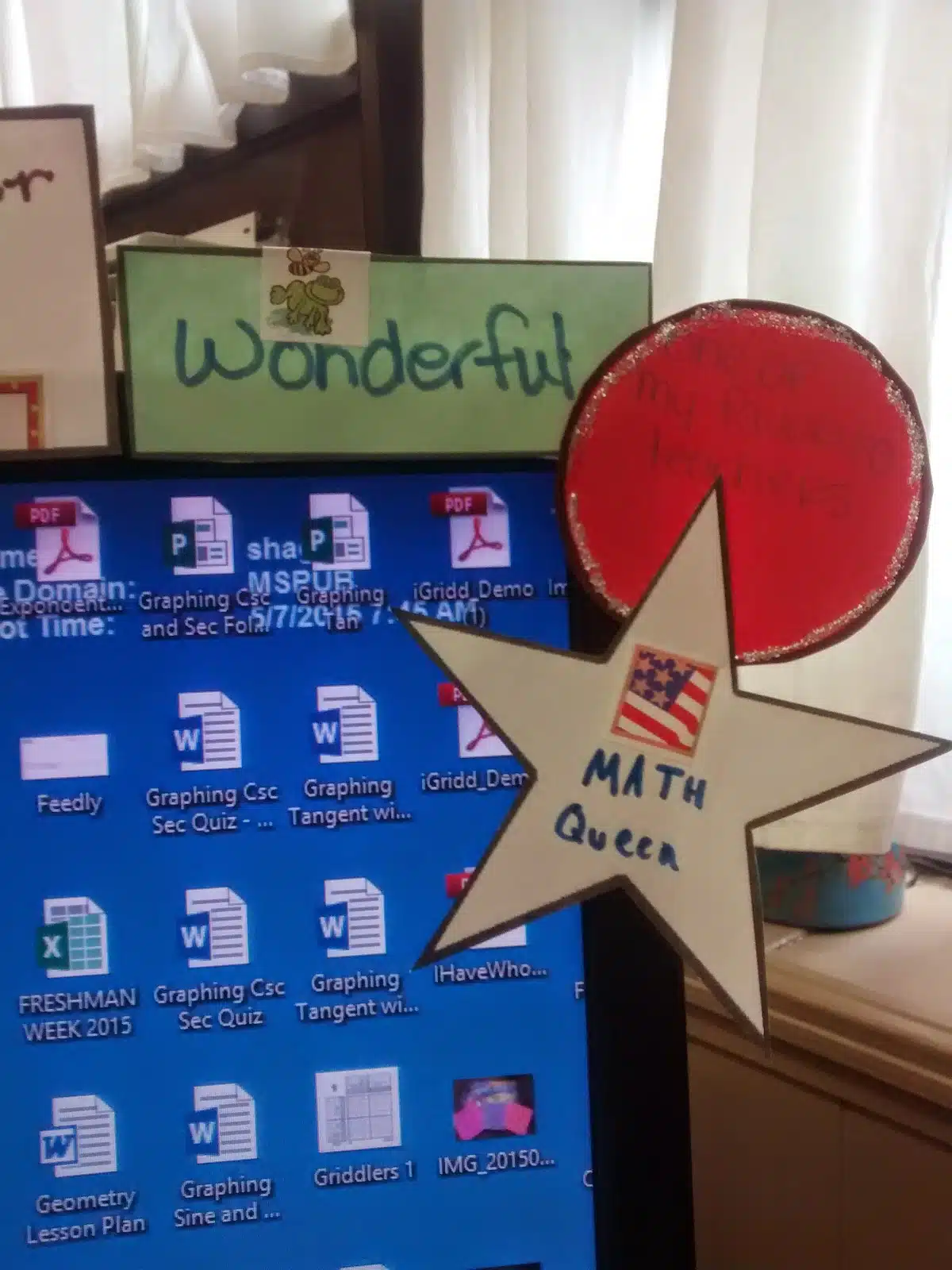 One of my students made me a book to commemorate the day.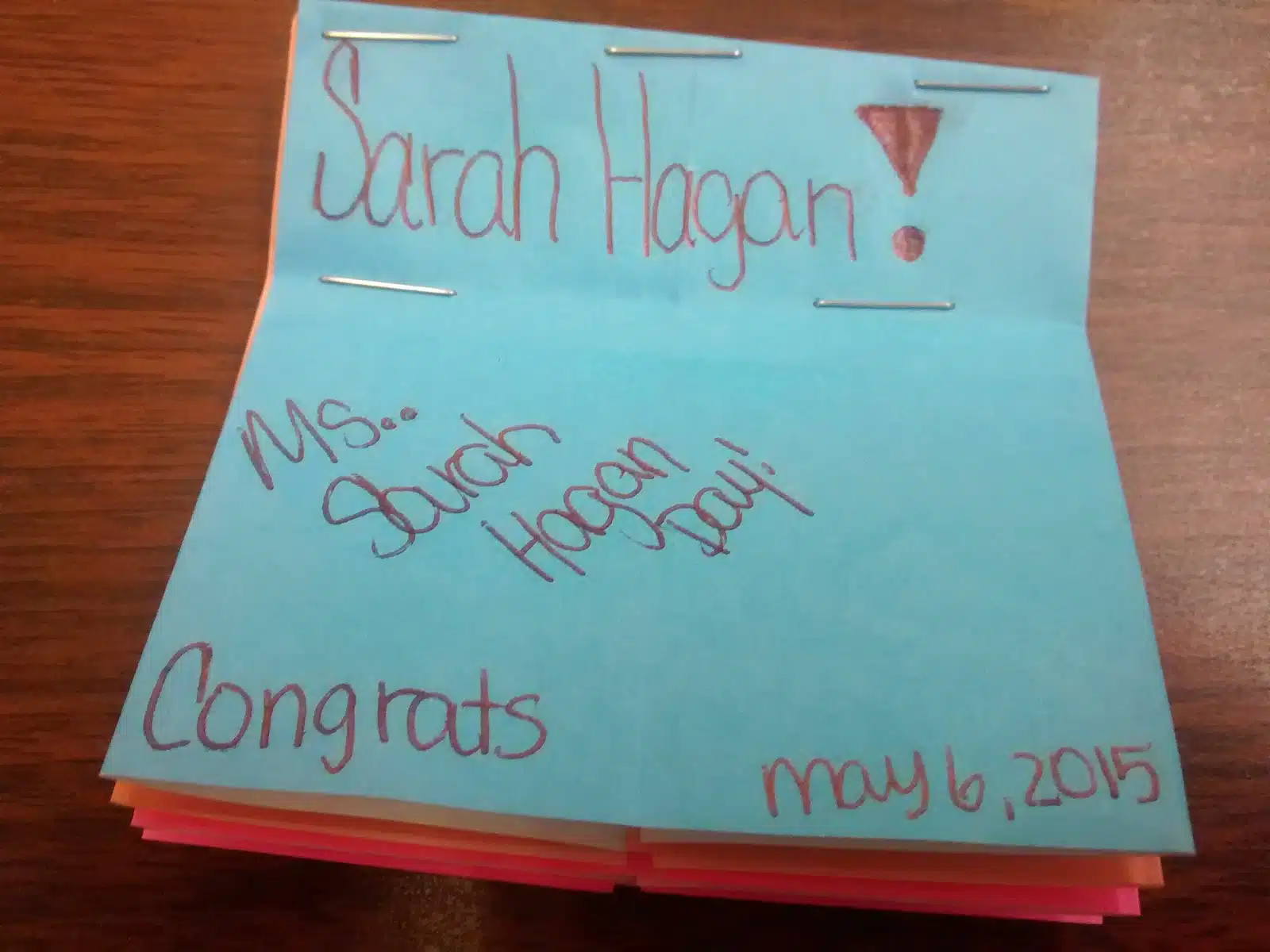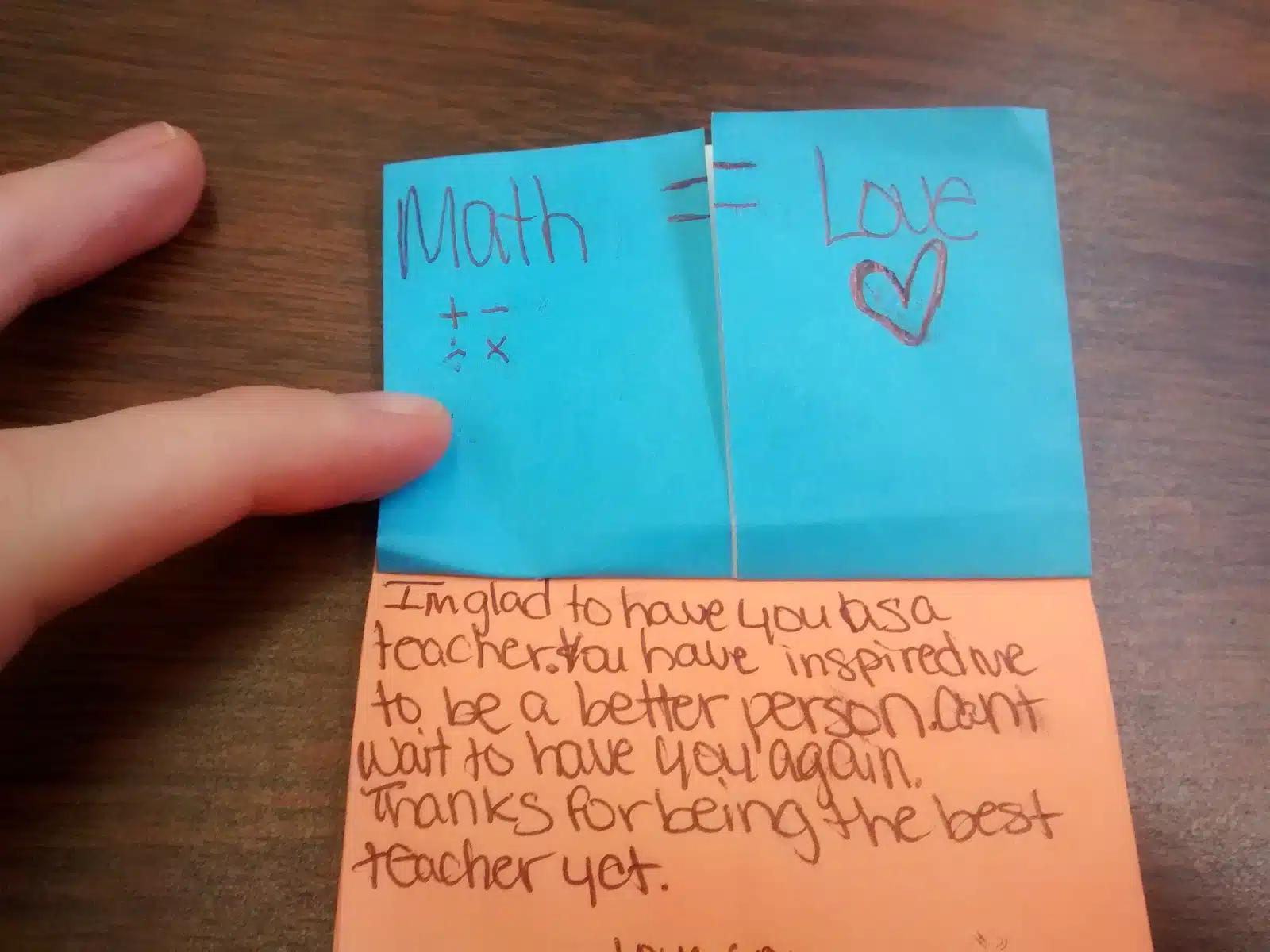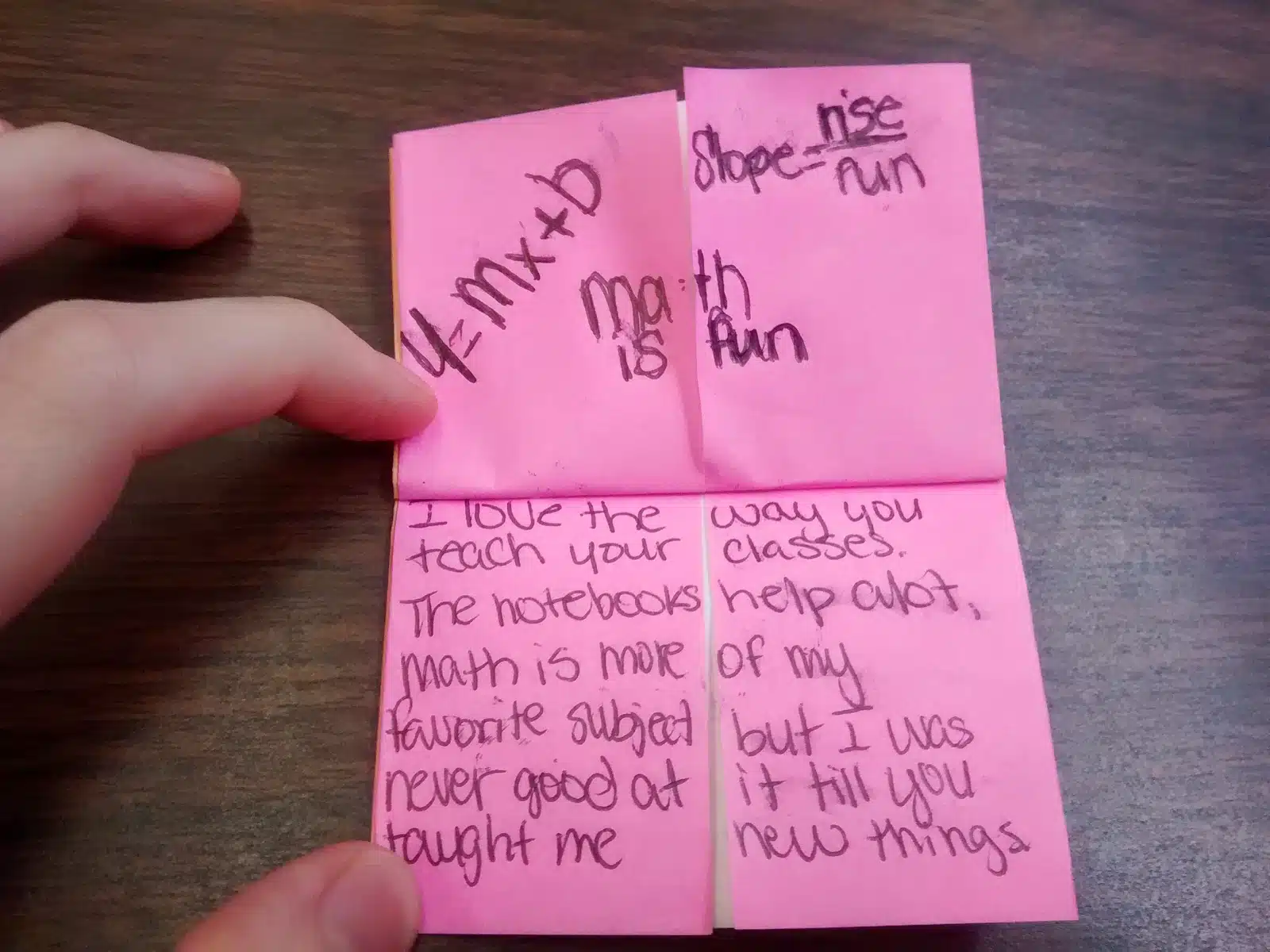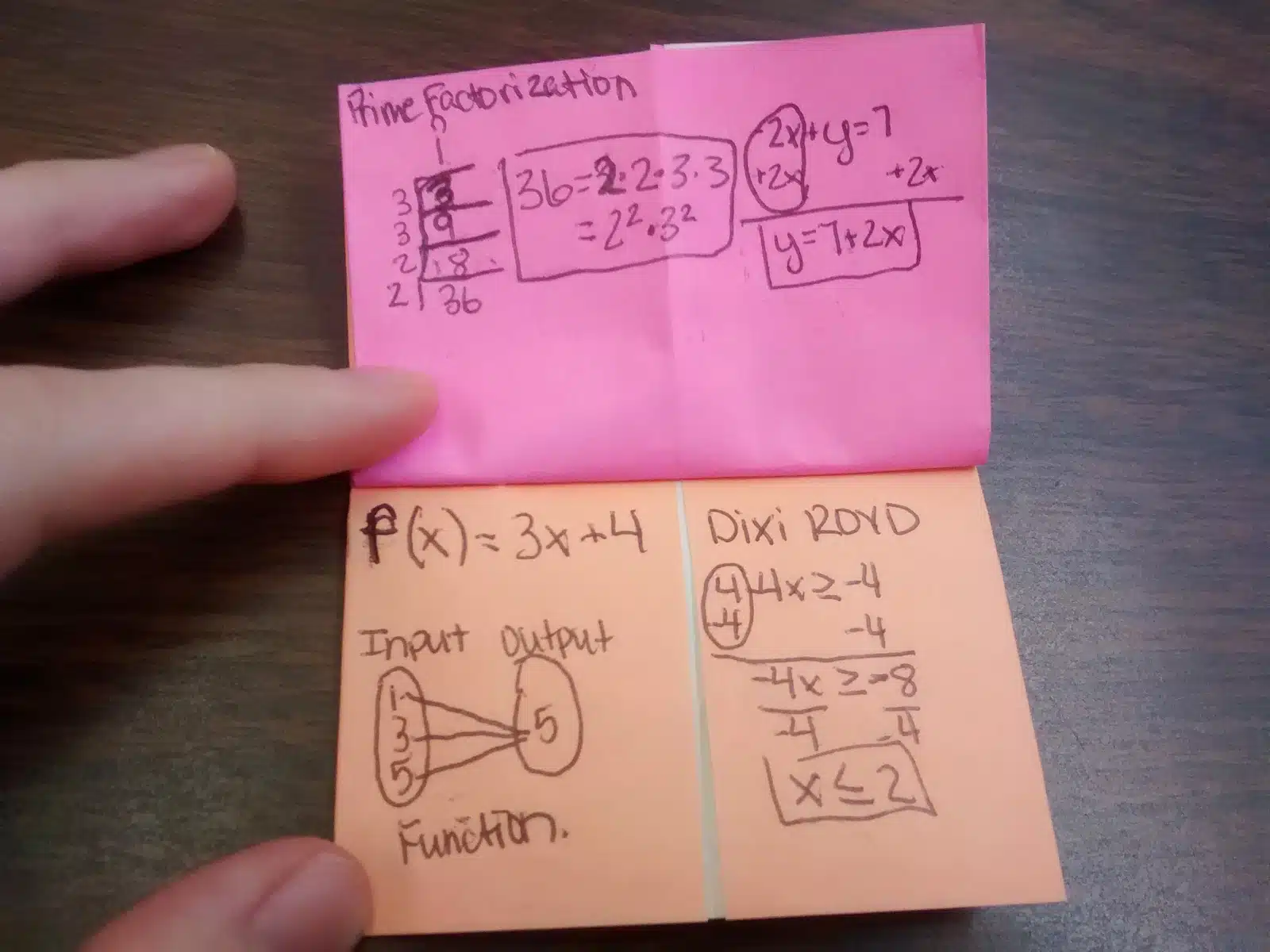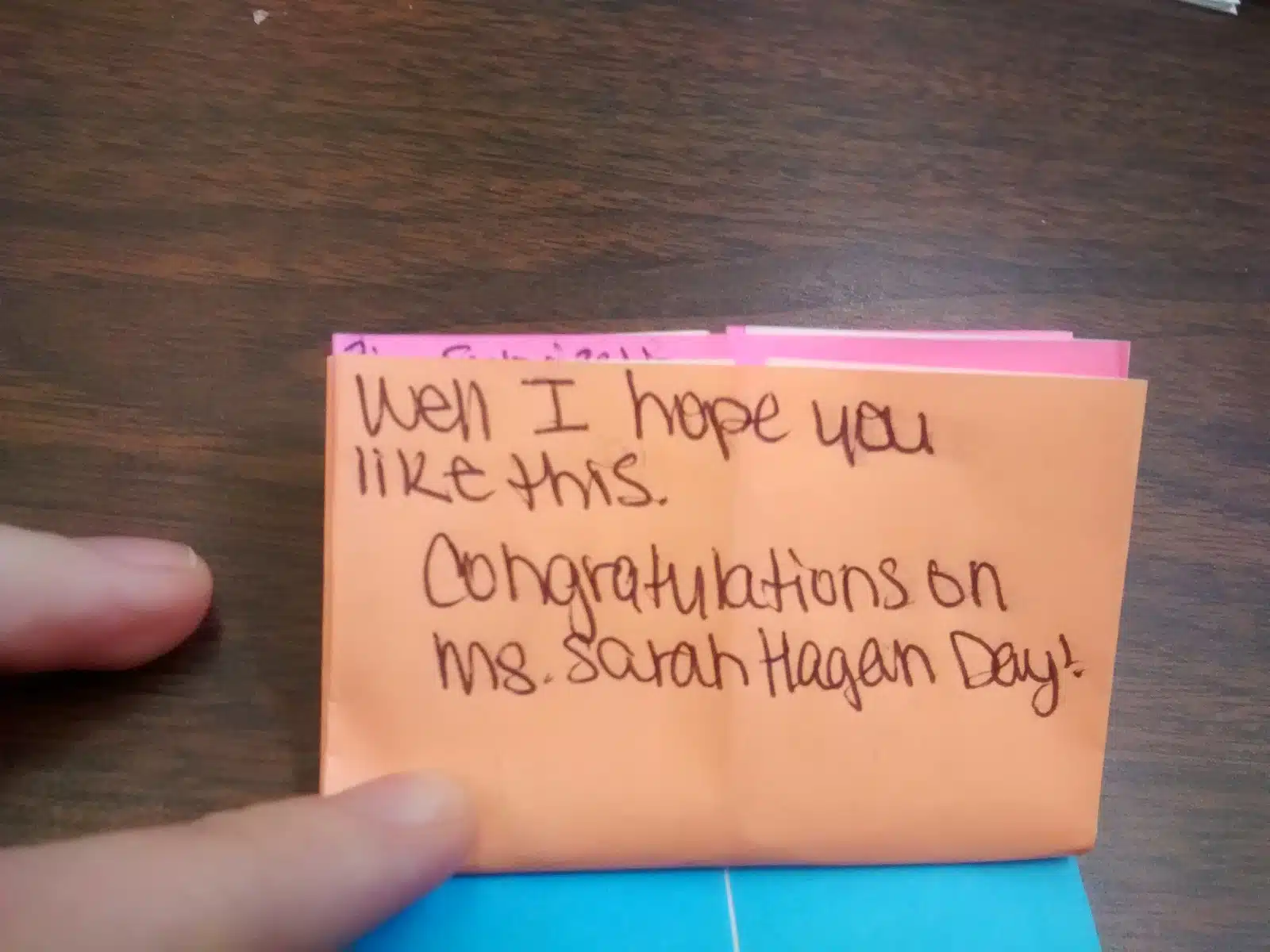 My students really are the best.
It turned out to be a wonderful day. Eventually, I got used to students coming up to me and wishing me a happy "Ms. Hagan Day" or "Sarah Hagan Day." Students were even tweeting about it!
They were a little mad that I had found out about the holiday in advance because they had been keeping it a secret for weeks. It was so hard for them to not spill the beans!
My kiddos were disappointed in the fact that my key to the city won't let me open the door to the donut shop and give them free donuts..
They also thought that Sarah Hagan Day should be celebrated in this fashion every May 6th from here on out. I told them that once was enough. 🙂