This blog post contains Amazon affiliate links. As an Amazon Associate, I earn a small commission from qualifying purchases.
Want to check out my favorite Amazon items for the classroom? Check out my Amazon favorites page!
How well do you know your math vocabulary? This Math Triples Puzzle will test your ability to piece together various three letter word fragments to create mathematical terms.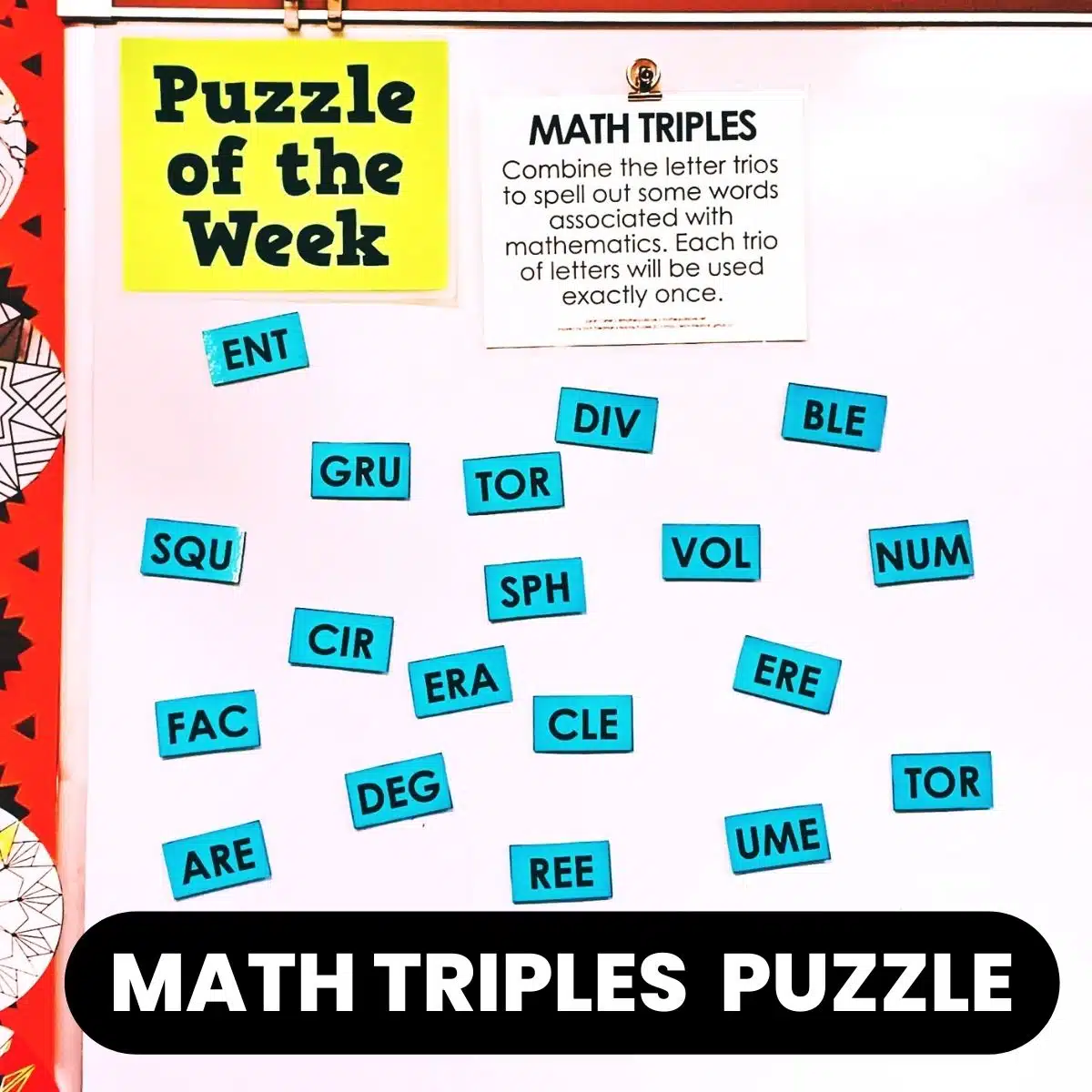 Puzzle Instructions
Combine the letter trios to spell out some words associated with mathematics. Each trio of letters will be used exactly once.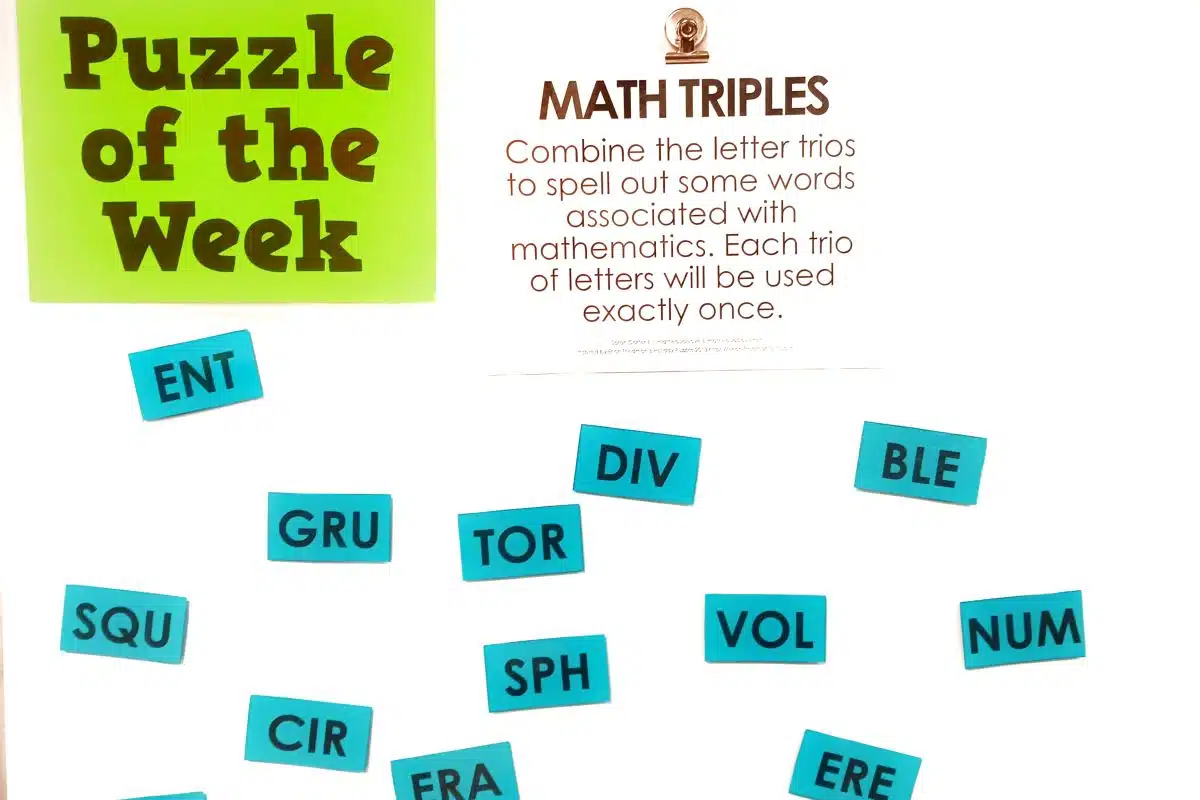 Puzzle Inspiration
This puzzle was inspired by a "Holiday Triples" puzzle published by Erich Friedman in 2013 as part of a holiday puzzles collection. Instead of featuring holiday-themed words, I decided to take the puzzle structure and modify it to feature math words. After all, math does equal love…
I have also created a Halloween version of this word puzzle I am calling "Halloween Triples" or "Spooky Triples" and a Thanksgiving version called "Thanksgiving Triples Puzzle."
Prepping the Puzzle
I printed the letter trios on cardstock and ran the cardstock through my laminator before cutting the pieces apart.
MATH = LOVE RECOMMENDS…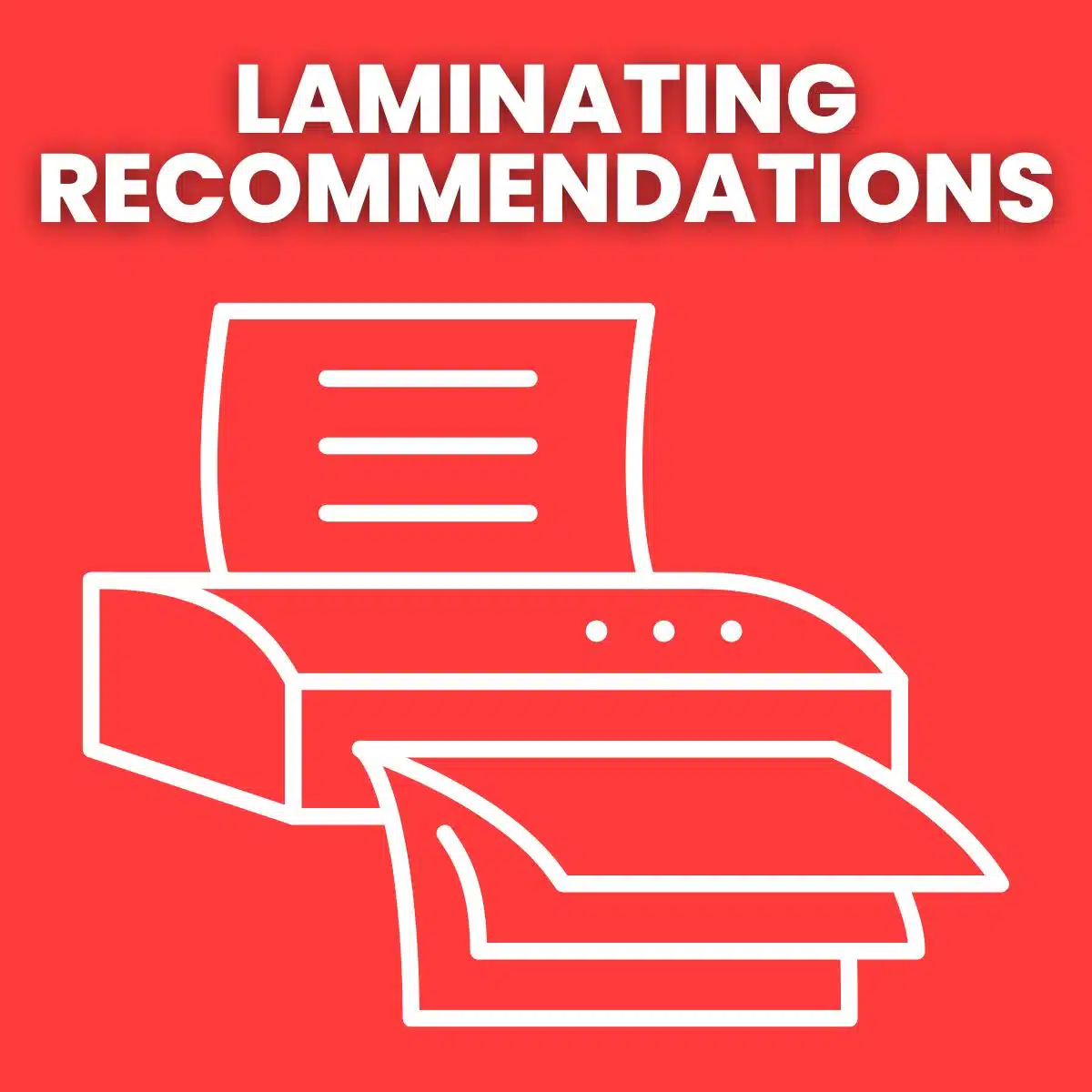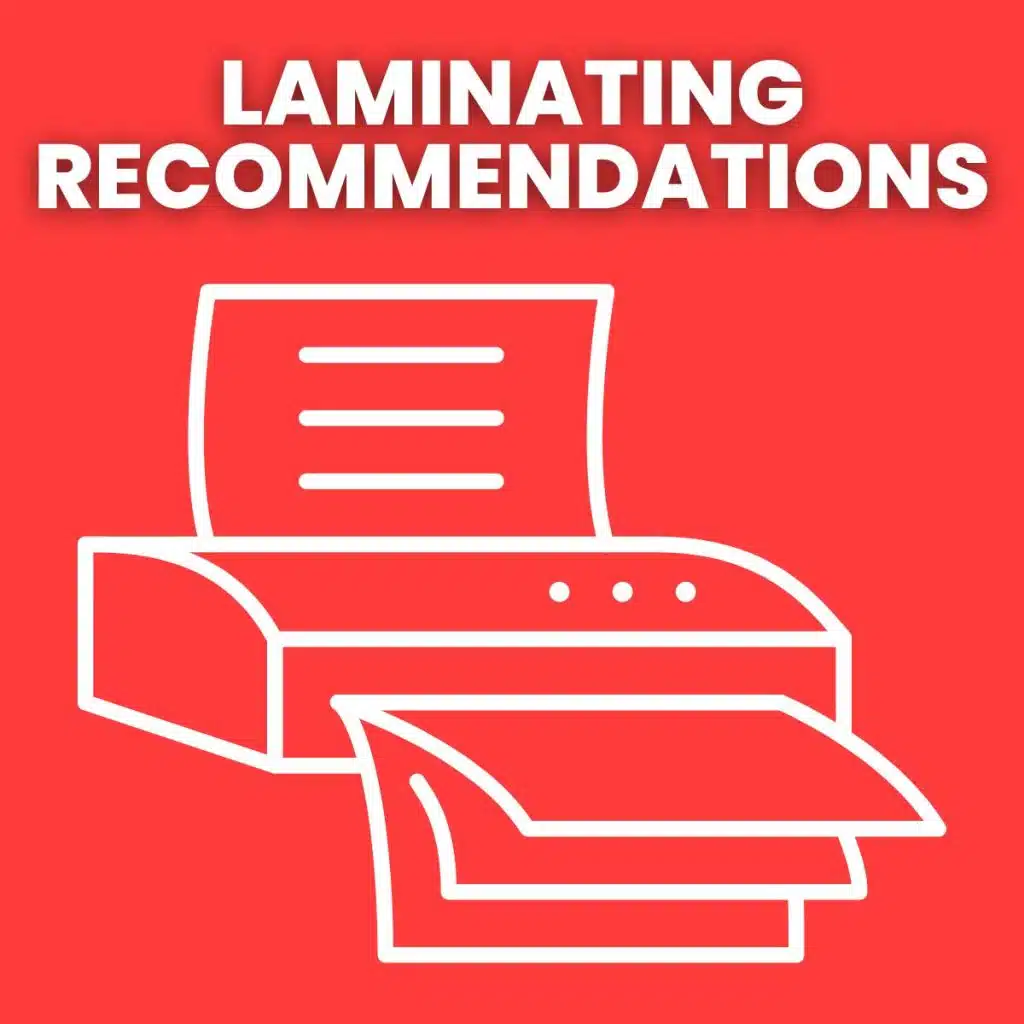 A laminator is a MUST-HAVE for me as a math teacher! I spent my first six years as a teacher at a school with a broken laminator, so I had to find a way to laminate things myself.
I've had several laminators over the years. I currently use a Scotch laminator at home and a Swingline laminator at school.
I highly recommend splurging a bit on the actual laminator and buying the cheapest laminating pouches you can find!
Laminating the pieces is completely optional if you print the puzzle pieces on cardstock. I would definitely take the time to laminate, however, if you just print on regular colored copy paper.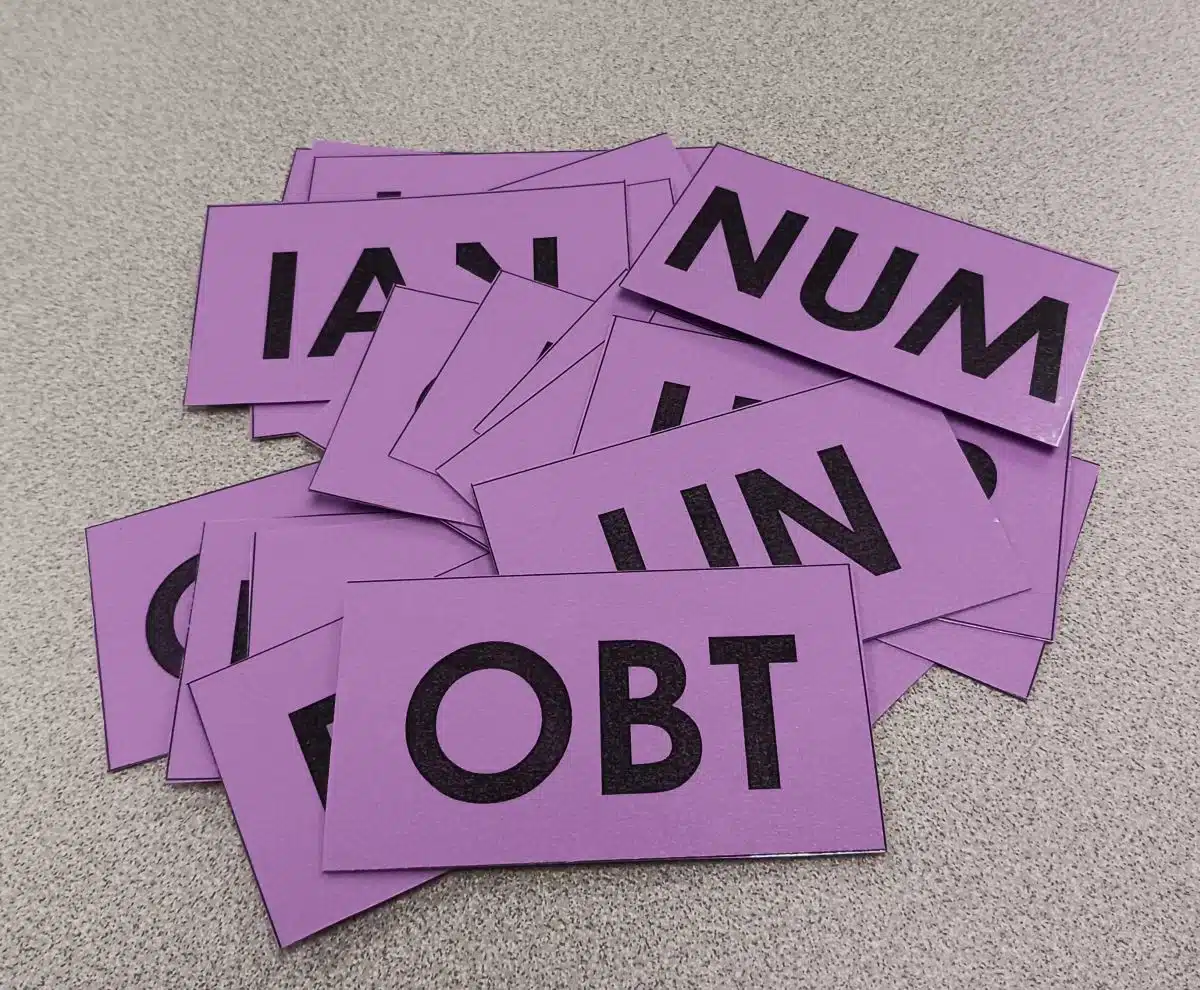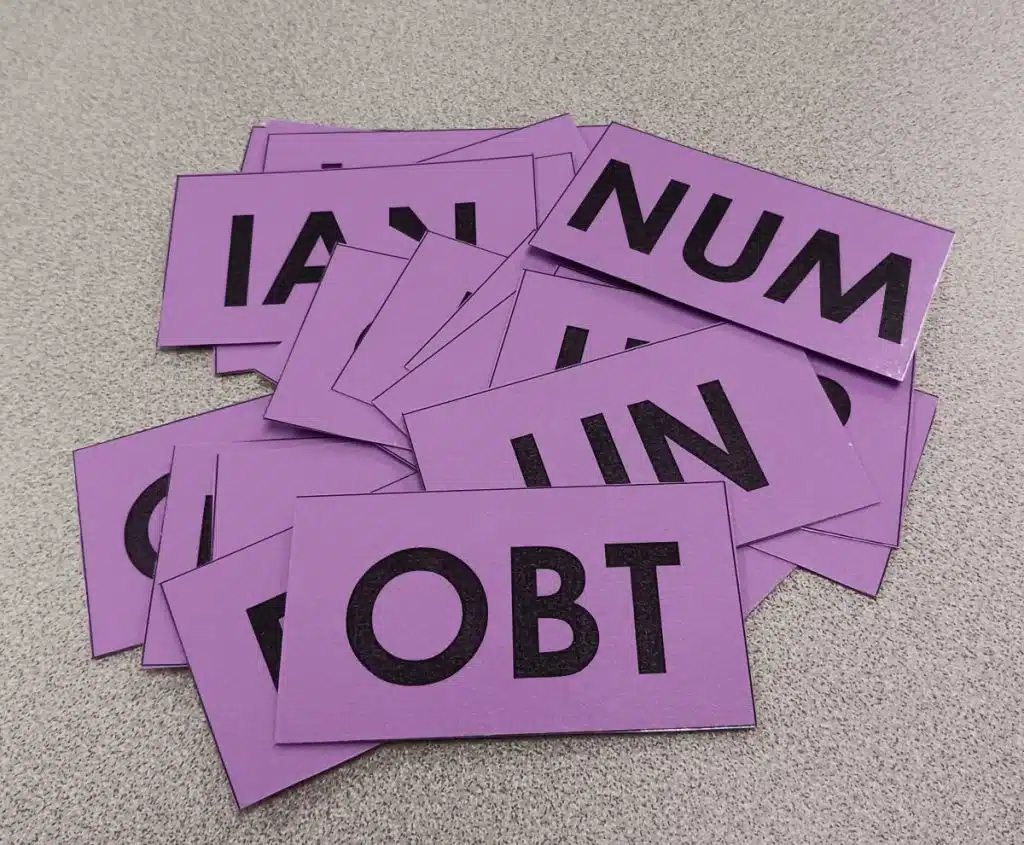 Fun fact: Shaun and I have been married 7 years now, and I am still printing puzzles on the purple and teal cardstock that we bought in bulk to make the programs for our wedding.
I decided to add ceramic disc magnets to the back of my puzzle pieces so that I could hang the puzzle on my dry erase board as our puzzle of the week. But, this is totally optional.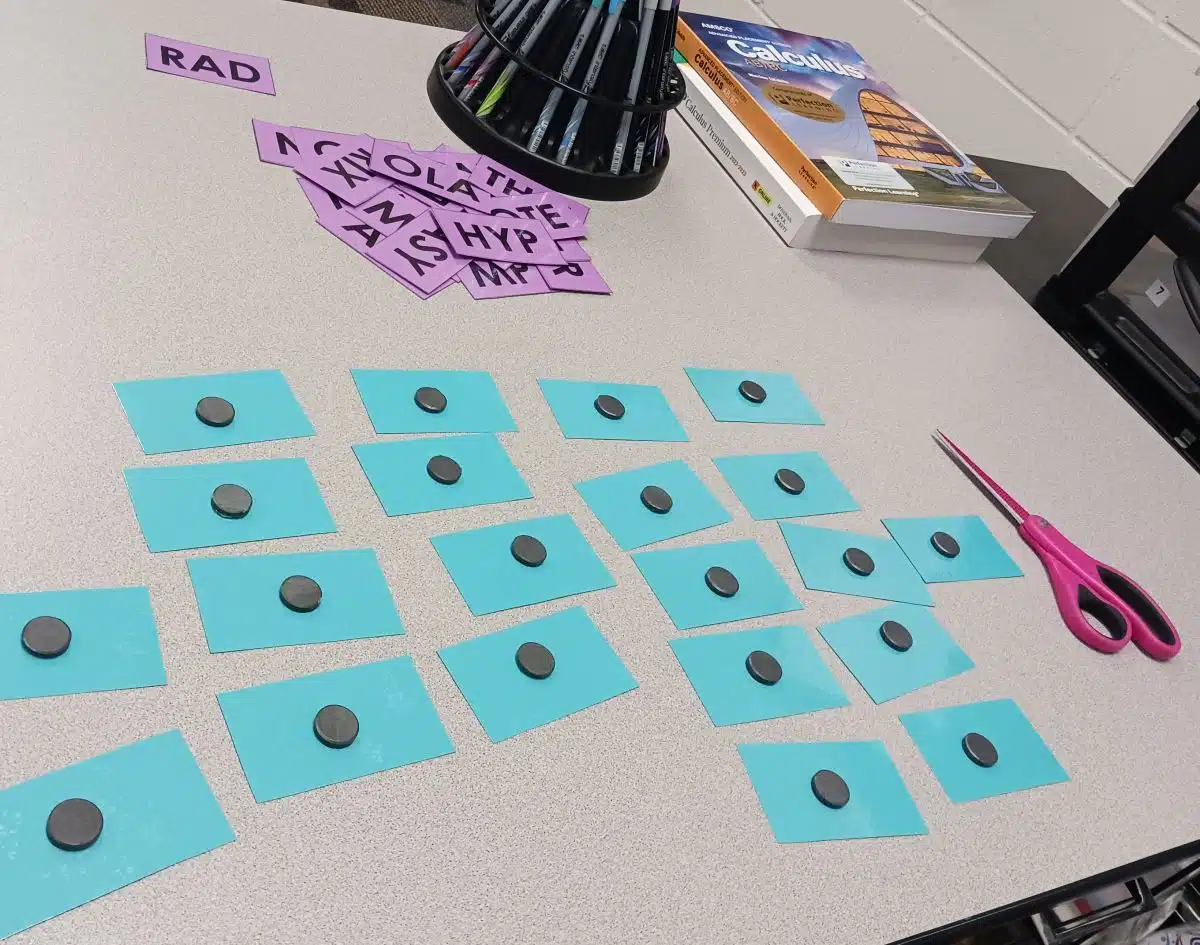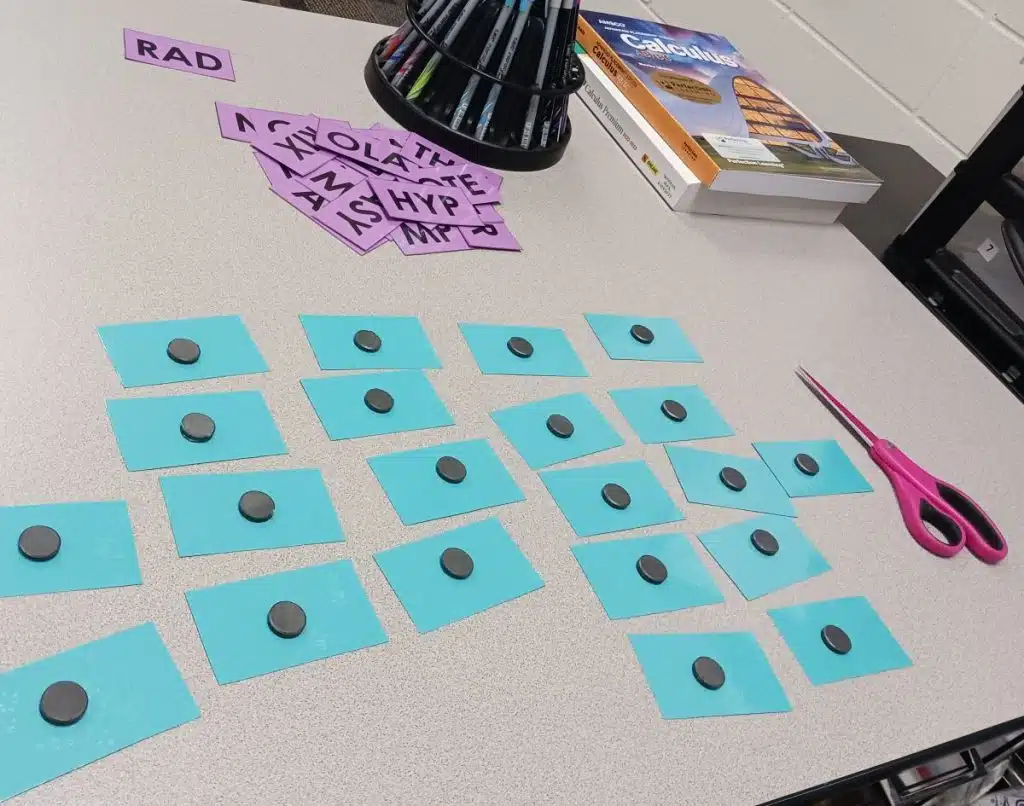 I actually ran out of magnets, so I had students who worked on one version of the puzzle on their desk while I was waiting on Amazon to deliver my new box of magnets.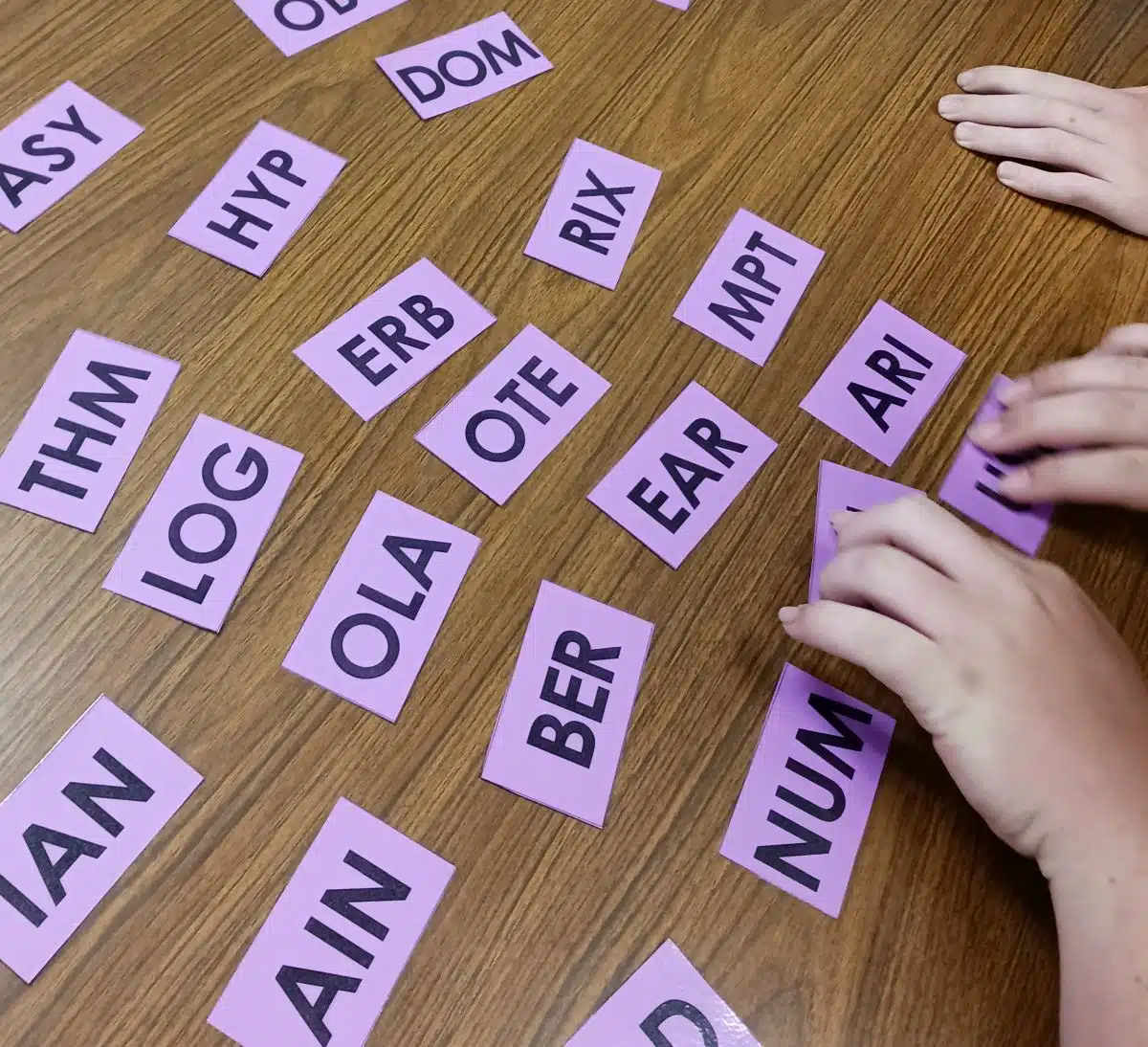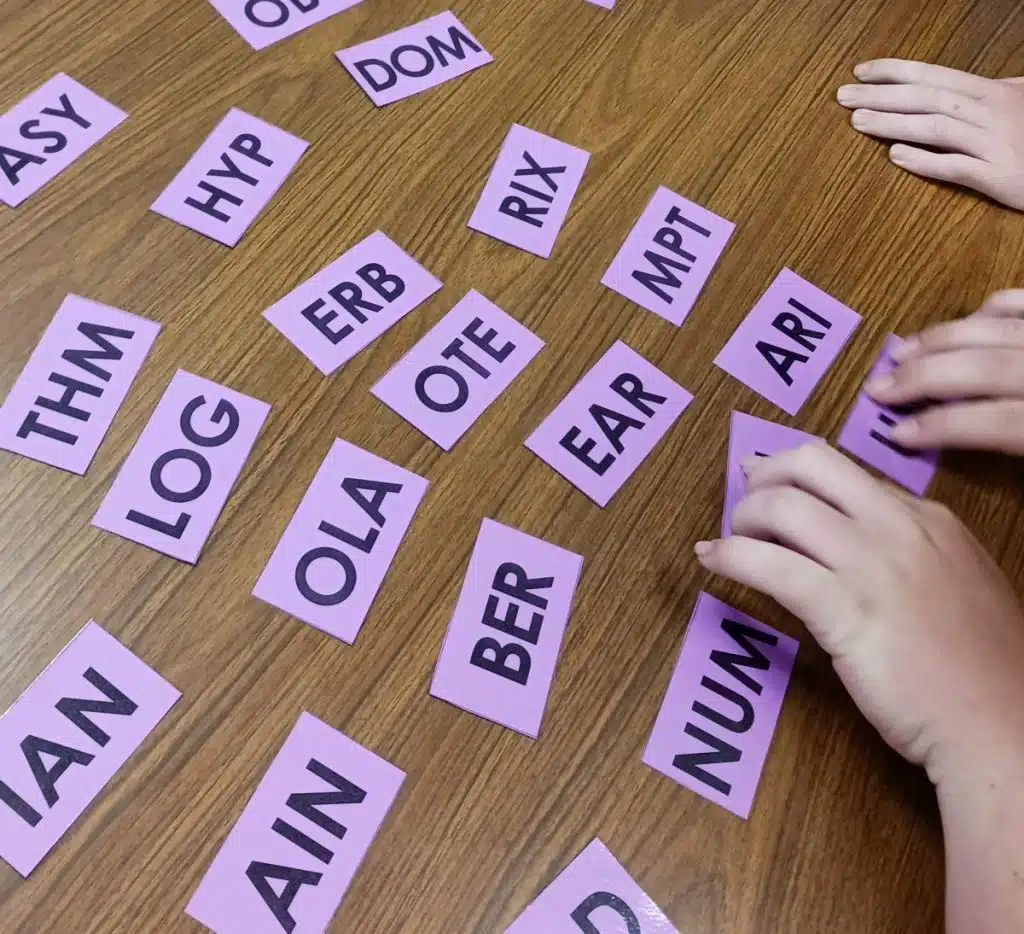 If I wasn't doing a weekly magnetic puzzle, I would just make several sets of these cards and store them in ziplock bags for students to take to their desk to solve.
Two Puzzle Versions
I created two different versions of this puzzle with varying levels of mathematical difficulty.
Set 1
The first set (printed on teal cardstock) features almost entirely math vocabulary words which are appropriate for upper elementary school, middle school, and high school with the exception of one word which might be a bit tricky.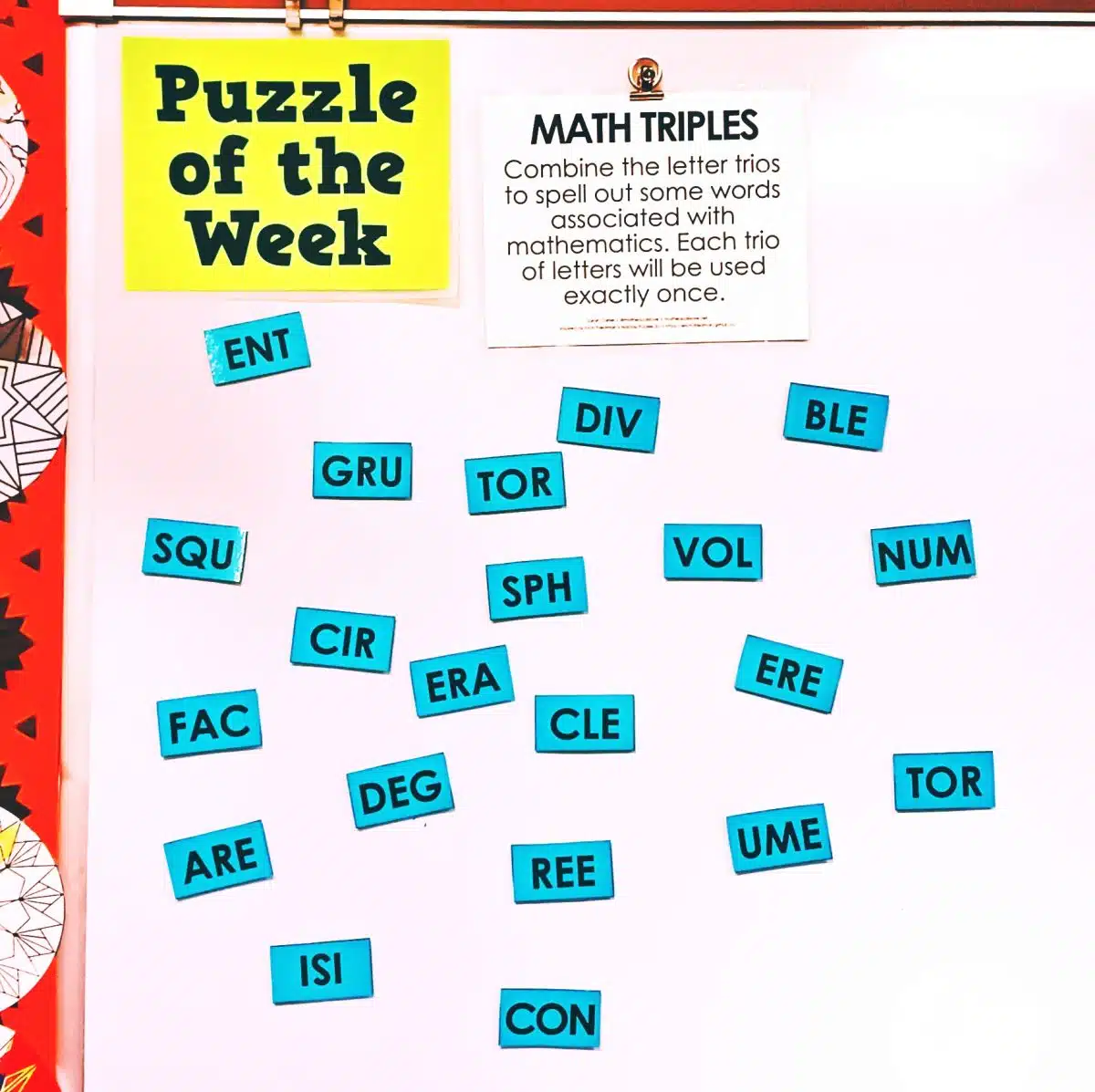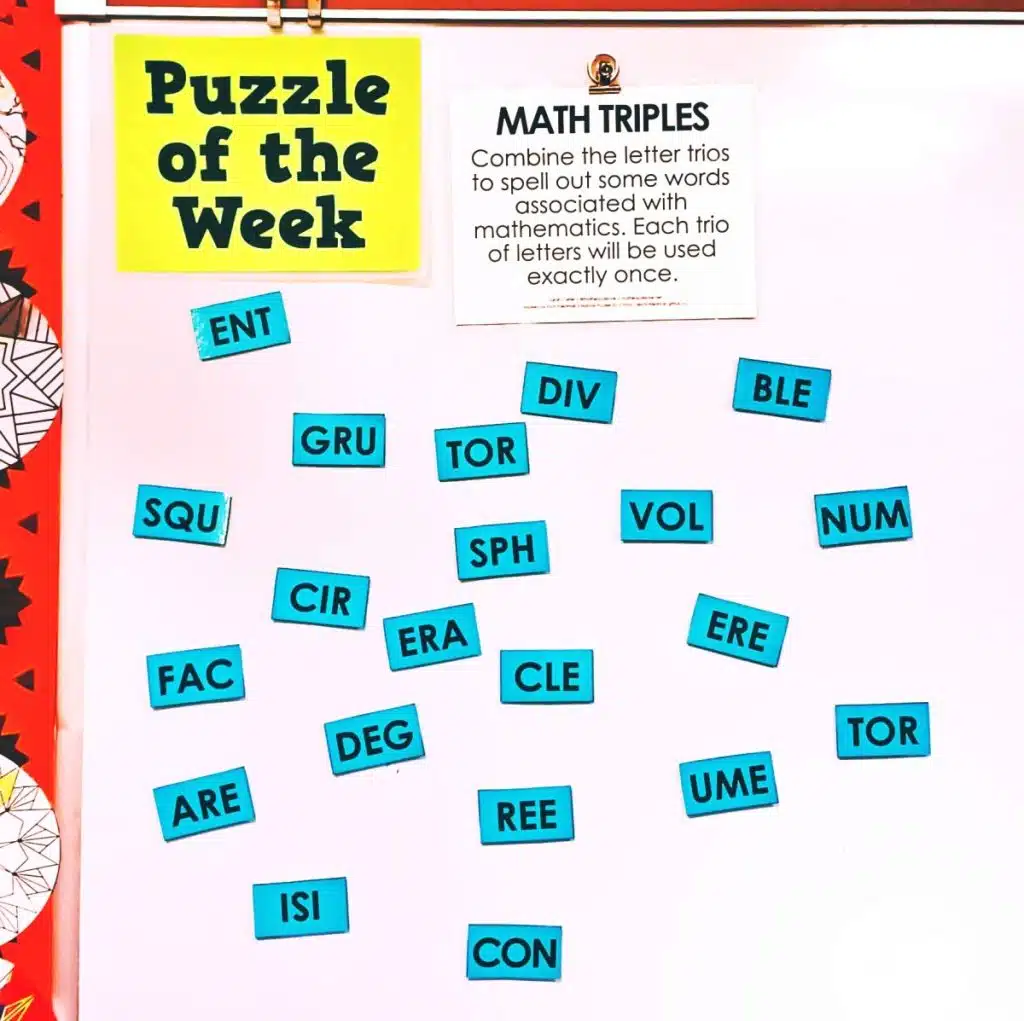 Set 1 does include the word "congruent." If you are working with younger students who you think might be thrown off with this word, you could just remove the three letter cards which spell congruent before giving the puzzle to students.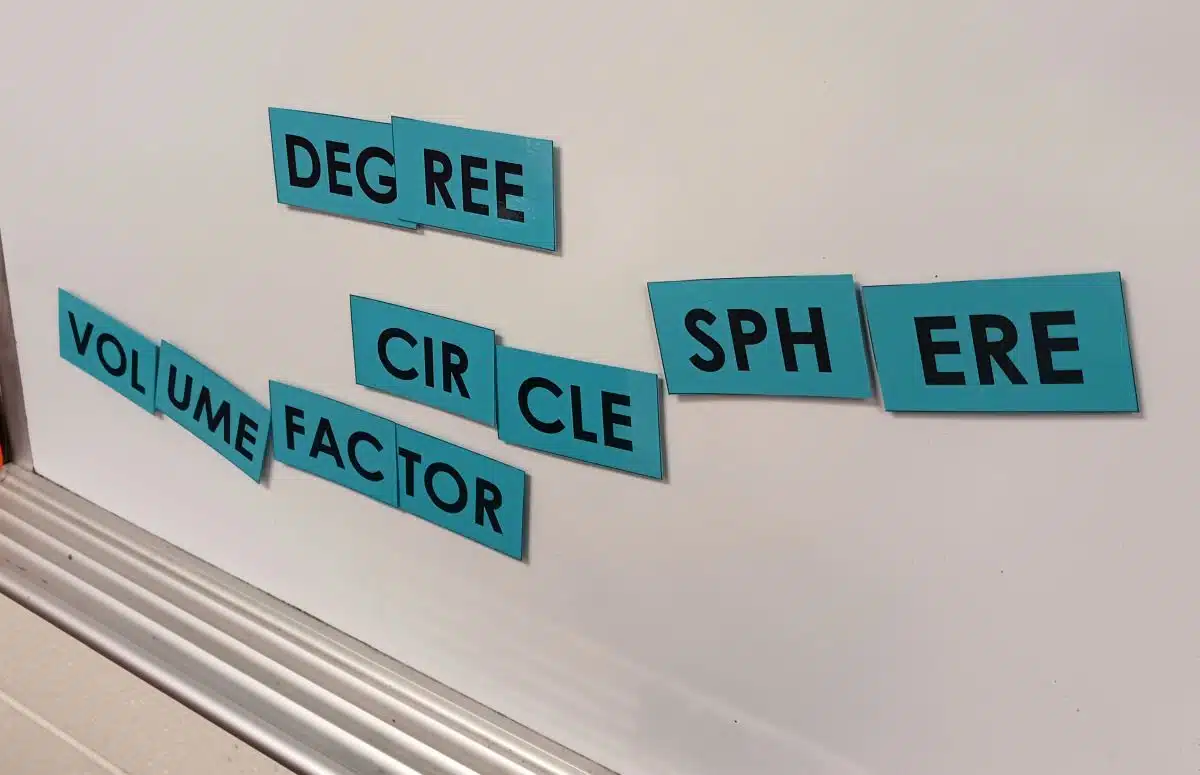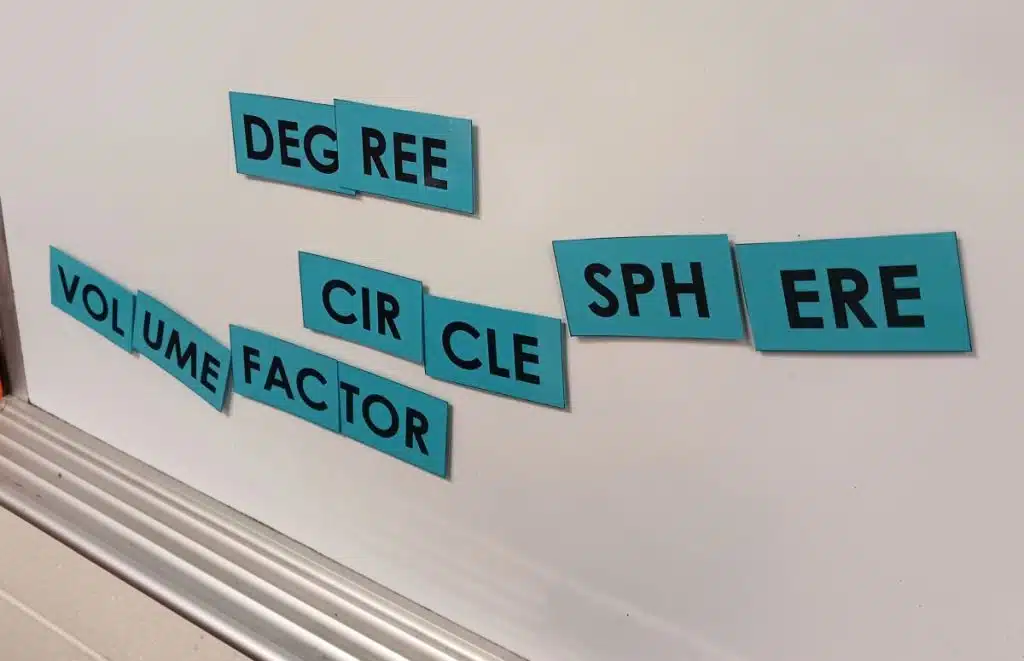 Set 2
Set 2 includes many mathematical terms that students likely won't be familiar with until Algebra 2.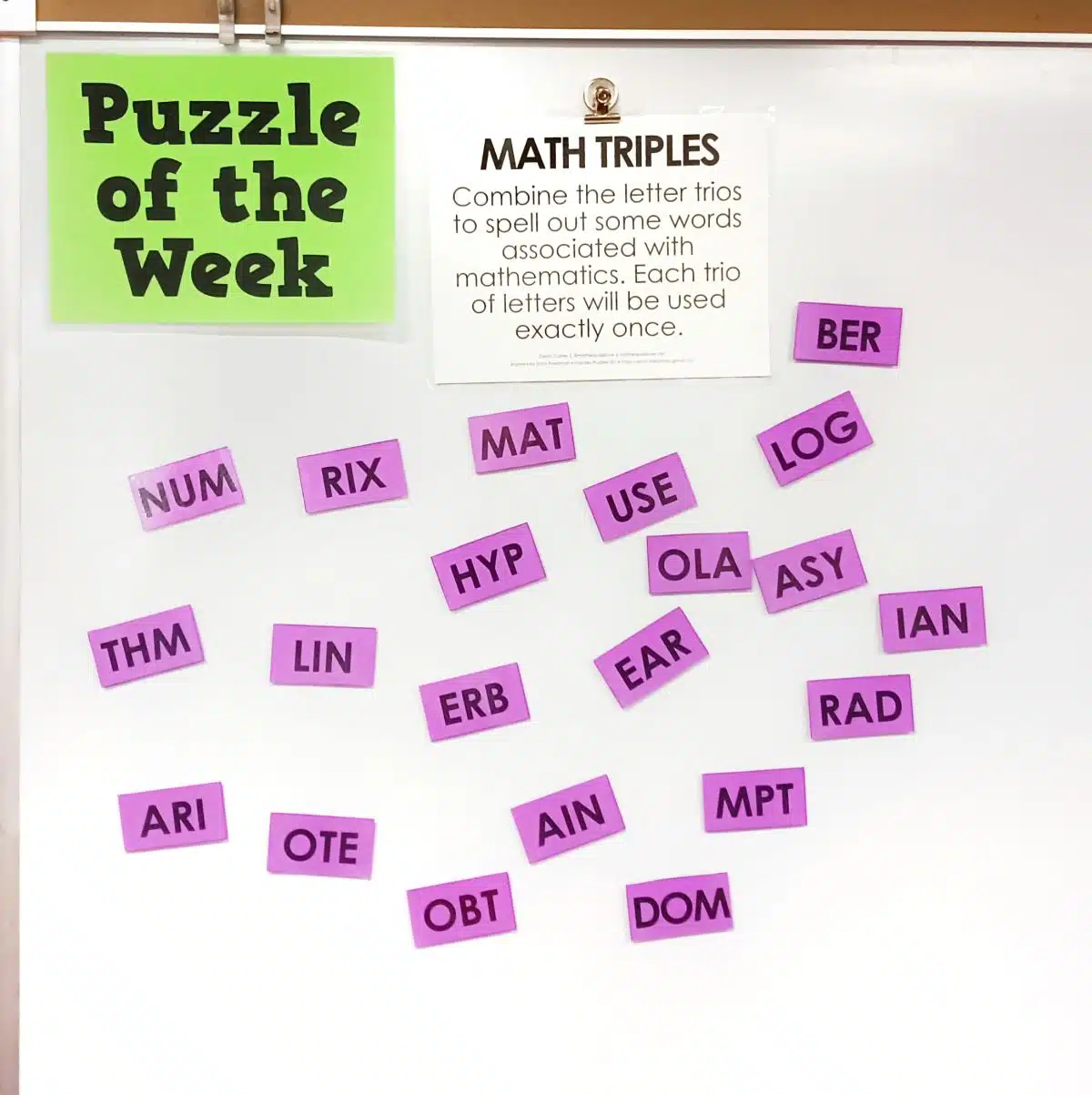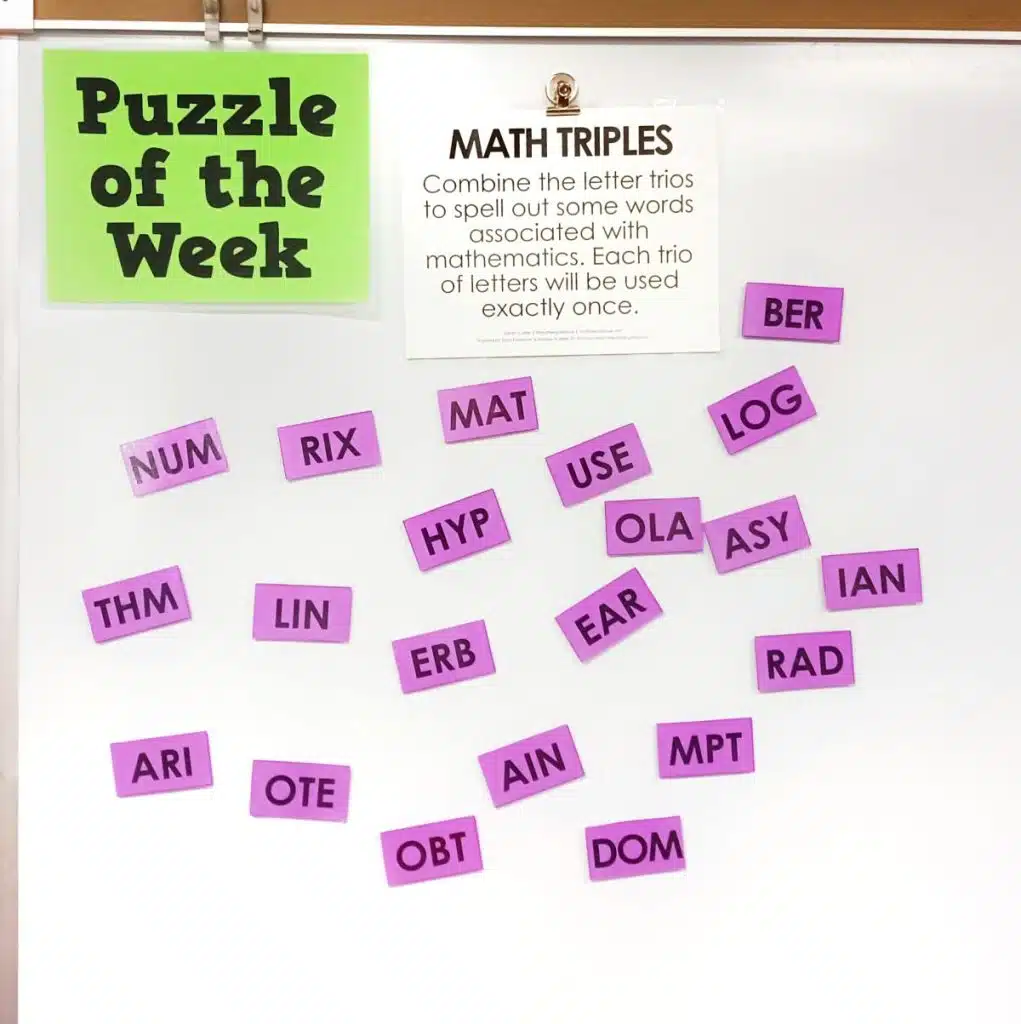 I currently teach Statistics, Precalculus, and AP Calculus, so I wanted to create include a few trickier math terms for my students.
Examples of words included in set 2 include "Matrix" and "Logarithm."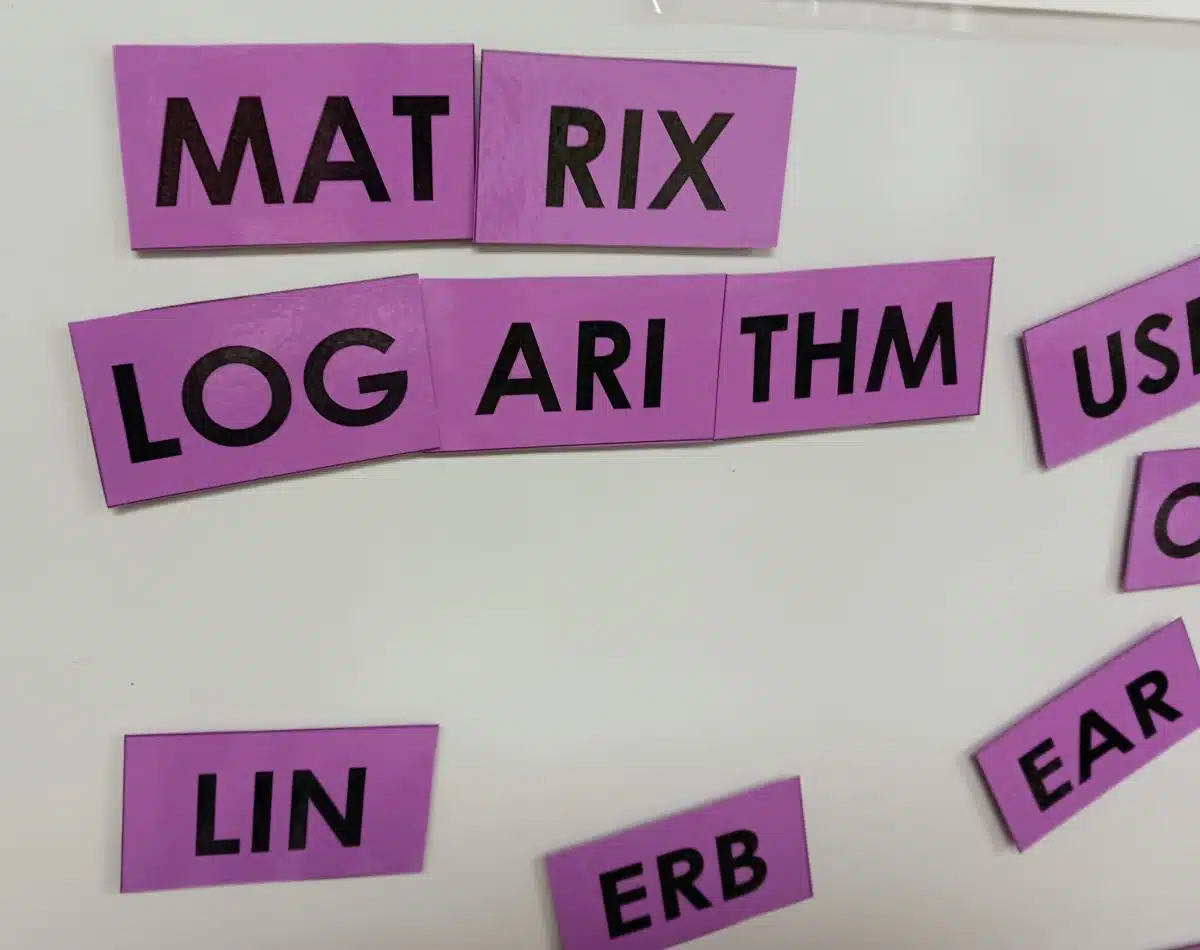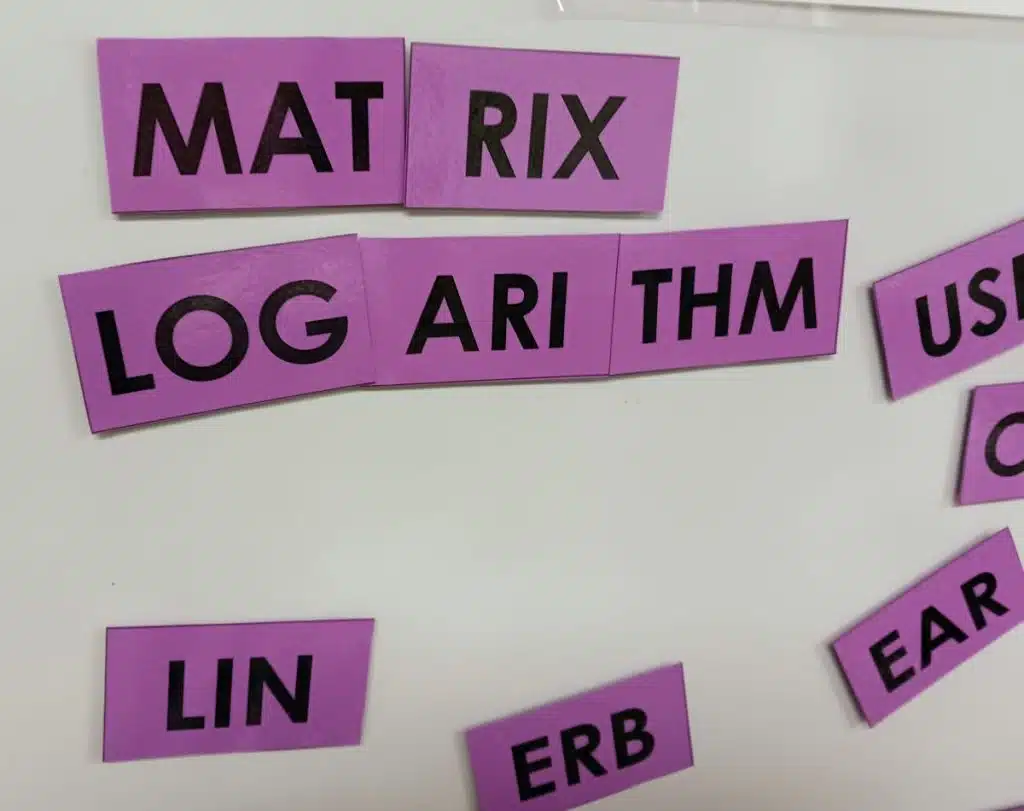 Puzzle Solutions
I intentionally do not make answers to the printable math puzzles I share on my blog available online because I strive to provide learning experiences for my students that are non-google-able. I would like other teachers to be able to use these puzzles in their classrooms as well without the solutions being easily found on the Internet.

However, I do recognize that us teachers are busy people and sometimes need to quickly reference an answer key to see if a student has solved a puzzle correctly or to see if they have interpreted the instructions properly.

If you are a teacher who is using these puzzles in your classroom, please send me an email at sarah@mathequalslove.net with information about what you teach and where you teach. I will be happy to forward an answer key to you.