This blog post contains Amazon affiliate links. As an Amazon Associate, I earn a small commission from qualifying purchases.
Want to check out my favorite Amazon items for the classroom? Check out my Amazon favorites page!
In addition to my Change Your Words Change Your Mindset Bulletin Board, I'm also really excited about this How to Learn Math Bulletin Board.
This bulletin board stems from the theory of growth mindset.
If I truly believe that mistakes are good and that is how we learn, my classroom grading policy needs to reflect that. This year, I am adopting SBG (standards based grading) in all three of my preps for the first time. I've kinda played around with it in my Algebra 2 classes, but I've never started pure SBG from Day 1.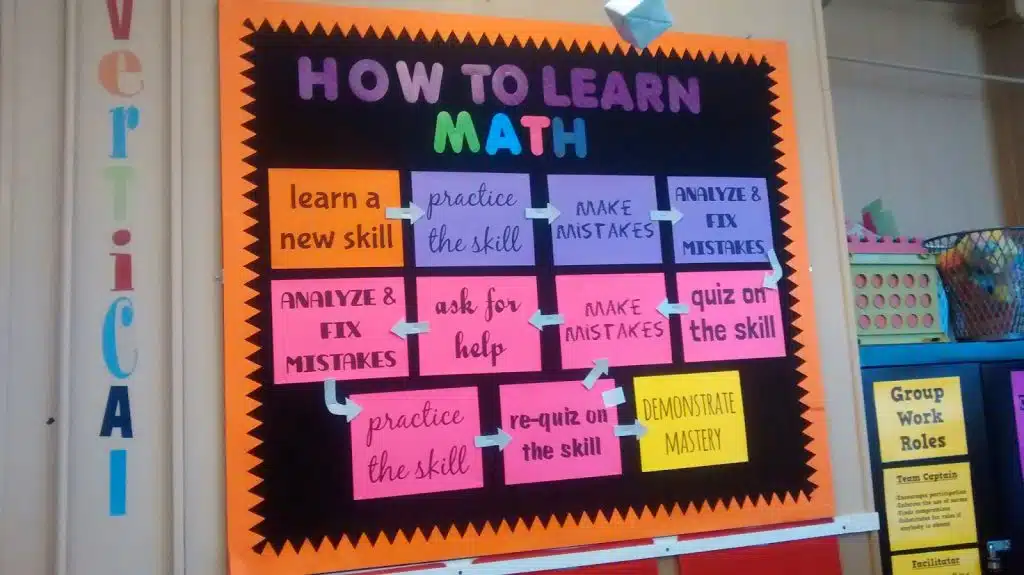 While searching for posters that embody the elements of SBG, I found a flow chart poster made by Sarah Rubin who blogs at Everybody Is A Genius. This flow chart was inspired by the blog of Kelly O'Shea and her work with SBG. Again, I liked the idea of a poster, but I really wanted something bigger and better than a poster. So, this idea isn't original. I just put my own spin on it.
I changed the coloring to better represent my grading structure. The orange card stock represents what we do with interactive notebooks and in-class practice activities. The purple card stock represents homework. The pink card stock represents quizzes. And, the yellow card stock represents demonstration mastery.
Someone on twitter mentioned that this is how you learn anything. Absolutely! It's actually SBG generic. I just titled it "How to Learn Math" because, well, I teach math.
The arrows are cut out of sparkly silver art foam.
More Math Bulletin Board Ideas