This blog post contains Amazon affiliate links. As an Amazon Associate, I earn a small commission from qualifying purchases.
Want to check out my favorite Amazon items for the classroom? Check out my Amazon favorites page!
Wow! It's been a long time since I last sat down in April to put together a Monday Must Reads post. I usually take a break from these posts during the summer, but the craziness of this pandemic meant an extra long break this time. Anyway…I'm excited to be sharing with you today some of the awesomeness of other teachers on twitter that has been sitting in my Twitter likes for the last five months. I hope you find some inspiring ideas to use in your own classroom. There are a ton more digital ideas than normal in this Monday's round-up, but I guess that's to be expected.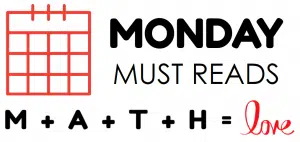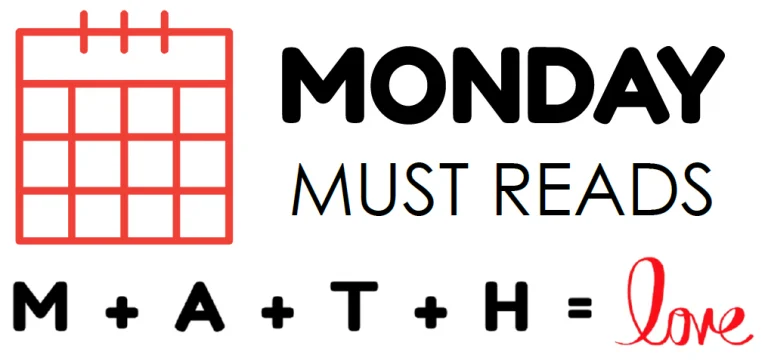 Monday Must Reads
Check out this open middle math problem from Stephanie Minor. I LOVE seeing how teachers are incorporating critical thinking tasks in their virtual classrooms. I have so much to learn about being an excellent digital teacher,
Need to type a weird symbol into your Desmos activity? Druin recommends coolsymbol.com. I am definitely going to need this site this year. I couldn't figure out how to get the degree symbol the other day, so I just ended up writing out the word degrees.
Druin also shares a great teacher hack for taking attendance through a Desmos activity.
Looking for a prompt to help you get to know your students better? Check out this one from Todd Feitelson. That student response is priceless.
Benjamin Dickman shares a fun bit of trivia that I'm going to save for when we get to logarithms this year in Algebra 2.
Lisa Navarro Garcia proves that teaching virtually doesn't mean that you have to give up the train game.
Mary Williams shares some great slides from a Desmos activity with credit to Luke Walsh and Carole Pryor. I LOVE the emoji slide.
Lisa Biber shares an excellent idea for getting students to engage more in google meets.
I really like this idea for a Zoom game from David Butler.
David Butler continues to inspire with a new take on the numbers game he created seven years ago. I think this would make a great game to play collaboratively with students during distance learning. Even though I've never met David in person, he inspires me to be a better teacher with each idea that he shares on twitter. I admire how he always shares the process he goes through to solve a math(s) problem or create a puzzle. Too often, we just share our shiny finished products and not the beautifully messy path that got us there.

Mark Kaercher shares an idea for using the Desmos graphing calculator to teach students to solve multi-step equations. As long as the graph doesn't change, they have done a valid operation to both sides of the equation. Brilliant!
Alyson Eaglen highlights an excellent breakout room structure from Miranda Lambourne that incorporates some math history into the classroom in a fun way.
Want to teach your students to play SET? You MUST check out this Desmos activity from Greta Bergman. It is AMAZING.
Mr. Q shares a great math find in a newspaper article from 1978. Can your students spot what is wrong with this alleged prime?
Anna Vance shares some brilliant Google Classroom ideas in this thread. I am definitely stealing her idea of having a "Template" classroom. Be sure to check out the entire thread for even more awesomeness and examples.
Allyson Klovekorn demonstrates how to use Jamboard to allow students to participate in a Which One Doesn't Blog (WODB) activity. The virtual sticky notes are an idea worth stealing/borrowing!
Looking to get your kids interacting on Zoom/Google Meet more? Check out this number scavenger hunt idea shared by Casey. She claims she got the idea from someone else, but we're going to give her the credit for sharing it with all of us!
Looking for some interesting data to analyze? Check out Erick Lee's latest data collection project involving grocery store receipts.
Love fun fonts? Love math? Check out this find shared by algoritmic.
Liz Coleman shares that the cooperative counting to 10 game works well via video-conferencing as well. Good to know!
Needing to rethink manipulatives this year? Check out this idea from Lauren Bohm.
Need an example of a bad graph? Check this one out – especially the edit from Miss Neutrino!
I'm glad that Jo Morgan shared this old textbook find since I missed it the first time around.
I love this warm-up question from John Rowe.
Madeline Gorley shares a great idea for helping students stay organized during this strange time of distance learning.
Teaching calculus? Check out this Which One Doesn't Belong activity from Howie Hua.
Don't teach calculus? That's okay. Howie also shares a great fraction task that might interest you.
How cool is this hundreds table from Emma Bothma?!?
This columbus cube tower shared by Amy Castle looks like a fun origami project. I'm adding this to my list to make someday.
Keith Anliker shares an idea for using balloons in chemistry class.
Jshm shares a lovely scientific notation task.
Amy Hogan shares a statistical valentine.
Can you tell how long it's been since I've done a Monday Must Reads post. Here's another Valentine's activity from Nancy Fitzpatrick. This one involves area of irregular objects.
I like this idea from Tracey Nesrallah to survey students weekly about their favorite activity.
Matt Enlow shares an interesting function task.
Cathy Yenca shares a great idea for reusing a getting to know you activity at the end of the school year as well.
I'm really liking this logarithm task from Amy McNabb.
Until next time, keep sharing your awesome ideas! Want even more ideas? I suggest checking out previous volumes of Monday Must Reads!
Latest Monday Must Reads Posts