This blog post contains Amazon affiliate links. As an Amazon Associate, I earn a small commission from qualifying purchases.
Want to check out my favorite Amazon items for the classroom? Check out my Amazon favorites page!
A few years ago, I created a set of group work roles posters for my classroom. These were inspired by Ilana Horn's Strength in Numbers.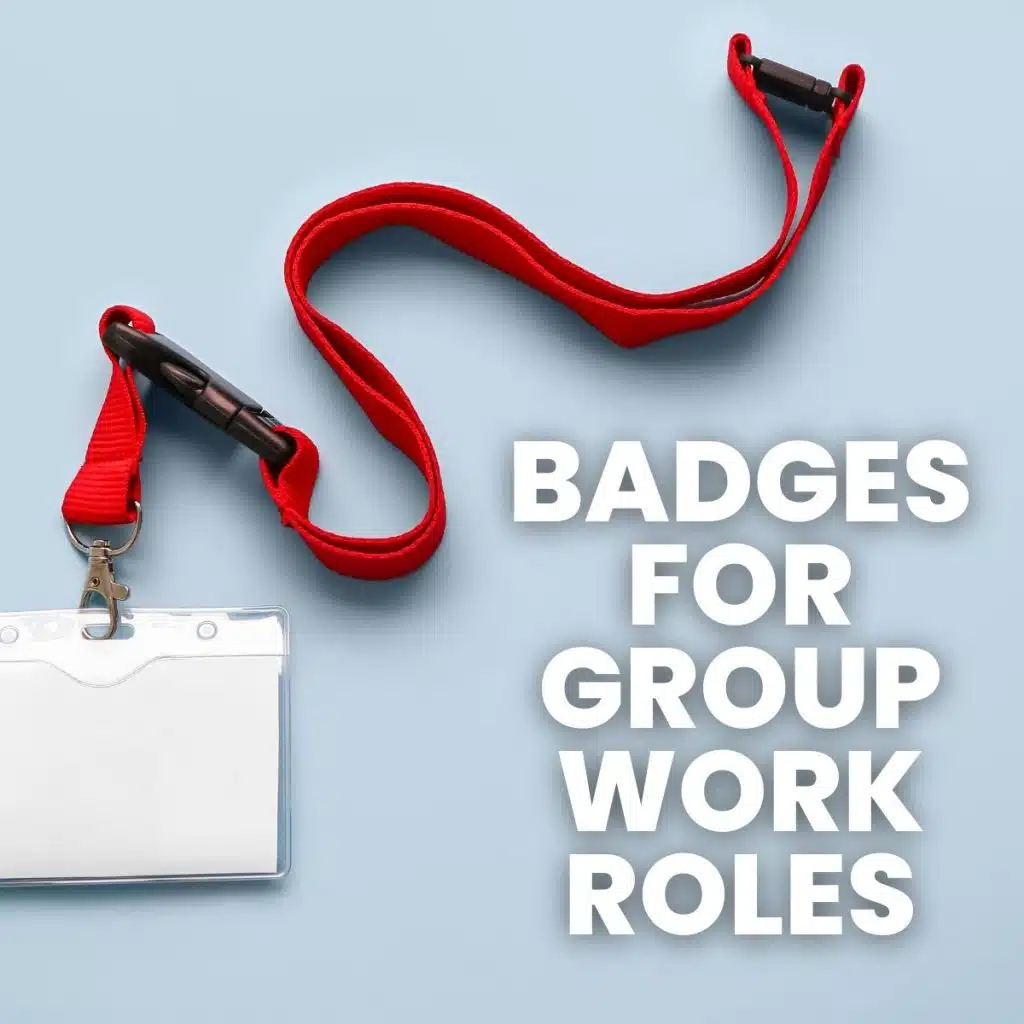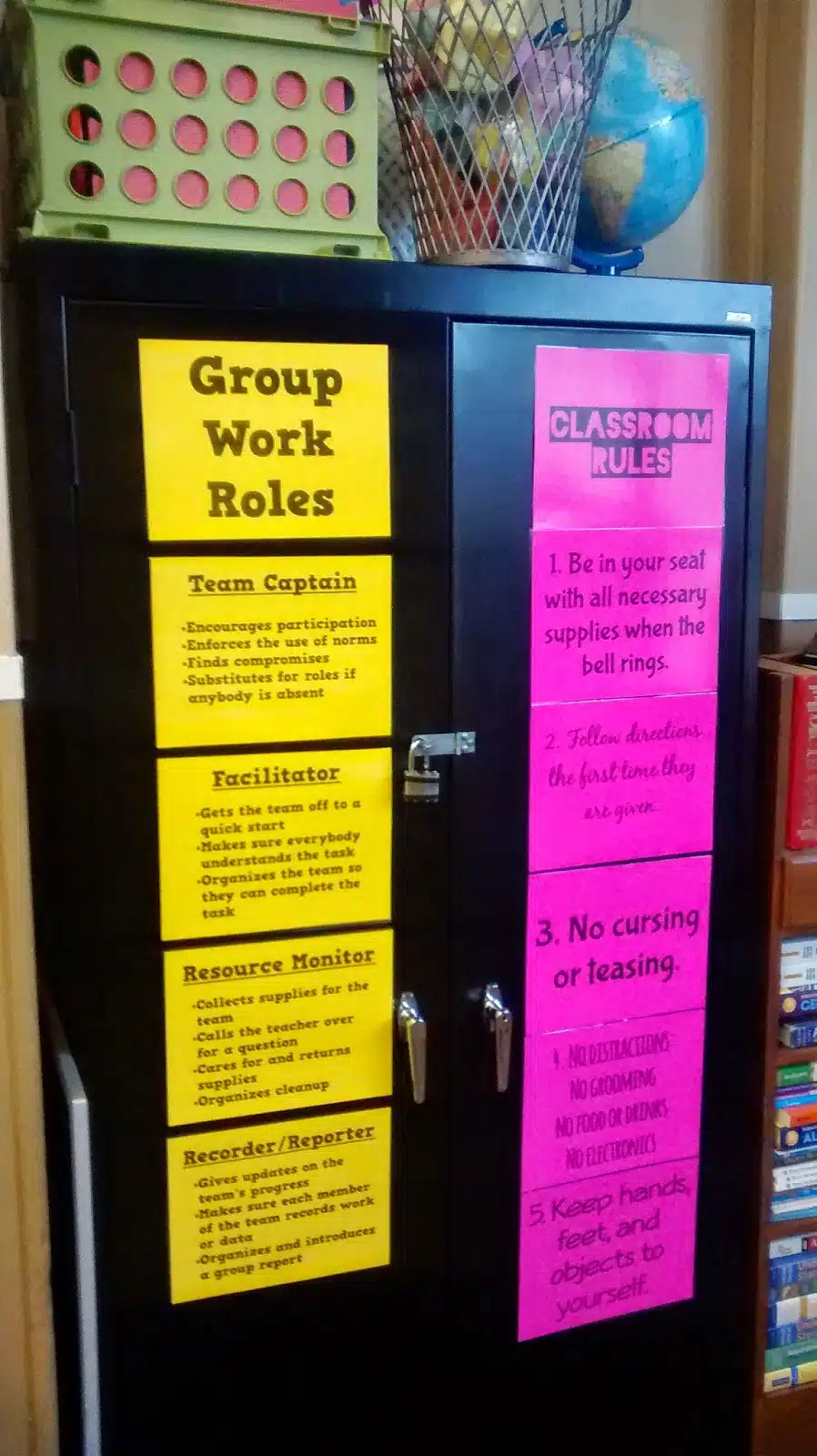 Sadly, I have to admit that I hung them in my classroom that year and NEVER once used them. I wanted to do group work, but I chickened out. Instead, I chose to do what came easily to me as a teacher even though I knew that group work had great benefits and offered my students something that individual work couldn't.
Fast forward to this summer. Erin Flotte recommended that I read Elizabeth G. Cohen's Designing Groupwork: Strategies for the Heterogeneous Classroom. I read it, and I have to say this book totally changed my mindset about using group work in my classroom.
When I had read Ilana Horn's Strength In Numbers, I had no clue what "complex instruction" was, and the concept really just went over my head. Reading Designing Groupwork took me on a step-by-step journey through understanding what needs to happen to make group work effective. As I read it, I couldn't help but think back to Strength In Numbers and how what I'd read in it now made so much more sense.
One of the points Cohen makes in Designing Groupwork is that for group roles to be an effective tool, each person in the group must be able to tell what roles the other people in the group are supposed to be playing. If group roles aren't easily visible to the other members of the group, it is too easy for a student to just sit there and not play their role.
Immediately, my mind started trying to come up with an idea of how to make which role each group member was playing visible to both the members in the group and myself as I circulate amongst the groups.
I decided to do this by making name badges for the students to wear that have their role printed on them. I went on Amazon and bought a set of 50 name badges for around $9. I only needed around 24, but I thought I might find another use for them in the future. Or, Shaun might also want to make a set. When I was at Wal-Mart the other day, I found that you could buy 12 name badges (just the plastic part) for around $2.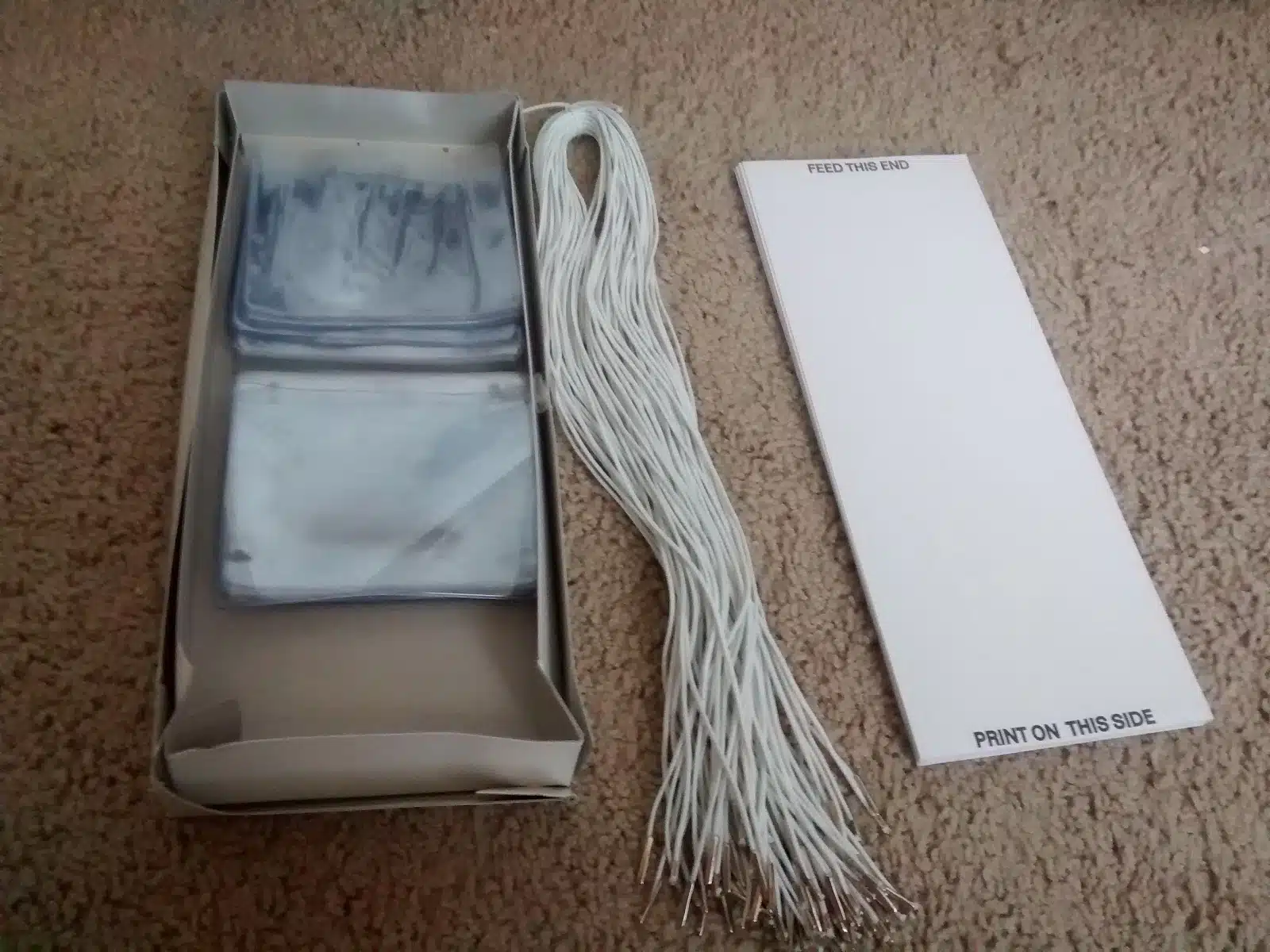 I created a template so I could print the name badges on plain copy paper. All I needed to do was cut 0.5 inches off from each side of the paper, fold the resulting paper in half, and cut into the four separate badges.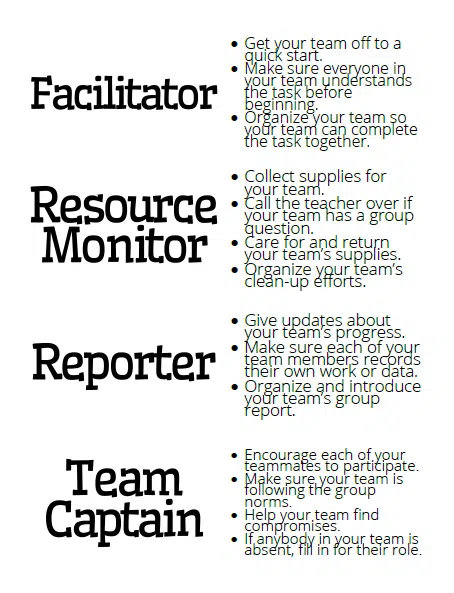 The front of each badge tells what role a student is playing. The back of each badge reminds students what their role entails. I've rewritten these from my original posters so they tell students what they should be doing. For example, "Get YOUR team off to a quick start."
Then, I had the idea that I could color code the badges so I could see from across the room what role each student was supposed to be playing.
Here's what the color-coded version looked like before I folded them and put the in the badges.
In order to color code the badges, I had to modify my template so that each role was on it's own separate page like this: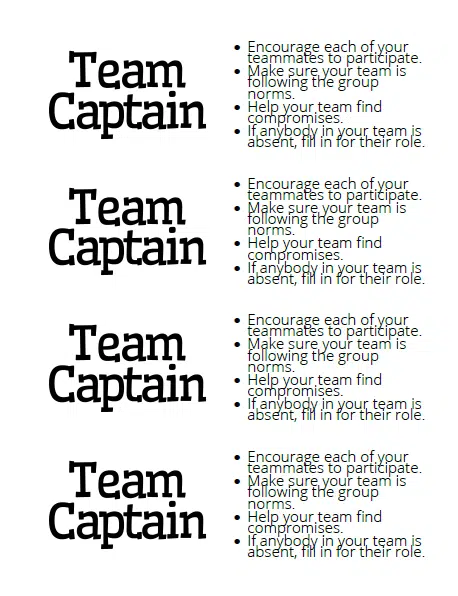 And, here they are in the badges!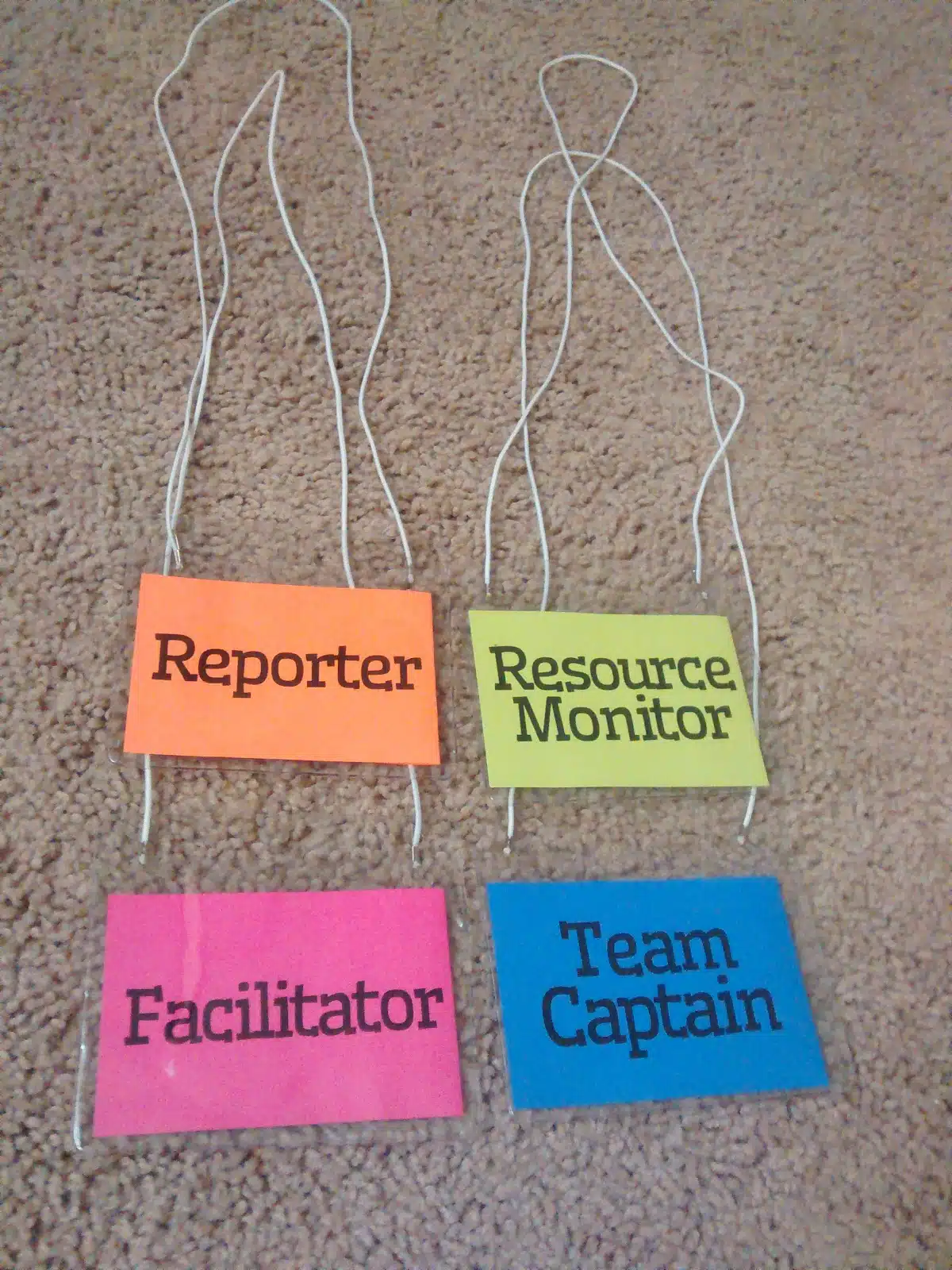 One of the tricks I learned from the Tulsa Math Teachers' Circle is to put the string from your badge inside the plastic part when you're not wearing it. This keeps the badges from getting all tangled up.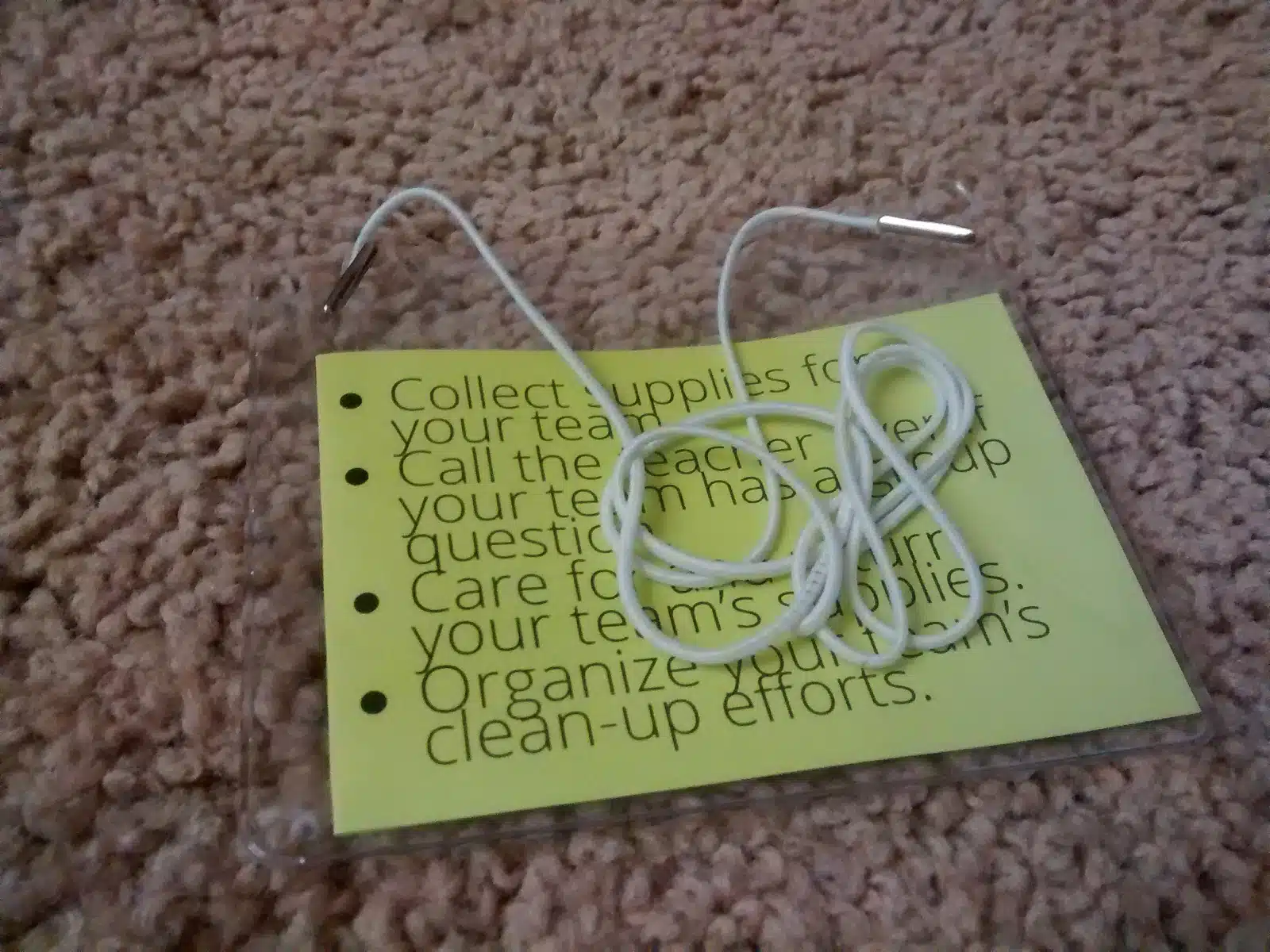 Since the plastic is translucent, it's kinda hard to tell that the strings are stuff inside the plastic, though.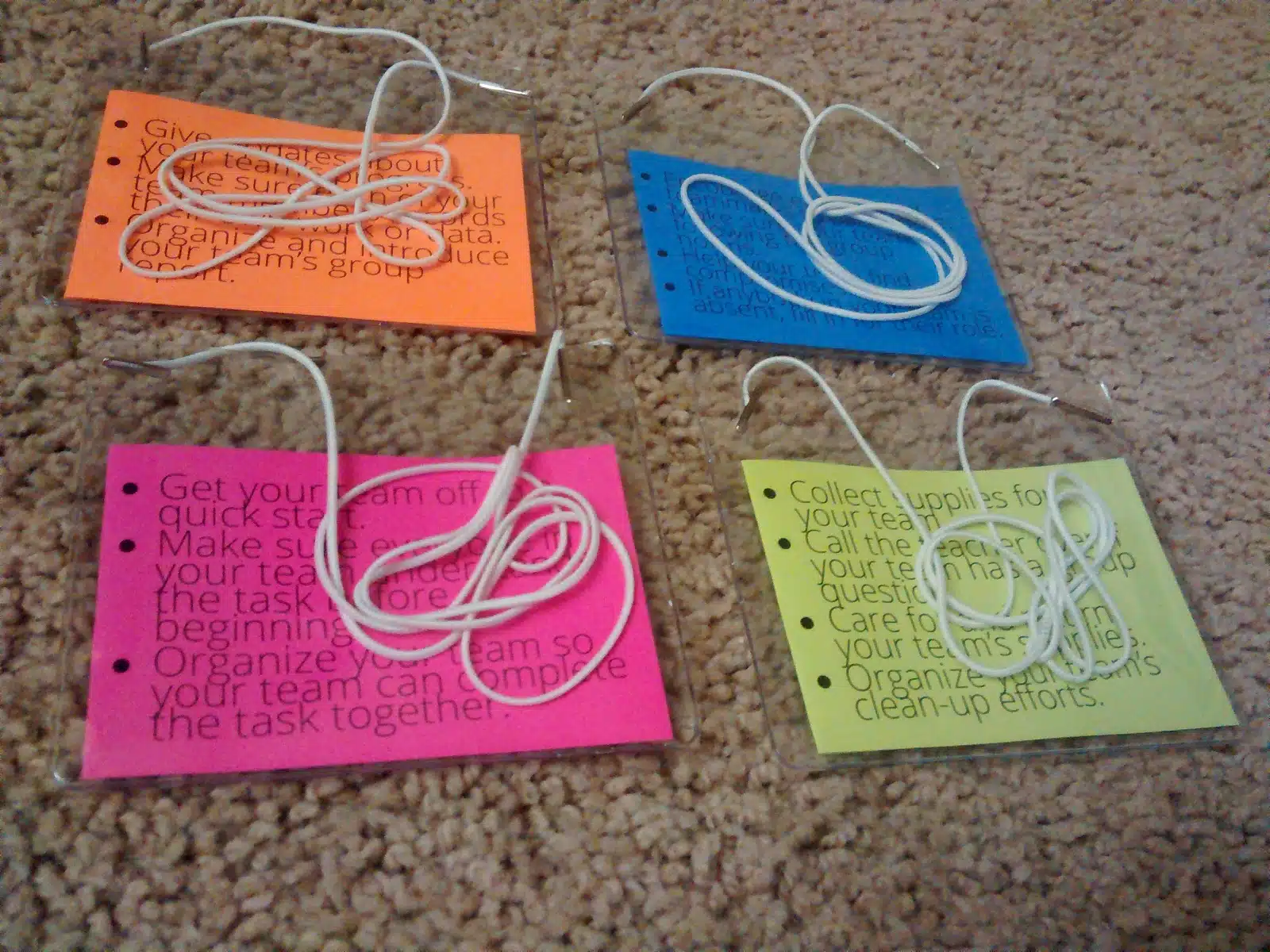 Another thing I did was put a dot of hot glue on the ends of the string to keep them from slipping out when the badges weren't being worn. It took a few minutes, but it's going to save me MUCH frustration the rest of the year!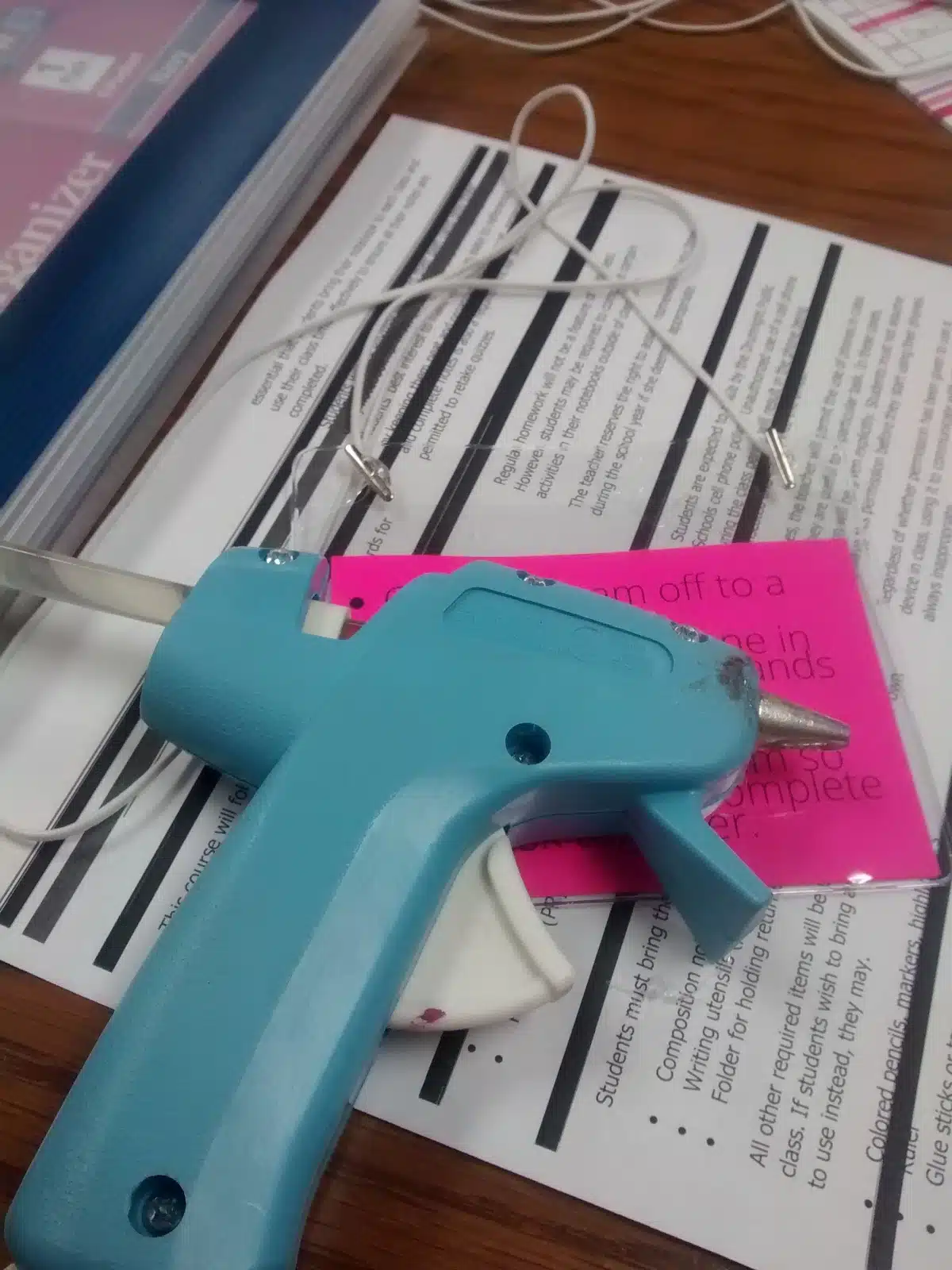 To help me remember which color stands for which role, I redid my group work role posters in the exact same colors.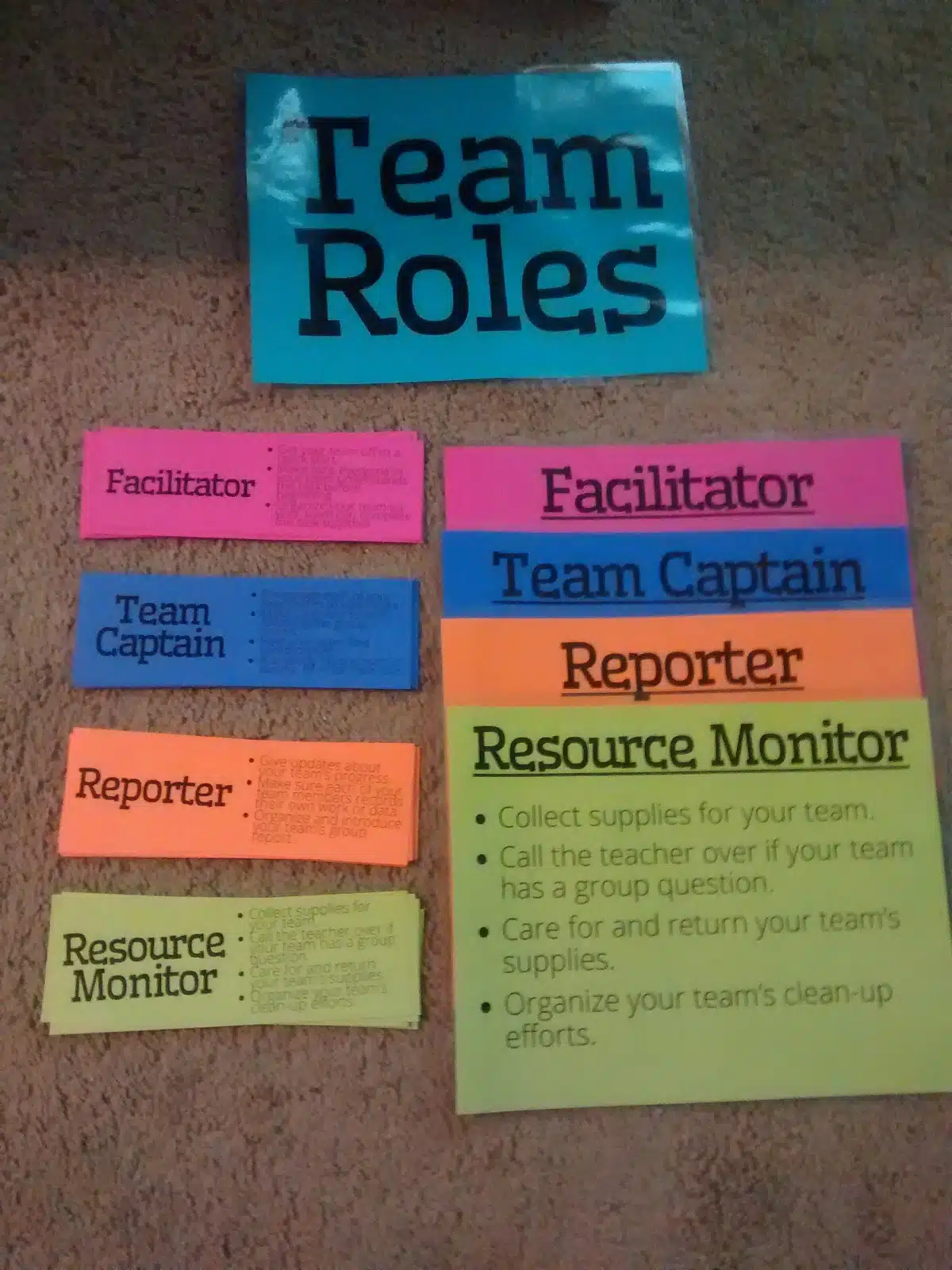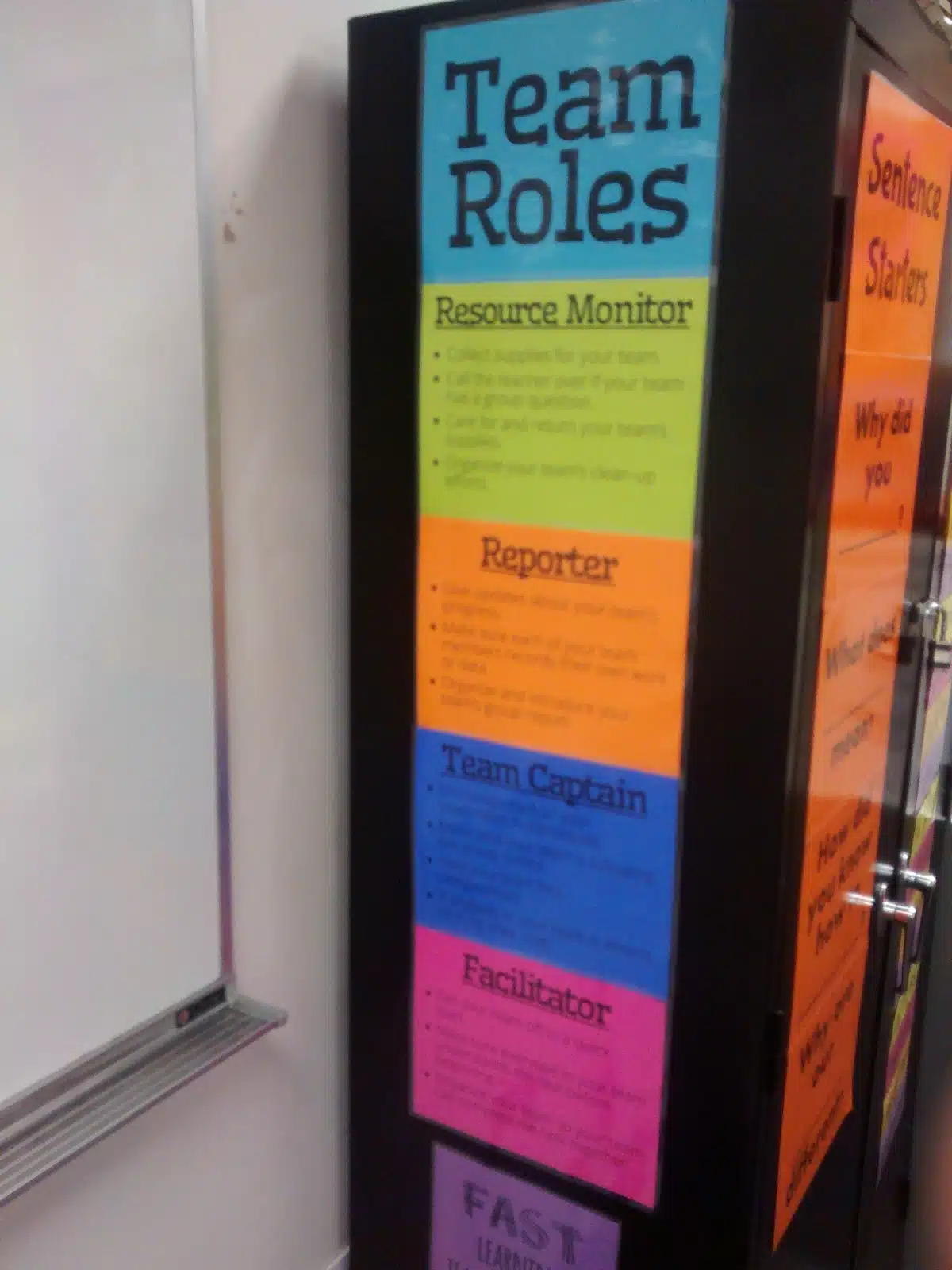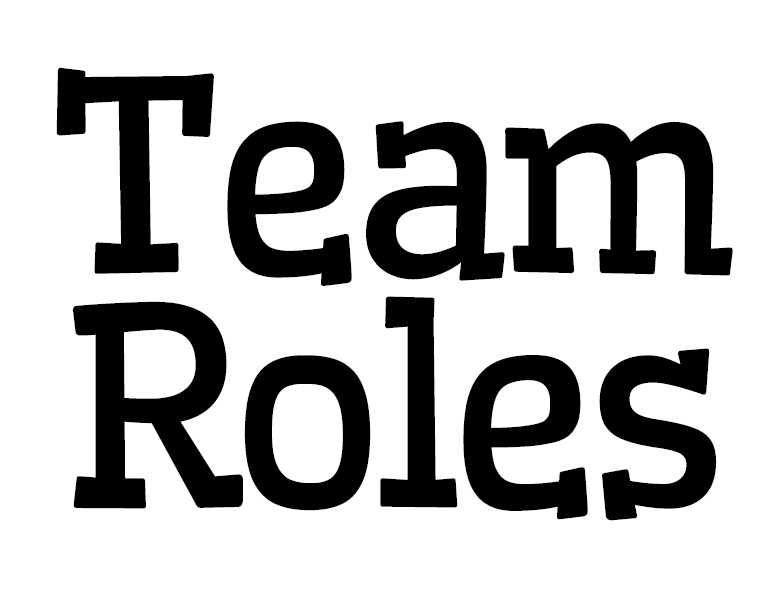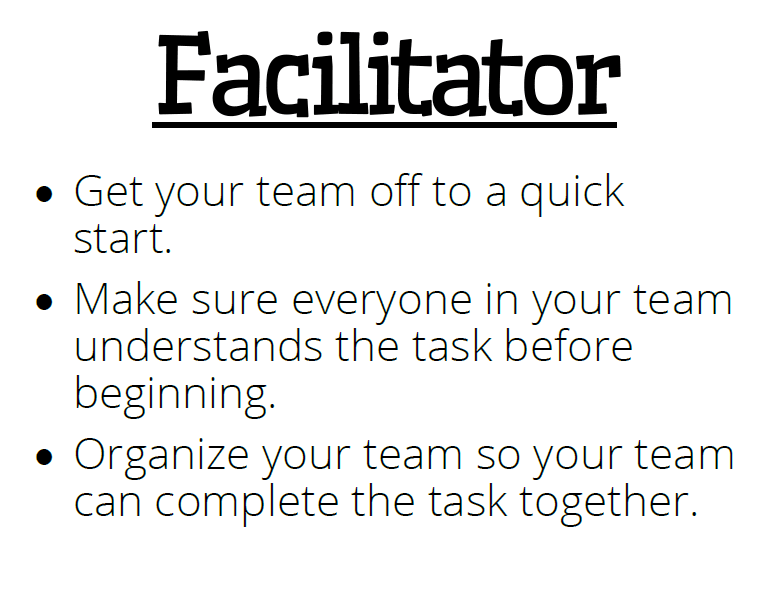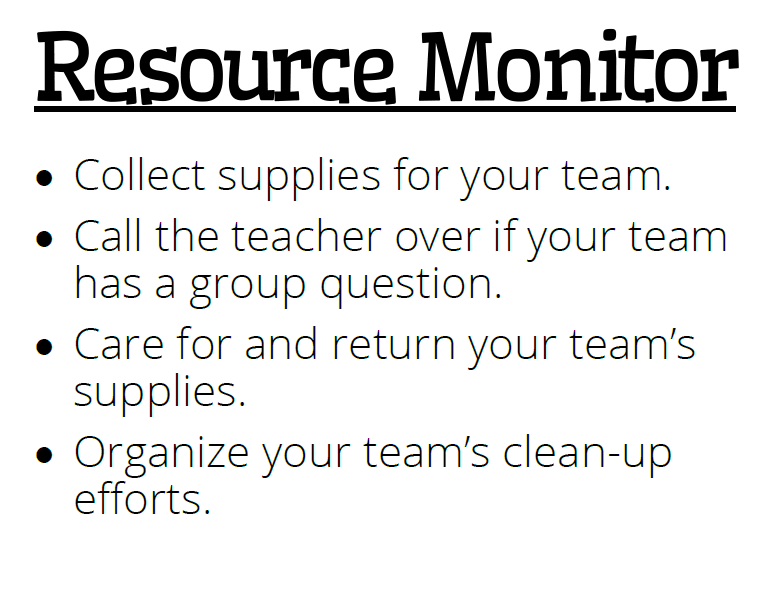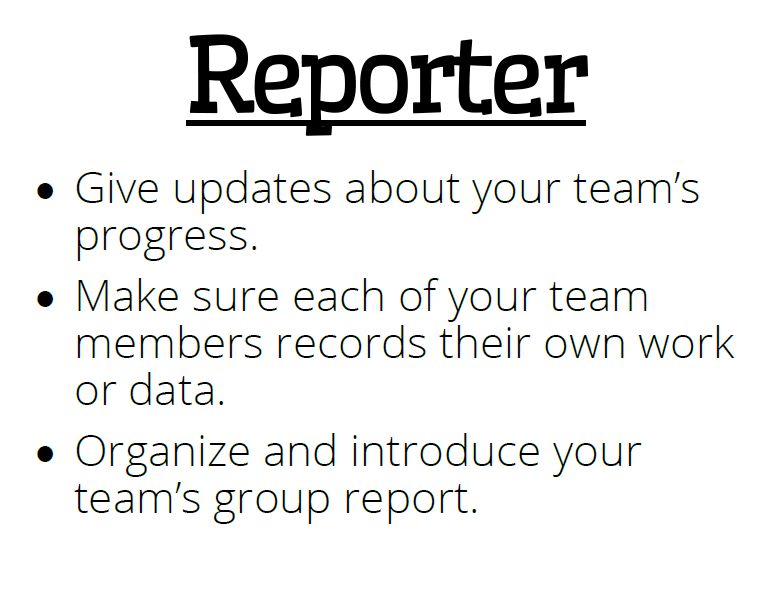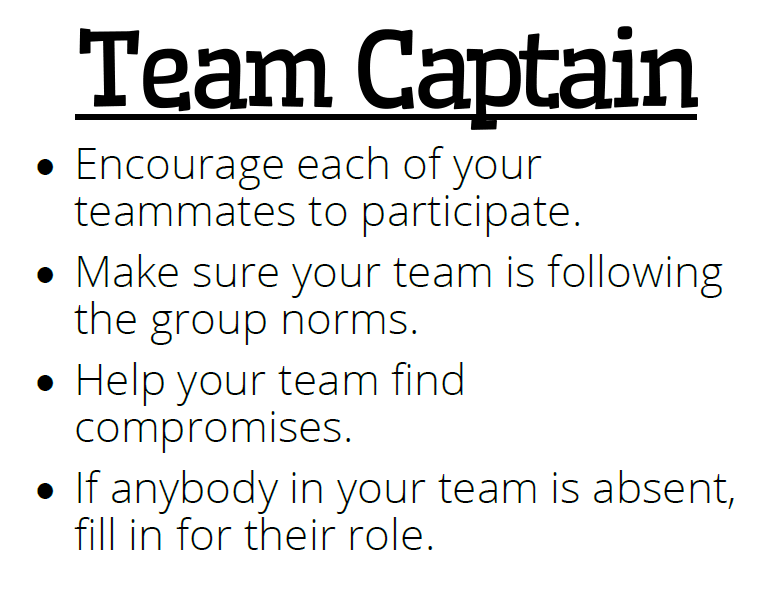 More Resources for Teaching Group Work