My last professional day of the year is finished. Grades are turned in. And, I've already started throwing out all my extra quizzes from this year to clear out the filing cabinet for next year.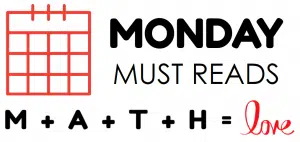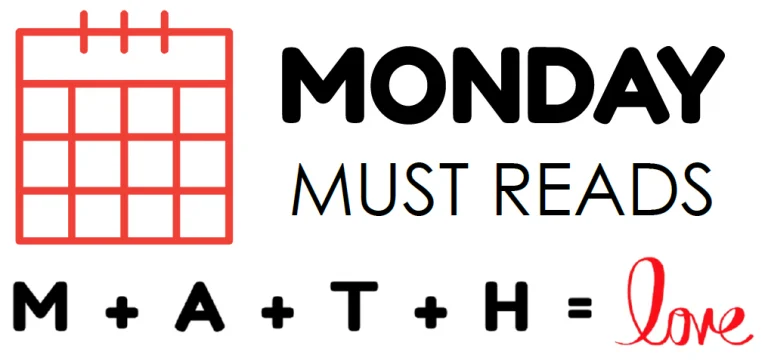 It's also Monday which means it's time for Volume 3 of Monday Must Reads. I've been trying to write one of these round-up posts each Monday, but my posting might be a bit more sporadic as summer starts. I hope to pick up a regular Monday posting schedule again once school starts back in August.
Here are the blog posts that I deemed as "must reads" this past week. Have a blog post or tweet that you think needs to be read? Leave a comment below!
Monday Must Reads
Sara VanDerWerf blogged about a brilliant pop-up session she organized at MCTM Duluth. In this session, she invited five conference participants who weren't speaking to share a 9 minute presentation on their favorite thing from this school year. I loved reading about each person's favorite thing, and I also found some new math teachers to follow on twitter! So many awesome ideas were shared in this presentation, and I'm so grateful that Sara took the time to share them with us as well!
8th Grade Math PLN Opportunity
Hedge is back in the classroom and teaching 8th grade math. This summer, she is trying to put together a PLN (Professional Learning Network) of 8th grade teachers who want to collaborate. I don't teach 8th grade myself, so I can't participate. But, I do want to encourage you to check out her blog post and jump in if you are an 8th grade teacher. If you haven't been exactly sure how to jump into the #MTBoS, this would be a great way to start! Check out her post for more details!

Systems of Equations Dry Erase Templates
Christie Bradshaw recently blogged about the resources she created for teaching systems of equations. I included her tweet about creating a dry erase template for the elimination method in Volume 2 of Monday Must Reads, so I wanted to give everyone a heads-up that she is sharing the file for free (plus several other files) on her blog!
AP Calculus Poem
Caitlyn Gironda posted a poem she wrote for her AP Calculus students. It was such a fun read, and I can tell that she put a lot of time and effort into it! I won't include the whole poem here so you'll have to click over and read it on her blog, but I'll share my favorite stanza with you. The last line is the best!
Understanding the Box Method for Factoring Polynomials
Sharon Soule' wrote a great post about coming to better understand how the box method works for factoring polynomials. The discovery she discusses making was one I was forced to discover a few years ago when Shaun kept pressing me to answer the question "Why?" in regards to how we know how to fill out the box. If our students don't understand where the different numbers are coming from in the box method, then it's a trick that's no better than the FOIL method.
Who Killed Mr Dipentagram? Activity
Dan Rodriguez-Clark shares a bunch of great ideas to get students to see the fun, creative side of math(s). The activities he shares in his post are a summary of what his school did to celebrate "Maths Week" in Peru. The activity that first caught my eye was a murder mystery activity called "Who Killed Mr. Dipentagram? by dave789 on TES (Link No Longer Active). I was able to print off the resource and implement it with one of my classes on the exact day I discovered his blog post. How awesome is that?!? That was just one of the ideas shared. I highly suggest you check out all 8 of his ideas for engaging students in doing math(s).
Order of Operations Puzzles
Greta Bergman shared an awesome, reflective post about an activity she created to engage her students in applying the order of operations. I love the questions she created, and I look forward to trying them with my own students. I am inspired by her willingness to reflect on her own teaching with such transparency. I need to create more of the experiences she describes so vividly in my own classroom!
File Organization Tips
Kate's Classroom Cafe shared an awesome organizational trick that I am definitely going to use next year. It's so simple and effective that I'm embarrassed I didn't come up with it myself. Do you have trouble finding stuff in your hanging files? Kate has got the solution. Thanks to Kelly for posting a picture of your organized files on twitter to inspire me!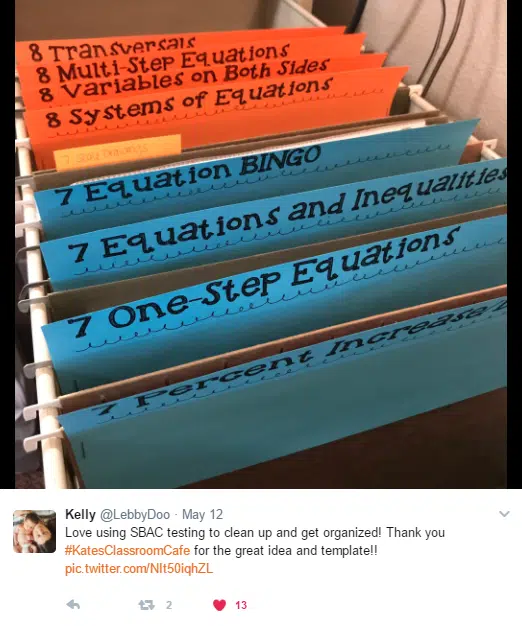 Latest Monday Must Reads Posts