This blog post contains Amazon affiliate links. As an Amazon Associate, I earn a small commission from qualifying purchases. This comes at no cost to you. Thanks for your support of Math = Love!
Somehow, it is once again Monday. So, let's celebrate this new week with some lovely twitter awesomeness from my fellow teachers around the world.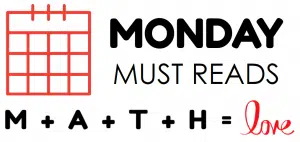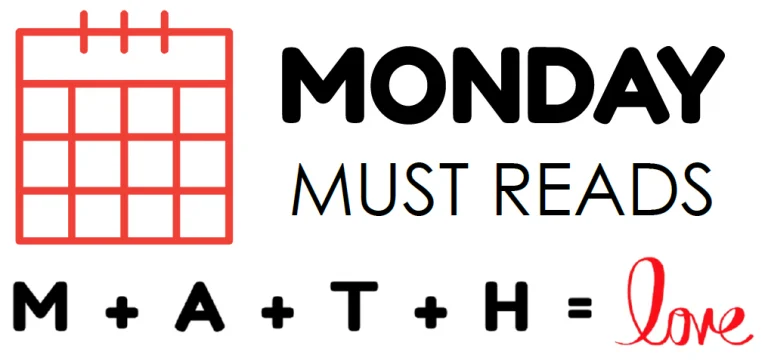 Nicola Amies inspires with this beautiful, student-made circle theorems bulletin board.
Calculus Teachers! Check out this exclamation point based area question from Simon Ball!
If calculus isn't your thing, this puzzle from Simon Ball is also lovely. I believe this is equivalent to the tent puzzles I blogged about several years ago.
I really like this exponent and radicals task from Elysian Maths.
Mrs. Allan shares a Christmas gift idea that could also work well as an end-of-year gift for students in your math club.
Rachael Gorsuch shares a yummy proportionality lesson.
Neil Casey shares what is perhaps one of the most creative ideas I have ever seen for looking at slope and linear patterns.
Cassandra Valenti shares a helpful hint for engaging students with word problems.
Chris Bolognese shares a great WODB problem to kick off your unit on sequences and series.
Lana Steiner shares a fun challenge: create your own geoboard!
I absolutely adore this bulletin board from Nicole Snijders (shared by Nichole Criminger).
It isn't too late to still make changes in your classroom. Check out this more/less idea from Carol Anderson!
Carol also shares a great use for transparencies as a manipulative. Definitely click through to watch the video!
Also, how engaging is this lesson on surface area and volume using gingerbread houses?!?
Kathryn D Koon shares another great idea that uses transparencies to teach compound inequalities through groupwork.
Also from Kathryn D Koon – an engaging game of "I Spy." I've never seen this modified for math class before. How cool!
Teaching vectors? Check out this lesson from Amy Dusto involving popsicle sticks!
Science Teachers – check out how Shawna teaches circuit diagrams using graham crackers and candy!
If you teach geometry, check out this WODB from Kaitlin.
Until next time, keep sharing your awesome ideas!
Latest Monday Must Reads Posts