This blog post contains Amazon affiliate links. As an Amazon Associate, I earn a small commission from qualifying purchases.
Want to check out my favorite Amazon items for the classroom? Check out my Amazon favorites page!
It's the first Monday of the new semester. Over Christmas Break, I had the privilege of having an awesome lunch with some amazing local math teacher tweeps. Shelli mentioned that she missed my regular Monday Must Reads posts. So, I'm hoping to do a better job this semester of keeping up with sharing your twitter awesomeness here on this blog. Hopefully this will also help me stay more engaged on Twitter this semester.
One more thing. How have I already compiled 50 Monday Must Reads posts?!?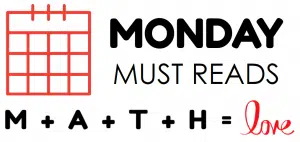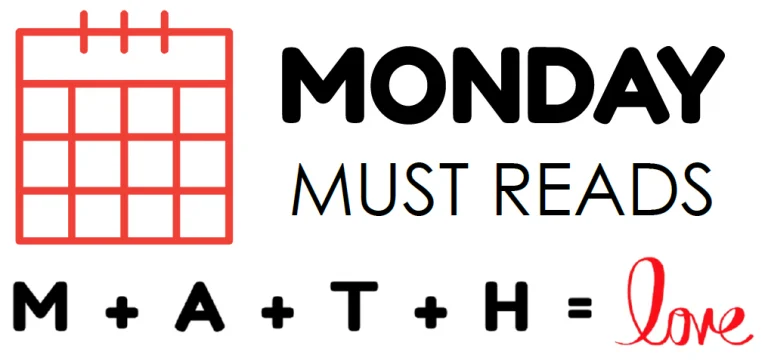 Erin Woulfe
shares a great teacher hack for using two chromebooks for data generation/data collection.
Stacie Bender shares an activity for the triangle inequality theorem. I've never seen this chart for giving students a template for cutting out their own pieces before!
Mrs. Hale shares a great image to motivate systems of equations.
Anu Henderson uses holiday-themed math shirts to have awesome conversations about exponents and mathematical precision. I love it!
WWT AP Calculus makes me want to teach AP Calc. Who wouldn't want some slope field cupcakes?!?
Sara VanDerWerf shares a brilliant homework assignment that she used to give students over Winter Break.
Calcy McCalculus + C shares a great word search find involving mathematicians. I love that there is no list of names given for an extra challenge.
Here are some other gems from the same twitter account. Maybe I really do need to teach AP Calc… Here's a fact I did not know.
A great way to bring out some artistic creativity in your students.
I love this cross section artwork!
I really appreciate the focus here on what would be the same and what would be different about working out each integral.
AP Teachers – check out this awesome way to decorate your room and celebrate the awesomeness of previous AP students.
Some wintery slope field fun.
Cori Colby shares the brilliant idea of labeling all of your previous year's INBs for easy access and reference! This definitely needs to go on my to do list!
A lovely new year challenge from Math with P Nik.
Kristina Tomei shares a lovely chemistry coloring activity. I really do miss teaching chemistry sometimes!
I love this idea from Victoria Saldiveri to give students mini cheat-sheets over topics. What if these were then kept on a ring or a special section of their notebooks?
I am so stealing this idea from Cassandra Valenti when we get to trig identities later in pre-calculus!
Mark Kaercher shares an awesome new puzzle book that looks like it would be very interesting!
I'm super impressed with how Kristen Fouss modified this WODB activity to spark critical thinking and conversation!
Ms. Kulcsar shares some awesome student creations of writing acrostic poems with literal equations. LOVE this idea!
Here's a lovely real-world math problem for Christmas decorating from Ms. Kulcsar.
I want to earn a spot in Cristina Fox's Cube Club!
This create-a-function activity from Andrew Wille is brilliant.
Ms. Matuch shares a great idea for getting students writing and thinking critically in math class using post-it notes.
Michael Rubin shares a kitchen utensil themed WODB.
Mrs. Mazza shares a different great way of celebrating AP success.
Mrs. Sinkhorn combines the traditional scale art project with math comics for a very cool result!
This Trig Tac Toe activity from A Torrance has me so intrigued. I want to know more!
Check out this awesome Levi's Jeans based problem from Frank Noschese!
Natalie McCrady combines Desmos with gingerbread houses, and the results look yummy!
Ashley McBride knows what she's doing with this very awesome "Cell Hotel."
Got any dominoes laying around? Check out this lesson from Tricia Krumbach!
Allison Kipping inspires with her student's door decorating entry. I love the thought and time that went into making this as science-y as possible!
Amanda Garza brings logarithms alive with a hands-on science connection.
I especially like Amanda's use of post-its for practicing identifying the sides of triangles for trig.
Tori Cox shares a great Desmos hack for those who make their own activity builders. Love how this encourages play and creativity!
Northfield Maths shares a easy-to-implement display for your classroom.
This volume olympiad from Paul Jorgens looks super-engaging.
Sara Mann has me convinced I need to up my auction game!
I am in awe of these 12 Days of Math Class doors shared by Caitlyn Gironda.
Until next time, keep sharing your awesome ideas!
Latest Monday Must Reads Posts