My Algebra 2 students created this different forms of a quadratic function foldable to glue in their interactive notebooks. For the first day of this lesson, we created the foldable and wrote the names and formulas for each form of a quadratic function on the outside.
We didn't take any notes on the inside of the foldable on Day 1.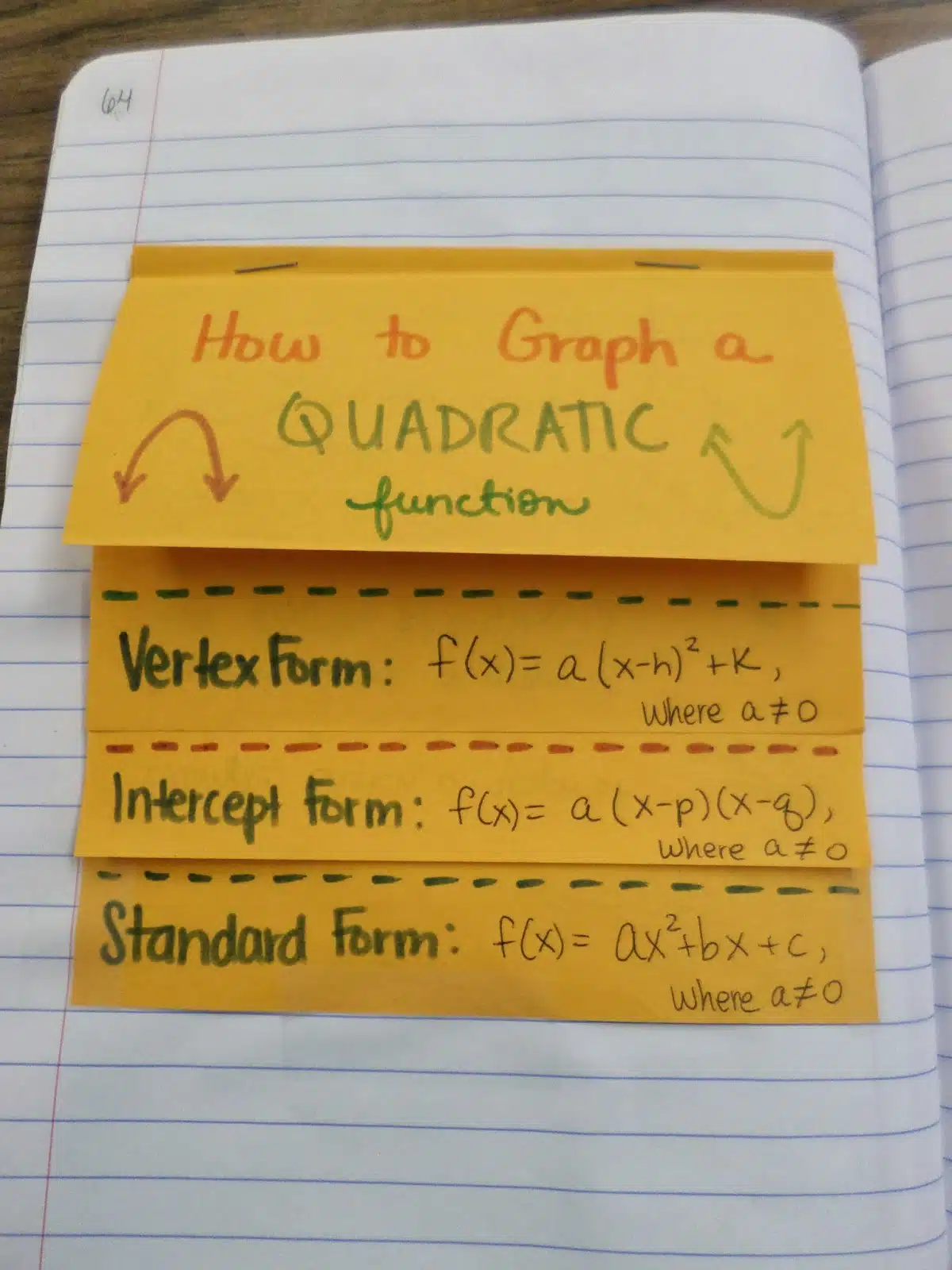 I modeled how to create/label the foldable on my SMARTBoard.
This foldable, by the way, is made from a single sheet of paper that has been cut in half hamburger/taco style. Lay the two layers of paper on top of each other.
Scoot the top layer up an inch or so. Bring the top of the paper down to bottom of the paper to create four flaps. Staple. Take notes. Enjoy.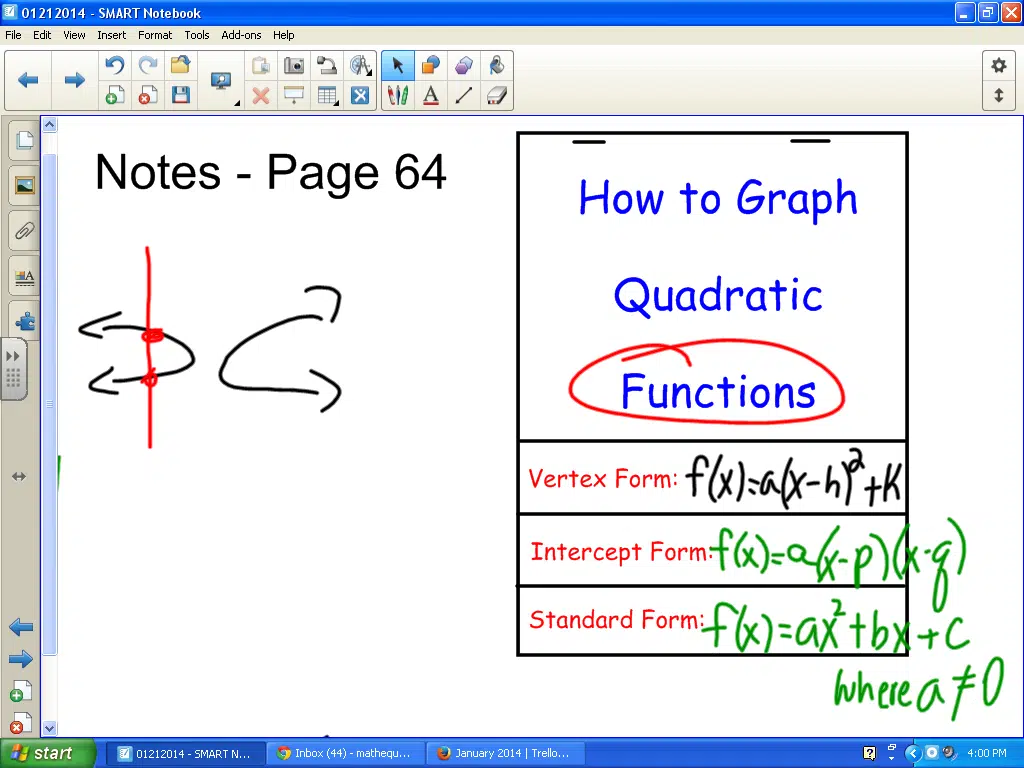 Here are the names of the forms. Here are the formulas.
Then, I asked students: What do you notice? How can you tell them apart?
Vertex form has parentheses. Doesn't intercept form have parentheses, too?
The parentheses in vertex form have an exponent of two. Now, we're getting somewhere.
Intercept form will always have two sets of parentheses. Will it? Are you sure?
They continued throwing out ideas on how to tell the different forms apart. I'm kinda glad I had them have this conversation as a class before we ever started trying to classify quadratics by their form.
This isn't all we did on Day 1. Before creating this foldable, we got into groups and practiced matching up the parabola cards from our decks of conic cards.
This year, I feel like I did a WAY better job with quadratic functions in Algebra 2. Way better. Let's be honest. It wouldn't take much to do a better job than last year.
Last year, I didn't even teach my students the names for the different forms of a quadratic function. We did all our graphing using the calculator last year, so I didn't think it really mattered.
This year, I made it my goal that students would identify the form of a quadratic function first.
We started out Day 2 by playing a few rounds of the Different Forms of Quadratics Flyswatter Game. Then, we went back to our foldables.
We added in instructions on how to graph quadratics depending on their forms.
Vertex Form of a Quadratic Function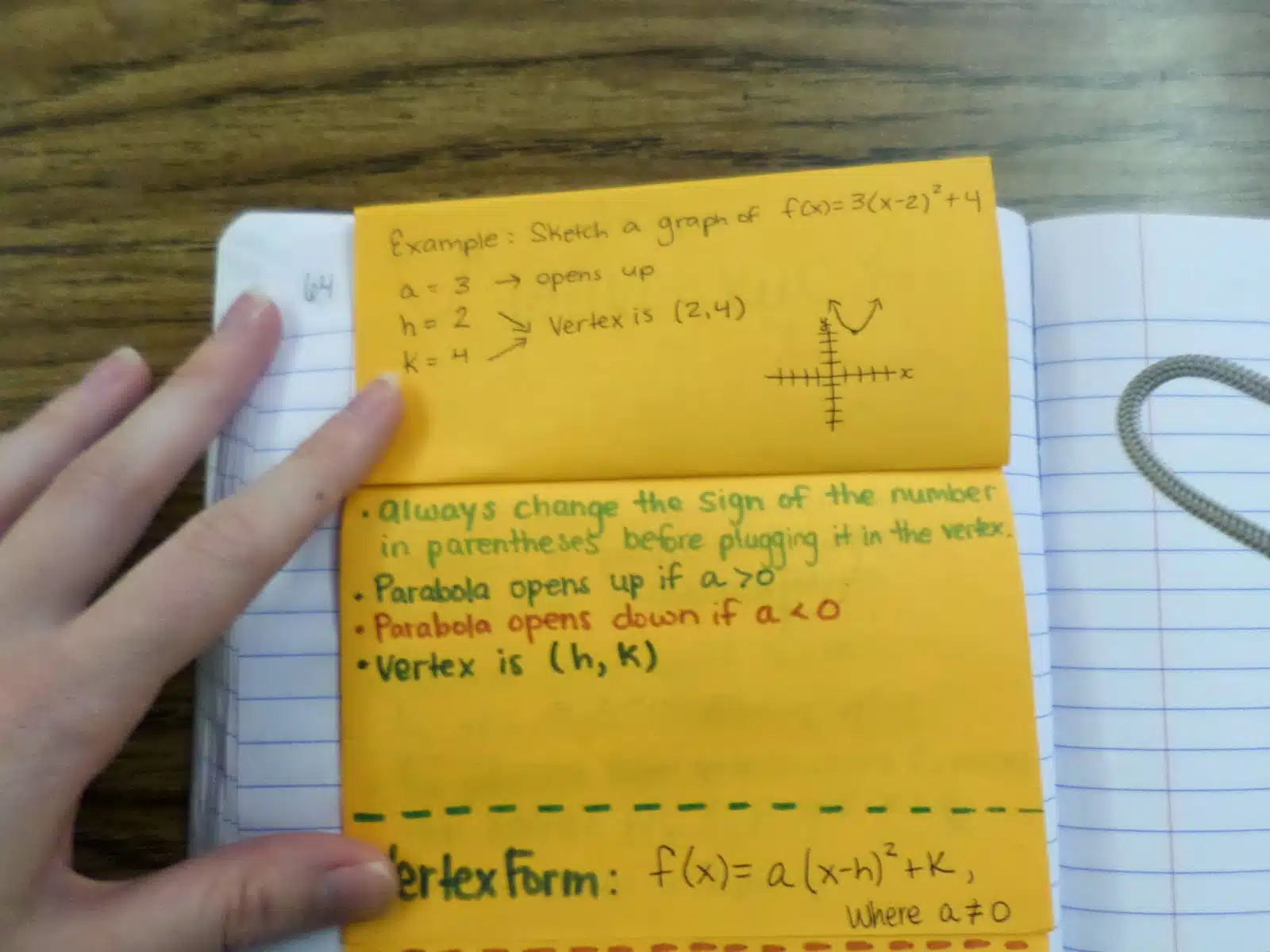 The bottom of each section contains important information about the equation and its graph. The top of each flap contains an example.
Intercept Form of a Quadratic Function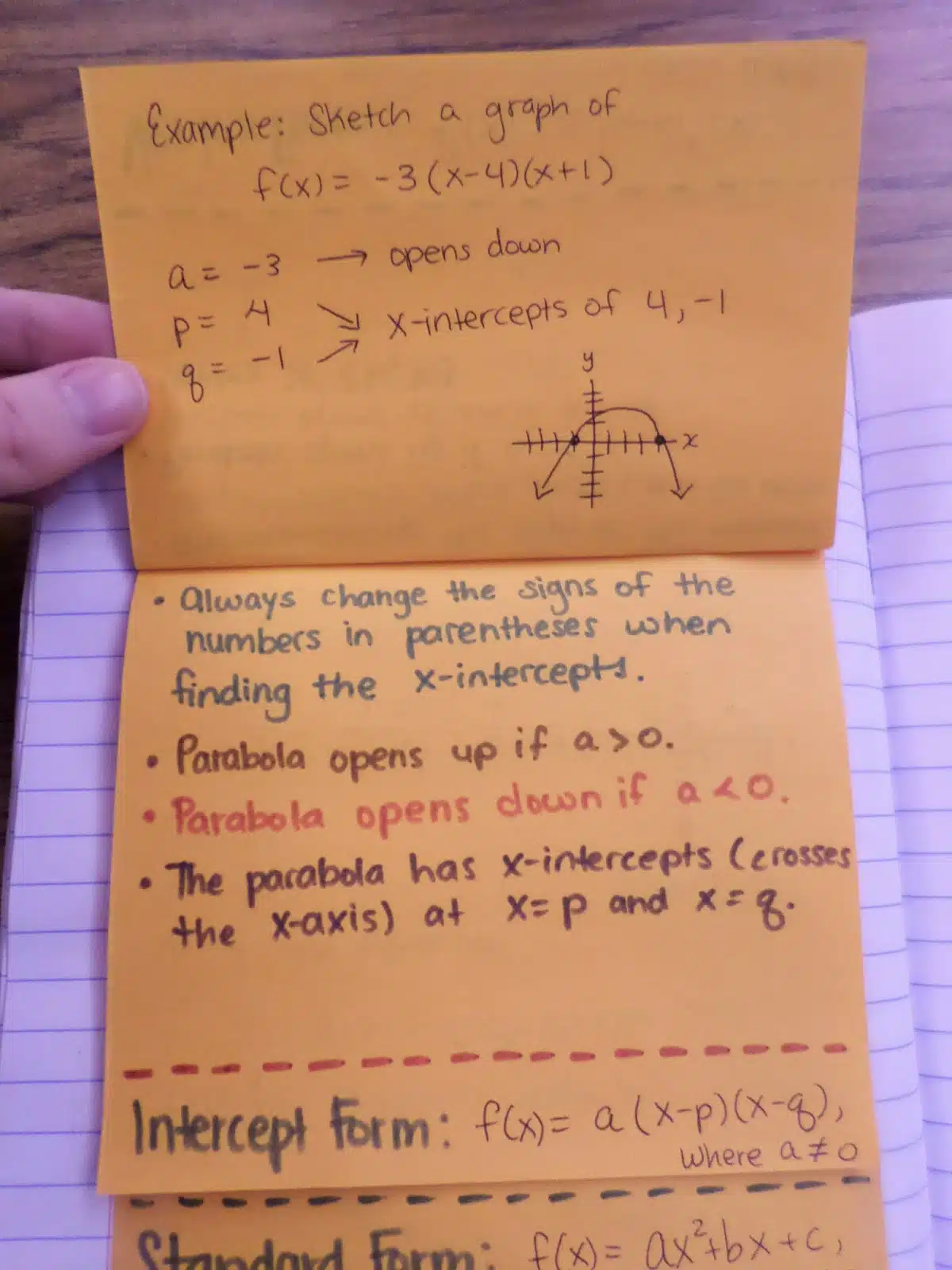 Standard Form of a Quadratic Function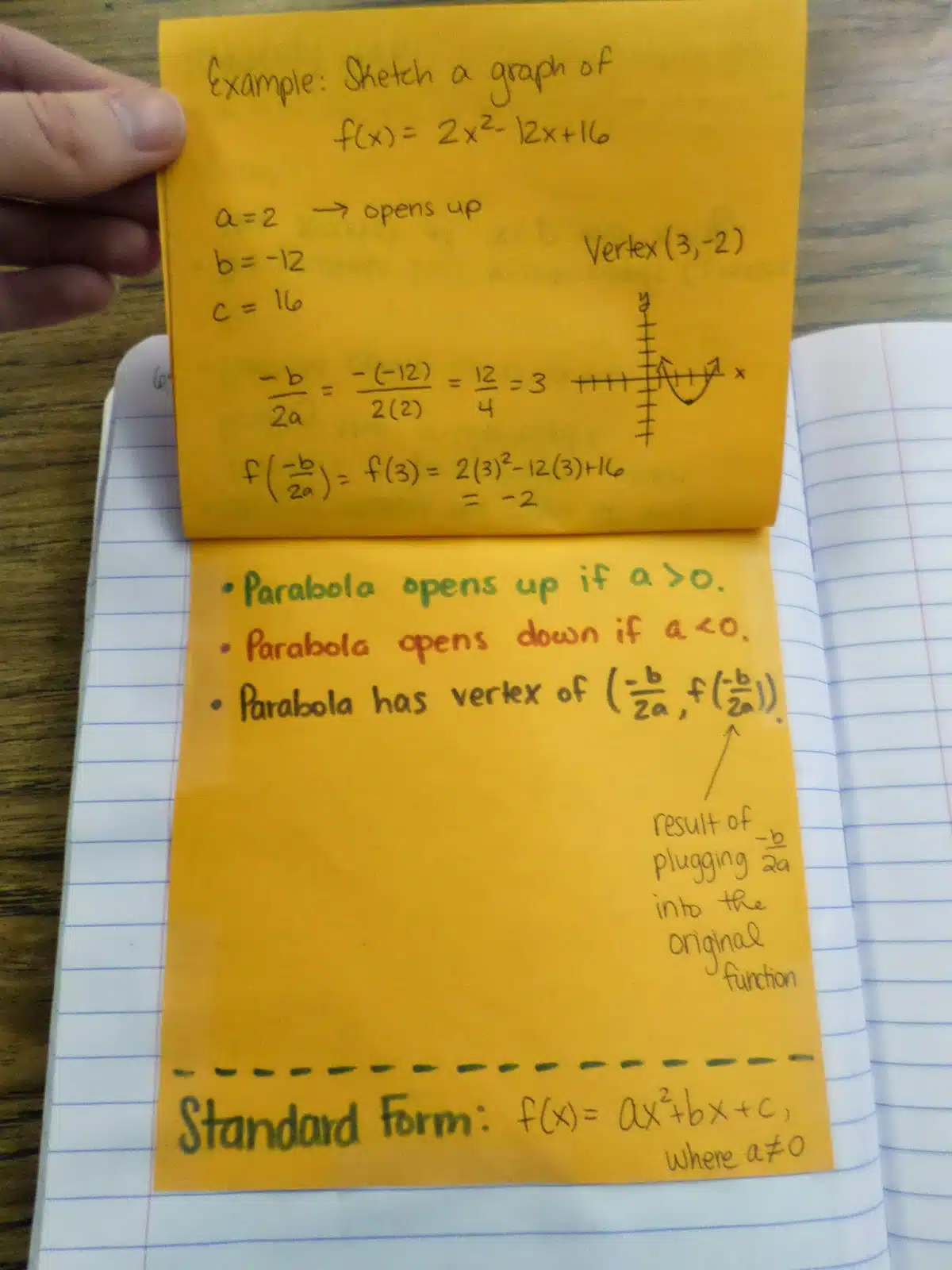 After we created this foldable, we went back to the functions from the flyswatter game. Again, we would determine the form.
But, this time we had the necessary tools to graph the function. We graphed the functions on mini dry erase boards, and students held up their boards to be checked.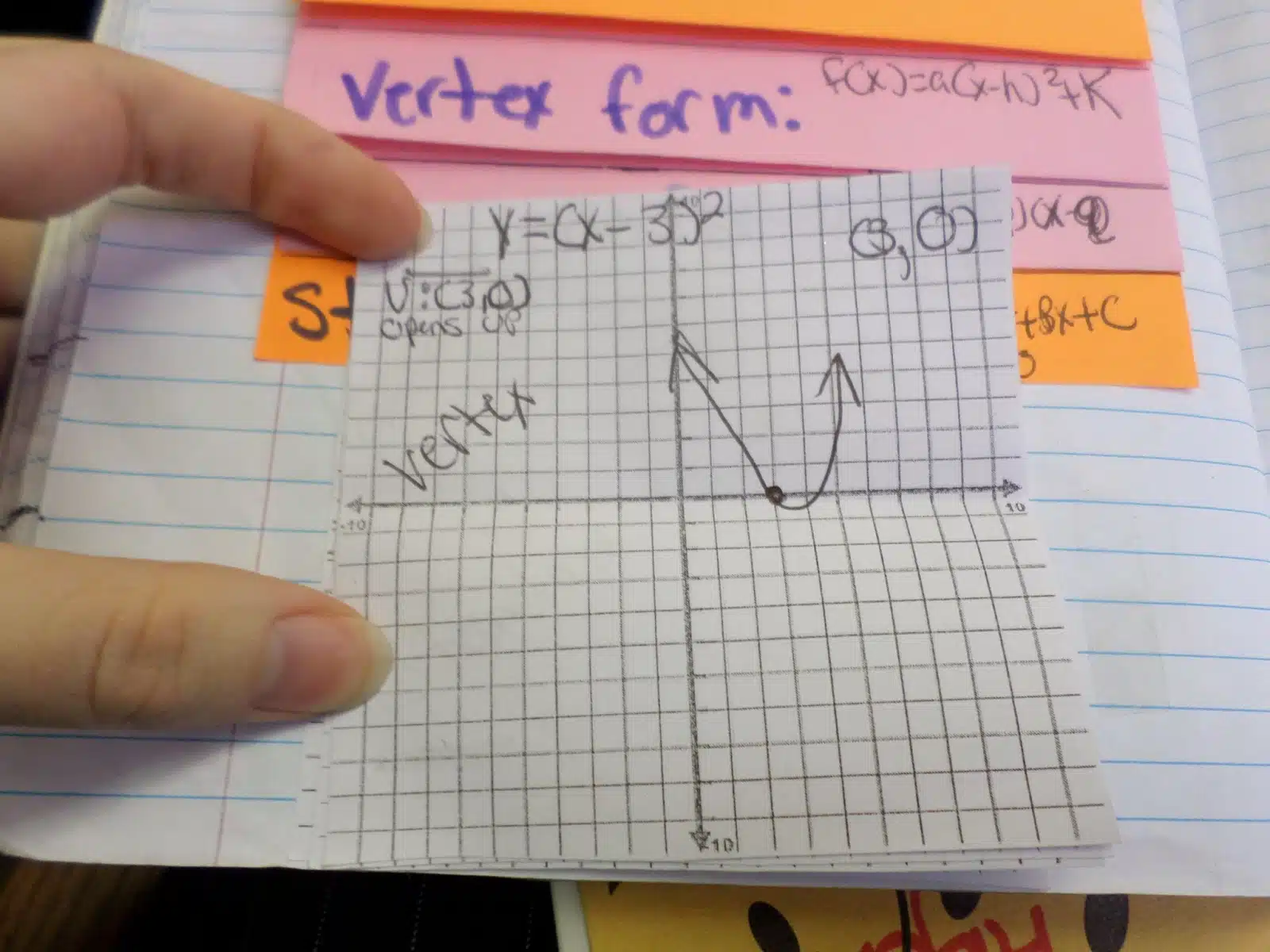 One day, we were practicing graphing quadratics in various forms. I intended for this practice to be done on dry erase boards.
But, one student asked for graph paper so that she could keep these practice problems in her notebook. I had some small graphs left over from an Algebra 1 activity, so she stapled these together and glued the practice problems in her notebook.
How awesome is that ?!?
More Resources for Teaching Quadratics