Today I want to share with you a new method I learned for teaching prime factorization called the birthday cake method.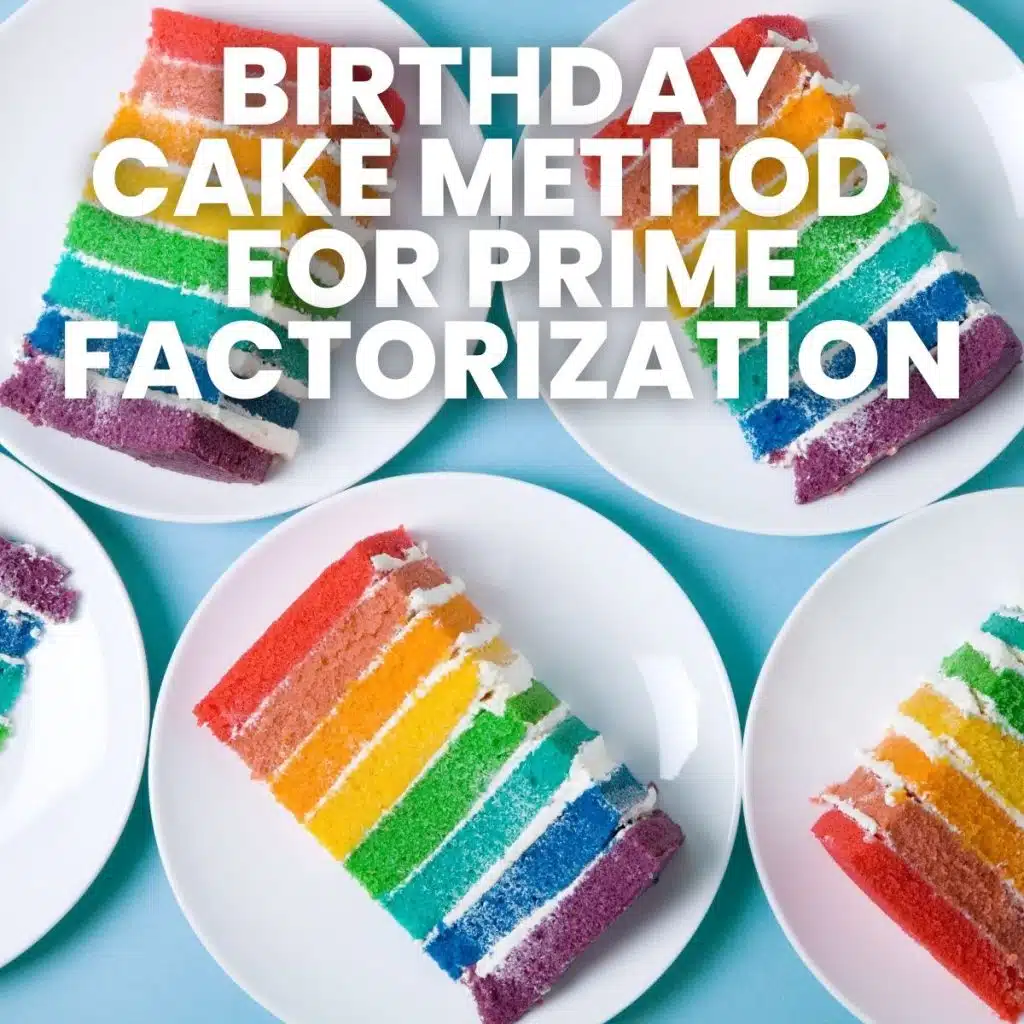 Before I became a teacher, I sometimes battled fears that teaching could be boring. After all, once you've mastered high school math, there's not much new to learn. Well, there might not be any new material to learn, but I am constantly learning new ways to approach and present concepts. And, it is anything but boring.
As a student, I learned to find the prime factorization of a number by creating a factor tree. This always worked perfectly fine for me. During my student teaching at the middle school level, there was an amazing math teacher next door who invited me to sit in her class one day to watch a specific lesson. The lesson was on simplifying square roots.
Different teachers approach simplifying square roots in different ways. Some teach their students to factor out all of the perfect squares. Other teachers ask their students to write out the prime factorization. Personally, I tend to use the first method for small numbers and the latter method for larger numbers.
Like I said earlier, I learned to write the prime factorization using a factor tree. I like factor trees. But, I've noticed that sometimes branches of the factor tree can get lost if students are not very careful. And, I have a lot of students who tend to rush and lose things along the way. Or, they write so sloppily that it's near impossible to follow their work.
So, when I saw this middle school teacher teach the students a different way to organize their prime factorization, I got really excited. It's called the birthday cake method. Instead of searching the sprawling branches for the prime factorization, the birthday cake method lines the prime factorization up in the same exact spot every time.
Students do need to be able to identify numbers as prime or composite before starting. To review and practice this, we created a chart in our interactive notebooks with the definition for prime numbers and composite numbers. Looking back, I wish I would have created a graphic organizer for this. Maybe next year…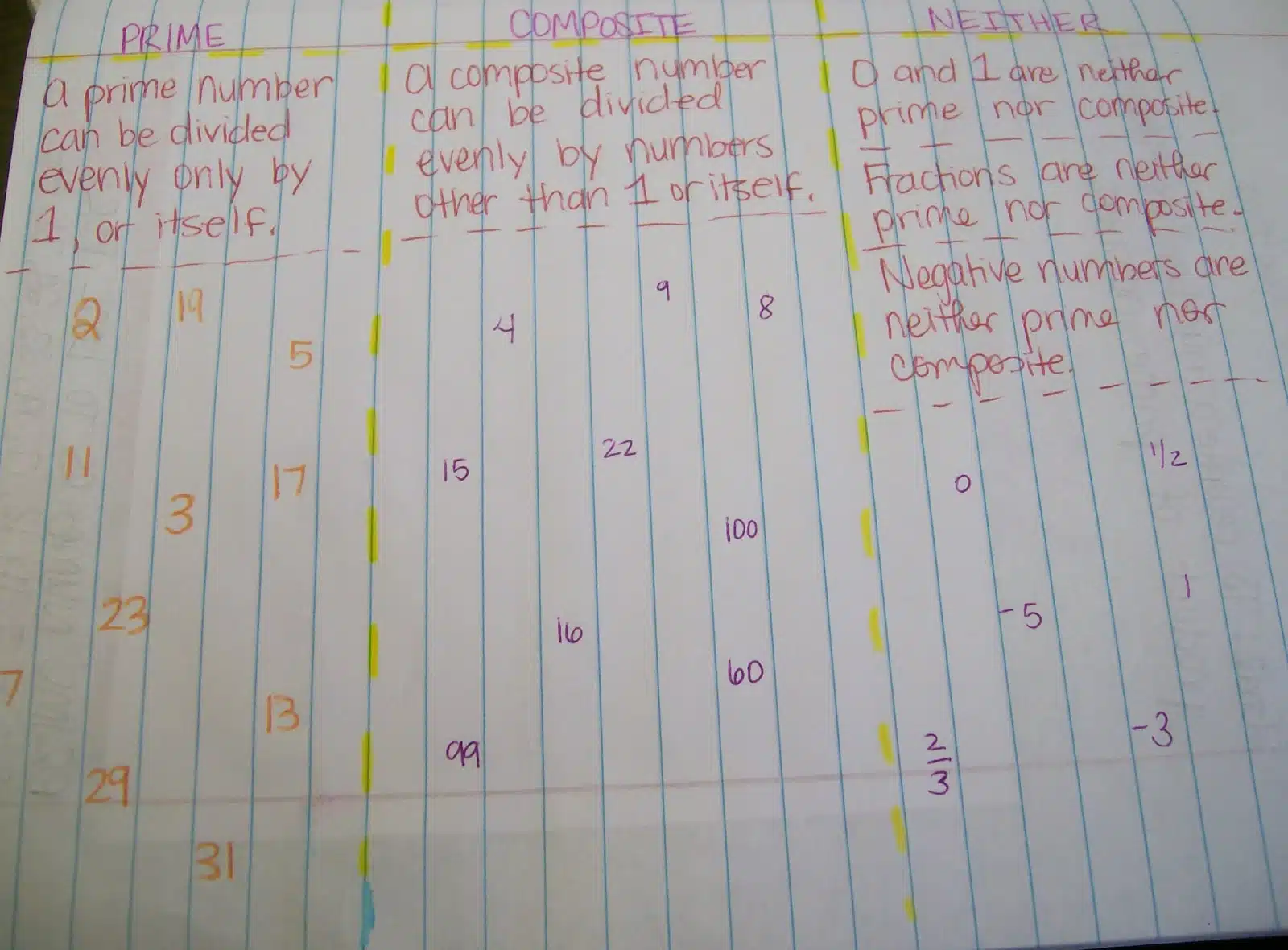 Once students could identify numbers as prime or composite, I taught them the Birthday Cake Method to find the prime factorization.
Birthday Cake Method for Prime Factorization
Step 1: Write your starting number as the first layer of the cake.
Step 2: On the outside of the first layer, write a PRIME NUMBER that will divide evenly into the bottom layer.
Step 3: Divide and write your answer as a second layer.
Step 4: On the outside of the second layer, write a PRIME NUMBER that will divide evenly into the second layer.
Step 5: Divide and write your answer as a third layer.
Step 6: Repeat until you end up with a 1 on the top of your cake. This is the candle of your birthday cake!
Step 7: Use the numbers on the outsides of the layers to write your prime factorization.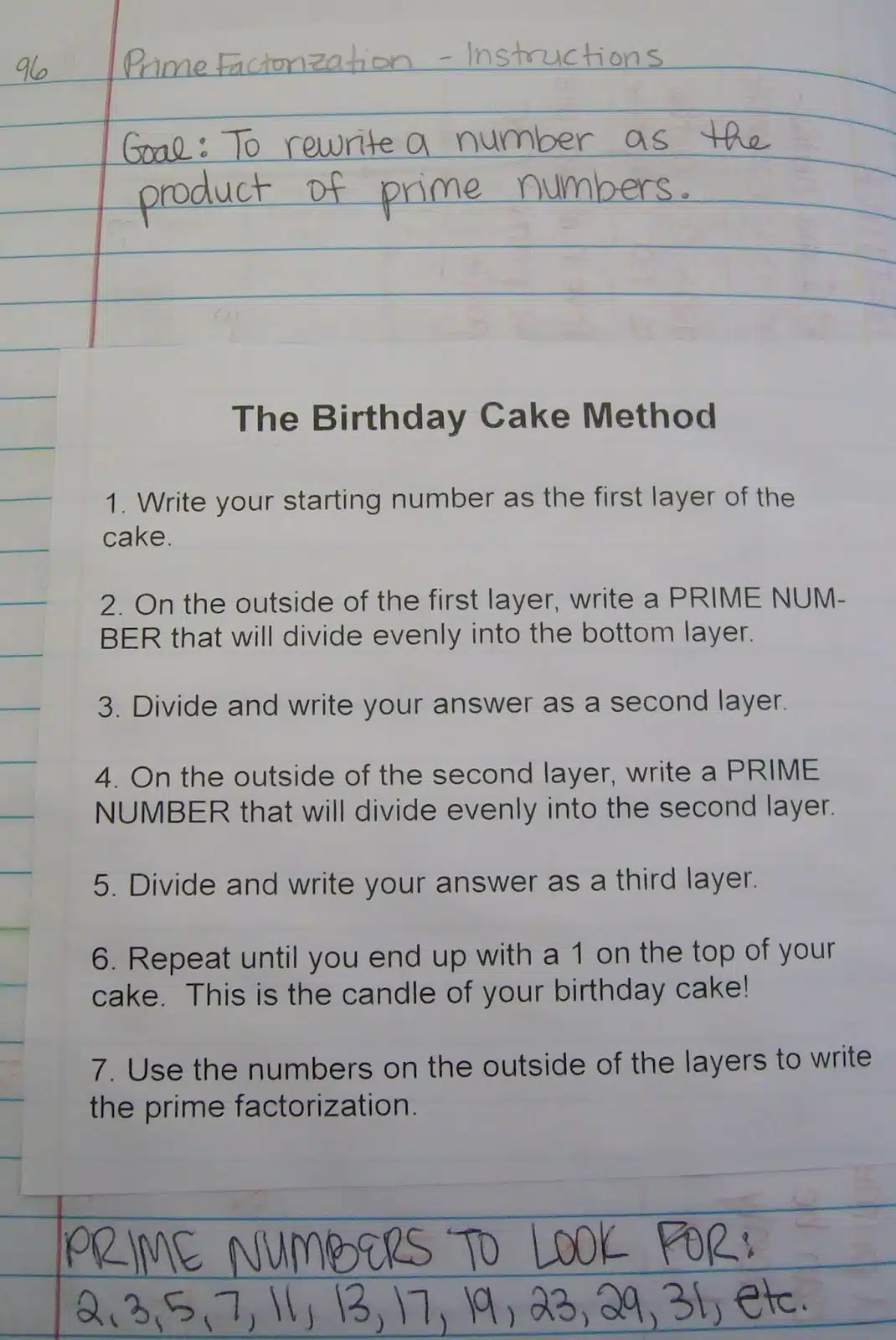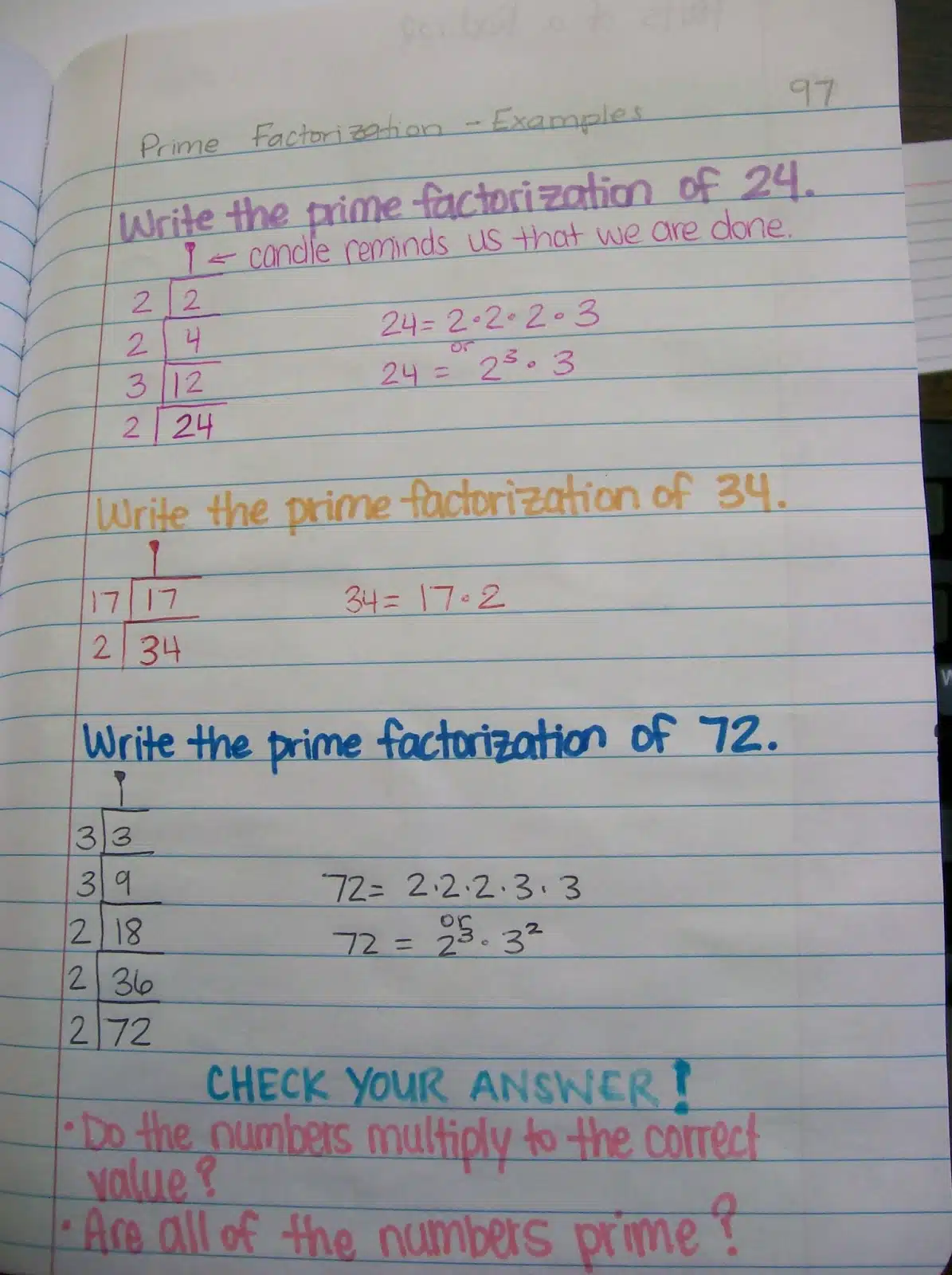 When I did this same lesson with my Algebra 1 students, I formatted things a bit differently.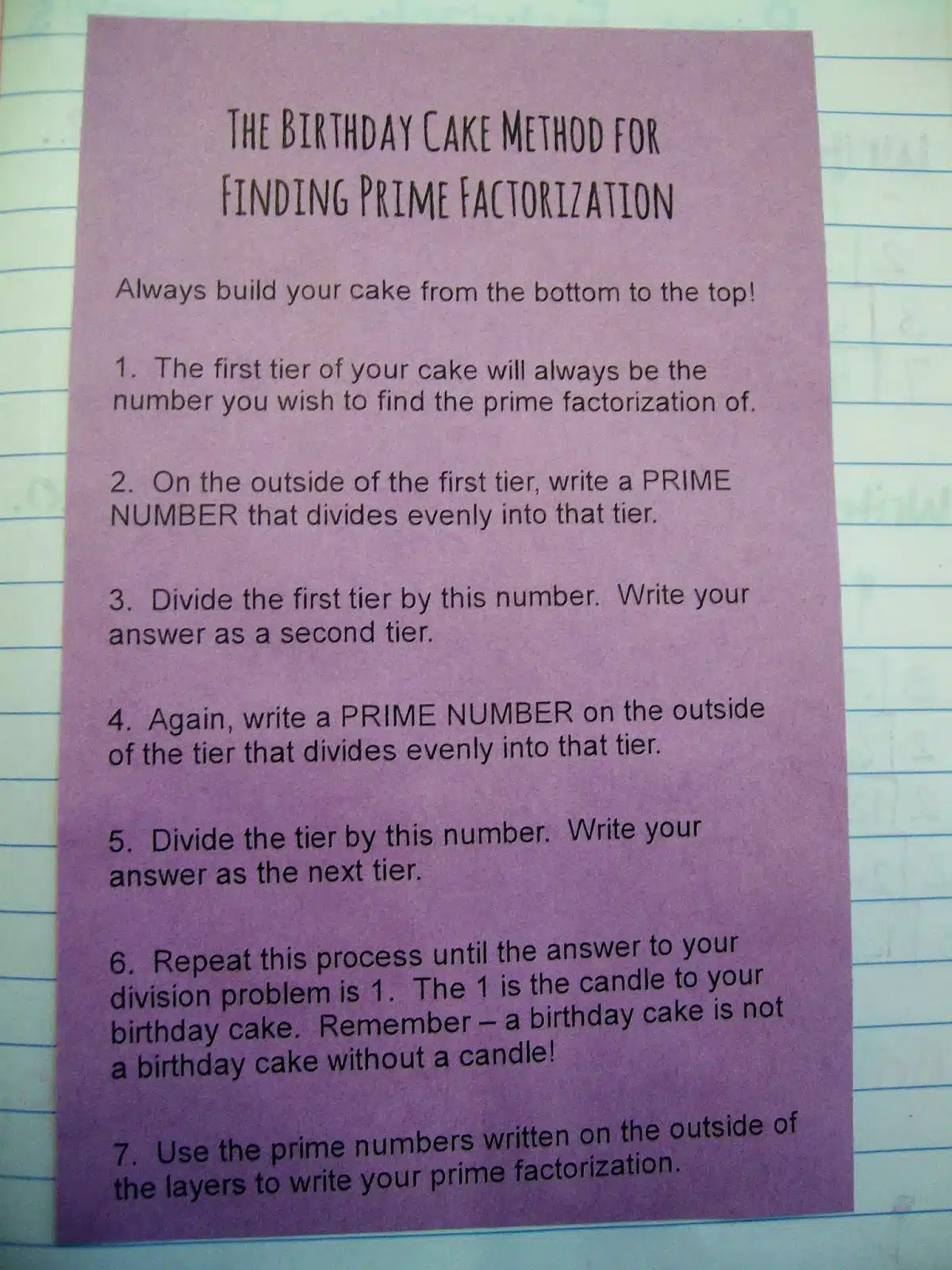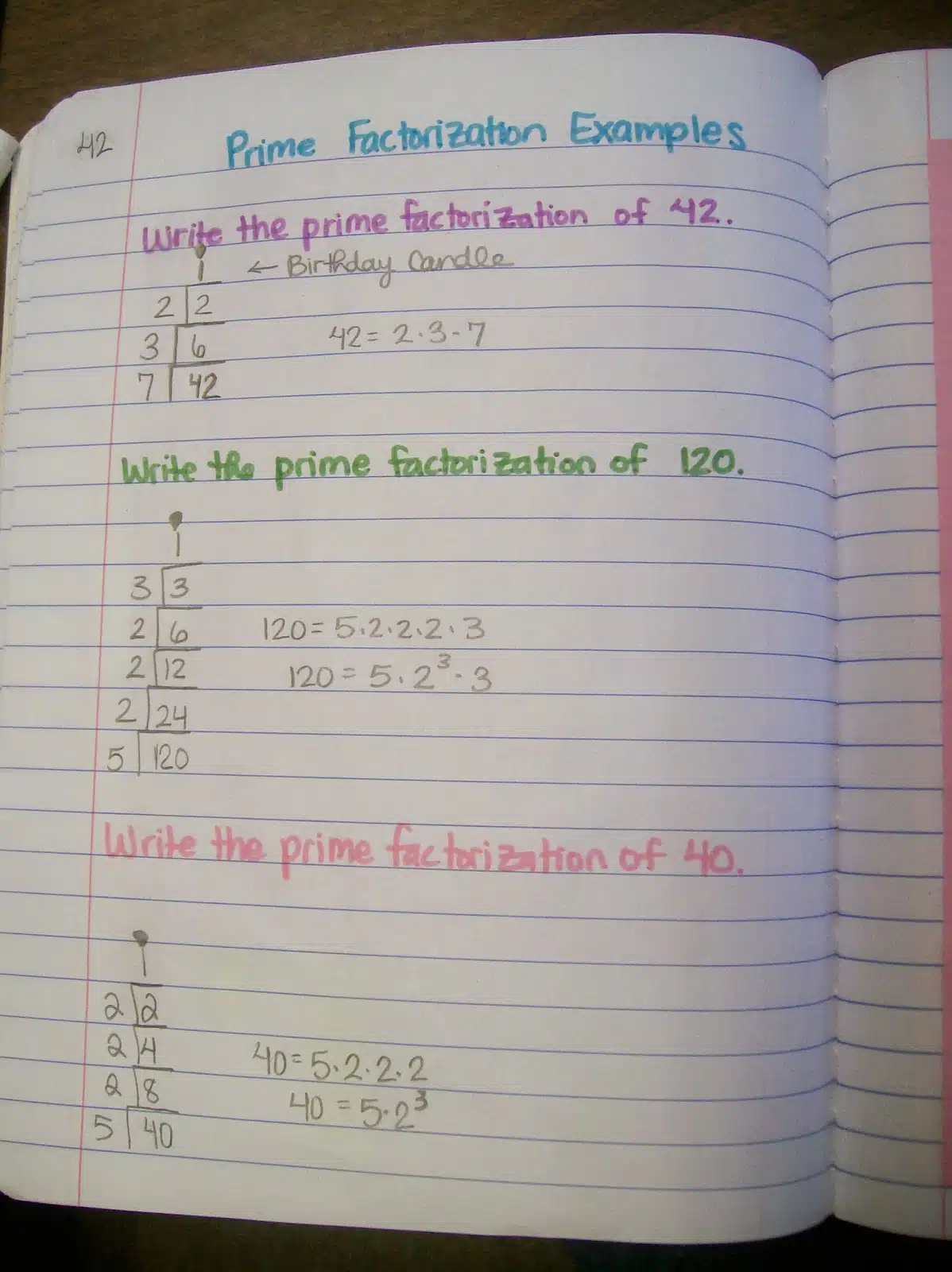 One of my students even "matted" her notes.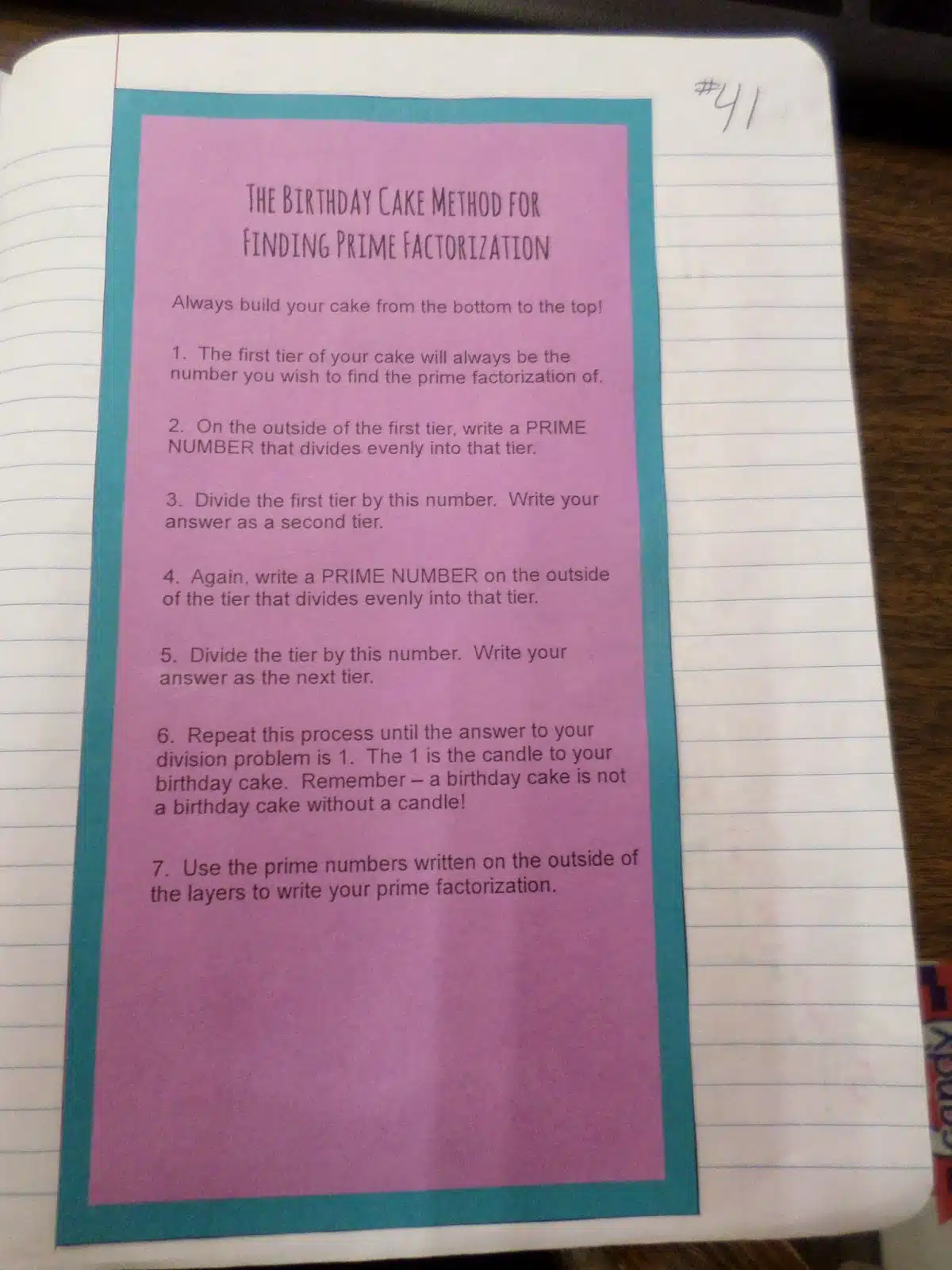 More Activities for Teaching Prime Factorization