This blog post contains Amazon affiliate links. As an Amazon Associate, I earn a small commission from qualifying purchases.
Want to check out my favorite Amazon items for the classroom? Check out my Amazon favorites page!
Today I'm sharing my first ever original puzzle. I'm calling it the Decorate the Tree Puzzle.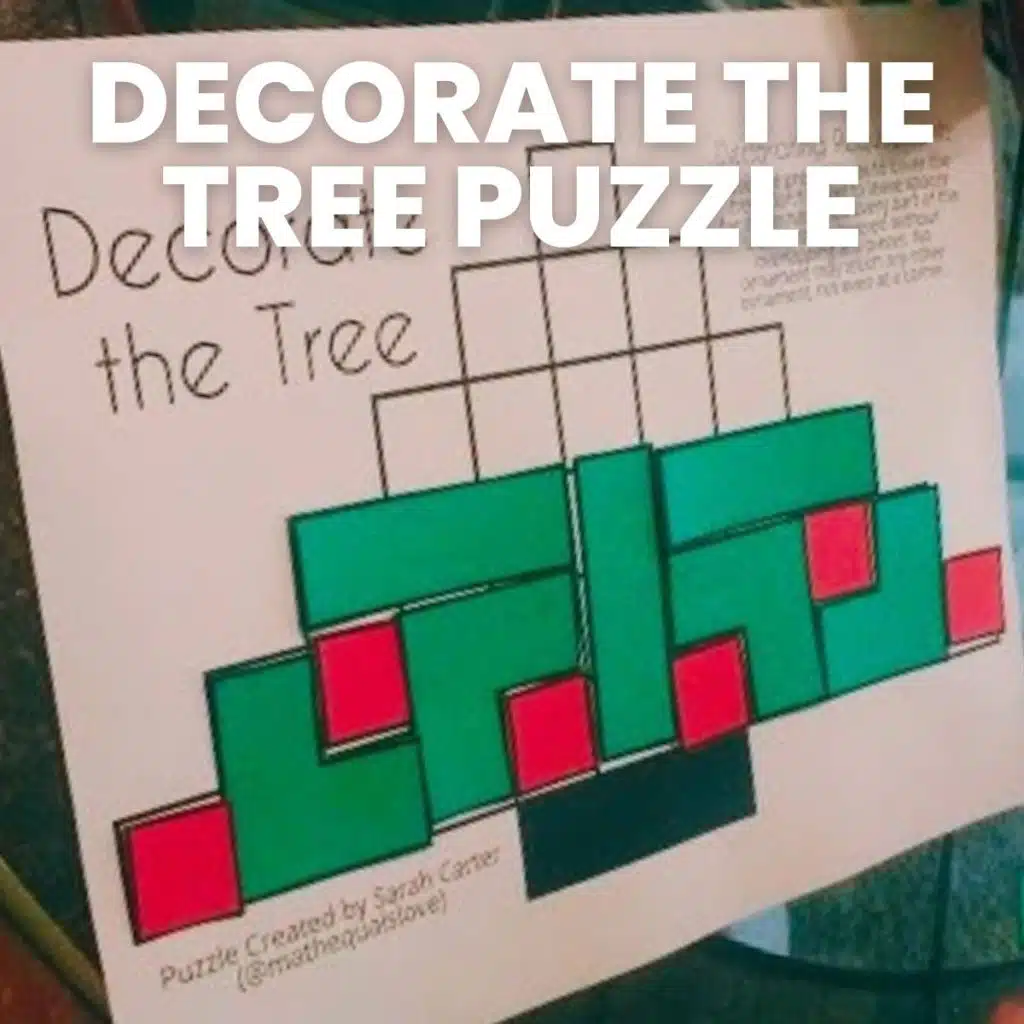 It's officially the first day of Christmas Break here in the Carter household. So far, I've celebrated by doing the standard dishes and laundry, watching a Christmas movie as well as silly get out of debt reality shows on Amazon Prime, created and tested a Christmas-themed puzzle, cooked quinoa tacos for lunch, and sewed a headband/ear warmer that turned out to be a mobius strip.
Yesterday, my students were taking their semester tests. When I wasn't frantically grading completed tests and doing notebook checks, I took a bit of time to look through Puzzle Box, Volume 1, Puzzle Box Volume 2, and Puzzle Box Volume 3.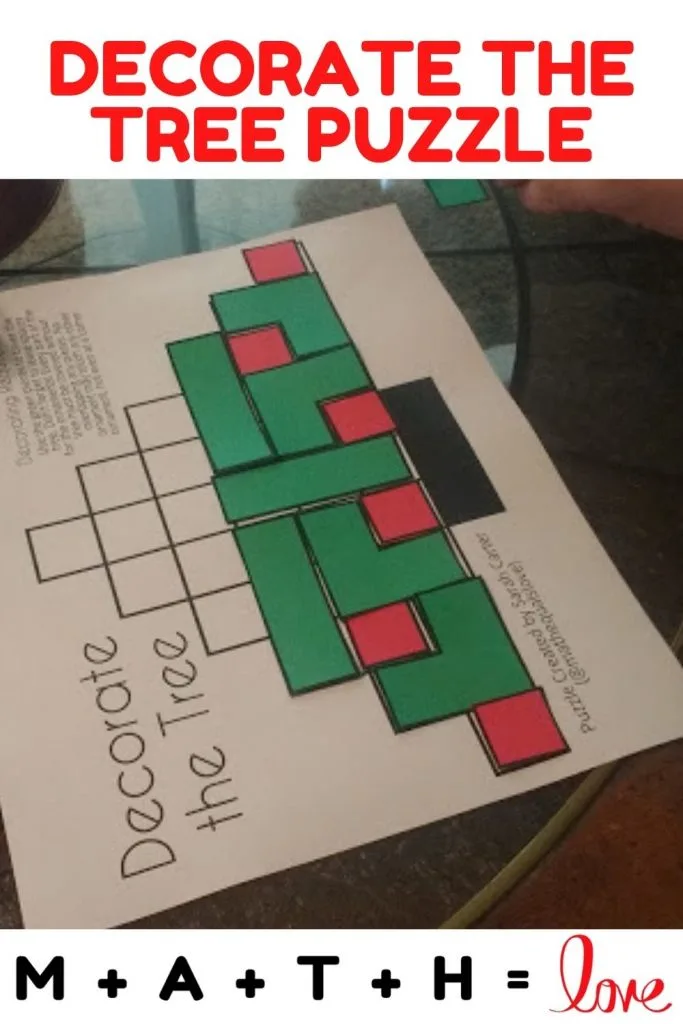 I've flipped through these books and solved many of the puzzles since getting them, but yesterday I had a different purpose for looking through them. I wanted to make a list of all the puzzles that were suitable to be typed up and used with my students.
Each volume had at least 40+ puzzles that I wish to use someday with my students.
I've already typed up several of the puzzles including the Color Square Puzzle and the Pyramid Challenge. I've typed up two or three more, but I have not had a chance to use them with my students yet.
Inspired by all the puzzles I looked at yesterday, I got a bit sidetracked on my task to type up some of the puzzles, and instead I ended up trying my hand at creating my own puzzle.
Though I've solved quite a few puzzles, I am completely new at this task of creating a puzzle. So, I'd love to hear constructive feedback on how to improve this decorate the tree puzzle or future puzzles.
I'm calling my first puzzle "Decorate the Tree." Given that it is Christmas themed and my students are currently on Christmas break, I'm not going to get a chance to try it out with my own students until NEXT year. I still want to share it here on my blog for others to use though.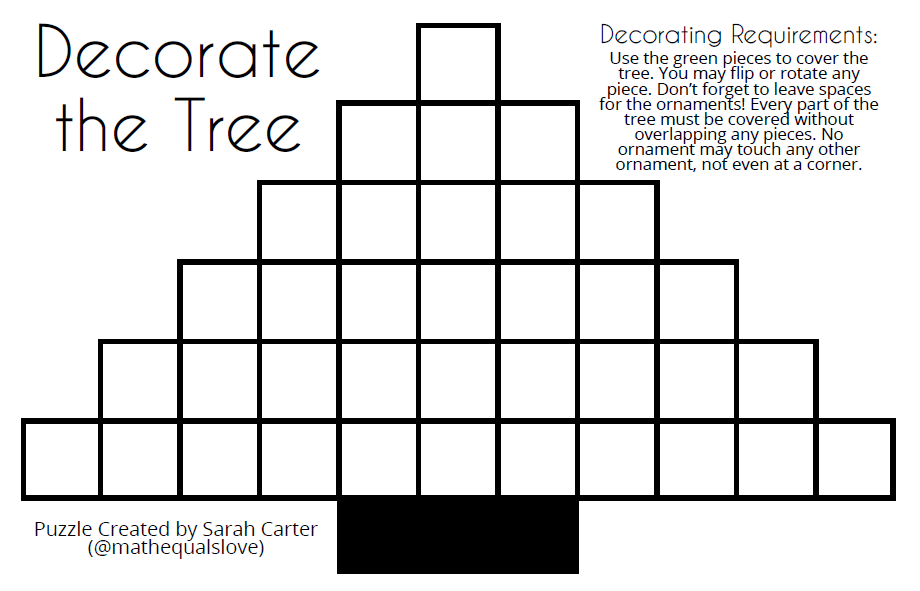 The tree template is designed to be printed on 11 x 17 cardstock. I have also shared a letter-sized version of the puzzle below in case you cannot print on 11 x 17 paper. This is the size I printed to test the puzzle at home.
In addition to the tree template, you will also need to print two sheets of puzzle pieces for the decorate the tree puzzle.
The first sheet has nine trominos. These should be printed on green paper to form the bulk of the Christmas tree.

The second sheet has nine squares. These can be printed on any color. Each square represents an "ornament." I chose to print mine on red paper to make it extra festive.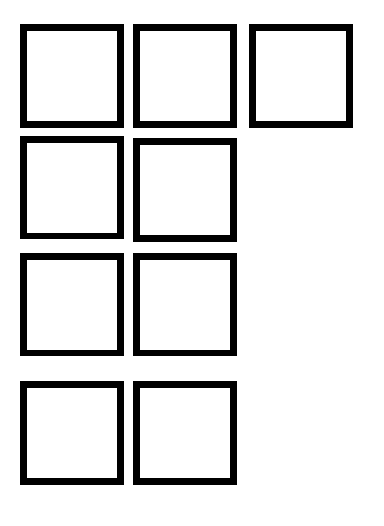 Once you have your tree template and puzzle pieces, it's time to "Decorate the Tree." The task is as follows: Use the green pieces to cover the tree. You may flip or rotate any piece.
Don't forget to leave spaces for the ornaments! Every part of the tree must be covered without overlapping any pieces. No ornament may touch any other ornament, not even at a corner.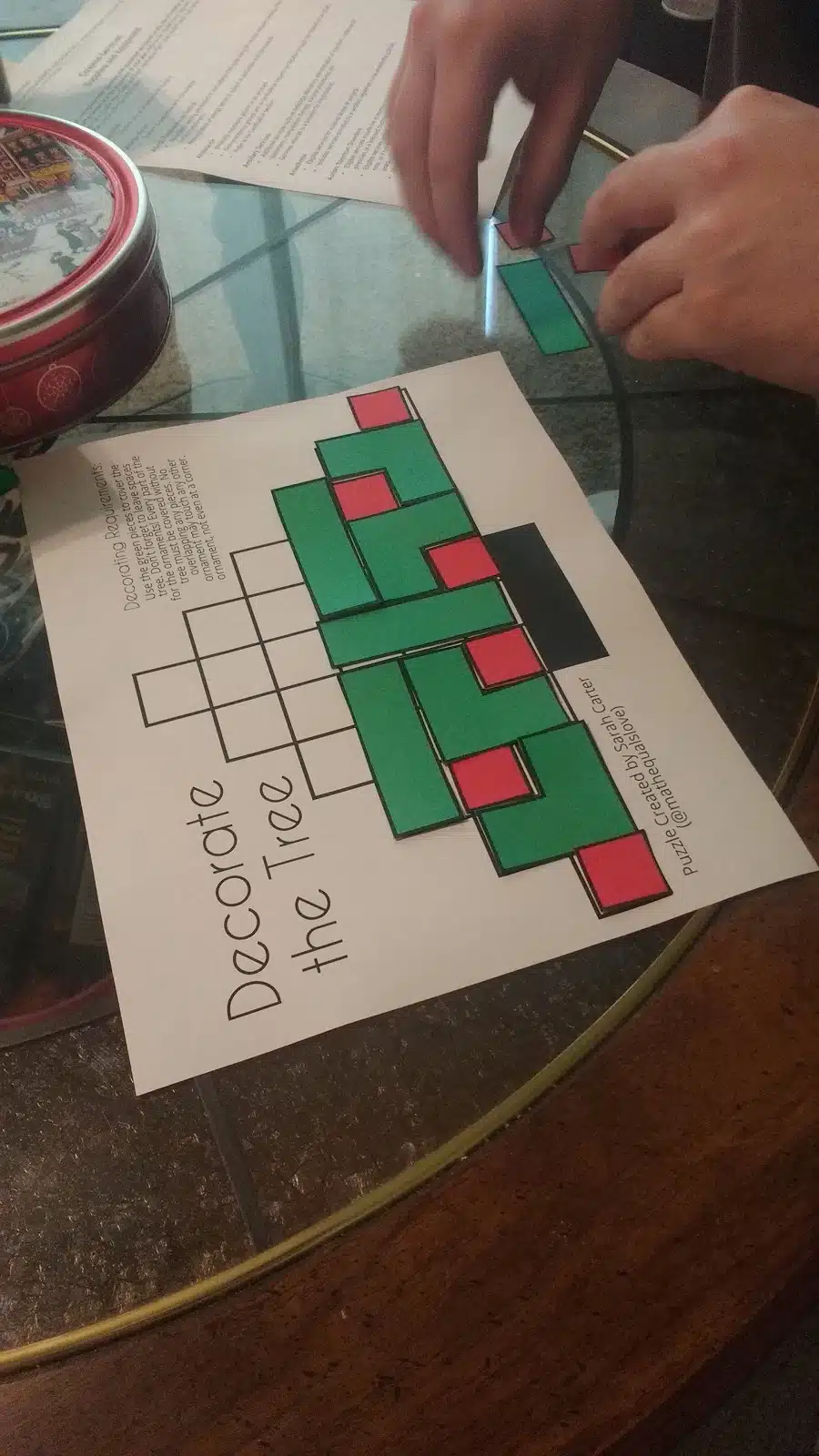 I have found one solution to the decorate the tree puzzle myself, and my husband found a totally different solution today when he tested it out. I'm not sure how many solutions exist yet.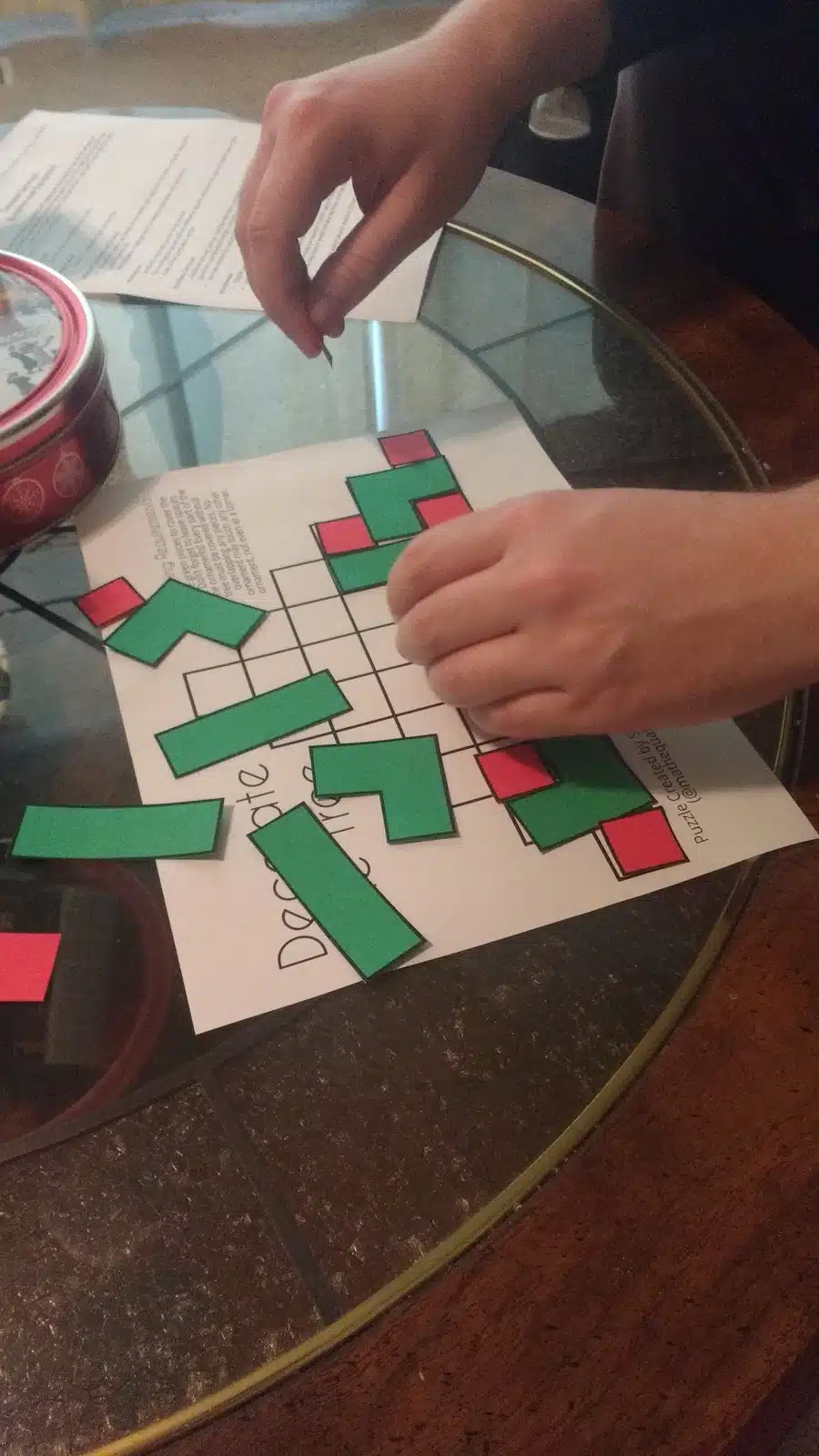 Digital Version of Decorate the Tree Puzzle
A lovely blog reader (Thanks Laura Ann!) turned this into a digital puzzle using Google Slides. The pieces are stacked on top of one another.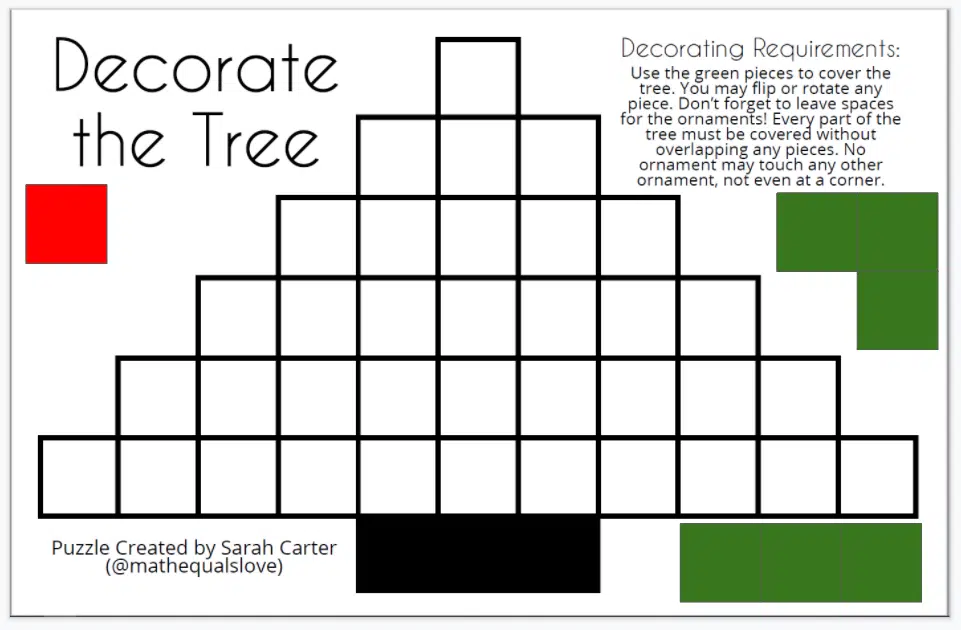 Puzzle Solutions
I intentionally do not make answers to the printable math puzzles I share on my blog available online because I strive to provide learning experiences for my students that are non-google-able. I would like other teachers to be able to use these puzzles in their classrooms as well without the solutions being easily found on the Internet.

However, I do recognize that us teachers are busy people and sometimes need to quickly reference an answer key to see if a student has solved a puzzle correctly or to see if they have interpreted the instructions properly.

If you are a teacher who is using these puzzles in your classroom, please send me an email at sarah@mathequalslove.net with information about what you teach and where you teach. I will be happy to forward an answer key to you.
More Christmas Activities