This blog post contains Amazon affiliate links. As an Amazon Associate, I earn a small commission from qualifying purchases.
Want to check out my favorite Amazon items for the classroom? Check out my Amazon favorites page!
Engage students on the first day of school with this fun Saving Fred STEM activity which encourages students to practice teamwork while saving a gummy worm named "Fred."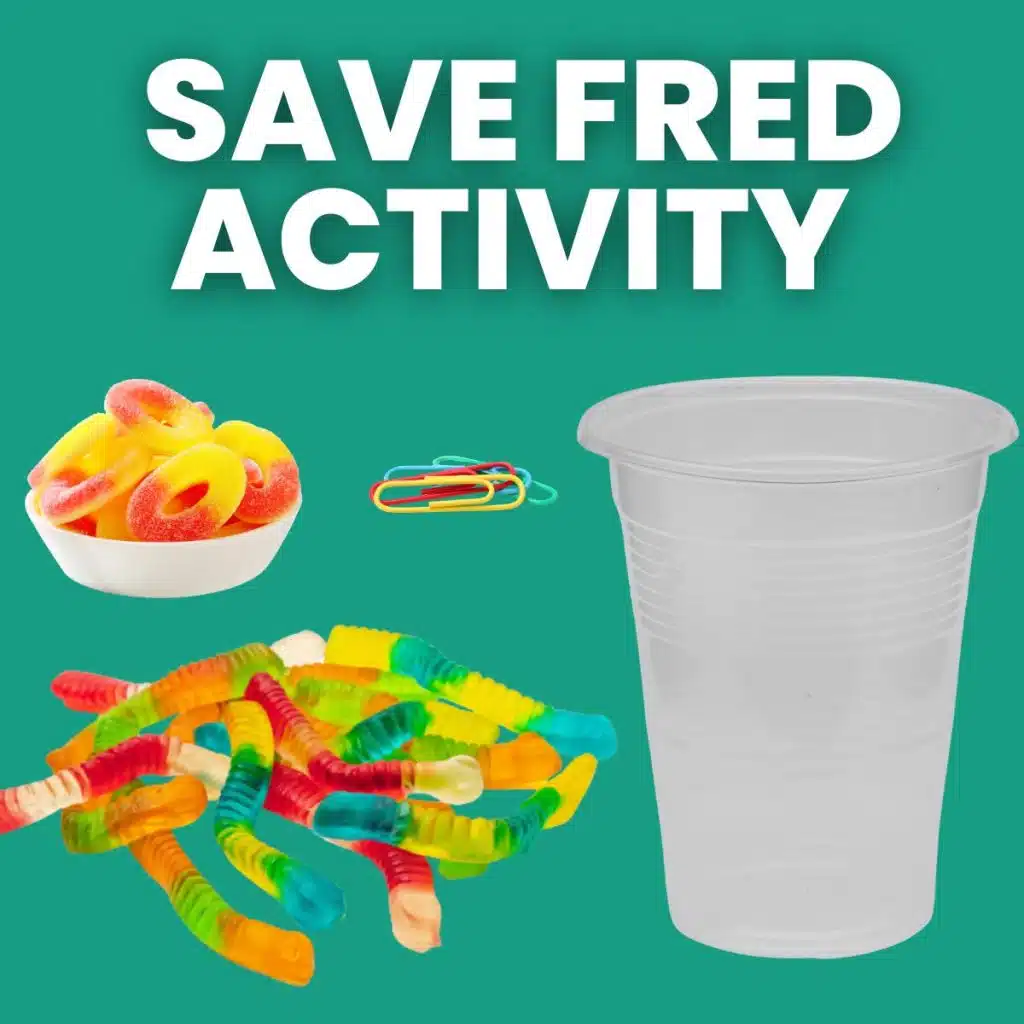 I tried this Save Fred activity with my chemistry students during the first week of school. I had almost all of these students for Algebra 1, so I needed to find a few new beginning of school activities that they had not seen before.
Supplies Needed for Saving Fred STEM Activity
Each group of students will need the following materials.
Plastic cup – Ideally Translucent
Gummy Worm
Gummy Life Saver
One Paperclip for Each Person in the Group
I used trays from Dollar Tree to set up each group's Fred. This let me set things up before class.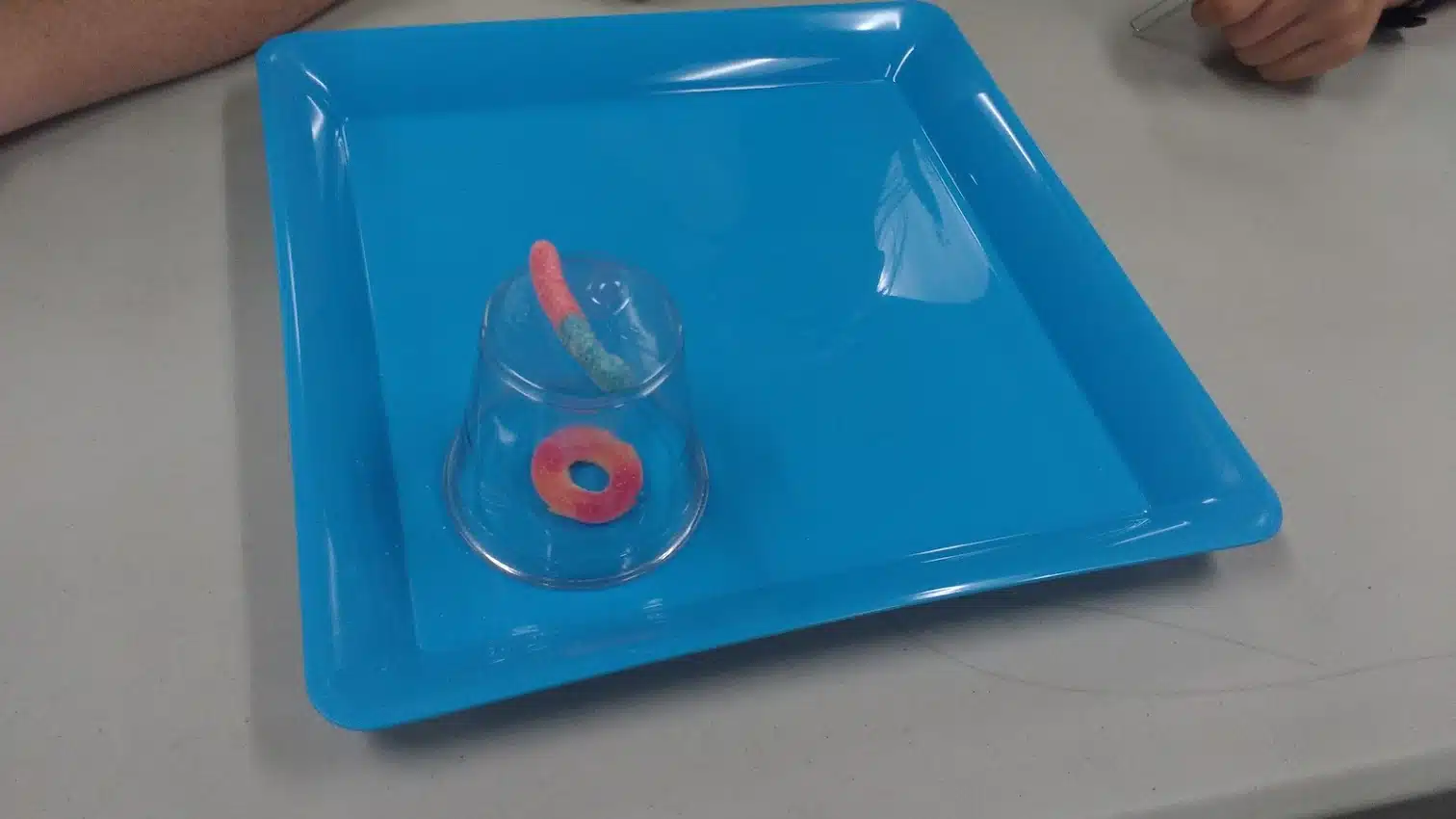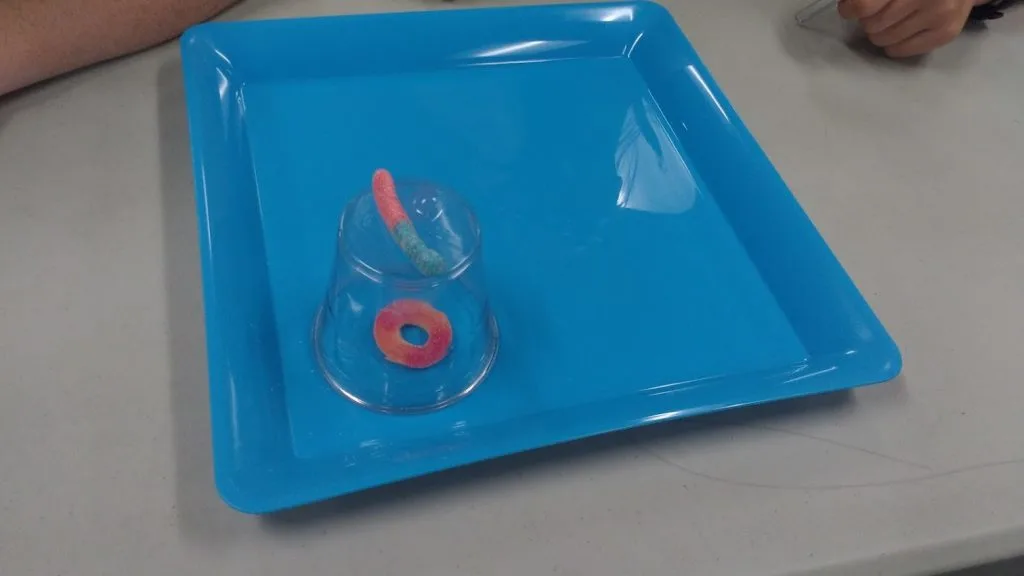 Then, I just had to pass out paper clips so that each group got one paperclip per student.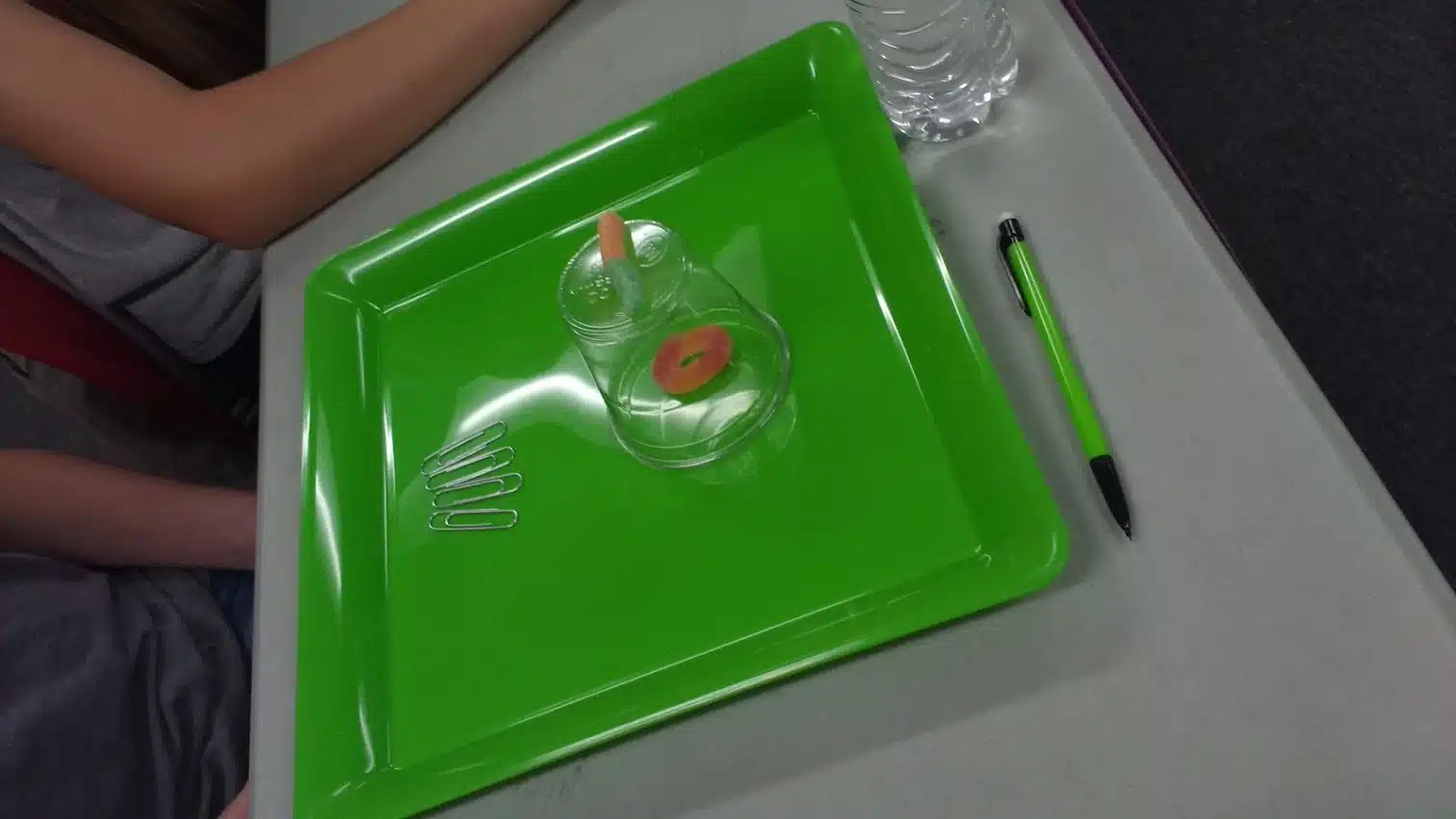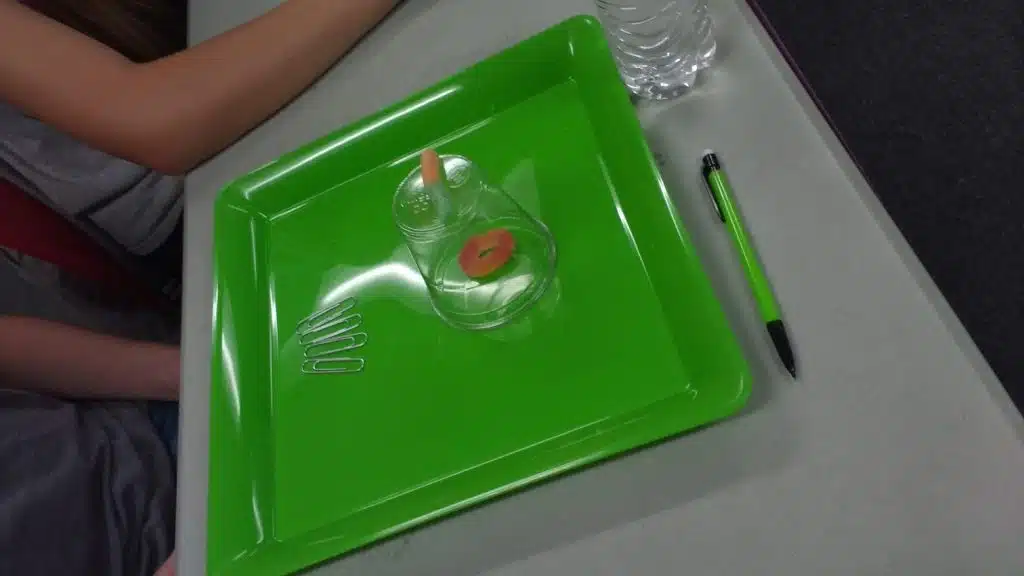 The Story of Fred
I found a story online to use to introduce the activity to students.
Poor Fred! He was sailing along on a boat (your plastic cup) when a strong wind blew it upside-down. Fred (your candy worm) ended up on top of the upside-down boat. Unfortunately for Fred, his life preserver (your candy life preserver) is still trapped under the boat.

Your job is to place the life preserver firmly around Fred's body, but you must obey three rules:

1. Fred may not fall into the "sea" (onto the table) more than one time; if he does, Fred "drowns."

2. You may not injure him in any way.

3. You may use only the four paper clips to move Fred, the boat, and the life preserver. You may not touch anything except the paper clips.
I put the story into my SmartNotebook file. It's nothing fancy, but I've received quite a few requests for the file, so I have uploaded it at the bottom of this post.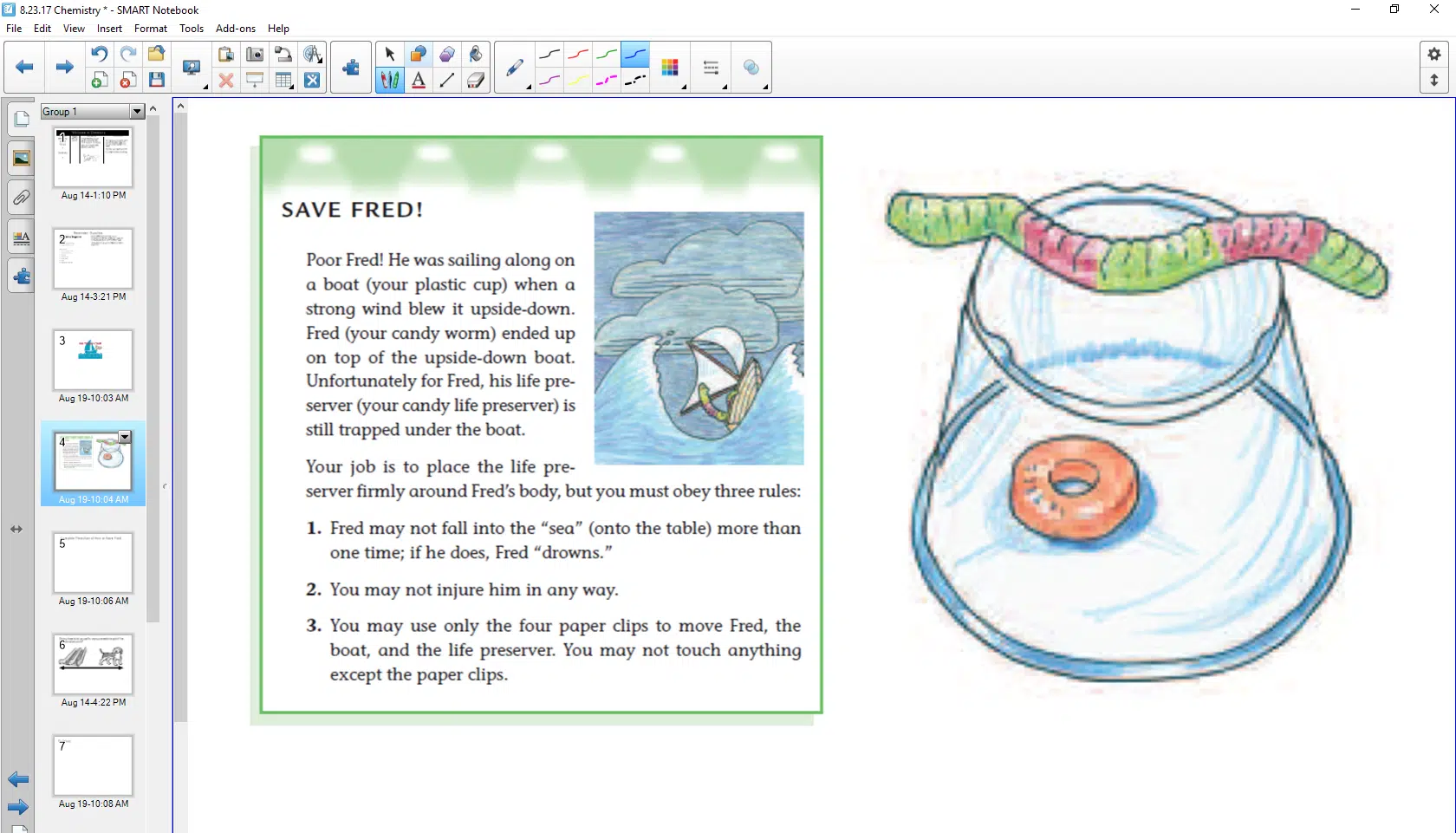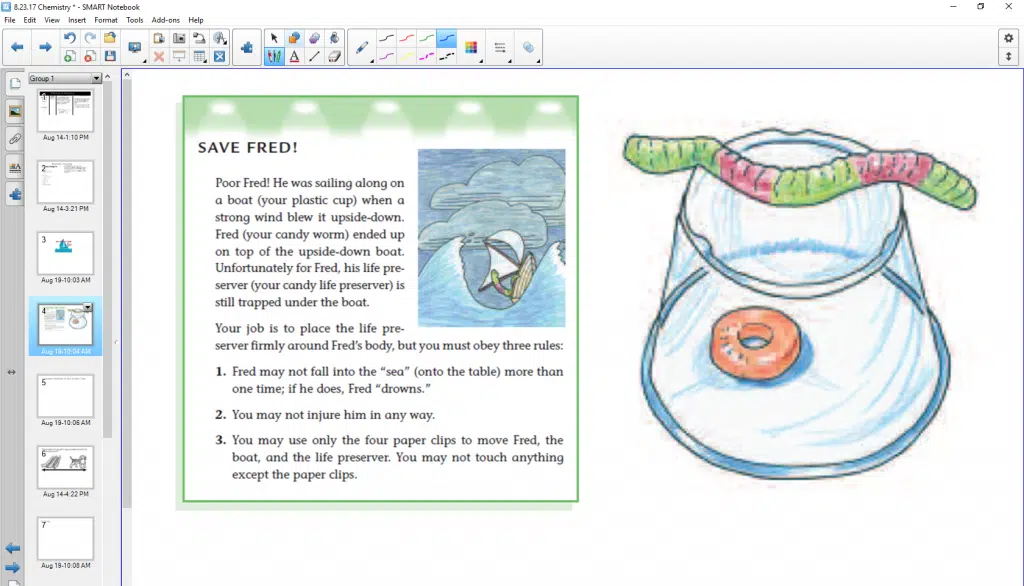 Printable Save Fred Activity
I found a document online that outlines the entire Save Fred activity. The activity is attributed to Stacy Fox from the NSTA ListServ.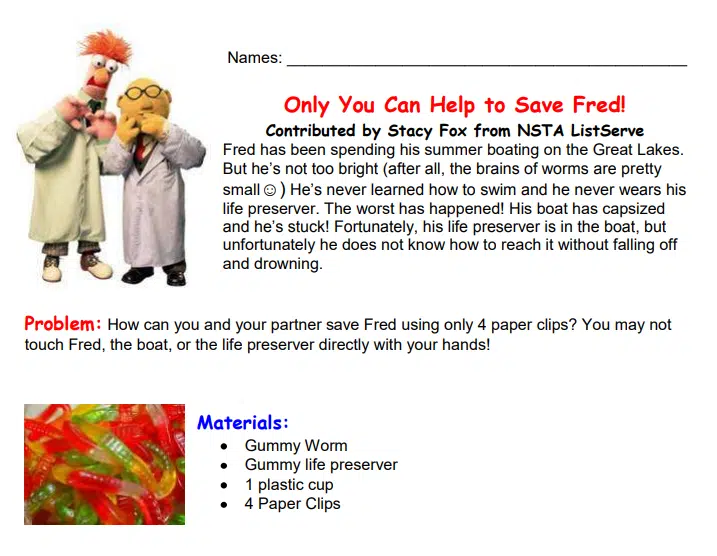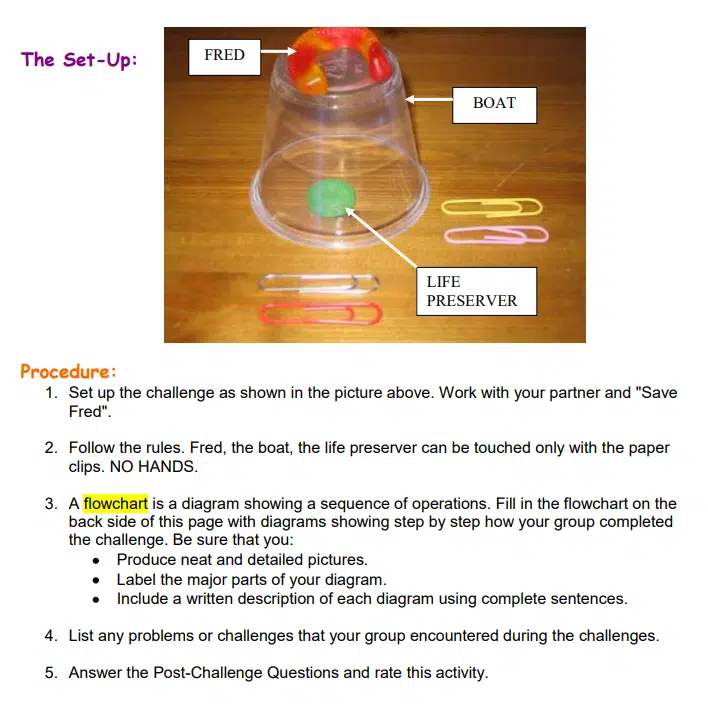 Activity Reflection
This is a fabulous activity for the beginning of the year because it encourages students to communicate, share ideas, experiment, and ultimately learn better how to work together to achieve a goal. I used this activity with high school chemistry students, but I have seen many elementary teachers using it online as a beginning of year activity.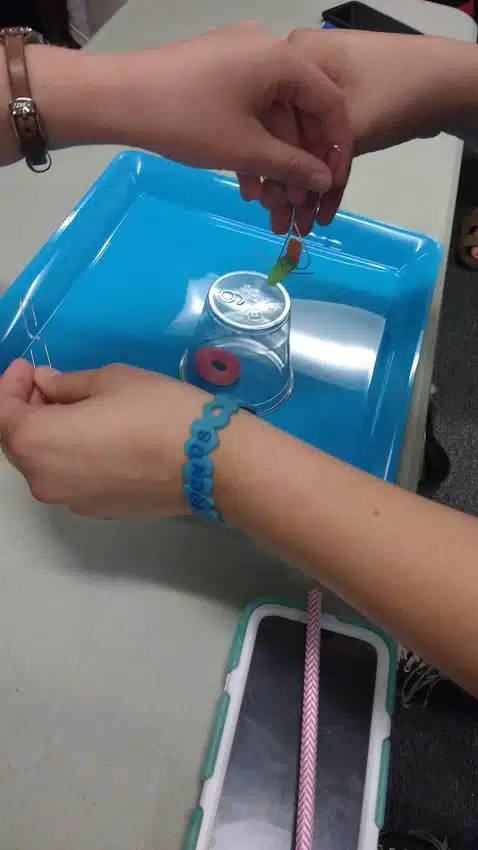 There was a ton of laughter and discussion as groups worked out how to save Fred without piercing him with a paperclip or letting him "drown." Once groups come up with a valid plan, the actual saving of Fred doesn't take all that long.
I used the flowchart assignment assignment in this PDF to give groups a chance to reflect on the experience. They had to write and draw a flowchart describing how they saved Fred. I figured this was a great lead-in to writing descriptions for future lab reports in chemistry.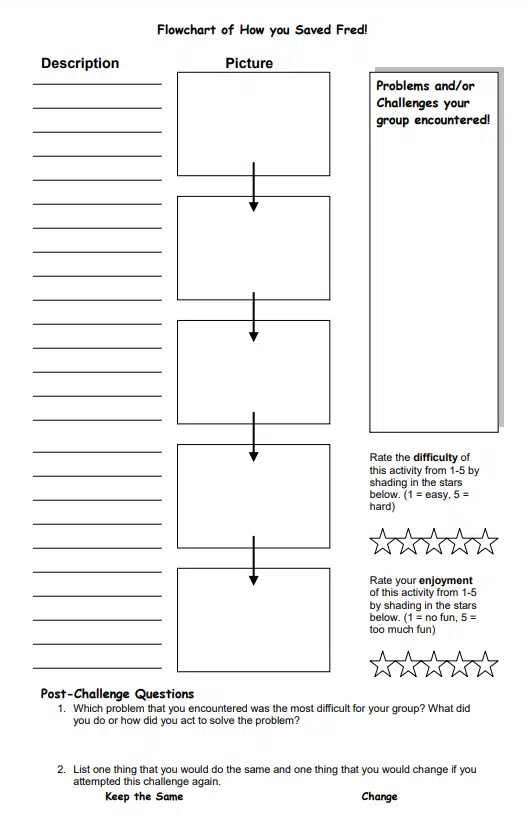 Overall, it was a great activity! I recommend it if you are looking for a team-building activity for the first week of school.
Free Download of Save Fred Smart Notebook File
More Fun Activities for the First Week of School