This blog post contains Amazon affiliate links. As an Amazon Associate, I earn a small commission from qualifying purchases. This comes at no cost to you. Thanks for your support of Math = Love!
The Tic Tac Toe Challenge Puzzle asks "Can you place six X's on a Tic Tac Toe board without making three-in-a-row in any direction?"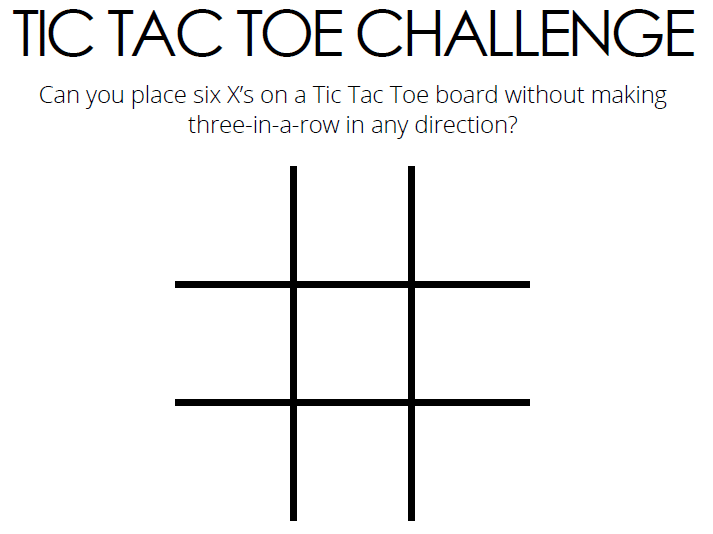 I ran across this puzzle several years ago. I typed it up along with a few other puzzles, and I named the file "Brain Teasers." Then, I promptly forgot about the puzzle and file. I ran across the file yesterday while organizing my puzzles folder.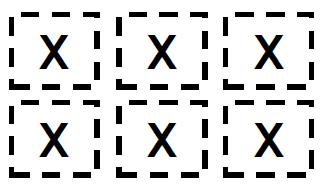 I originally typed up this tic tac toe challenge puzzle with the intention of using it on my puzzle table with laminated x pieces for students to place on the tic tac toe grid.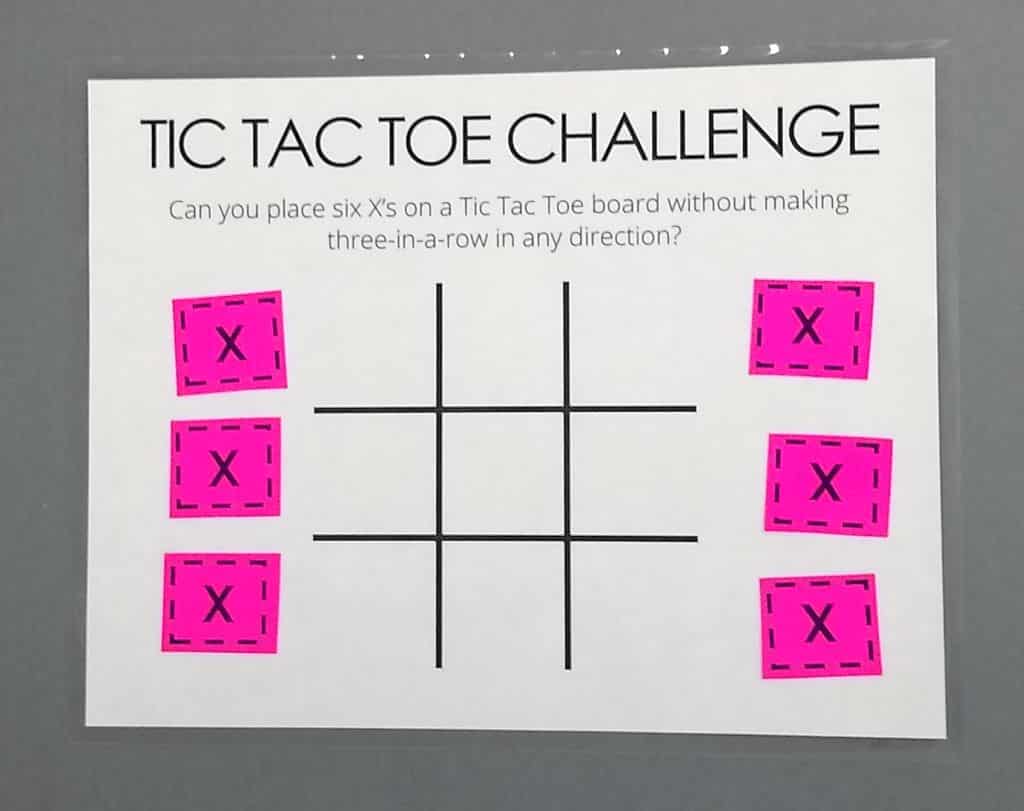 Once COVID becomes something that we can read about in a history book, I will likely end up printing off this puzzle and laminating the pieces. But, since it's 2021, I decided to take this puzzle and make a few digital versions to share.
Jumbo Magnetic Version of Tic Tac Toe Challenge
I decided this would make a great magnetic puzzle for my dry erase board if I made the pieces JUMBO sized. I was right! Students loved it. Some students even tried using it to play regular games of tic tac toe by having one student use a dry erase marker to draw the O's.
I added disc magnets to the back of the laminated pieces to make it easy for students to place the pieces on the dry erase board while playing tic-tac-toe.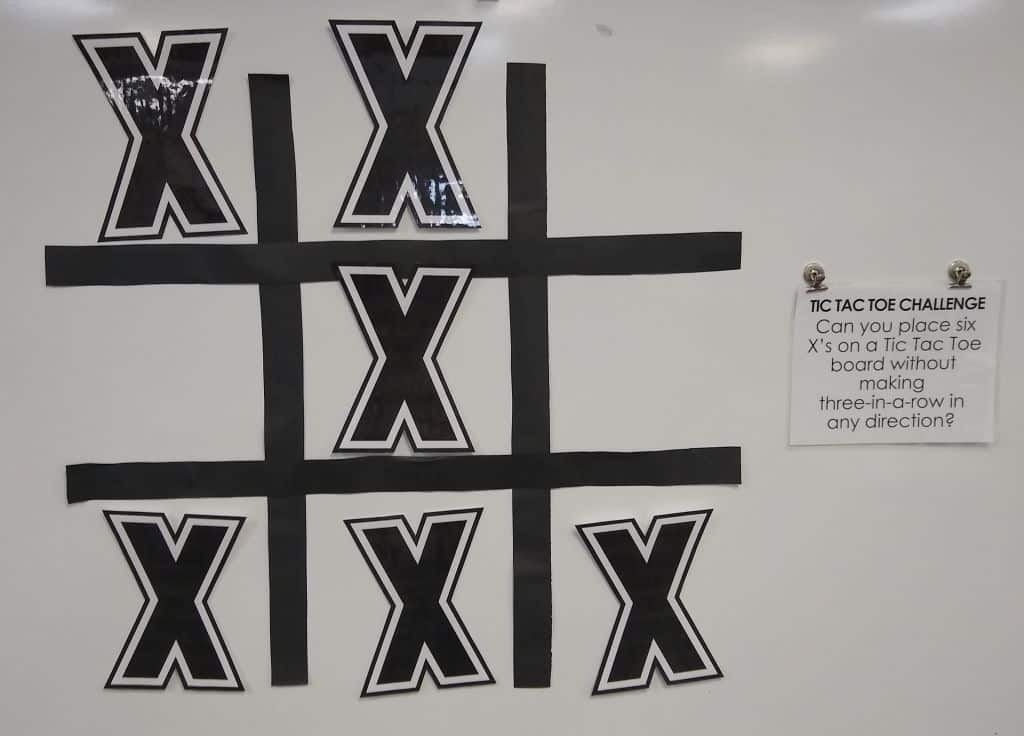 Tic Tac Toe Challenge – Jumbo Version (PDF) (588 downloads)


Tic Tac Toe Challenge – Jumbo Version (Editable Publisher File ZIP) (301 downloads)

Digital Versions of Tic Tac Toe Challenge
Jamboard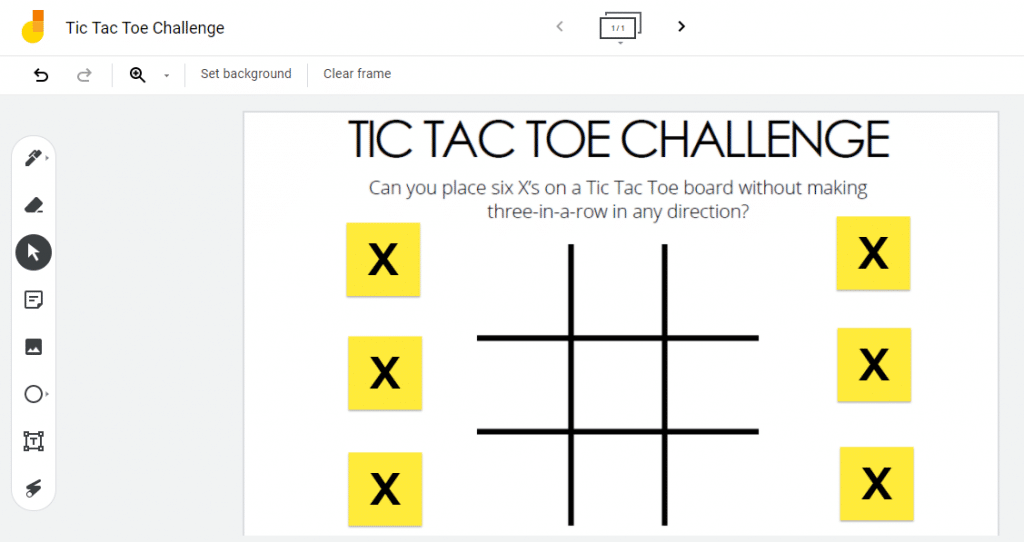 Link to make a copy of Tic Tac Toe Challenge Jamboard Version
Google Slides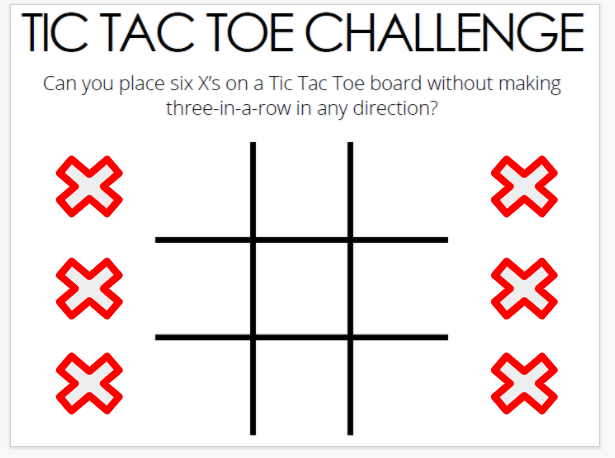 Link to make a copy of Tic Tac Toe Challenge Google Slides Version
Want more puzzles? Check out my puzzles page!
Puzzle Solutions
I intentionally do not share solutions to the puzzles I feature on my website because I strive to provide learning experiences for my students that are not google-able. I would like other teachers to be able to use these puzzles in their classrooms as well without the solutions being easily found on the Internet.

However, I do recognize that us teachers are busy people and sometimes need to quickly reference an answer key to see if a student has solved a puzzle correctly or to see if they have interpreted the instructions properly.

If you are a teacher who is using these puzzles in your classroom, please send me an email at sarah@mathequalslove.net with information about what you teach and where you teach. I will be happy to forward an answer key to you.