This blog post contains Amazon affiliate links. As an Amazon Associate, I earn a small commission from qualifying purchases.
Want to check out my favorite Amazon items for the classroom? Check out my Amazon favorites page!
I want to share a Keep Change Start Stop Reflection Form I created to help both my students and I reflect on the past semester and prepare for the new semester.
Tomorrow is the first day of our second semester! And, I'm so excited! If you would have asked me on Sunday if I was ready to go back to school, I would have responded with a definitive no. Today (Monday) was a professional day. I spent the first two hours of the morning in a training about how to use a program provided by the Oklahoma Department of Education to provide benchmark exams for our students. If I had access to technology and time, I would be all over this. But, I teach in a school that doesn't have a computer lab that we can take students to. And, I've got a million things to teach before EOI time. After the training, we were given the rest of the day to work in our classrooms and finalize first semester grades.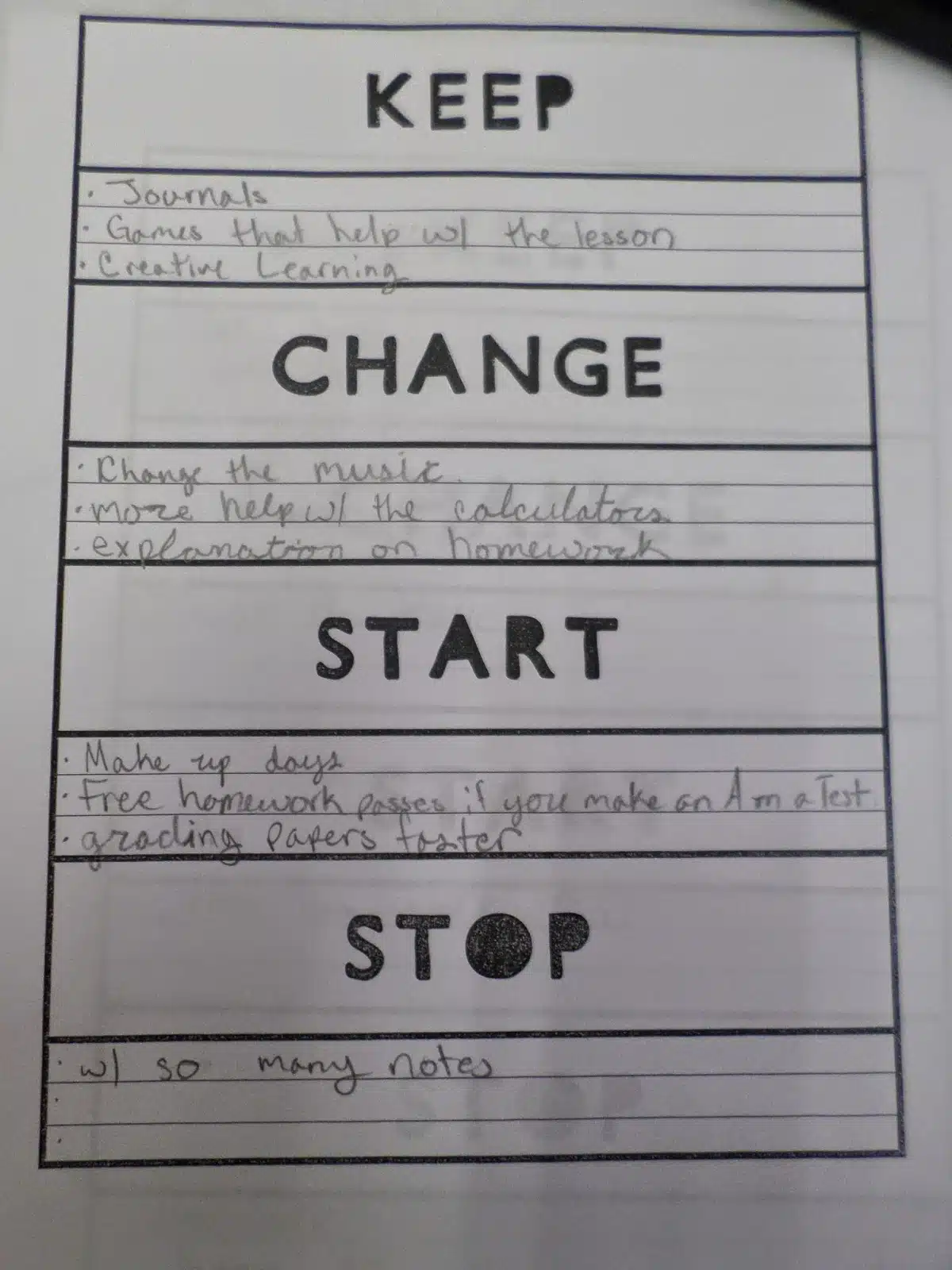 I took down all of my Christmas decorations which is a little sad. I tidied up my room some, too. It was just as messy as I left it on the Friday before break. Imagine that! I typed up my lesson plans for the week. And, then I started planning interactive notebook pages, writing quizzes, and making Smart Board files. That's when I started to get excited about seeing my kiddos tomorrow. I've missed my students. I've missed my coworkers. I've missed the whole school environment. After two weeks of relaxation, I'm ready to jump back into function notation, logarithms, and probability distributions.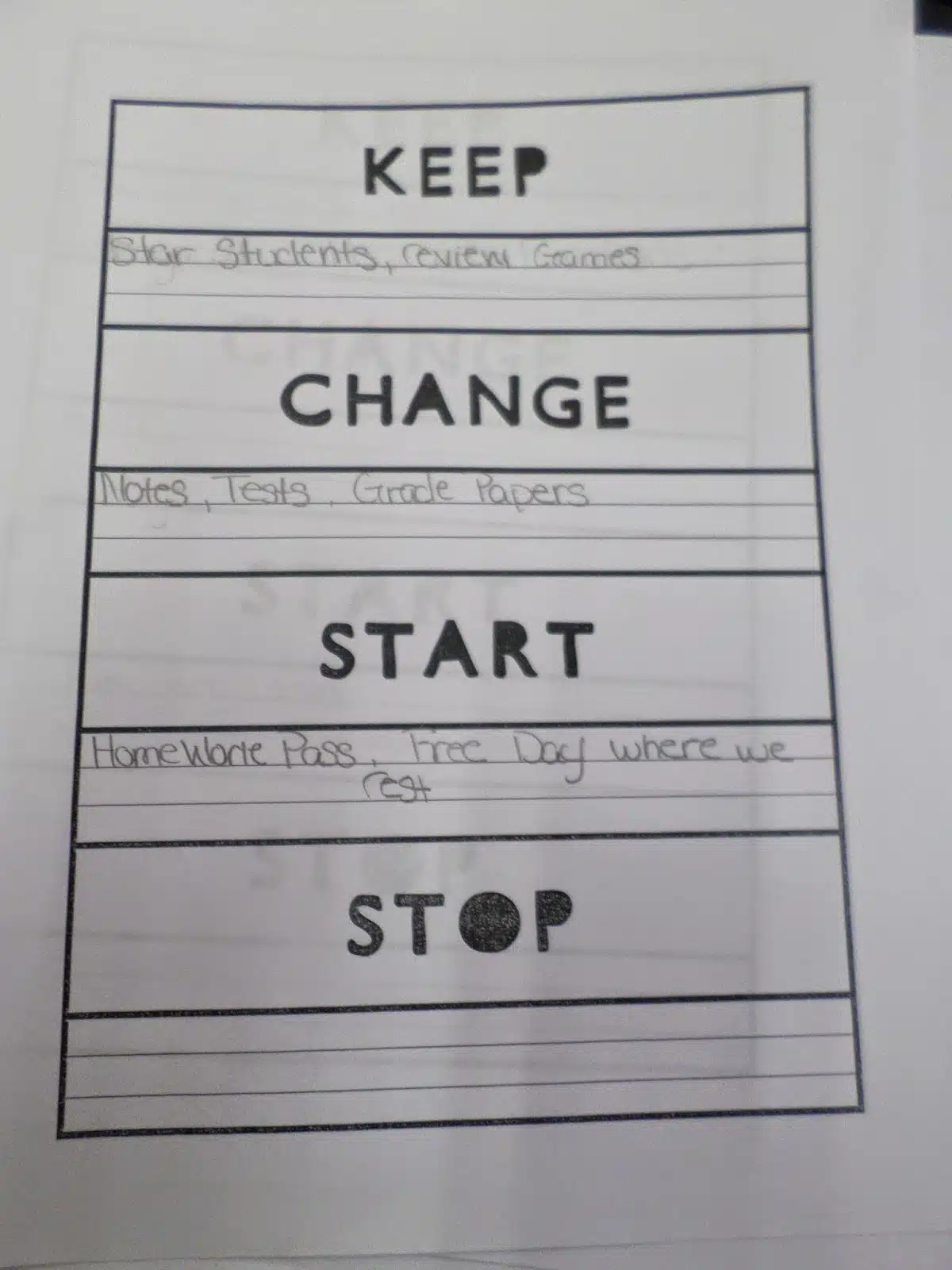 This school year, one of my goals was to have my students reflect on the course at the end of each 9-weeks. At the end of the first 9-weeks, I gave a survey that I have yet to blog about. Oops… And, some of the answers were kinda funny. I may still blog about it. Better late than never, right? I mentioned this survey to @druinok at one of the math teacher's circles that we attended. She said it sounded like the perfect opportunity to have students reflect on things to keep, things to change, things to start, and things to stop. In all actuality, I don't know if she mentioned ALL four of those things or worded it that exact way. I was having trouble remembering, so I turned to google for some advice. I couldn't find it on her blog, but I found it mentioned on another blog that has absolutely nothing to do with teaching. Anyway, I liked it, and I'm going for it!
Keep Change Start Stop Reflection Form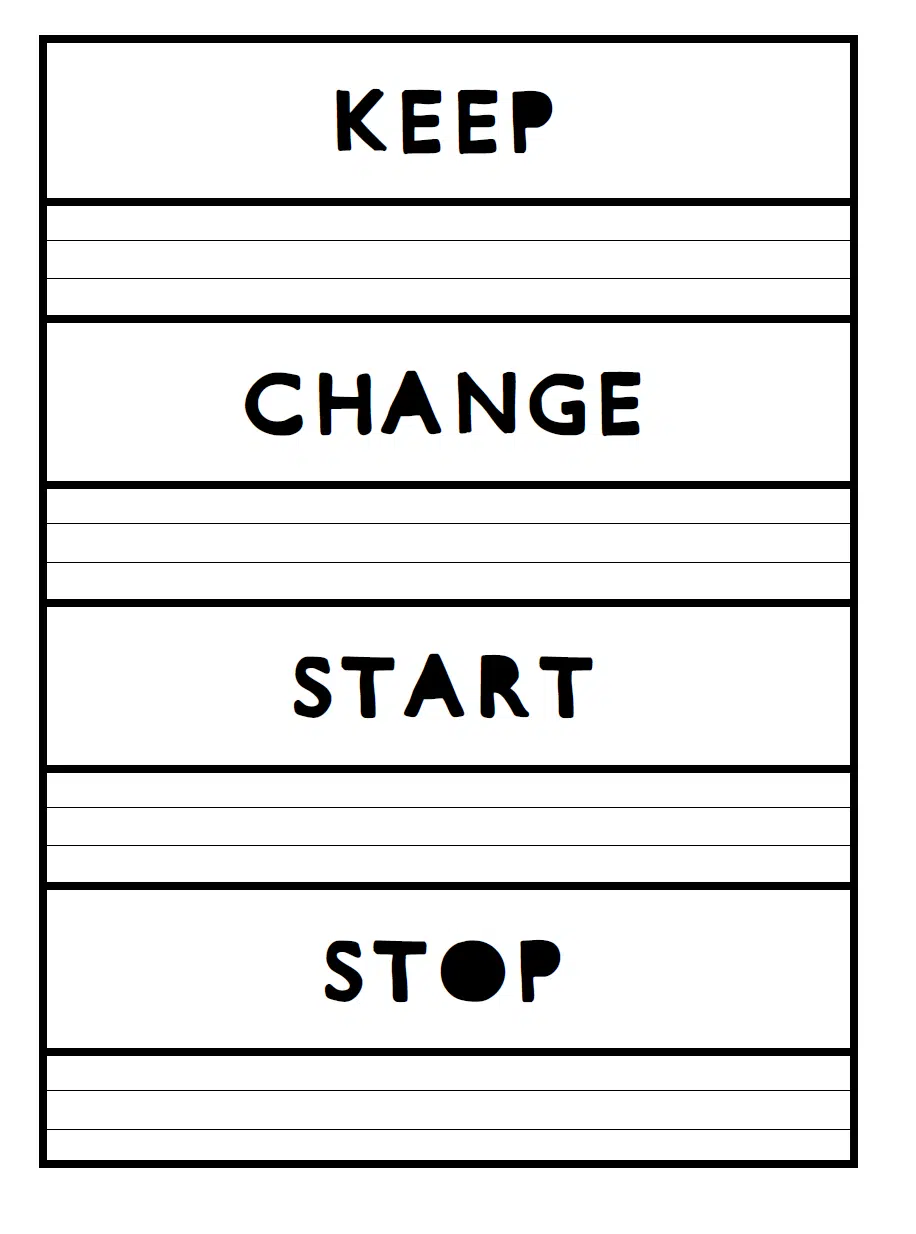 I typed up a page for my students to fill out. I gave them three lines for each category: Keep, Change, Start, Stop. I may or may not regret this. My rationale was that if I put three lines, then students should give me three answers. We'll see how that works. I thought about having students fold a piece of paper in quarters and label each quarter with the different categories. This would give students more room to write. But, some students would likely only write a single word or phrase in the section. I'm looking for more feedback than that.
I want to be a better teacher. I want to know what my students like (KEEP). I want to know what they don't like (STOP). I want to know what they think I could do a better job at (CHANGE). And, I want to know what they think would make our class a better learning environment/experience (START). I think I am going to get more constructive feedback from this reflection form than ones I have used in the past because it explicitly asks students to focus on positive and negative feedback.
If you would like to use the form I made in your class, I have uploaded it below.
My plans are to do bellwork, good things (a Monday tradition – but a professional day on Monday means that we must do good things on Tuesday lest my class rebel), pass back the rest of the graded papers from first semester, and then give students 7-8 minutes to reflect and provide me with valuable feedback.
My Own Keep Change Start Stop Resolutions
Once students have told me what they would like for me to keep, change, start, and stop, I have a surprise for them. I'm going to share with them my own keep, change, start, and stop resolutions for the upcoming school year. For the past few months, I've known that I need to make some changes to how I run my classroom.
I probably shouldn't announce this for the entire world (and maybe my boss and coworkers) to read. But, I'm going to anyway. I'm terrible at classroom management. The year always starts off pretty well. But, pretty soon, my kids stop being scared of me. And, they start goofing off. And, my threats and punishments don't seem to phase them. I work really hard to provide them with fun, creative, meaningful learning experiences, and I end up feeling more disrespected than valued. I'm young. I'm the antithesis of intimidating. And, I'm way too nice and patient.
I've let students walk over me for way too long. And, I've decided that a new semester is the perfect time to do something about it.
KEEP HELPING STUDENTS. (But, I'm going to stop babying students.) [This is another post in itself. To put it briefly, I had a lot of students fail last semester. A LOT. And, I was more worried about it than they were. If a students is concerned about their grade, they will come see me. And, I will help them. But, I'm not going to go track down students and force them to come into my classroom to make up work any more. I've made it very clear that I am here before school, after school, and at lunch to help them. They are going to have to take initiative to seek help if they need it.]
CHANGE HOW I GRADE NOTEBOOKS. My students don't have textbooks. Our interactive notebooks are our textbooks. I graded so many pitiful notebooks that were missing numerous pages. Those are notes that my students will never be able to reference. If I really think that these notes are important, I need to make sure that every single student has every single page. So, I'm going to make things a whole lot easier on myself in the realm of grading notebooks. Each notebook will either be a 0% or a 100%. If students do not make a hundred, they can complete their notebook and resubmit it. I'm not going to give partial credit for doing part of what I assigned. My students need to realize just how seriously I take our notebooks. Maybe my students will wake up to how important our notebooks are when they see what a 0% does to their grade!
START DEMANDING RESPECT FROM MY STUDENTS. I don't hand out a lot of punishments in my classroom. I make a lot of threats. But, they don't seem to do much good. I've got a new plan for handling disrespect. When I see a student doing something I deem disrespectful toward me, my classroom, or my time, I am going to hand them a form to fill out. The form asks them four questions. I learned about these four questions towards the beginning of the year at one of our professional development trainings on classroom management. It's based on a program called Capturing Kids' Hearts. What were you doing? What were you supposed to be doing? Were you doing it? What are you going to do about it now? I phrased the questions in the past tense because I will be handing the students the form to fill out. The questions are intended to be asked aloud in the present tense: What are you doing? What are you supposed to be doing? Are you doing it? What are you going to do about it? I'm not going to call the student out. I'm no going to debate about whether the student is in the right or in the wrong. No, they will fill out the form. And, we'll talk about it. There's the possibility that maybe I misunderstood what they were doing and they actually meant no disrespect. If so, I will gladly apologize. This gives me a paper trail and documentation. And, I like that it forces students to think about what their next action is supposed to be. If I have repeat problems with a student, I can share with their parents what the problem is in their child's own words. I have a feeling I will go through a lot of these in the first week of implementation. But, I think if I am firm and stick with it, students will realize just how much I mean business. Students will respect me. They will not talk while I am trying to teach. They will not come to class late. They will not waste time. I deserve respect.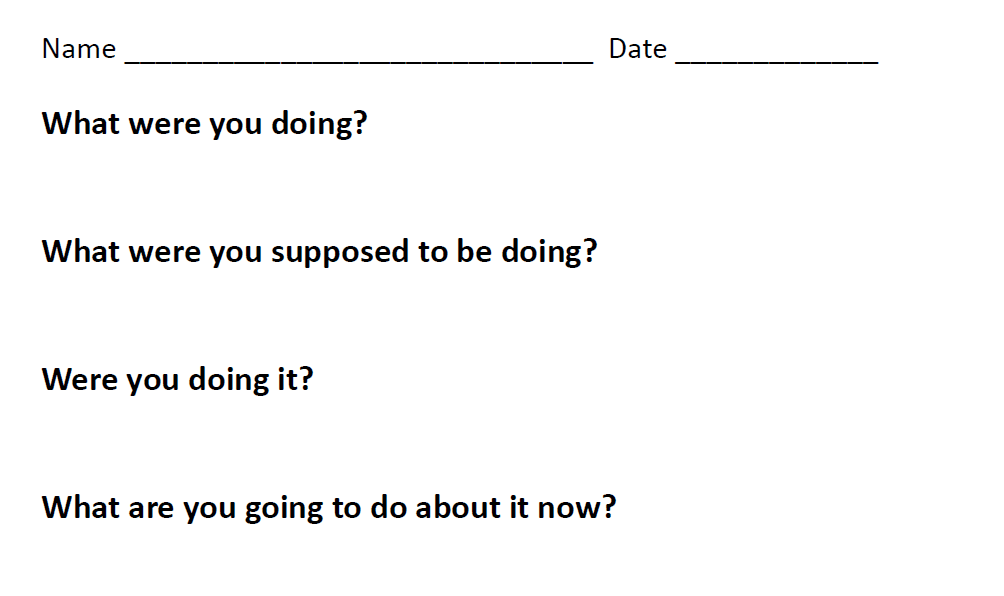 STOP TOLERATING CELL PHONES. Our students are not supposed to have their cell phones out in class. If a student has a cell phone out, I am allowed to confiscate it for however long I wish to. With most students, cell phones are not a problem. But, I have a few students who insist on snapchatting in the middle of class. Yes, I see you. It's obvious that you're taking a selfie when I'm standing three feet away from you, explaining how to convert from logarithmic to exponential form. Since I have some students who do not know the difference between appropriate and inappropriate times to use their cell phones, I've decided to stop tolerating them at all. If I see a cell phone, I am taking it AND calling their parents. I don't care if it's one of my top students or one of the students who is the reason behind this new rule. I'm going to put a box on my desk. Any student who doesn't think they have the self-control to stay off their phone for the 50-minute class period is more than welcome to place their phone in the box. I don't hate cell phones. I hate disrespect. And, using your cell phone when I'm teaching is a sign of disrespect.
Student Responses to Keep Change Start Stop
2013-2014 Student Responses
27 of my students said that we should keep doing interactive notebooks. Yay! 24 of my students think that I should stop assigning homework. Not going to happen, guys! 2 students noted that I should remain their teacher. That's a relief! I was surprised by how many times my Star Student bulletin board was mentioned. This year, if a students scored an 85% or above on a unit test, their name was written on a star on the bulletin board. 12 students suggested that I lower the percentage to 80 or even 70 percent. My students obviously want to see their names written on a star!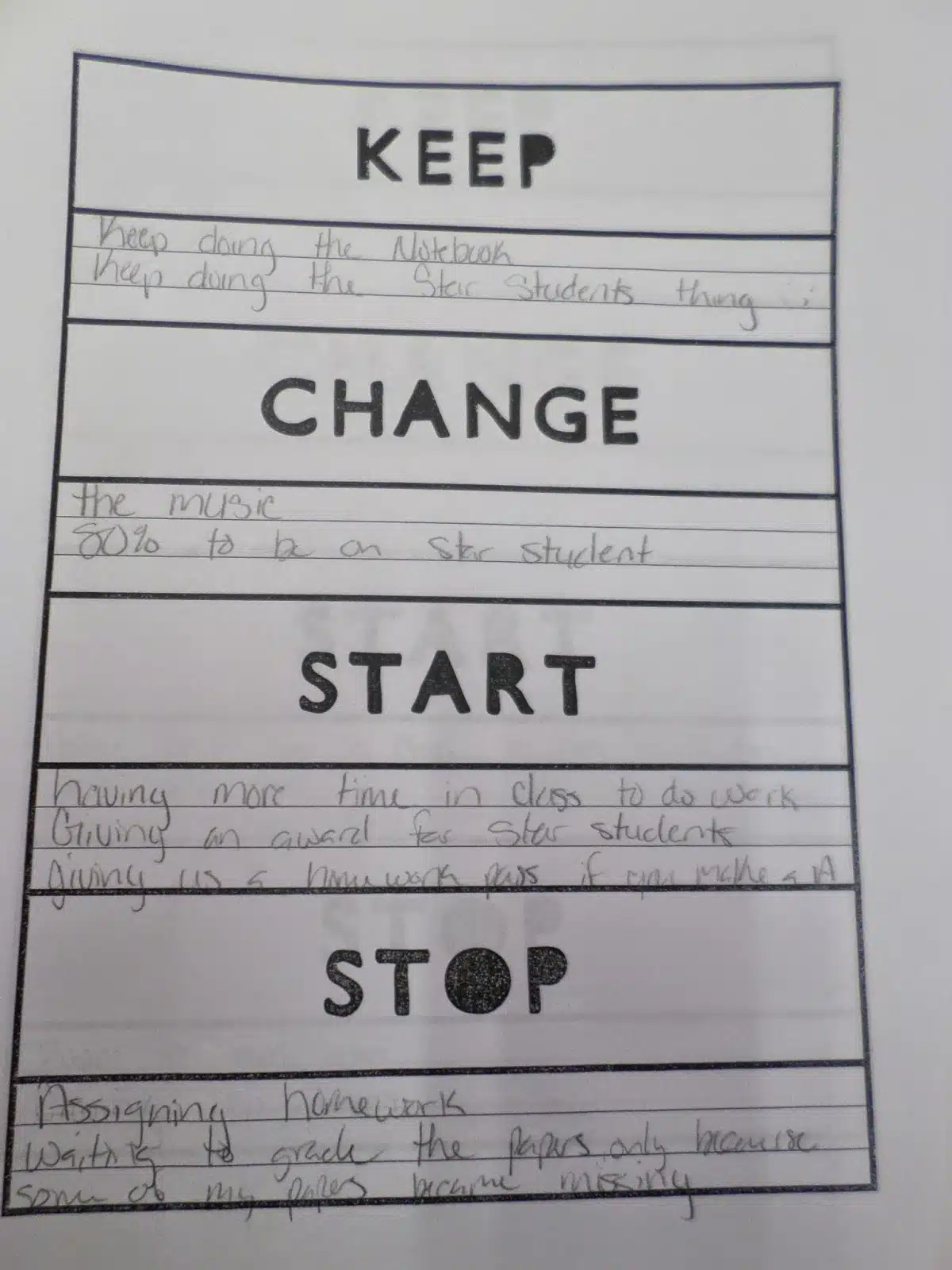 My students do not have a taste for classical music. 15 students asked me to change the background music I play in class. I did a really good job of playing music during the first semester, but I rarely played music during the second semester. Maybe I just got frustrated after reading these reflection forms and quit??? My Algebra 2 students were quite opinionated about whether they preferred Unit Tests or SBG Quizzes. We made the switch part of the way through the first semester.
Other notable pieces of feedback… My students hate the fact that I write the date as a math problem. Good Things Monday and Funny Fridays were a big hit. 25 students suggested that we keep doing them! My students also wanted to play more games, earn free homework passes, and have the ability to earn extra credit.
Keep the notebook. X27
Keep doing the star students thing. X5
Keep the fun work.
Keep the privilege of setting where we want.
Keep the hands-on learning.
Keep the labs we do like the twizzlers thing.
Keep cut outs for notebook.
Keep seating arrangement.
Keep logarithms.
Keep graphs.
Keep adding and subtracting radicals.
Keep Good Things Mondays and Funny Fridays. X25
Keep the new grading system (SBG). X5
Keep learning calculators.
Keep boardwork. X3
Keep being crazy / being yourself.
Keep playing math games. X12
Keep getting up and explaining more.
Keep creative learning.
Keep the zombie game. X4
Keep giving us instructions for what we need for class.
Keep factoring. X3
Keep function/not a function.
Keep having to use the calculators.
Keep Ms. Hagan X2
Keep the SMART Board.
Keep the way you teach.
Keep going over stuff.
Keep the math fun.
Keep being an awesome teacher.
Keep group work. X2
Keep the desks the way they are.
Keep the multiple choice tests instead of the SBG quizzes. It's easier that way.
Keep the fun math games.
Keep the funny jokes coming. They make my day!
Keep doing arts and crafts.
Keep daily celebrations.
Keep letting us work together.
Keep using calculators on tests.
Keep doing origami.
Change the music. X15
Change the star student percentage. X12
Change the morning bellwork. X2
Give extra credit. X4
Change multiplying radicands.
Change the amount of homework you give us. You give us so much, and I fall behind. X3
Change the quizzes. It's kinda annoying when you make a 3 and you have to do 2 more problems!
More hexaflexagons and jokes!
Change notes.
Change tests.
More hands-on activities.
Change back to teaching the box method and the airplane method.
More help with the calculators.
Explanation on homework.
More activities.
Change the wall color and carpet.
Change the way we sit in class. X2
Change the way we do so much work.
Change nothing.
Change everything.
Change the people in 3rd hour.
Change hard work to easy work.
Make the notebooks more creative.
Go through stuff slower. X3
Change where the boys sit. They never shut up. X5
Change the color of paper.
Change Good Things Monday to Bad Things Monday. X4
Change markers, boards, and erasers. X2
Change these hard calculators!
Change how we do the notebook.
Change dry erase markers out weekly.
Change some posters around.
Change the way some students just boss you around. Show em whose the boss!
Change the seating arrangement. X2
Change the distributive property.
Don't do that much work. Don't do that much math.
Change gluing.
When we take a test and don't finish it, we shouldn't have to take our own time to finish it because I will forget.
Need better glue and better scissors.
Ms. Hagan's attitude needs to be nicer.
Just help us more.
Change the way the classroom is arranged.
Change tardies.
Start having more time in class to do work. X5
Start giving an award for star students.
Start giving us free homework passes. X14
Start grading papers faster. X4
Start playing more games. X10
Start watching movies.
Start using calculators.
Start fun projects.
Start giving more group work/group projects. X8
Start having tutoring sessions after school.
Start ACT Prep. X2
Start giving prizes to star students.
Start giving bonus points. X4
Start giving make-up days. X2
Review days.
Start doing more notebook work! X2
Start having free days.
Start doing more things like Good Things and Funny Fridays. X2
Start going outside. X2
Start giving pop quizzes.
Start playing soccer.
Start taking naps and having parties.
Start going over homework with us. X2
Start being rude to the kids that don't ever shut up.
Start giving harder work.
Start hitting bad students.
Start giving less work.
Start giving less tests.
Start bringing me presents when I do my homework.
Start telling more jokes from that little boy.
Start giving candy for right answers. X2
Start writing the date normally. X2
Start having more hands-on activities in class.
Start doing more crafts.
Start rewarding us.
Start giving us bigger tests.
Start having certain days for students to come in after school for extra work.
Start making people be quiet.
Start giving more quizzes instead of tests.
Start having class projects.
Talk about our work more.
Start having Terrifying Tuesdays.
Start having math parties. X2
Start using roman numerals.
Start playing the zombie game more.
Start doing more fun things.
Start having weekly celebrations.
Start taking field trips.
Start making math fun.
Start letting us use notes on our tests. X3
Start making sure everyone gets it.
Stop assigning homework. X24
Stop waiting to grade the papers.
Stop taking as many notes. X2
Stop giving us hard work. X2
Stop letting [a certain student] be loud.
Stop logarithms!
Stop radicals.
Stop combining like terms.
Stop the math jargon. Could you dumb it down and make it easier to understand?
Stop not giving stickers. Give more!
Stop nothing.
Stop playing stupid music.
Stop factoring.
Stop passing back papers.
Stop reviewing before the test.
Stop notebooks. X5
Stop having us glue stuff.
Stop card games.
Stop allowing [a certain student] to speak.
Stop everything.
Stop doing so much WORK!
Stop worksheets.
Stop allowing [a certain student] to sing. X2
Stop interruptions.
Stop talking!
Stop yelling.
Stop giving easy work.
Stop [a certain student] from copying!!! X2
Stop not hitting bad students.
Stop bellwork. X5
Stop using calculators as much.
Stop having nonworking dry erase markers.
Stop giving tests.
Stop making us show work because I do it better in my head. X2
Stop Good Things Mondays. Mondays aren't good.
Stop letting the loud people sit next to each other. It's so annoying.
Stop doing all math. Stop doing work period. X2
Stop hard work.
Stop going so fast.
Stop working so hard.
Stop changing the desks around. X2
2014-2015 Student Responses
Writing out all of this student feedback made me realize several things. First, I'm so thankful for my junior high typing teacher. Writing this feedback out was much more meaningful than just reading through it. The same things seem to show up on all of the lists. I guess I'll never be able to make every student happy. Finally, students notice way more than I realize sometimes.
Things to KEEP
Things to CHANGE
Part of me is nervous about posting this because all of this feedback doesn't exactly paint me in the best light. I know I have lots of room for improvement. And, I'm thankful for this feedback from my students. The point of this blog is to be honest about my strengths and my weaknesses so I can get better and help others get better.
Looking over these, it seems like my students weren't happy about the desks. That's probably because I have this tendency to go back and forth between groups and rows. All of the kids are never happy. Honestly, I'm never happy with the desk set-up, either. My room is just too small for 24 desks to fit nicely. So, no matter what seating arrangement I try, there is never enough room. Also – my kids can never agree on anything.
Things to START
I think this list of student recommendations to start may be the most helpful feedback from the survey. There are a lot of things on this list I agree with. I do not need to open a cat adoption home, though.
I do need to start going more in depth with the problems I give my students. We need to take better notes over more in depth problems. I need to spend longer on basic concepts before moving on. I need to learn to just slow down. A lot. I need to come up with more interactive activities, especially for my Algebra 2 classes.
I also need to start being more strict. I let students run the show way too often. Classroom management is such a struggle for me. I'm slowly getting better, but I still have so much to learn. Obviously, my students think I need to feed them. I was so surprised by how many students mentioned that on their surveys!
I've learned, though, from experience that picking too many things to change for a school year leads to nothing really sticking. So, I need to think carefully about what changes are absolutely necessary for me to make for next year.
Things to STOP
These are the things they think should STOP in my classroom. These suggestions seem much less serious and more silly. Now that I've worked through all of my students' advice, it's time to make a game plan for next year. What do I really want to keep/change/start/stop?
More Free Printable Classroom Forms