I created this set of free printable pythagorean triple posters to help decorate my new classroom.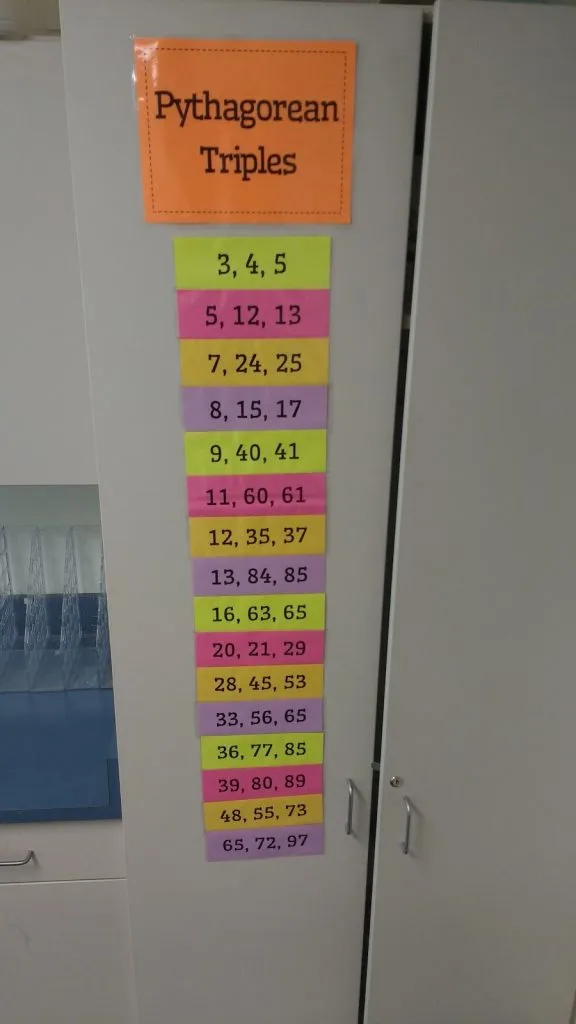 I'm teaching Algebra 1, Trig, and Math Concepts (a class for 9th graders not yet ready for Algebra 1) this year.
As I was making a list of things my trig students need to review at the beginning of the year, the Pythagorean theorem popped into mind. And, I instantly decided I wanted to make a poster of Pythagorean triples.
I also read that some people call them "Pythagorean Triplets." How cute is that?!?
I made a Title Poster that is a full letter-sized sheet of paper. The Pythagorean triple posters are printed four-to-a-page.
Full disclosure: These are not ALL of the triples that exist. That would be impossible to list. Instead, I chose to list all of the Pythagorean triples that contain values less than 100.
I specifically designed the posters so that you can print them on four different colors of paper for some color variation. If you arrange them numerically by the first digit in the triple, they'll make a pretty pattern.
Of course, you could also print them all on a single color if that's more your style.
More Free Printable Math Posters