Today I want to share a translating expressions foldable I designed for my Algebra 1 students to complete in their interactive notebooks. I will be teaching 3 sections of Algebra 2, 2 sections of Algebra 1, and 1 section of Math Analysis (College Algebra) this year. It's a good thing I love algebra since I will be teaching it all day every day!
Translating Expressions Foldable
This will be our first INB entry in Algebra 1. I am starting the year with translating expressions.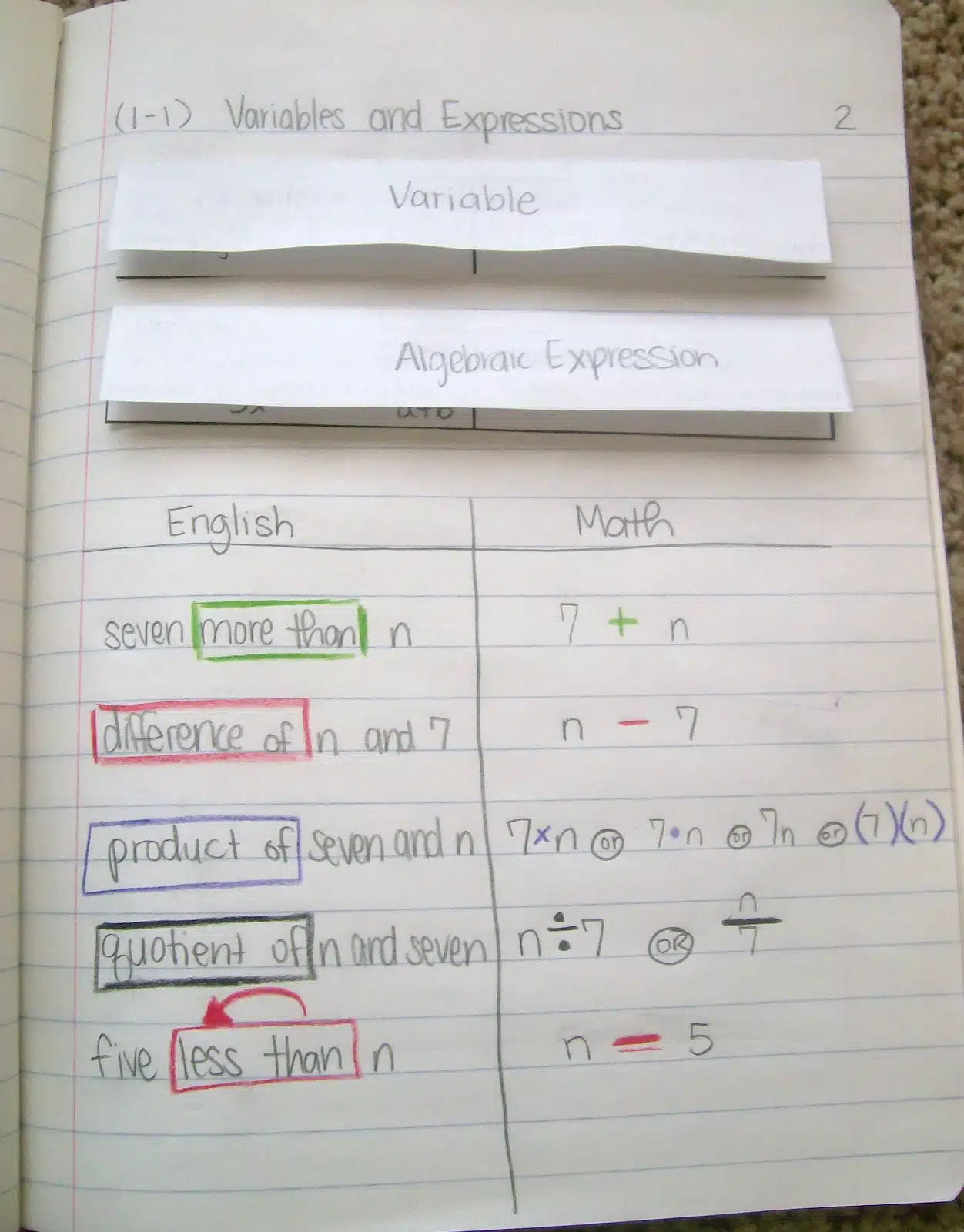 The idea of Turn Around Words ("Less Than") was totally borrowed from Julie Reulbach and her wonderful I Speak Math blog.
Check out these mini frayer models. They print 6 to a page.I have shared a downloadable file below.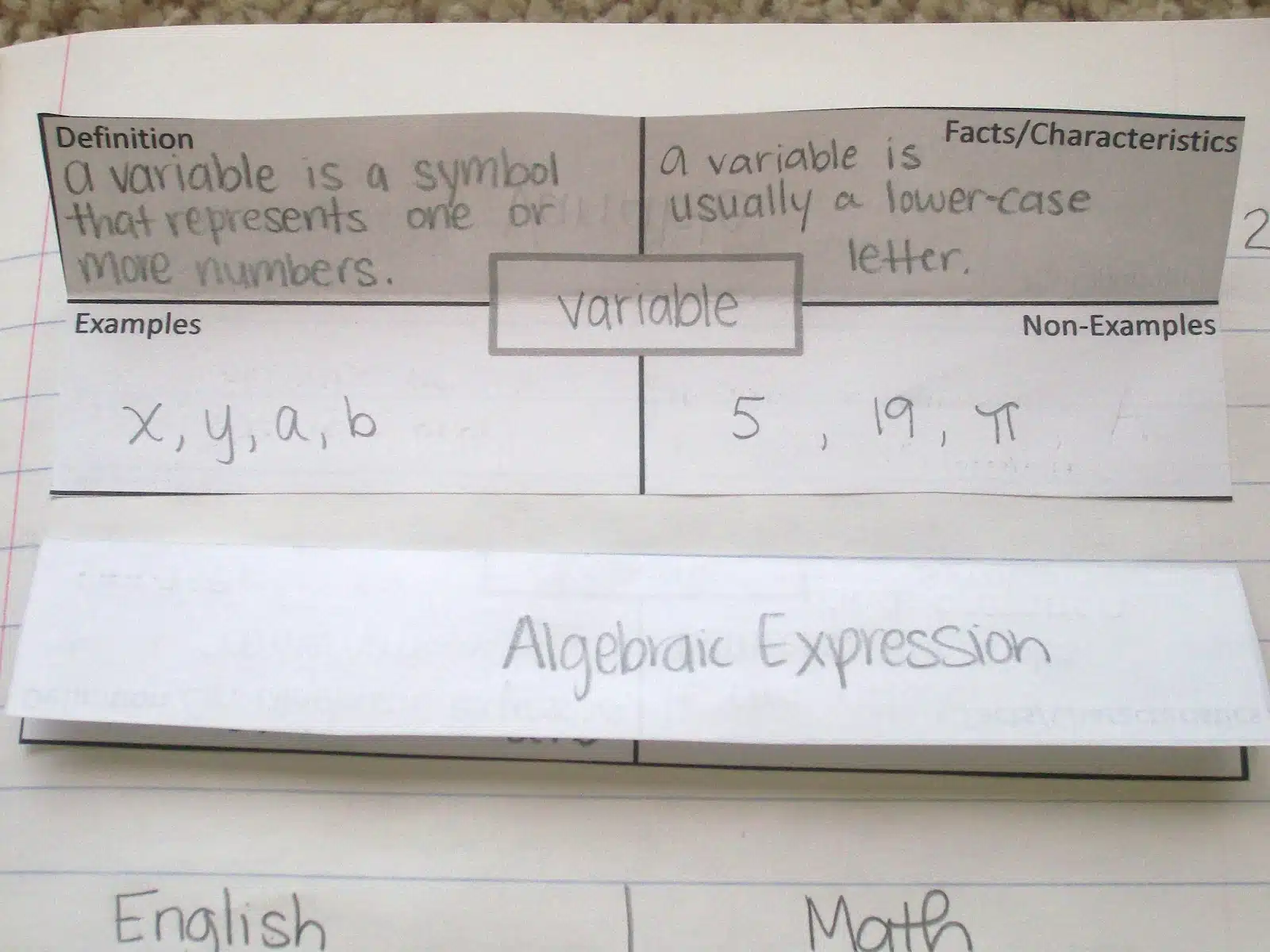 And credit for the idea folding the Frayer Model in half to glue into the INB, goes to Katie @ Middle School Math Madness. I love her blog!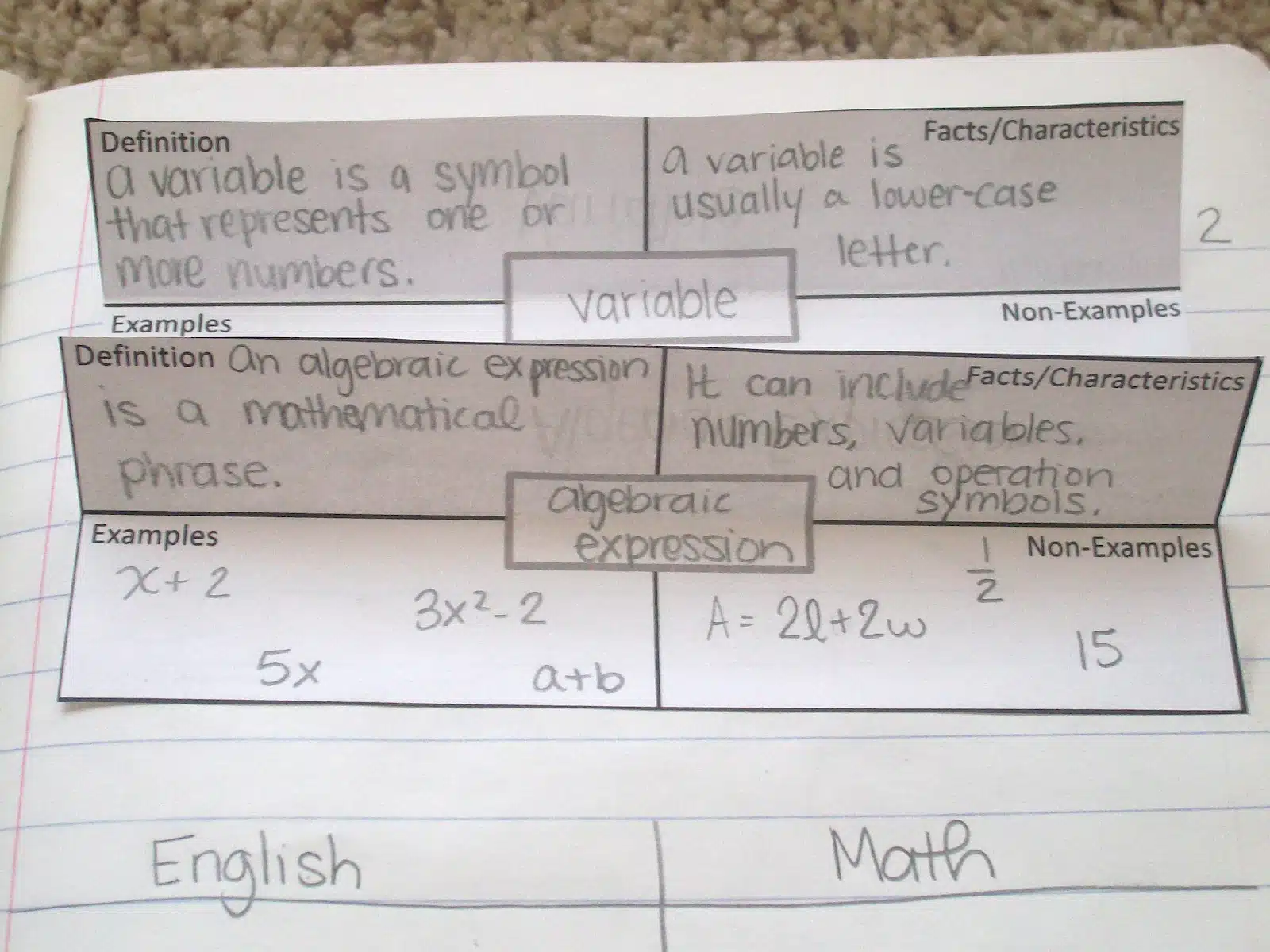 This four door foldable for translating expressions is one of my favorite foldables.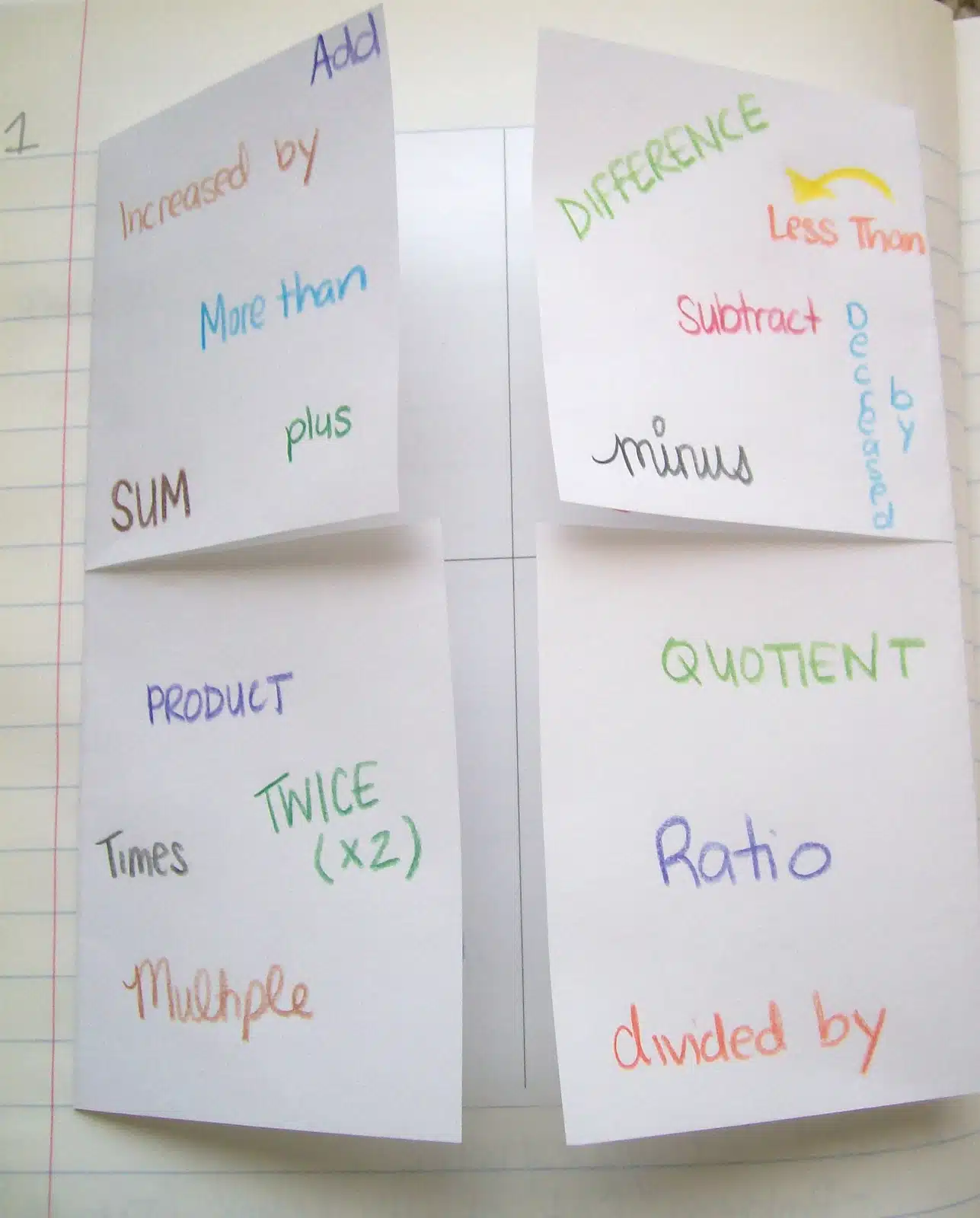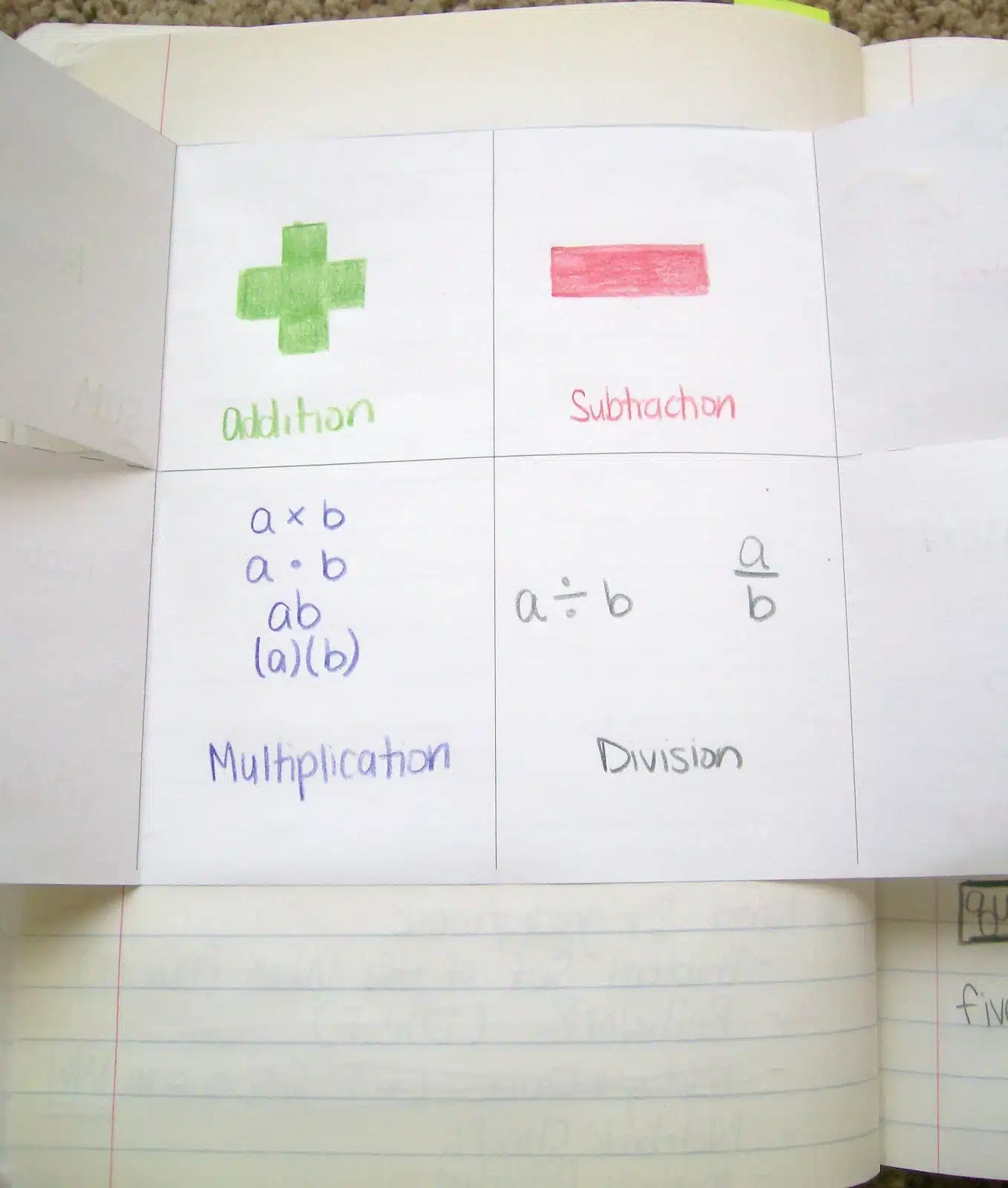 I started drawing the symbols. But, then I also wanted to show my students the different ways to represent multiplication and division.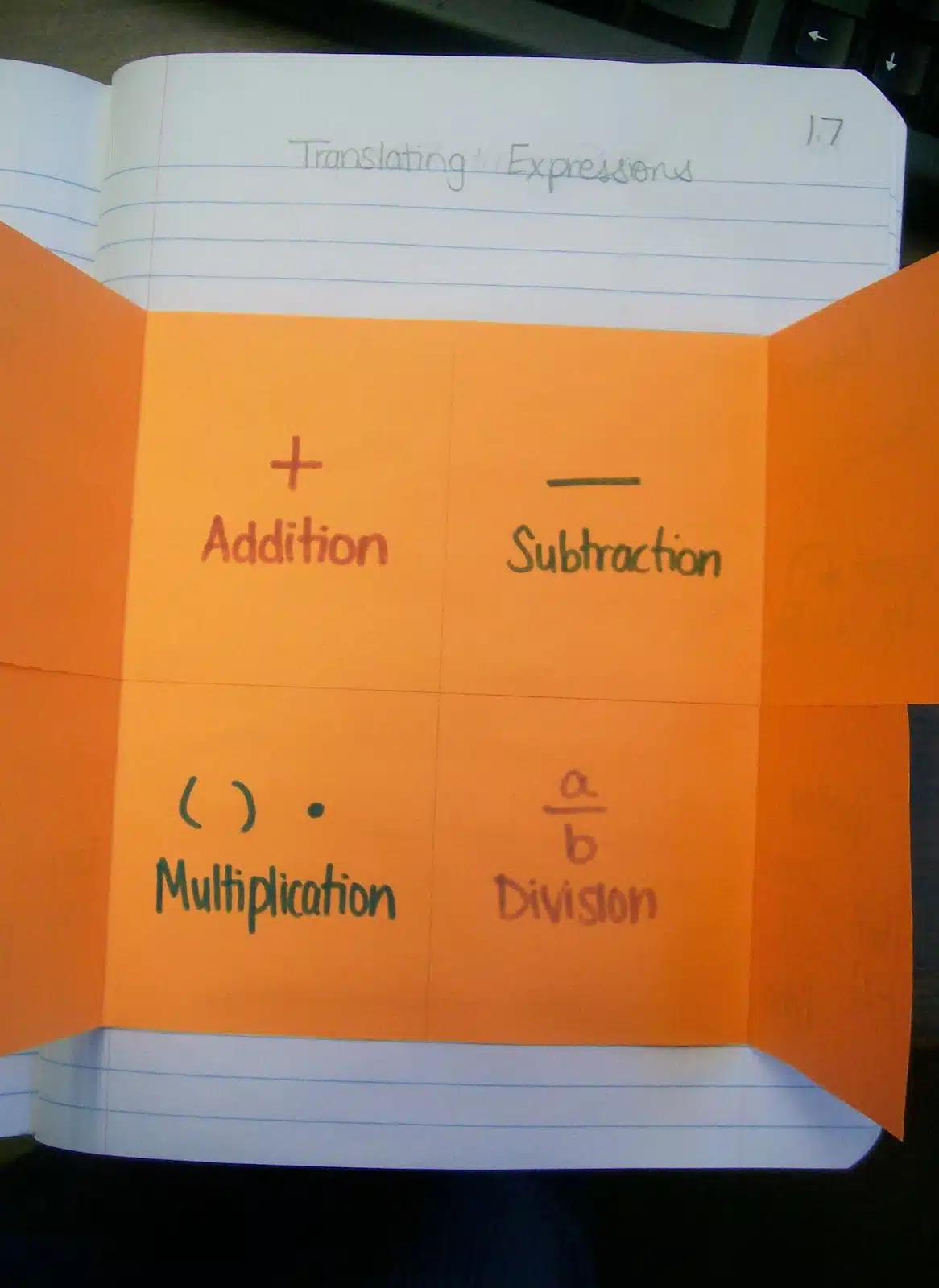 Changes to Make
Oh, and here is what I want to change. When I was making my foldable, I got out my colored pencils, and I wanted to use them to make my foldable pretty and colorful. But, after I finished, my mind kept going back to a tweet I had read about a week ago. @mgolding who blogs here (and is the one who originally inspired me to try interactive notebooks!) tweeted the following:
@jreulbach Color With a Purpose strikes me as hard to do right. I like"underline unit vocab with yellow" as one CWP.
— Megan Hayes-Golding (@mgolding) July 27, 2012
CWP. Color With a Purpose. Did my pretty colors really serve a purpose on the foldable other than to make it pretty? No. So, how can I use colors to help my students grasp the lesson better? Next, I made the English/Math table on the RHS. Next, I started thinking about what if I gave each of the four operations (add, subtract, multiply, divide) their own color. Since I couldn't undo my rainbow of colors on the outside of my sample foldable, I used the colors of the operations on the inside of the foldable.
With each English phrase, I circled / boxed / marked each key word with the color of the operation it corresponded to. So, when I make my final draft, all my addition words will be one color. All my subtraction words will be another color, etc. Then, I also wrote the operation in that same color on the Math side of the table.
This foldable would make a great reference when working through activities like my Translating Algebra Around the Room Activity.
Free Downloads for Algebra 1 Interactive Notebook
Frayer Models – 6 to a Page
My version of the Frayer Model. I got 6 to fit to a page. I resized them so they were only 1 inch tall when folded and placed in my interactive notebook.

Frayer Model 6 to a Page (PDF) (3673 downloads)

Blank 4 Door Shutter Foldable
I originally made my four door shutter foldable with a full sized piece of paper, but I thought it was a little big for my composition notebook. So, I downsized it a bit, and I'm much happier with it now.