This blog post contains Amazon affiliate links. As an Amazon Associate, I earn a small commission from qualifying purchases.
Want to check out my favorite Amazon items for the classroom? Check out my Amazon favorites page!
At my last math teachers' circle meeting, we played a new-to-me game: Prime Climb.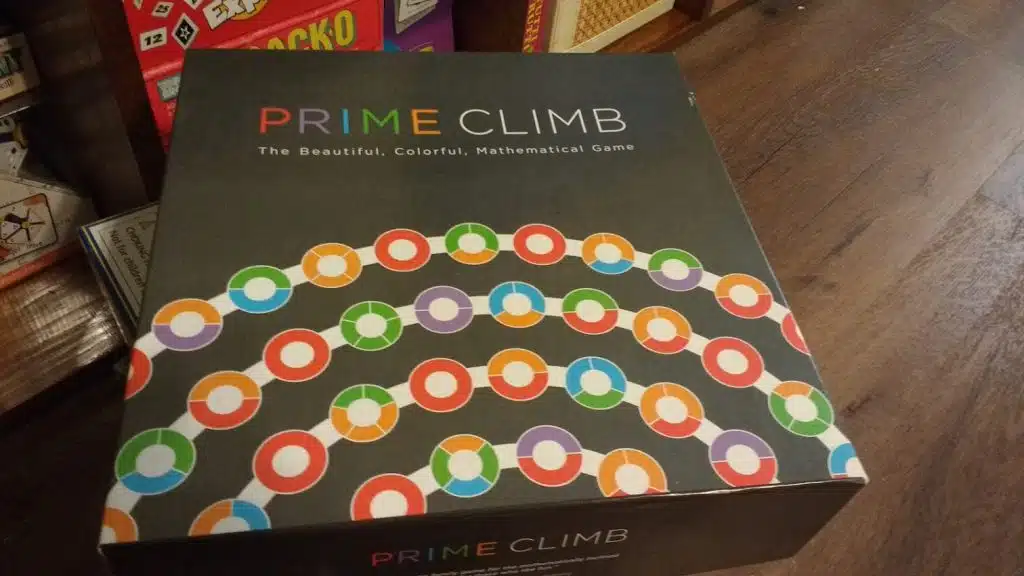 This game has one of the most beautiful, math-y game boards I've ever seen.
Now, I can't really talk about the actual game all that much because we didn't play by the actual rules. In the actual game, players have two pawns. We used one. In the actual game, there are action cards. We didn't use these at all.
Here's how we did play:
Place your pawn on START.
Roll two 10-sided dice. (0-9)
Add, subtract, multiply, or divide the value of each die to your current place on the board. For example, if I'm on START and roll a 3 and 7, I can add 3 and add 7 to end on 10, add 3 and multiply by 7 to end on 21, add 7 and multiply by 3 to end on 21, or add 7 and subtract 3 to end on 4.
You cannot go past 101. You must apply the operations to the dice separately. And, if you land on the same number as another pawn, you send that piece back to start.
The first player to land on 101 wins.
As a roomful of math teachers, we loved the mental math aspect of this game. My group didn't really want to be vicious and send others back to start, but I think my students would have zero problems with that!
After we played a round, our facilitator challenged us to list every single space on the game board that we could be on and in one roll end up winning. Now, that was a fun problem to solve! We got a lot of mileage out of this seemingly simple problem. Especially because our answer was different than our facilitator's answer. Then, she gave us 12-sided dice (1-12) to see how that changed our answer. All in all, very interesting!
From these past few math teacher circles, I've discovered that while I'm not usually the fastest at solving problems in the group or the best at seeing unique ways of solving a problem, I do bring something to the group. I'm really good at organizing information and illustrating the problem. When I'm presented with a new problem, it takes me a while to process it. My first instinct is to pause and process the problem, then I try to come up with a way to organize the information I have. Only then, do I try to solve the problem.
Last month, with the lunes and balloons spherical geometry problem, this meant drawing the problem on a balloon. My groupmates were easily solving the first few problems while I was still trying to wrap my mind around what we were doing. However, as the problems became harder, they started using my physical representation to solve the problems.
With this Prime Climb problem, my first instinct was to draw a hundred chart to organize which numbers were one step away from winning and which numbers were more than one step away from winning. Drawing a grid and writing out the numbers 1-100 was time consuming. And, it seemed like my group was rushing ahead of me. But, I persevered at creating my visual representation. Once I started marking the numbers on my chart, my groupmates were all using my hundred chart to help come up with the next solutions. In the end, everyone was copying from my chart to their notes.
Maybe this is why I'm so drawn to interactive notebooks. I love organizing information. I'm not the fastest at math. I'm not the best. I'm not the cleverest. But, I am really good at visually organizing information.
So, has anyone played with the actual rules? I'm trying to decide if this is a game I wan to invest in for my classroom. The reviews on Amazon are all really good, but most mention playing with young children.
More Games and Activities