This blog post contains Amazon affiliate links. As an Amazon Associate, I earn a small commission from qualifying purchases.
Want to check out my favorite Amazon items for the classroom? Check out my Amazon favorites page!
Summer is now in full swing which means a few things: random naps, grad school homework, more time to blog and read blogs, starting to plan for next year, and hours spent browsing pinterest for inspiration.
One thing I want to do differently next year is to have a more structured system for SBG quizzes and reassessments. Last year, my quizzes were sometimes handwritten, sometimes typed by me, sometimes stolen from somewhere on the internet. There was no cohesiveness, and that bothers me. So, one of my first projects this summer is to decide how I want my quizzes to look.
Here's my plan for 2015-2016 as of now:
The first quiz for each skill will be typed on a standard template. This is my current vision of this template. Definitely a work in progress.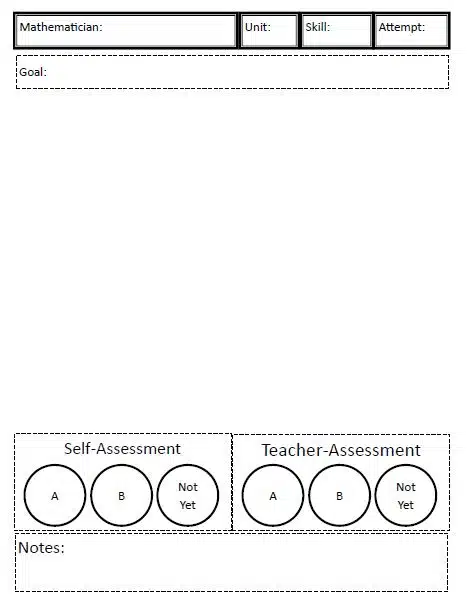 I will prepare additional questions for each skill that will be written on index cards for me to pull out and use at my convenience when students need to retake a quiz.
Students will have to complete some sort of error analysis/reflection sheet on their first quiz in order to be allowed to take the quiz again.

Each quiz attempt will be numbered.
If a student wishes to retake a quiz, they must bring me their original quiz, their error analysis sheet, and a new blank quiz that they have filled out with their name, the skill number, the unit number, the attempt number, and the learning goal. I rather like the idea of having them write out the learning goal by hand each time they retake the quiz.
All attempts for a quiz and all error analysis sheets will be kept stapled together. When students have successfully made an A or B on all the skills for the unit, these quiz packets will be assembled into a portfolio of sorts.
This past year, I had students who would throw away their old quizzes and then want to retake them. If a student hasn't done the work to learn from their mistakes and reflect on them, they shouldn't be retaking a quiz.
I think my favorite idea (and completely unoriginal, btw) is to have students complete a self-assessment before turning in their quiz. They will mark whether they think they should receive an A, a B, or a Not Yet.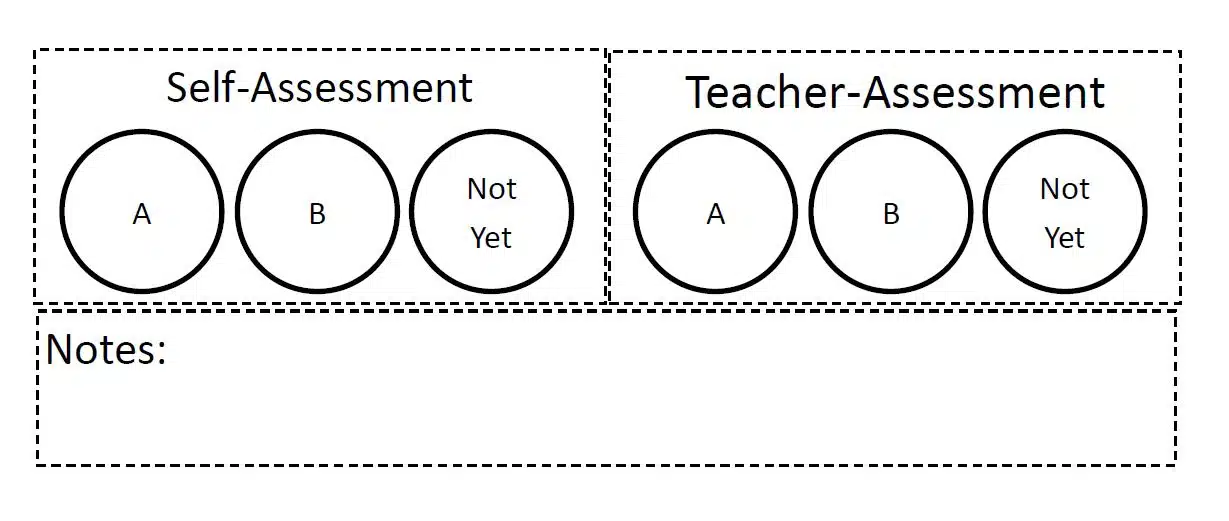 I also want to leave a designated place at the bottom of the quiz for students to leave me a note. I'm not exactly sure what information students will end up sharing with me, but I want to give each student a chance to reach out to me if they need to. I also plan on using this notes section to respond to student notes or write a note of my own to them.
Ideas? Suggestions? I'm open to all feedback.