It doesn't seem like it's been that long since my last volume of Things Teenagers Say. I guess that means my kids have been VERY chatty lately!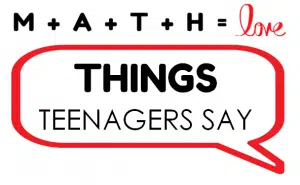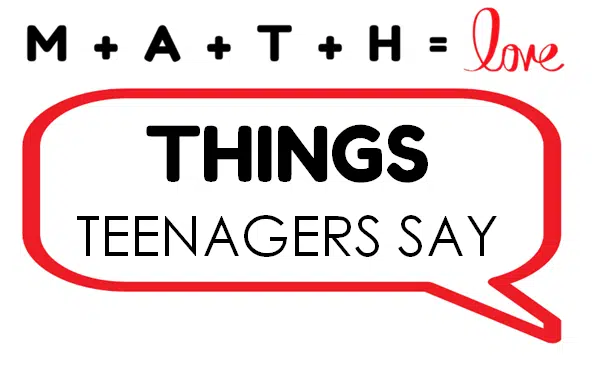 —
Student 1: I don't go to church, but Jesus is my uncle.
Student 2: If you did got to church, you would know that Jesus is your father – not your uncle!
—
Student: I read your last things teenagers say post, and I was responsible for 7 of them. I counted.
Me: What does that say about you?
Student: It says I'm your favorite student, and you're not going to have a blog once I graduate.
—
George Strait is how I asked my girlfriend to prom.
—
Let's build a bridge for the river that we cry.
—
I'm progressively becoming friends with more and more underclassmen. I don't like it.
—
You dented my cup!
—
If my mom says "K" to me one more time…
—
You need to come hang out with us one night. You'll laugh so much, you'll have abs!
—
I don't know how to tweet on tweeter.
—
I didn't want you to get kicked out of class. That's why I punched you.
—
Can I go to lunch early because I have to go pick up a shotgun later?
—
Sit down and talk to me about Law and Order SVU.
—
I don't like this whole single key business without a keychain.
—
You know, breathing isn't actually that fun.
—
Every decision we make puts us into another universe.
—
Let me write that down on my non-existent data sheet.
—
Me: Statistics is the study of data.
Student: I know all about data. I have unlimited.
—
Did you know that even if you're trash you can still do things? It's called a trash CAN, not a trash CANNOT.
—
Student: Why didn't I get named after my father? I'm jealous!
Me: My mom was named after her mother.
Student: Was she from England?
Me: No.
—
Isn't one day on the moon the same as five days on earth?
—
If your phone falls on your face, then you have it coming.
—
I'm not a tomato. I don't bruise easily.
—
Student: What type of music do you listen to?
Me: Christian music.
Student: You go to church?
Me: Yes.
Student: I used to, but I got kicked out.
—
She'll probably break up with you if you lose her pencil.
—
These kids made crossbows out of pencils, and one of them shot me! It was…AMAZING.
—
Me: Please don't tell me that you are talking about disposing of bodies.
Student: I'm talking about cannibals. He's talking about disposing of a body.
—
Zero isn't a number just like Pluto isn't a planet.
—
I'm a lot of people's spirit animal.
—
Me: Is anyone in here a Gemini? It's a horoscope sign.
Student: Oh, you mean those things like scorpio and squirrel?
—
I'm about to orangutan you.
—
Santa Claus can fit down a chimney, so that means an astronaut can, too!
—
Does "shrimp" have two syllables?
—
I only opened my mouth once saying "elephant," but it has more than one syllable.
—
I can't syllable.
—
Let me just get the polar bear out of my garage.
—
In kindergarten, I was a failure.
—
Student 1: I made the best hand turkeys in kindergarten.
Student 2: No, I made the best hand turkeys in kindergarten. My turkeys were…SMASH!
—
Recent Volumes of Things Teenagers Say